These delicious pumpkin rolls are as much a decoration as they are a simple side dish; with great flavors and an easy to shape it process, these will be one of your favorite pumpkin recipes this season.
Welcome to a tasty and beautiful recipe for pumpkin season.
If this is the first time you are here, you should know that I love bread, I love food, and I love keeping things simple.
These pumpkin rolls are not jelly roll cakes or swiss rolls with pumpkin cake batter. Instead I am bringing you dinner rolls shaped like pumpkins.
It might surprise you to look at the images of these pumpkin rolls and hear me call them easy.
But they are!
You will be amazed at how easy it is to make them.
It takes a little bit of time to let the dough rise properly, but with patience you will soon have this perfect pumpkin dinner rolls recipe ready for any event in pumpkin baking season.
What ingredients are in pumpkin rolls?
Pro Tip: If you like bread with warm autumn spices instead of more traditional dinner rolls, try adding just a teaspoon of pumpkin pie spice to the dry ingredients. It will give these a more traditional baked pumpkin flavoring instead of a simple sweet dinner roll.
How to make pumpkin shaped dinner rolls:
Mix first seven ingredients in a large mixing bowl until the pumpkin mixture is well combined.
Gradually add flour to the wet ingredients and knead until dough pulls away from the sides of the bowl.
Let dough rest for a few minutes, then continue to knead until dough is soft and smooth.
Place dough in a large bowl that you have greased all over.
Cover with plastic wrap sprayed with cooking spray and rise until doubled in size.
Punch dough down and turn onto a lightly floured work surface to divide dough into 15 balls.
Flatten each ball and use a pairing knife to cut 8 slices around the ball to make a pumpkin shape.
Place on a parchment paper lined baking sheet, cover with plastic or a cotton kitchen towel, and let rise until doubled.
Poke an indent in the center for the stem and brush risen rolls with egg wash.
Bake until golden brown, then place a sliced pecan for the stem.
Cool on a wire rack and serve!
Pro Tip: You can make these in any shape you want, but the most important step to give them that great pumpkin shape is cutting the slices around the edges of the roll before placing them on your prepared pan to bake. And adding a fake pecan stem after cooking helps a lot.
Those two steps will give you a beautiful and delicious pumpkin roll the whole family will enjoy.
What to do with pumpkin rolls:
What to eat with pumpkin rolls:
How do you warm up leftover pumpkin rolls:
You can microwave them for 10 seconds, but be careful because when you microwave bread too long it gets rubbery and then hard.
If you want to know the best way how to reheat pumpkin rolls, place them in an even layer on a baking sheet and put them in a warm oven for 2-3 minutes until it is heated through
Can you freeze pumpkin rolls?
Yes! Let the rolls cool to room temperature. Then wrap them individually in plastic wrap, foil, or wax paper and place them in a freezer safe airtight container.
They should stay good in the freezer for up to 3 months.
How to thaw frozen pumpkin rolls:
The best way is to let them thaw overnight on the counter. If you need them done faster you risk getting a poor texture in the pumpkin bread rolls.
Pumpkin rolls are one of my favorite uses for pumpkin purée because they always turn out delicious, and just like real pumpkins, each one looks a little bit different while still keeping that classic pumpkin shape.
Yield: 14 - 16 Rolls
Pumpkin Rolls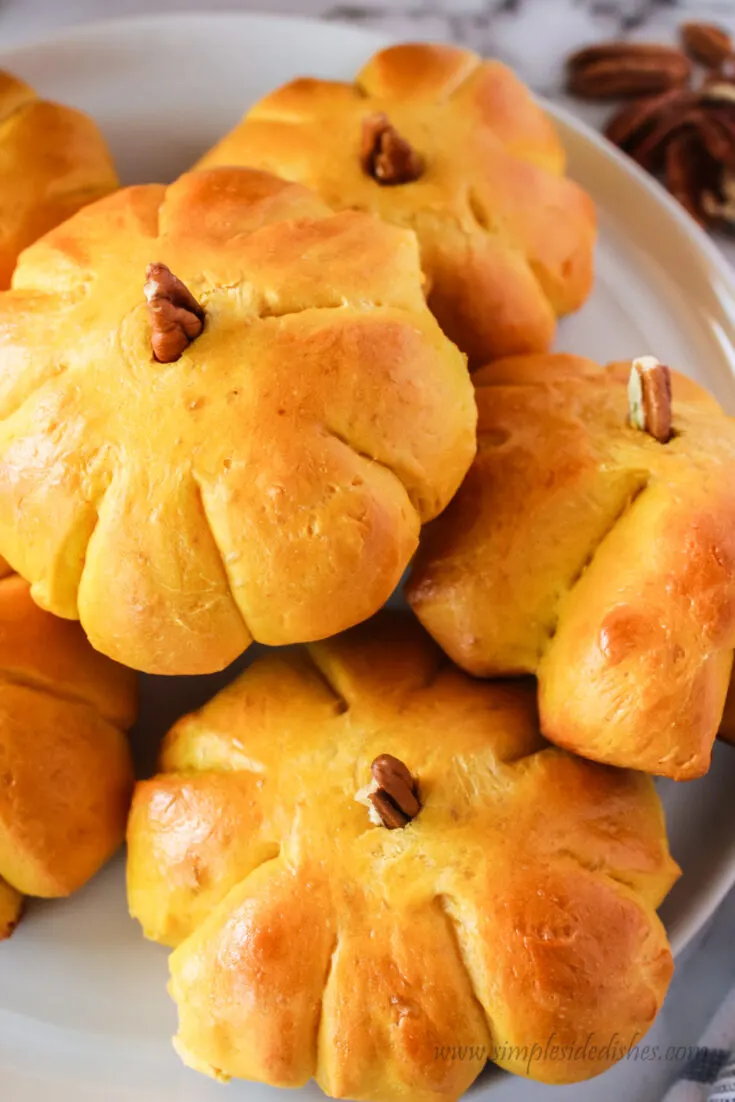 These delicious pumpkin rolls are as much a decoration as they are a simple side dish; with great flavors and an easy to shape it process, these will be one of your favorite pumpkin recipes this season
Total Time
2 hours
40 minutes
Ingredients
Instructions
In a high speed mixing bowl combine yeast, milk, white sugar, butter, pumpkin puree, one egg and salt.
Slowly add the flour, 1 cup at a time and mix well.
Knead dough for 5 minutes allowing the mixer to knead your dough for you.
While dough is being kneaded, grab a large bowl and spray with cooking oil.
Once dough is soft and pliable, place dough in bowl and turn once.
Cover dough with saran wrap or a kitchen tea towel.
Let dough rise for 1 hour, or until doubled in size.
Punch down the dough and cut into 16 equal pieces.
Roll each of the dough pieces into balls.
Flatten each ball with the palms of your hands, until about 1 inch thick.
Place 8 flattened pieces of dough onto a cookie sheet. You'll need 2 cookie sheets for a total of 16 rolls.
Using a sharp knife (pairing knife works great), cut 8 slits all the way round the dough, not quite to the center. This will give you your pumpkin shape.
Cover dough and let rise for 1 hour.
Once dough has risen to nice fluffy rolls, preheat oven to 350*F
Using a small small utensil like a barbecue skewer or thick toothpick, poke a hole in the center of each roll.
In a small bowl beat together remaining egg and 2 teaspoons of water.
Gently brush egg mixture over each roll so they come out nice and shiny.
Bake for 15 - 20 minutes or until golden.
Once you remove from rolls from the oven, place a piece of pecan into center of each hole for a stem.
Serve warm with butter.
Nutrition Information:
Yield:
16
Serving Size:
1
Amount Per Serving:
Calories:

159
Total Fat:

3g
Saturated Fat:

2g
Trans Fat:

0g
Unsaturated Fat:

1g
Cholesterol:

30mg
Sodium:

167mg
Carbohydrates:

27g
Fiber:

1g
Sugar:

4g
Protein:

5g