These Red Lobster cheddar biscuits taste just like the restaurant version and are ready in only 20 minutes. This secret recipe is no longer a secret in this copycat recipe!
When it comes to the legendary cheddar bay biscuits, we've got you covered! With only 6 ingredients, this hot biscuit recipe is hard to mess up.
You can whip these up as a tasty side dish or savory snack. Fair warning though, the best part of these buttery biscuits is the garlic herb butter!
This easy recipe is one you don't want to miss out on. Whip up a batch tonight for your own table!
What biscuit mix ingredients are in Red Lobster Cheddar Biscuits?
You'll be shocked at how easy it is to make a warm biscuit to eat as a snack or side dish!
Bisquick Mix: this is our easy biscuit base
Shredded Sharp Cheddar Cheese: cheese cooked into the biscuits takes on a perfectly delicious roasted flavor that goes perfectly inside a biscuit
Milk: when baking milk adds flavor but also the proteins in the milk help keep the biscuits moist and flaky
Melted Butter: this brushes the top of cooked biscuits to let flavor soak through the cooked biscuit
Garlic Powder: this mixes with melted butter to make a delicious garlic butter topping
Fresh Parsley: sprinkle this on top of cooked biscuits for color and light flavor
How to make Red Lobster Cheddar Biscuits:
Have you ever wanted the secret Red Lobster cheddar bay biscuit recipe? Look no further, because I'm about to tell you how to make them at home!
Mix Bisquick, cheese, & milk.
Scoop dough onto a parchment paper lined baking sheet and bake.
Melt butter and add garlic.
Pull cooked biscuits out and generously brush melted garlic butter over each.
Serve warm!
Pro Tip: Always preheat your oven before pulling out ingredients so you don't have to wait after your biscuits are mixed.
Why do you use Bisquick mix to make Red Lobster Cheddar Biscuits?
Bisquick mix is an easy way to get perfect biscuits. Easy and fast are great reasons anytime I'm in the kitchen. That makes them 6 ingredient biscuits.
Plus you don't have to mix your dry ingredients before adding your wet, because the dry ingredients are simply Bisquick.
Using a mix is a no fail option for the best Bisquick cheddar garlic biscuits you will ever eat.
How long do garlic cheddar biscuits last?
These Red Lobster Cheddar Bay Biscuits will keep one or two days at room temperature, up to a week in the fridge, or up to three months in the freezer if stored properly.
How to store leftover Red Lobster Cheddar Biscuits:
Store covered in an airtight container.
Depending on the humidity where you live, leaving them stored loosely (not airtight) will do 2 things.
If you live in a very humid climate, storing biscuits not airtight will cause your biscuits to mold faster.
If you live in a very dry climate, storing biscuits loosely will cause them to dry out and become hard like rocks faster.
Pro Tip: Once your leftover biscuits are cooled, immediately put them in an airtight container to keep them fresh as long as possible.
Can I freeze Red Lobster Cheddar Biscuits?
Yes! Once they have cooked and cooled completely, wrap them individually in aluminum foil or wrap then put in a zip bag or freezer safe container into the freezer.
The extra step of plastic wrap or foil helps to prevent freezer burn and can keep the biscuits fresh for up to three months.
How do you reheat leftover Red Lobster Cheddar Biscuits?
Pop one in the microwave for 10 seconds.
Reheat in the toaster oven until warmed.
Thaw frozen biscuits in the refrigerator overnight and then cover with foil and warm in the oven.
Pro Tip: While you can eat these cheesy biscuits at room temperature, biscuits always taste better warmed up. But be careful not to heat them too much or they will dry out and get rock hard.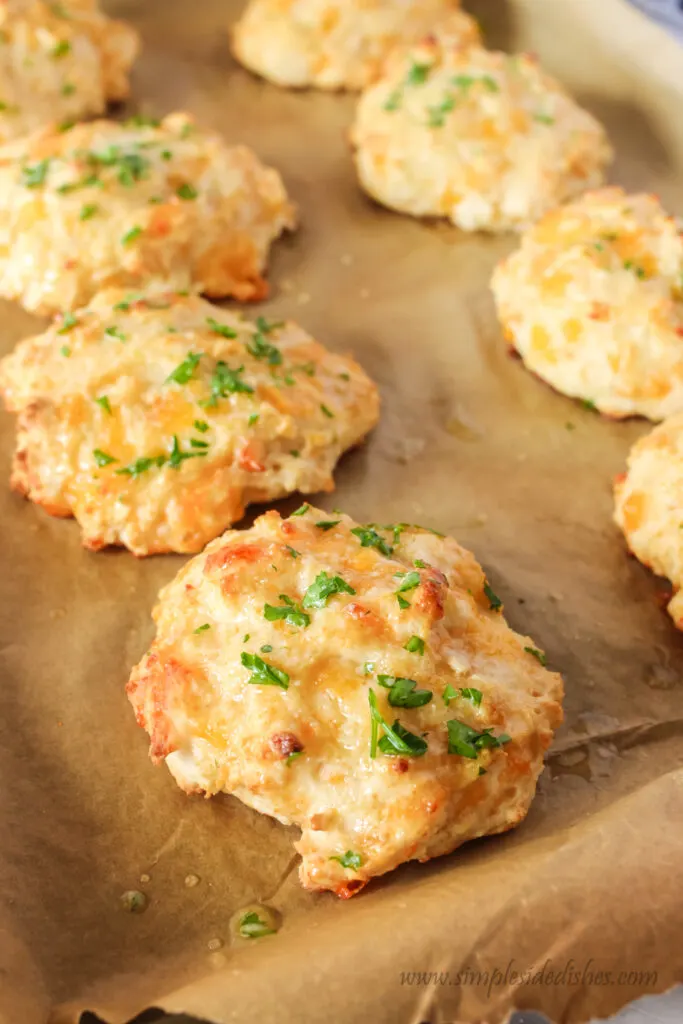 Can you make Red Lobster Cheddar Biscuits gluten free?
Yes! Just use the gluten free Bisquick mix instead of the regular mix and follow the recipe as written. It will give you great cheddar garlic bisquick biscuits without any gluten.
What goes well with Red Lobster Cheddar Biscuits?
Seafood: shrimp, fish, lobster, crab
Meat: steak, chicken, roast
Soup: creamy chowders balance out the garlic cheddar biscuits flavors really well
Salad: salad and bread is a classic combination; try this winter squash salad
Brunch: Red Lobster biscuits are a great savory addition to your brunch table; the cheese and garlic butter flavors makes them fancier than regular biscuits
More Bread Recipes You'll Love…
When it comes to tasty sides, Red Lobster's cheddar bay biscuits are a must have! The cheesy goodness + garlic flavor really make these the best copycat biscuits out there.
These Red Lobster Cheddar Biscuits are cheesy, garlic butter heaven, and you will be reaching for them anytime you need a fast easy biscuit side. Give them a try tonight!
Yield: 8 - 10 Biscuits
Red Lobster Cheddar Bay Biscuits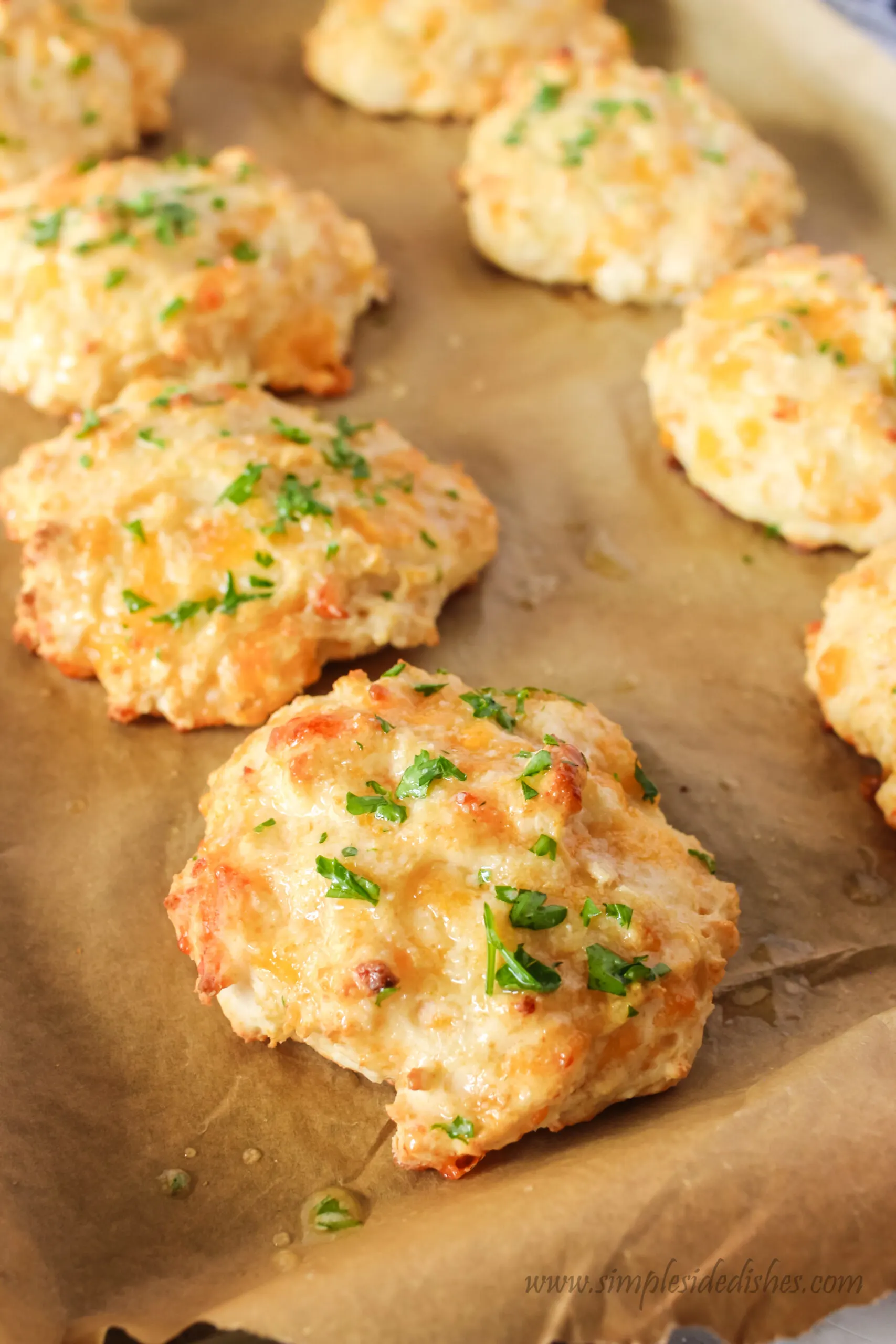 These Red Lobster cheddar biscuits taste just like the restaurant version and are ready in only 30 minutes. This secret recipe is no longer a secret in this copycat recipe!
Ingredients
2 cups Bisquick Pancake Mix
1 cup Sharp Cheddar Cheese
2/3 cup milk, any percent
1/4 cup butter, melted
1/4 teaspoon garlic powder
1 1/2 teaspoons fresh parsley
Instructions
Preheat oven to 450*F
Line a baking sheet with baking mat, parchment paper or non-stick foil.
In a bowl combine Bisquick and cheese. Mix well.
Add milk and gently mix with a spoon or spatula.
Scoop golf ball sized of mixture and drop biscuits onto prepared cookie sheets.
Bake for 10 minutes.
While biscuits are baking, in a small bowl combine melted butter, garlic powder and fresh parsley. Set aside.
Once biscuits are baked and out of the oven, gently spread melted butter mixture over the top of each biscuit.
Serve immediately and enjoy!
Nutrition Information:
Yield:
10
Serving Size:
1
Amount Per Serving:
Calories:

248
Total Fat:

13g
Saturated Fat:

8g
Trans Fat:

1g
Unsaturated Fat:

4g
Cholesterol:

37mg
Sodium:

502mg
Carbohydrates:

23g
Fiber:

1g
Sugar:

6g
Protein:

9g