Butter swim biscuits are easy to make, fast to put together, and fun to watch transform. Packed with flavor they will become a favorite!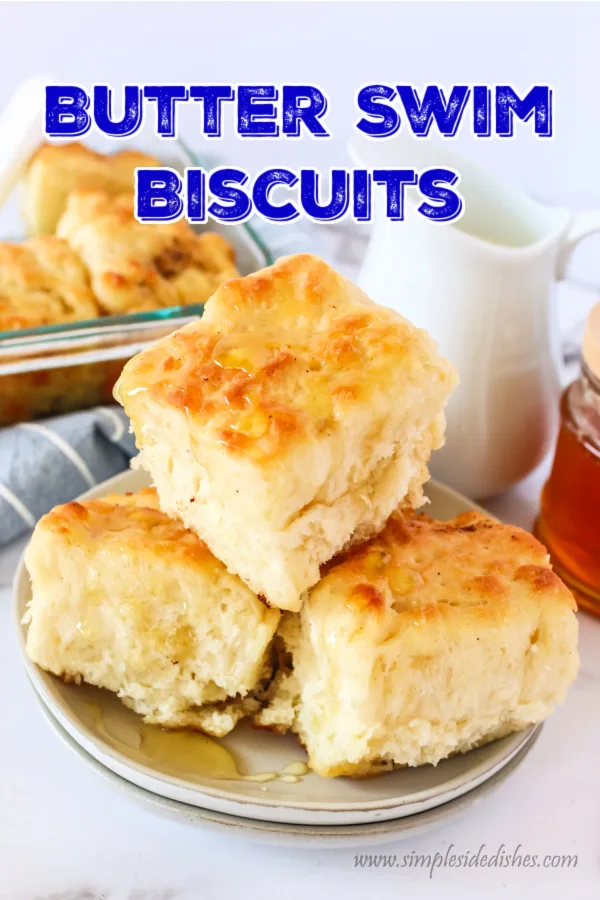 I love a good biscuit. They are delicious, easy, and always taste great.
But this butter swim biscuit recipe make it even easier since you don't have to worry about cutting cold cubes of butter into the dough.
Instead, melted butter is in the pan you cook in, so the delicious biscuits absorb the butter as the biscuits cook.
It's easy and even a little bit magical. These easy biscuits have a fluffy interior and are cooked in a butter bath. Some call them butter dip biscuits, other simply butter biscuits, whatever you call it, just know they are delicious homemade biscuits that my whole family cannot resist.
Whether you make these for a snack or a side dish, this butter swim biscuits recipe is so simple and so fast to come together.
What ingredients are in butter swim biscuits?
With a few basic ingredients you can make these fluffy biscuits at home. For the best results we recommend sticking to the recipe.
Butter: this adds flavor, texture, and keeps the biscuits from sticking to the pan. You'll need one stick of butter. I use salted, but you could use unsalted butter too.
All-Purpose Flour: this is the main body of the biscuit
Baking Powder: this makes the amazing biscuits rise so they are fluffy and not dense
White Sugar: this helps lock in the moisture making sure the biscuits aren't too dry
Salt: this brings out the flavor of the butter and buttermilk in the biscuits
Buttermilk: the acid in the buttermilk helps the baking powder rise more which makes the biscuits fluffy
Pro Tip:
Do not try to use less butter. You really want these biscuits swimming in butter.
Because no oil is mixed into the dough, you need the biscuits to absorb every bit of melted butter to give you a great flavor when they are cooked.
Add Cheddar Cheese to make it even more savory.
How to make delicious butter swim biscuits:
Melt butter in the oven while the oven is preheating.
Mix dry ingredients then stir in buttermilk until just combined.
Spread biscuit dough in butter and using a sharp knife, cut into pieces. This will be a sticky dough.
Bake until the tops are golden brown.
Let sit to absorb extra pool of butter still in the pan, then serve!
Pro Tip:
You don't need a biscuit cutter to create tasty biscuits!
If the top is looking too dark before the timer goes off, cover with aluminum foil.
Enjoy with a little jam, honey or extra butter.
Can I use homemade buttermilk in butter swim biscuits?
Yes! If you do not have buttermilk, or cannot find buttermilk in the store you have two options.
Make your own butter from heavy cream. It's easier than it sounds. And when you are done you will have fresh butter and fresh buttermilk.
Add 1 Tablespoon white vinegar or lemon juice to 1 cup regular milk and let it sit for 5 minutes. This will curdle your milk, but it increases the acid in the milk which is why this recipe calls for buttermilk.
It needs the extra acid to help the baking powder do its job of making the biscuit fluffy.
How to store buttery buttermilk biscuits:
Keep them covered in an airtight container on the counter until you are ready to use them again. You can eat them at room temperature or heated up in the oven or microwave.
If you prefer, these store well in the fridge. They will dry out faster when kept in the fridge, but this recipe is pretty moist.
How long do butter swim biscuits last?
Biscuits always taste best the same day they are made. But you can keep them for up to 3 days safely stored in an airtight container.
Can I make butter swim biscuits in advance?
These really are best on the same day they are cooked. If you need to, you can make them a day in advance and keep them in the fridge, then warm them in the oven before serving.
You can also freeze these buttery biscuits. Let them cool completely, then double wrap them and put them in the freezer. They should stay fresh there for 2 months.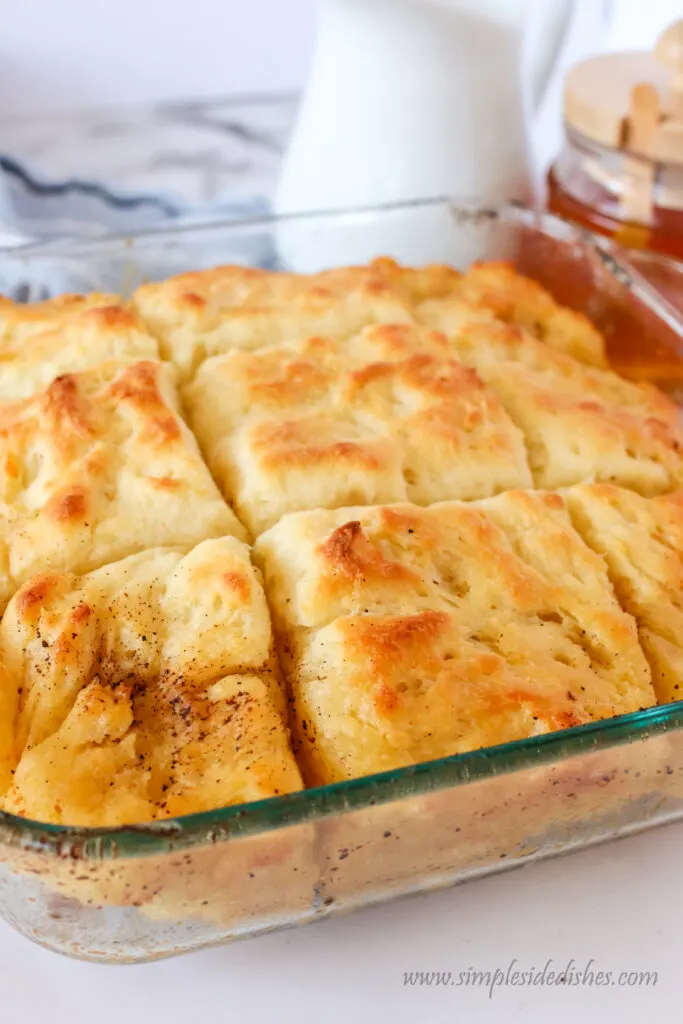 What do you serve with butter swim biscuits?
Always serve these with honey. There is nothing like a biscuit drizzled in honey. Some people use maple syrup, and that is also acceptable.
Other things you can serve with these biscuits are:
Chicken: fried, grilled, or rotisserie
Soup: any kind of soup is great with an easy biscuit on the side
Barbecue: ribs, pulled pork, shredded beeg, brisket
Beans: beans or lentils love a biscuit side
Garden veggies: any veggie mix roasted or raw looks like a meal with a biscuit on the side
Can I add cheese to butter swim biscuits?
Yes! Sharp, strong flavored cheeses are the best because you don't need to use very much to get great, full flavor.
Just add up to ½ cup of shredded cheese to the dry ingredients before mixing in the buttermilk.
You can transform these with your favorite biscuit flavor by adding up to a tablespoon of your favorite flavorings.
Garlic, Italian blend, whatever herbs you like can be mixed in with the dry ingredients before adding the buttermilk.
Can I double the recipe for butter swim biscuits?
Yes! If you don't have two different baking pans, you can make this in a 9×13 pan.
You will have more biscuits and may need to cook them longer. Don't worry they will still produce delicious homemade biscuits everyone will love.
Why do butter swim biscuits work?
Short Answer: The melted butter acts as a fryer so you get a crispy outside and the dough absorbs the butter surrounding it to give the inside butter flavor too.
Long Answer: If you have made biscuits, but never butter swim biscuits, you are probably wondering how they can make a great biscuit.
After all, most people say the secret to a great biscuit is cold butter cubes.
And that is only partly true. Cold butter is the secret to flaky biscuits.
These biscuits are more fluffy with a crispy crust, more like a Red Lobster style biscuit and less like a biscuits and gravy flaky biscuit.
So the dough cooks in the hot oil like a fryer and cooks the outside instantly while slowly seeping in and surrounding it and cooking the inside.
It's not a true fryer because the butter isn't sizzling, but the oil surrounds it and heats up as it cooks, and if gives you a great tasting biscuit every time.
These butter swim biscuits really are easy, fast, and so delicious; they are sure to become your new favorite side dish! Truly the easiest biscuit recipes in existence today.
Yield: 9 Biscuits
Butter Swim Biscuits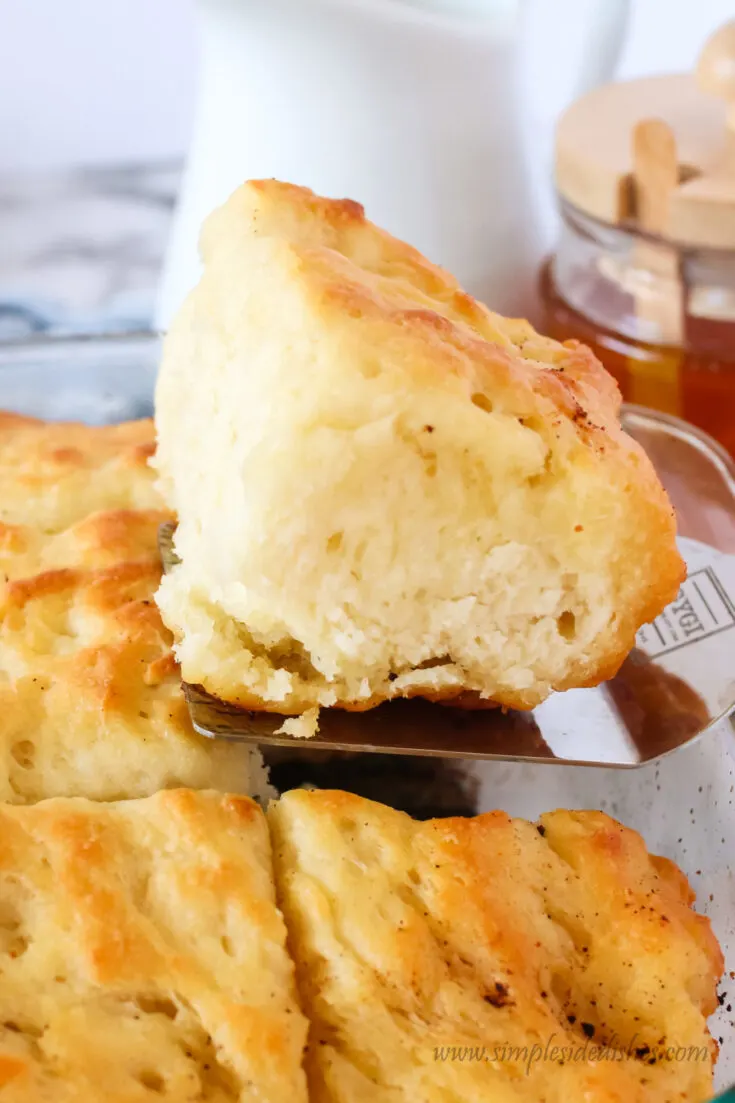 Butter swim biscuits are easy to make, fast to put together, and fun to watch transform. Packed with flavor they will become a favorite!
Ingredients
Instructions
Preheat oven to 450*F
Place butter in an 8 inch casserole dish and place in the oven - don't worry if the oven isn't at temperature. You're simply melting the butter.
Once butter is melted, remove from the oven and set aside.
In a bowl combine flour, baking powder, sugar, and salt. Mix well with a spatula.
Add buttermilk and stir until combined. Don't overmix!
Spread the sticky mixture over the butter mixture in the pan.
Gently spread it out.
With a bench scraper, cut dough into 9 pieces and allow butter to get into cracks.
Bake for 20 - 25 minutes. My oven was 22 minutes.
Remove from the oven and let biscuits sit for 5 minutes. As they sit, they will absorb any remaining butter.
Once all butter is absorbed, slice and serve with honey.
Nutrition Information:
Yield:
9
Serving Size:
1
Amount Per Serving:
Calories:

244
Total Fat:

11g
Saturated Fat:

7g
Trans Fat:

0g
Unsaturated Fat:

3g
Cholesterol:

29mg
Sodium:

624mg
Carbohydrates:

31g
Fiber:

1g
Sugar:

4g
Protein:

5g