This cool watermelon mint salad has the best mix of flavors; it is salty and sweet, creamy and crunchy, and always cool and refreshing!
With it's sweet flavor and creamy cheese, this easy recipe is great for backyard barbecues, picnics or potlucks.
Easy to toss together with simple ingredients, this watermelon recipe is one of my summer favorites.
It is truly one of the best watermelon salad recipes you'll make all year, thanks to only 5 ingredients, making it the perfect summer side dish.
I admit, I am a watermelon purist. I still believe there is nothing better in the entire world than fresh, ripe watermelon on hot summer days.
But this easy watermelon salad is really delicious and one of the best ways to enjoy seedless watermelon chunks.
It takes the sweet watermelon and mixes it with a salty, creamy feta and a cool, refreshing mint that just fits so perfectly together.
Making it a big hit and the perfect side dish to just about any meal.
What ingredients are in watermelon mint salad?
Juicy Watermelon: you want your melon cut into 1/2 inch cubes, chilled and drained
Feta Cheese Crumbles: you can buy pre crumbled feta or blocks of feta, just pick one that you like the flavor of the best
Mint Leaves: this gives the crisp, bright, cool notes to every bite of the salad
Olive Oil: when this is mixed with fresh mint leaves it takes on the mint flavor and coats every part of the watermelon feta salad with mint flavor
Salt: just a sprinkle over the top really brings out the flavors of each ingredient
Pro Tip: Save time by using a chilled watermelon. Then you can simply cut, combine and serve immediately.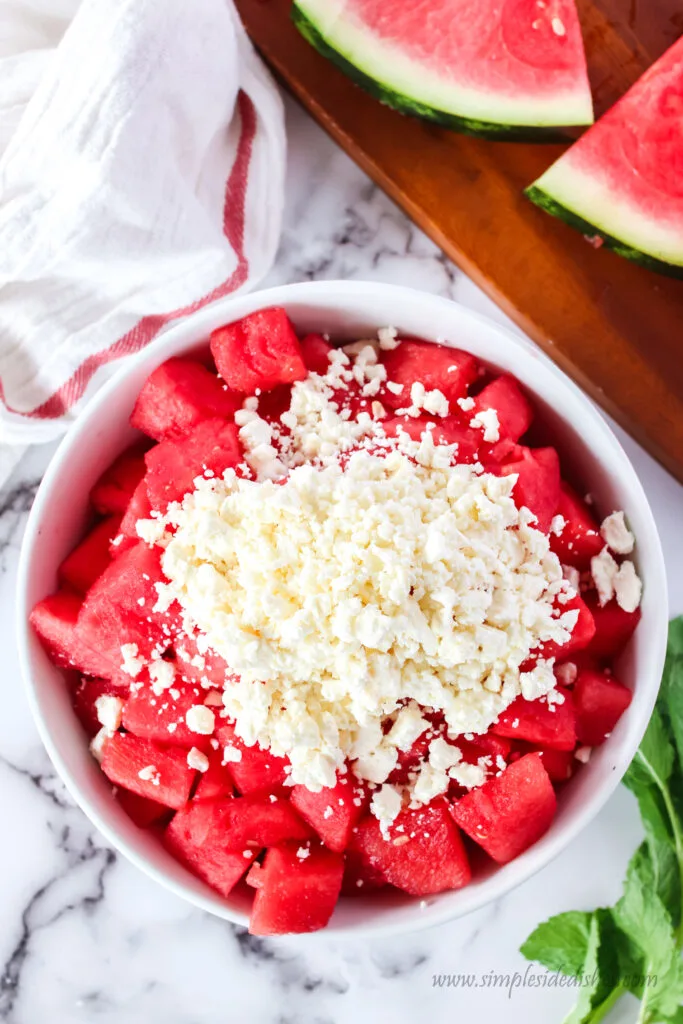 How to make watermelon mint salad:
Combine mint and oil in a large bowl.
Combine watermelon and feta separately.
Add melon to dressing and gently mix.
Sprinkle it with salt and serve this fruit salad to your guests!
Pro Tip: The watermelon and feta will break easily when mixing. To gently mix, take a utensil with no sharp sides like a rubber spatula or wooden spoon and reach down with it to the bottom of the bowl.
Then lift up the bottom pieces and fold them over the top, moving around in a circle just a few times until it looks blended.
How to cut a watermelon:
Don't be intimidated by a big watermelon! Follow these steps to make getting it open and turning it into bite sized pieces for watermelon mint salad easier:
Use a good knife. Get out the big, sharp knife so you can easily pierce through the watermelon rind without a lot of jagged pieces.
Cut it in half the short way first. Do not attempt to cut it down the long side. Just pierce the rind with your knife the short way and try to make one slice on one half and then spin the melon to slice it on the other side to get 2 halves.
Place it flat side down on the cutting board. Now that you have two halves, use the flat side you cut to act as the base so your next cuts can be more precise.
Cut it in half again. Now you have a watermelon quarter.
Lay it flat on the long side. At this point you can cut it into triangles if you're having a watermelon snack first.
Cut the rind off. Sometimes I switch to a smaller paring knife so I can get all the melon off the rind.
Dice using a grid pattern. Now you can cut the melon into cubes by cutting straight lines along each watermelon wedge.
Pro Tip:
Picking a good watermelon will make a big difference in the flavor of this feta salad recipe.
The biggest whole watermelon aren't always the best tasting. Try picking a smaller watermelon that is heavy for its size.
If you want to make the salad look fancy, use a melon baller to cut circle pieces of watermelon instead of squares.
Can you make watermelon mint salad ahead of time?
You can make it a little in advance. But watermelon always tastes best the day it is cut. It can be okay the next day or two, but the sweet and juicy flavor will always be best the first day.
If you need to, you can cut the watermelon and combine the mint and oil, but don't mix the watermelon and feta salad until you are ready to serve it.
For a great watermelon salad, we suggest prepping and serving on the same day.
How long will watermelon mint salad keep?
This salad is best eaten the same day it is made. You can put it in the fridge for one or two nights, but the texture and flavors will change.
How to store watermelon mint salad:
The best way to store this delicious watermelon salad is in an airtight container in the fridge. Eat within one or two days of making.
Can dogs have watermelon mint salad?
Yes, but try not to give them very much feta cheese.
Watermelon plain is a great snack for your dog with lots of water and nutrients. Fresh mint leaves are also good for your dog.
However, the feta is not good for dogs. Feta crumbles won't hurt your dog, but because feta is high in fat and high in lactose, it can upset your dog's stomach if they eat a lot of feta.
Pick the big pieces of feta out of the fresh watermelon salad before feeding it to your dog.
What to serve with watermelon mint salad:
Grilled Meat: the cool flavors of this salad go great with any hot food off the grill
BBQ: this is a great side to any barbeque meals
Brunch: this is such a pretty addition to a nice Sunday brunch
Snack time: this is one of my favorite snacks all by itself.
More Salad Recipes You'll Love…
No matter when you are serving this watermelon mint salad, you are sure to have a delicious, easy, refreshing side No matter when you are serving this watermelon mint salad, you are sure to have a delicious, easy, refreshing side dish that everyone will love.
Yield: 8 Servings
Watermelon Mint Salad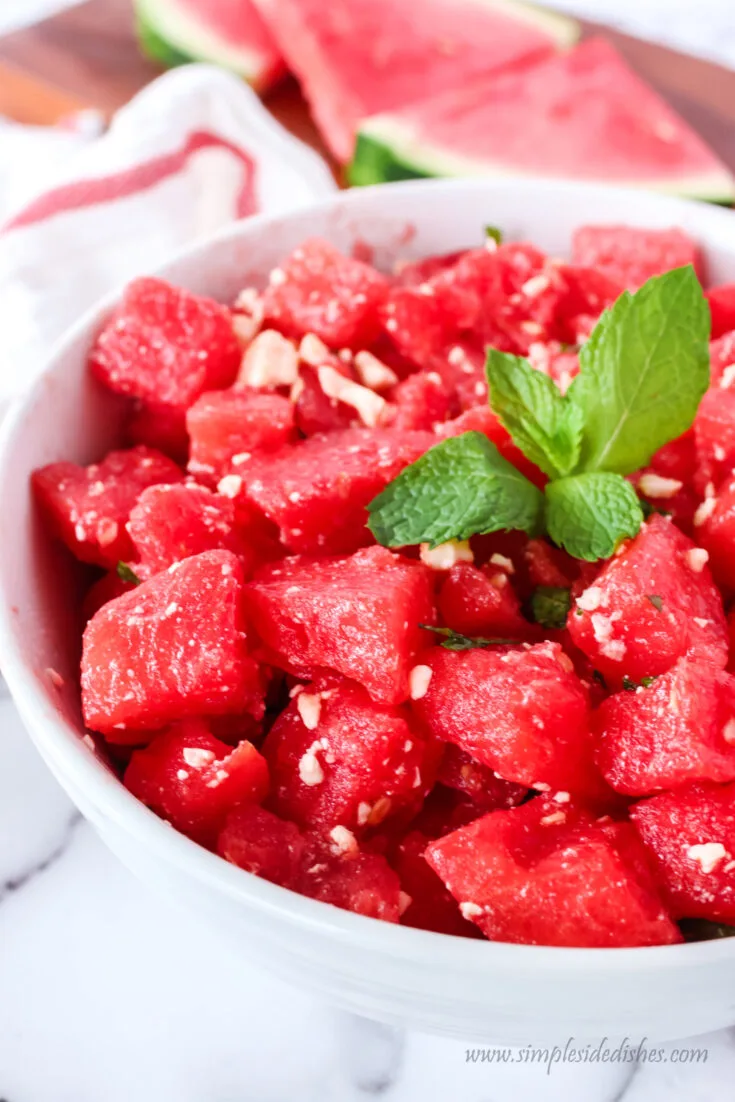 This cool watermelon mint salad has the best mix of flavors; it is salty and sweet, creamy and crunchy, and always cool and refreshing!
Ingredients
Instructions
In a small bowl add mint leaves and olive oil and mix. Set aside.
Place watermelon and feta in a large bowl. Gently mix.
Add salt and mint mixture. Gently Mix.
Serve immediately or chill for later.