These Copycat Cracker Barrel Fried Apples taste just like the restaurant version, but are so simple to make at home. If you love apple pie, you will love these easy fried apples..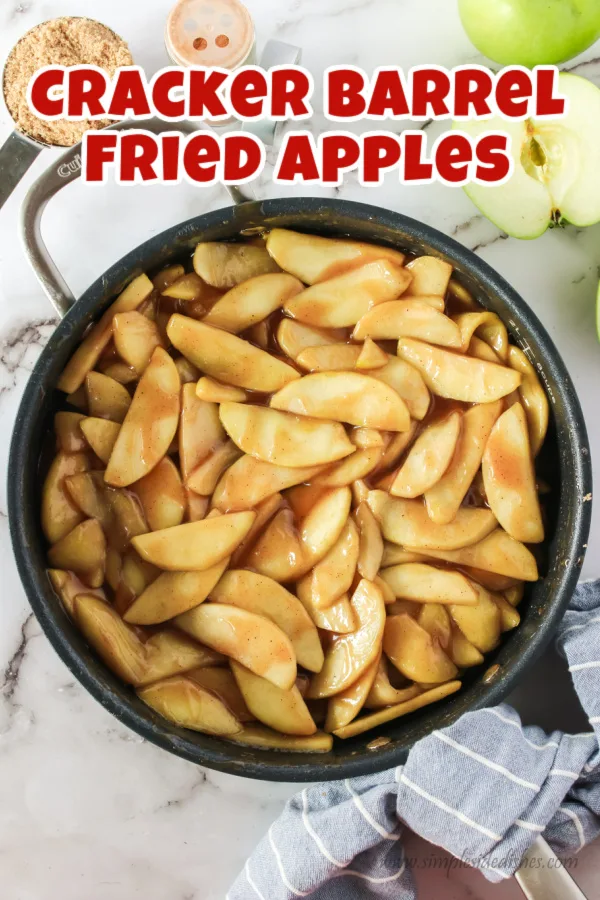 My favorite side dishes are the ones that are fast, easy, and often ones that can double as a side dish and as a dessert recipe.
This fried apples recipe is one of those magical side dishes that's also a classic southern side dish that your taste buds will rejoice.
It is like taking the most perfect apple pie filling and serving it as a side dish with your meal. And the best part is the leftovers are just as good.
You can reuse them for ice cream or pancake toppings or even as a snack straight out of the fridge. This fried apple recipe is a sweet side dish from my favorite restaurant.
If you're familiar with Cracker Barrel Restaurants, then you've most likely heard of their delicious fried apples. They are famous. And this is a favorite thing on the menu.
This is what I like to call a copycat recipe that makes a delicious side dish or tasty dessert.
If you've never had them or never even heard of them, it might be a location thing. Some people call them southern fried apples.
And if you've never been offered them as a side, let me introduce you to the best dessert disguised as a side dish you will eat today.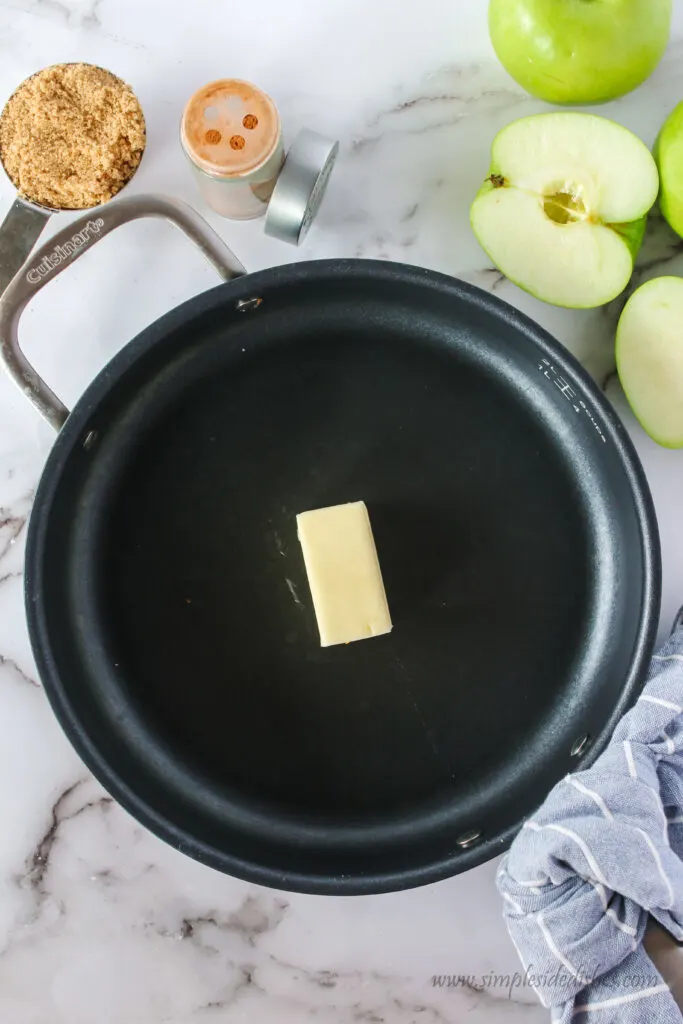 What ingredients are in Cracker Barrel Fried Apples?
Butter: everything fried in butter has a better flavor. Trust me, you want to use real butter.
Granny Smith Apples: these are large, tart apple, and hold up the best for frying
Corn Starch: we use this to thicken the sauce for the apples
Cold Water: mixing cornstarch with water first makes it so you don't get lumps of cornstarch in your dish
Brown Sugar: brown sugar adds a hint of molasses to the dish which gives you a deeper caramel sauce flavor
Ground Cinnamon: cinnamon is the perfect spice for apples
Nutmeg: just a pinch adds a layer of flavor that you will miss if you leave it out
Pro Tip:
Do not skip or substitute the butter! If you ask me how to fry apples, I will tell you every time that the secret ingredient is butter. Let the apples absorb it for the most flavor.
Some have asked if they can use white sugar. You can, but you'll miss out on the molasses flavor that brown sugar offers.
In a pinch you could use apple pie spice.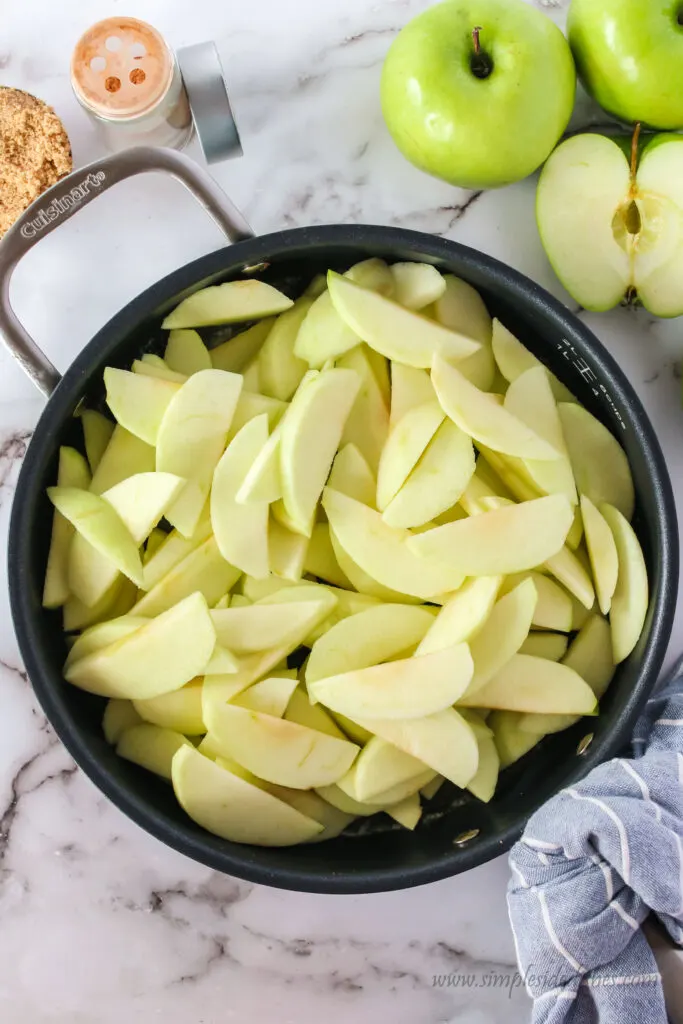 How to make Cracker Barrel Fried Apples:
Sauté apple slices in melted butter in a large skillet.
Add cornstarch slurry and spices.
Boil to thicken apple mixture.
Serve the cooked apples warm!
How to Store Leftover Fried Apples:
If you can't finish your entire skillet full of fried apples, then you'll want to save it for another day. This delicious treat will last for up to 5 days in an airtight container in the fridge. Simply reheat over medium heat or in the microwave for 1 minute to reheat.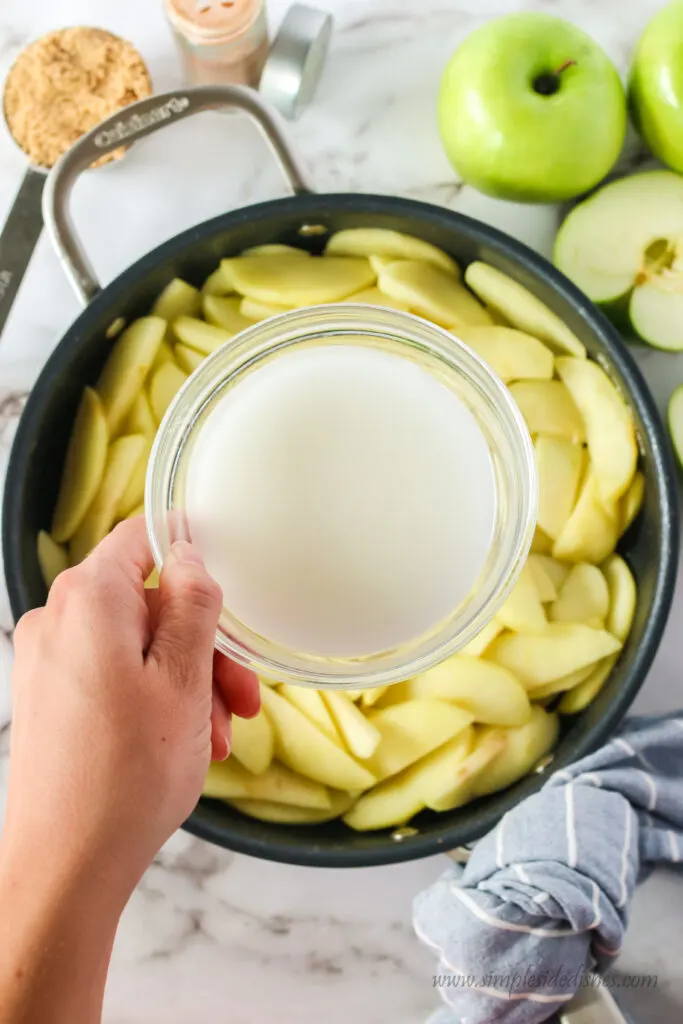 What apples are good for sautéing?
The best apples are granny smith apples. These are firm, crisp and tart. Making any dish you prepare not overly sweet or mushy.
Golden delicious apples or pink lady for example, are soft apples that sadly will turn to applesauce when cooked.
How to peel, core, and slice apples easy:
While videos showing people peeling apples with an electric drill always go viral at apple harvest season, it is not the easiest method for less than 20 apples.
It's fun and speedy (and messy if you don't do it right) but it's not always fast and easy. And I don't always keep a drill in the kitchen.
But if you follow these simple steps, you'll feel like a professional apple slicer in no time.
Use a vegetable peeler to peel the apple. Getting the skin off gives you more even texture for your fried apples cracker barrel style.
Holding the apple, cut close to the core so the apple is not quite cut in half.
Lay the apple with the core flat on the cutting board, and cut close to the core on the 2 other sides.
Turn the apple flat so you have one more cut close to the core to finally remove the core.
Now you have 4 apple pieces without a core that all have a flat side.
Lay the apples flat side down, slice apples into ¼" pieces. When they are all the same size, they cook more evenly.
What goes with Cracker Barrel Fried Apples?
I serve this in so many ways.
Main Course: Apples and pork always go well together. I'm a fan of Ham Steaks with fried cinnamon apples.
Dessert: We love a scoop of vanilla ice cream with our fried apples!
Breakfast: It is also a tasty topping for pancakes, French toast, oatmeal or yogurt.
Snack: It is also a perfect snack that everyone is excited to eat warm or cold.
Can Cracker Barrel Fried Apples be frozen?
You can freeze them. They will be more mushy after they have been cooked, then frozen, then reheated.
If you do freeze them, store them in a freezer safe container, then just warm them up on the stove until heated through.
Is your Cracker Barrel Fried Apples recipe easy enough for kids to make?
Yes! This is a great recipe to have your children in the kitchen helping you. This easy recipe comes together so quickly that it's a fun one for kids to do and have quick results.
It's also a great science class for what happens when you combine heat, oil, and sugar. Caramelized apples are a great bonus to a food science class.
We always recommend having adult supervision when using knives and the stove.
Pro Tip: Teach your children knife safety skills even if they are practicing with a butter knife or child safety knife. That way as they grow they already have good safe finger habits in the kitchen.
Can dogs eat Cracker Barrel Fried Apples?
Yes. Dogs can eat fried apples as nothing in there is toxic. However, the butter and brown sugar can be harmful when dogs eat too much dairy and sugars.
It would be better to feed your pup raw apples; save the cinnamon fried apples for your human friends.
Can you reheat Cracker Barrel Fried Apples?
Yes! These make great leftovers. You can eat them cold straight from the fridge. Or you can quick saute on the stovetop to reheat with a better texture.
You can also reheat in the microwave, but they will be more mushy than reheating on the stove.
Are Cracker Barrel Fried Apples Gluten Free?
Yes! Every ingredient in this recipe is naturally gluten free.
More Apple Recipes You'll Love…
If you are in need of a new apple recipe, try one of these. They are perfect for apple season!
Whether you are making this for a great dinner side or a tasty snack or dessert, these cracker barrel fried apples are easy, fast, and full of delicious flavors. We know you will make them again and again.
Yield: 6 Servings
Cracker Barrel Fried Apples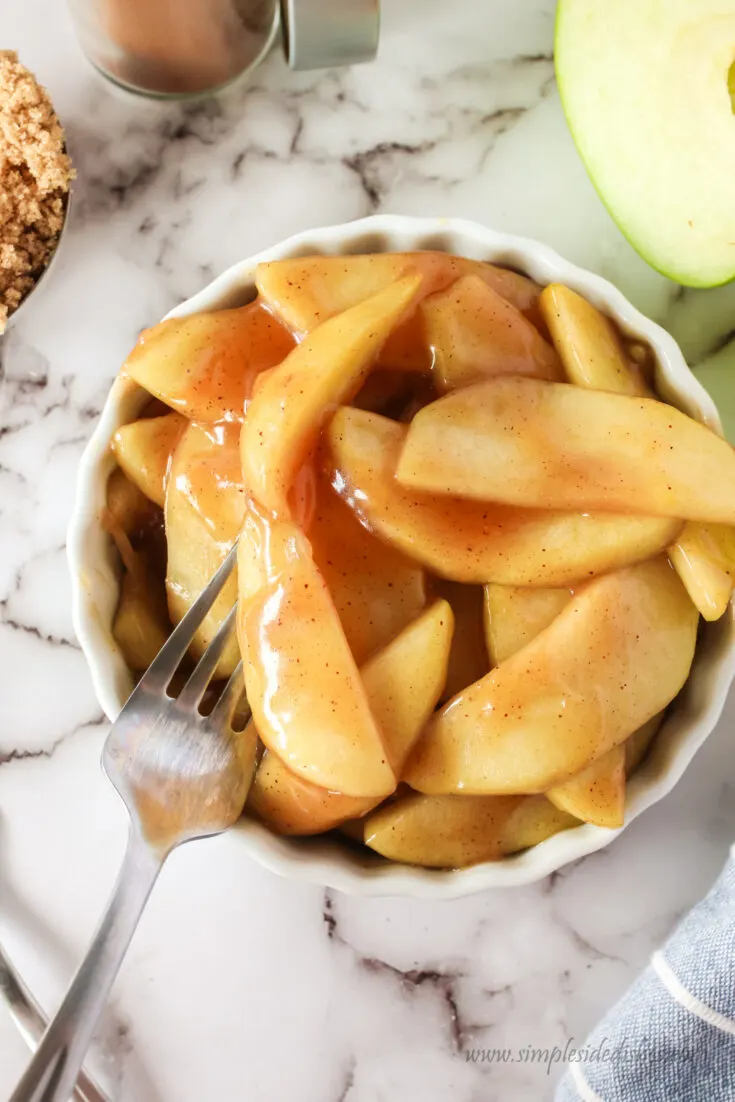 These Cracker Barrel Fried Apples taste just like the restaurant version, but are so simple to make at home. If you love apple pie, you will love these easy fried apples.
Ingredients
Instructions
In a large skillet melt butter.
Add apples and cook 6-7 minutes or when fork tender but not mushy.
While apples are cooking, dissolve corn starch and water.
Once apples are cooked, add corn starch mix to apples. Gently mix.
Add brown sugar, cinnamon and nutmeg. Stir gently.
Boil for 2 minutes or until sauce thickens.
Remove from heat and serve immediately.
Notes
If sauce does not thicken to desired thickness, mix and additional teaspoon cornstarch with 1 teaspoon of water and add to apples. Boil for 1 minute.
Nutrition Information:
Yield:
6
Serving Size:
1
Amount Per Serving:
Calories:

216
Total Fat:

8g
Saturated Fat:

5g
Trans Fat:

0g
Unsaturated Fat:

2g
Cholesterol:

20mg
Sodium:

68mg
Carbohydrates:

36g
Fiber:

4g
Sugar:

28g
Protein:

1g