This Snickers and Apple Salad tastes like caramel apple in a bowl; you can mix it together for a quick dessert salad that everyone is sure to call their favorite side dish!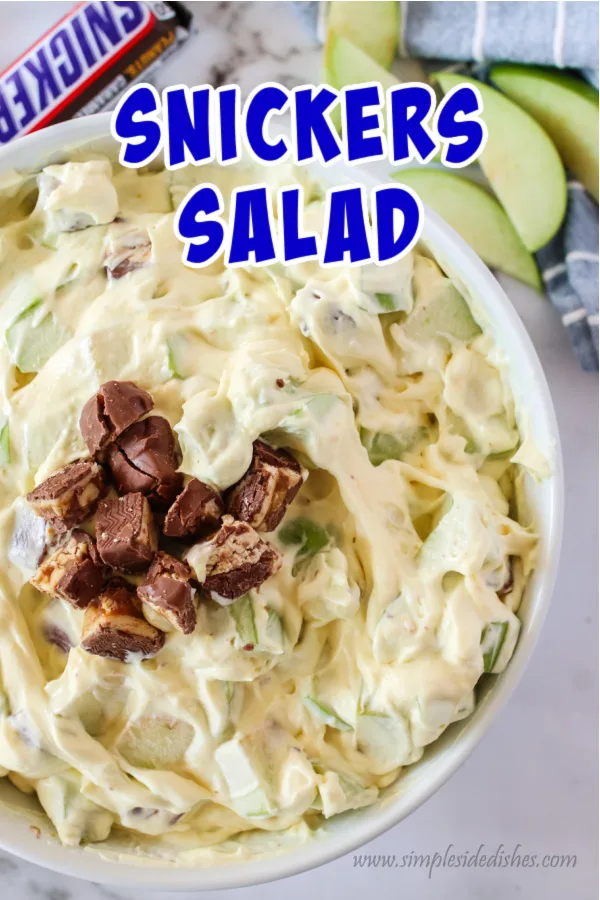 If you haven't had snickers and apple salad before, you are in for a treat. It is so easy to throw together, and it's a dessert disguised as a salad. So you can eat it with dinner.
My kids favorite dishes are usually the salads that are actually desserts. And they are mine too.
But it's nice to have children around who ask for them so I get extras too.
This salad is extra nice to have around because the bright tart crunch of the apple mixed with candy and cream works so well together. It's a caramel apple lover's dream side dish.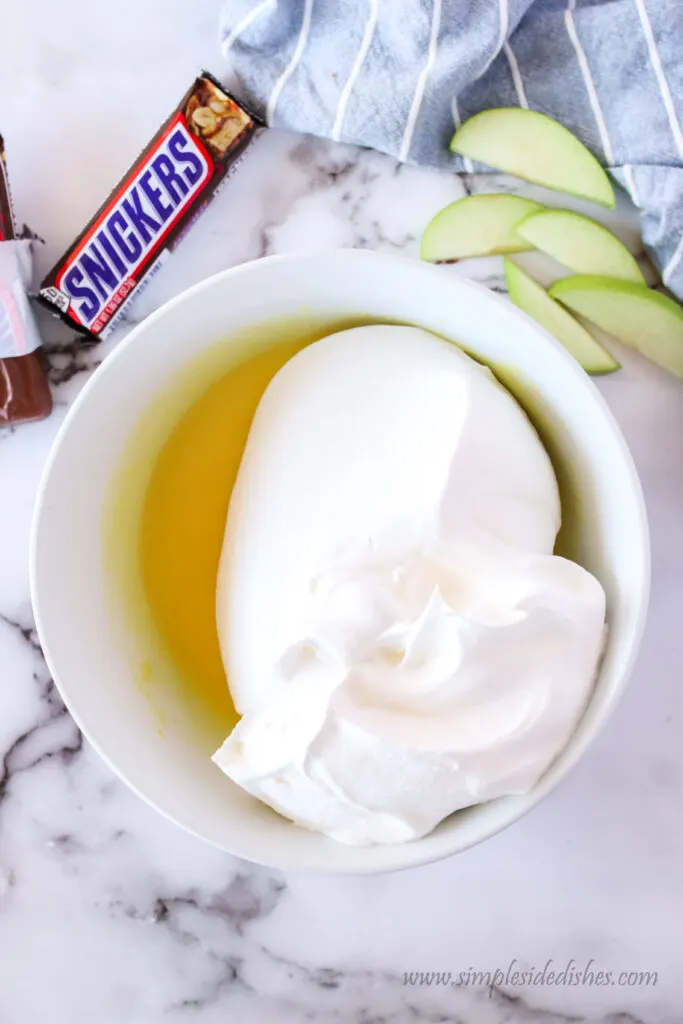 What is a Snickers and Apple Salad?
It really is a snickers caramel apple salad. It tastes like candied apple fluff. And it has a lot of the same ingredients.
You mix together apples, snickers, pudding, and cool whip to make a delicious dessert salad.
And whether you are a lover or hater of cool whip, it belongs in dessert salads. It makes them fluffier than homemade whipped cream. And it's a lot less effort than whipping your own cream.
What do you need to make Snickers and Apple Salad?
Instant Vanilla Pudding: this adds a creamy texture to smooth over the salad
Milk: this mixes with the instant pudding to create a no-cook pudding
Granny Smith Apples: bite sized tart apples add a great crunch and contrast to the sweet salad ingredients
Cool Whip: be sure it is thawed and not frozen to keep the salad light and fluffy
Snickers Bars: chopped candy bars give every bite a chocolatey caramel nutty crunch
Pro Tip: it's easier to chop snickers bars if they have been in the fridge or freezer to chill. Warm snickers bars have runny caramel which can be messy when chopping.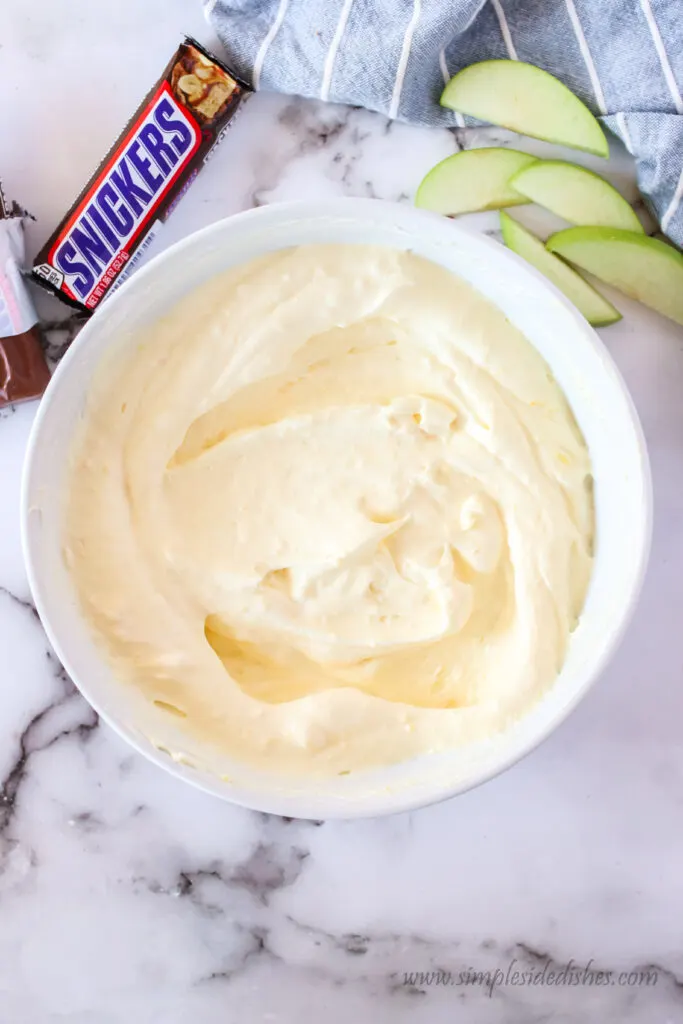 How to make apple salad with snickers:
Combine instant pudding and milk, mixing until creamy.
Add cool whip and mix well.
Add apples and snickers and mix well.
Serve! (or chill then serve)
Pro Tip: if you find your pudding is lumpy after mixing it with the milk, put it in the blender or use an immersion blender. A quick blend will get rid of lumps before the pudding sets and give you a perfectly creamy base for your snickers apple salad.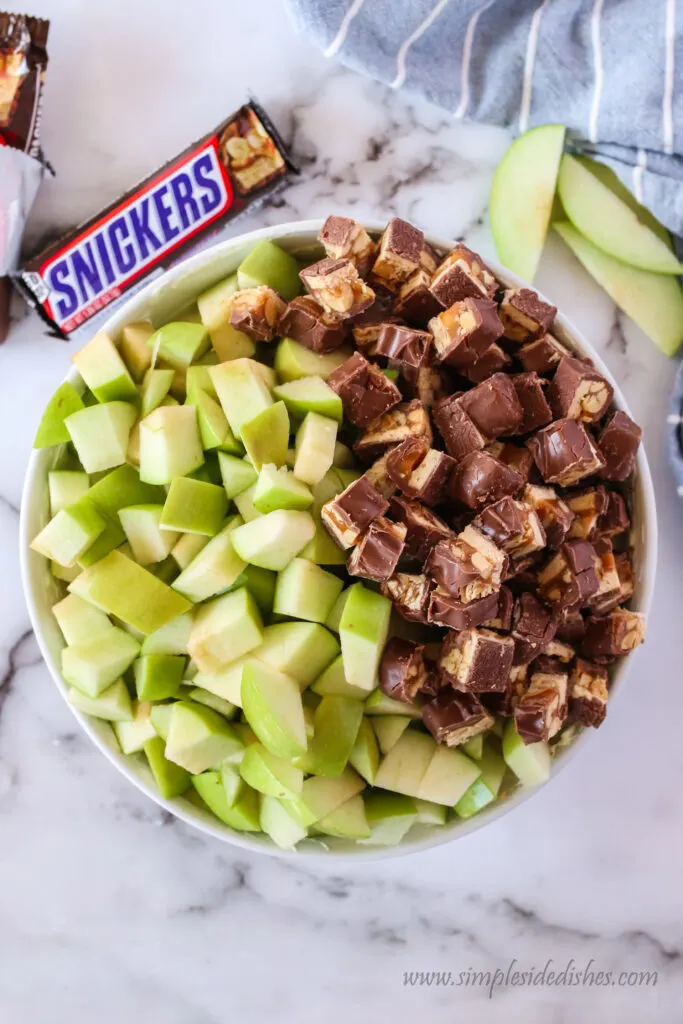 Can I use yellow apples in Snickers Salad?
If you do then it won't be a green apple snickers salad recipe. But there will also be some taste differences when using different apples.
I prefer the taste of tart granny smith apples in this very sweet snickers salad. But if you prefer, you can use other kinds of apples.
Just know that each apple has its own flavors and textures. Some will be sweeter, some crunchier, some softer.
If you use yellow apples, know what type of apple they are so you know how it will fit in the salad.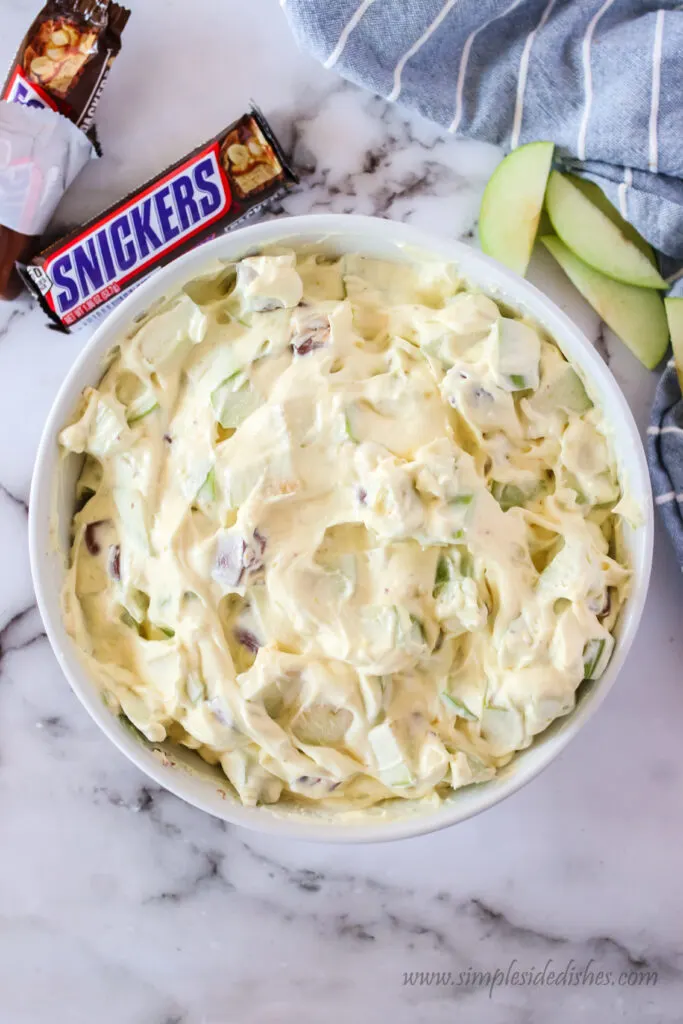 Do you peel the apples for Snickers and Apple Salad?
No! Leaving the peels on keeps the most nutrients in the apples. It also adds great color and texture.
Does apple snickers salad stay good in the refrigerator?
Not for very long. You can chill this salad for a couple hours before serving.
But for each day it is left in the refrigerator, the apples will turn brown and start to sweat. As they sweat, the pudding and cool whip mixture will become more and more runny.
It's best to consume it within one to two days of mixing it all together.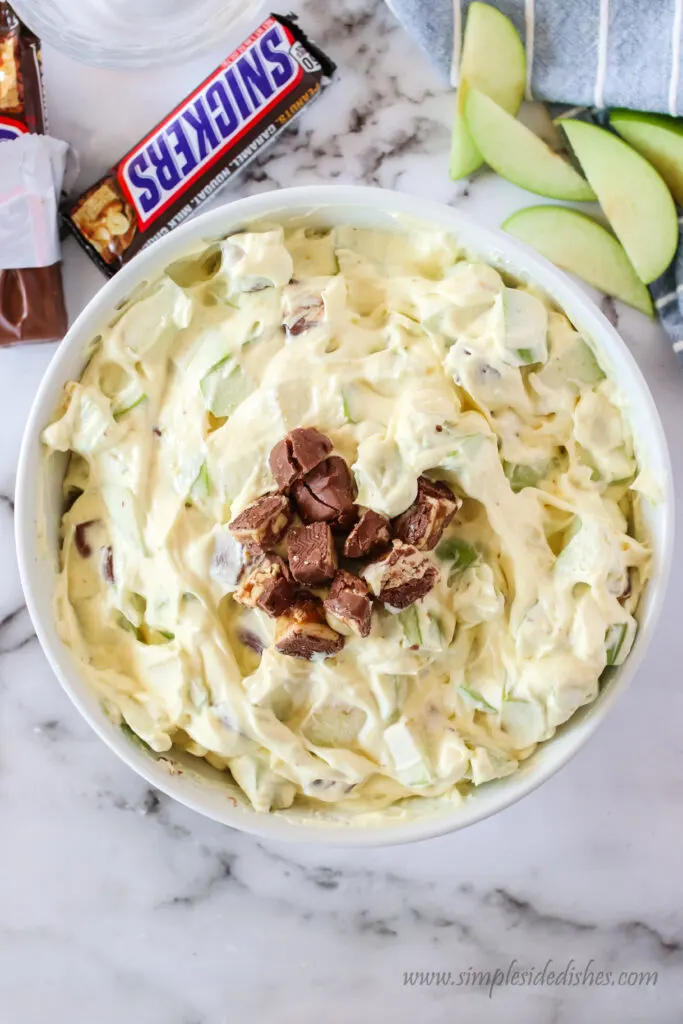 How big of pieces do you need for Snickers and Apple Salad?
You want bite sized or smaller pieces. Smaller pieces will allow you to get more apples and snickers in each spoonful. Larger pieces will give you more texture to your salad. You decide what you prefer.
How long do you chill Snickers and Apple Salad?
You can serve it immediately if all the ingredients have been stored in the fridge. Or you can chill for one to two hours.
Remember, the longer you chill it, the more chance your apples have to turn brown. When apples are cut and mixed with air they oxidize which makes them turn brown.
In order to stop that, you can coat your apple pieces in an acid like lemon juice or soda and rinse it off. This can change the flavor of your apples.
Or you can make sure your apples touch air for the least amount of time possible. Cut them and coat them in the cream immediately to prevent browning.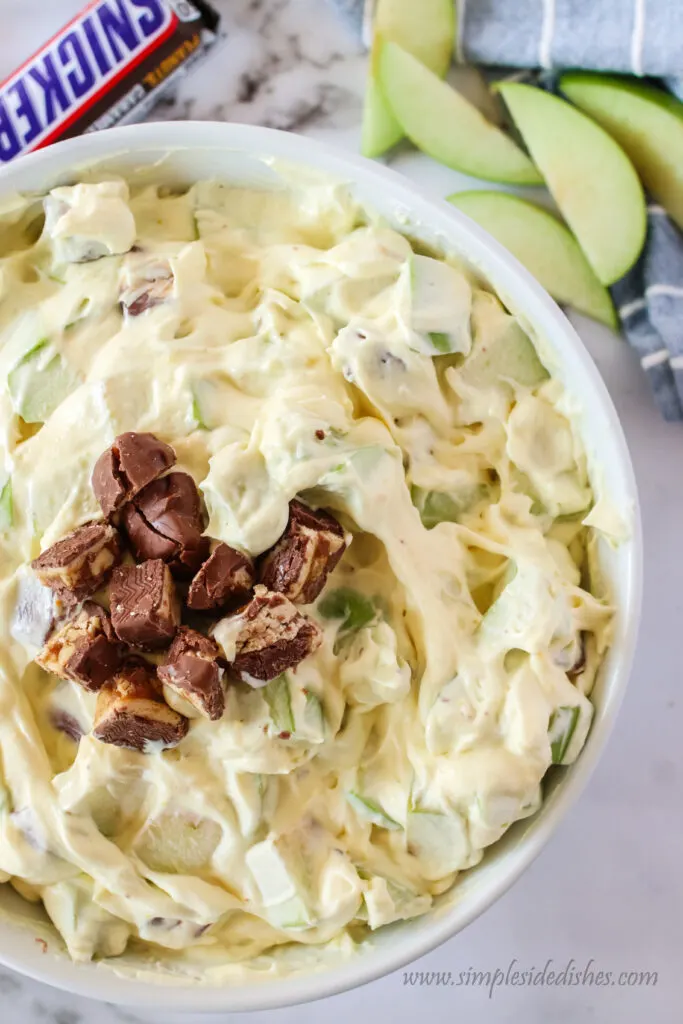 Can I use fun sized snickers for Snickers and Apple Salad?
Yes! The trick is knowing how much to use. It can be tricky because the weights are different depending on what country you purchase the bar in.
Where live in the United States of America, a full sized snickers bar weighs about 53 grams. Minis are about 9 grams, and fun sized are about 17 grams.
So for every one full sized snickers, you can use about 6 minis, or 3 fun sized to get almost the same amount.
But there is nothing wrong with measuring candy with your heart in this snickers fruit salad.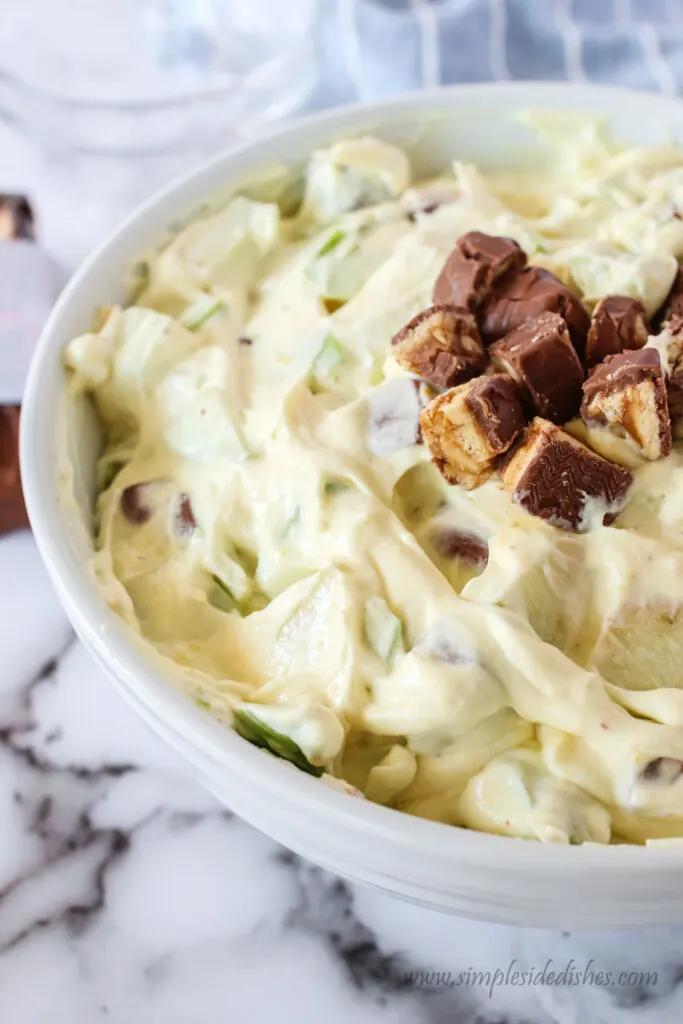 Whether you have always loved snickers and apple salad or you are learning about it for the first time today, this is the perfect dessert salad with its sweet and tart flavors and crunchy and smooth textures. It really is a perfectly delicious and simple side.
Yield: 8 servings
Snickers and Apple Salad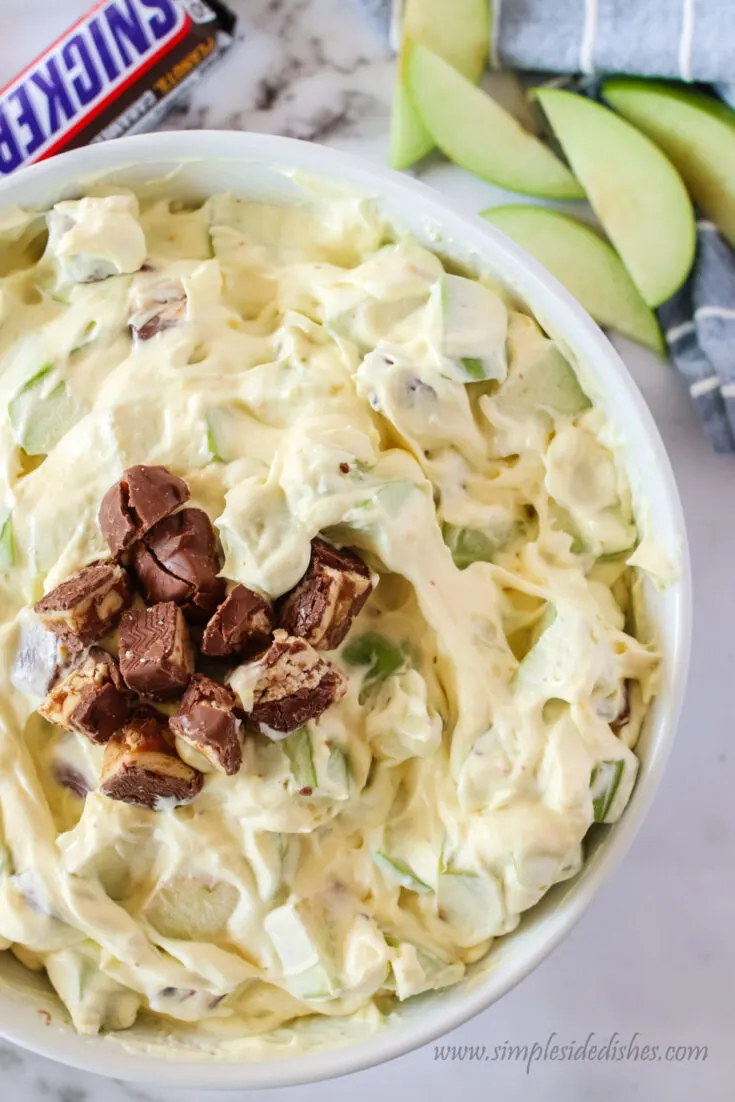 This snickers and apple salad tastes like caramel apple in a bowl; you can mix it together for a quick dessert salad that everyone is sure to call their favorite side dish!
Instructions
In a medium bowl, combine instant vanilla pudding and milk. Mix well, until creamy.
Add cool whip to the pudding mixture and mix well.
Add diced apples and snickers to the pudding mixture. Mix well.
Serve immediately or chill and serve.