With its deep flavors and creamy topping, this delicious blueberry jello salad is the perfect side dish for all of your special occasions.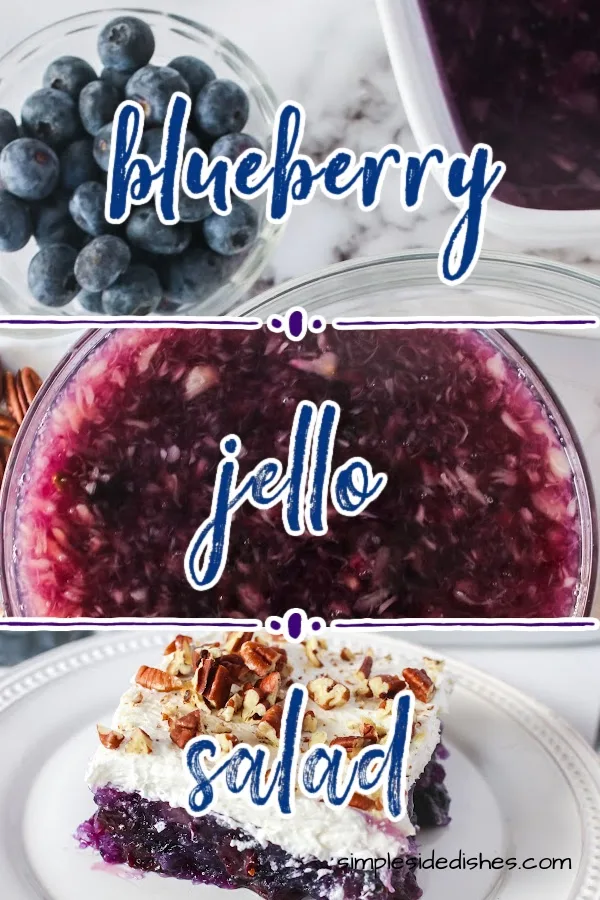 If you do not come from a family that has ever served jello blueberry salad with thanksgiving dinner, Christmas dinner, and at every summer potluck, you are missing out on a perfect recipe the whole family can enjoy.
This recipe is my husbands aunts recipe and posted here with permission. It's so easy to make an absolutely delicious!
With bright colors to match every holiday and fun jello texture and toppings, jello salads are a family favorite recipe that you will find served on our table anytime we get together.
This blueberry jello salad recipe is a perfect complement to any holiday meal but also great as a fun snack, weeknight dessert, or just an easy simple side dish.
What is a jello salad?
A jello salad is a gelatin mixture that has fruit and sometimes vegetables or nuts mixed into the gelatin so the food is suspended in the mixture.
Because the fruit is suspended, some would call this a blueberry congealed salad grape jello recipe. But blueberry jello salad is shorter and sounds nicer than congealed food.
Usually jello salads are served as a side to the main dish, but some people prefer to serve them as a dessert. This blueberry pineapple jello salad has fruit, nuts, a creamy topping, looks beautiful on the table, and is so easy to make.
What ingredients are in blueberry jello salad?
Package Grape Jello: this is flavored grape gelatin that blends perfectly into the blueberry pie flavors to make it taste like blueberry jello
Unflavored Gelatin: this gives you that great gelatin texture but lets you add your own blueberry flavor to the recipe
Hot Water: you need 2 cups of water to dissolve the gelatin crystals in the packets
Can of Blueberry Pie Filling: this gives a big burst of flavor to this layered blueberry jello salad
Crushed Pineapple: always drain your canned pineapple before mixing into a gelatin salad or you will get a soupy mess
Cool Whip: you want this at room temperature to blend with the cream cheese
Package Cream Cheese: you want this at room temperature to make the cream cheese topping easier to mix
Pecans: chopped pecans are one of my favorite dessert topping ingredients because they are sweet, nutty, and add a nice crunch to the top
How to make blueberry jello salad:
Combine grape jell-o and gelatin with boiling water in a medium bowl, mixing to dissolve the jello.
Place in the fridge, but stir every 5 minutes until smooth, cool, and thick.
Add pie filling and pineapple, mixing well, and placing in your serving dish.
Cover with plastic wrap or a lid and place in the fridge to chill until set.
Combine cream cheese and whipped cream together in a large bowl using an electric mixer, then carefully spread over the set jello layer.
Top with chopped pecans and serve!
Is there blueberry jello?
No, there is no blueberry jello, so technically this is a blueberry salad with jello of another fruit flavor and plain unflavored gelatin.
I like to use grape jello in my blueberry jello salad because it disappears when mixed with the blueberry pie filling so it seems like you have served a magical dish that you can't buy in the store. Congratulations, you are now a kitchen wizard.
Can I add blueberries to this jello?
Yes you can add fresh blueberries to this blueberry jello grape salad, but you don't need to. The blueberry pie filling already has whole blueberries in it.
But if you love berries, you can mix them in or add them to the topping as a garnish.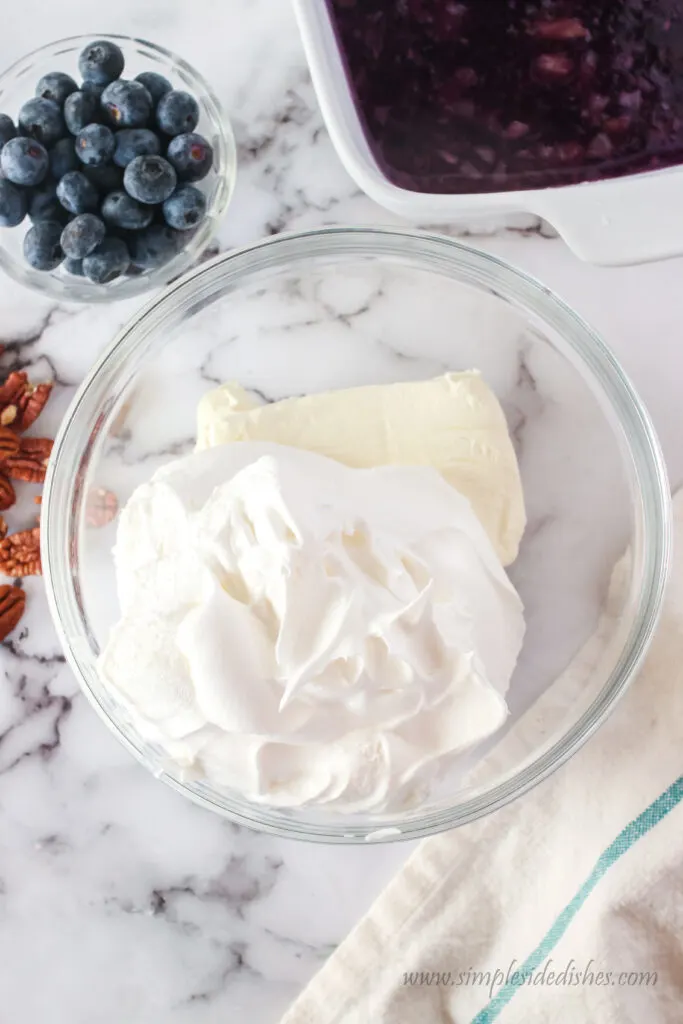 How long does blueberry jello last?
Blueberry jello salad can last about a week in the fridge. But for best results and texture, eat it within three days of making it. Sometimes jello salads lose their texture and get watery when left too long in the fridge.
How to store blueberry jello salad:
Store blueberry gelatin salad covered in the refrigerator. I like to store gelatin desserts in an airtight container with a solid lid, but plastic wrap stretched over the glass dish works great too.
Can I make blueberry jello salad ahead of time?
Yes you can make blueberry jello salad ahead of time. It is actually a perfect dish to make a day ahead of time since the gelatin needs time to set before serving.
I have made this 48 hours before serving, and it still is perfect when I am ready to serve it. Just make sure to add the pecans last if you want them to keep their nutty crunch because they will get soft as they sit in the fridge.
Can you freeze blueberry jello salad?
You can freeze anything, but if you freeze this blueberry grape jello salad and thaw it, you will get a mess. Jello cannot be frozen and keep its same gelatin texture.
However, you can freeze cubes of this Jello to add to smoothies or milkshakes. So if you have more than you can eat fresh, it can be used another day!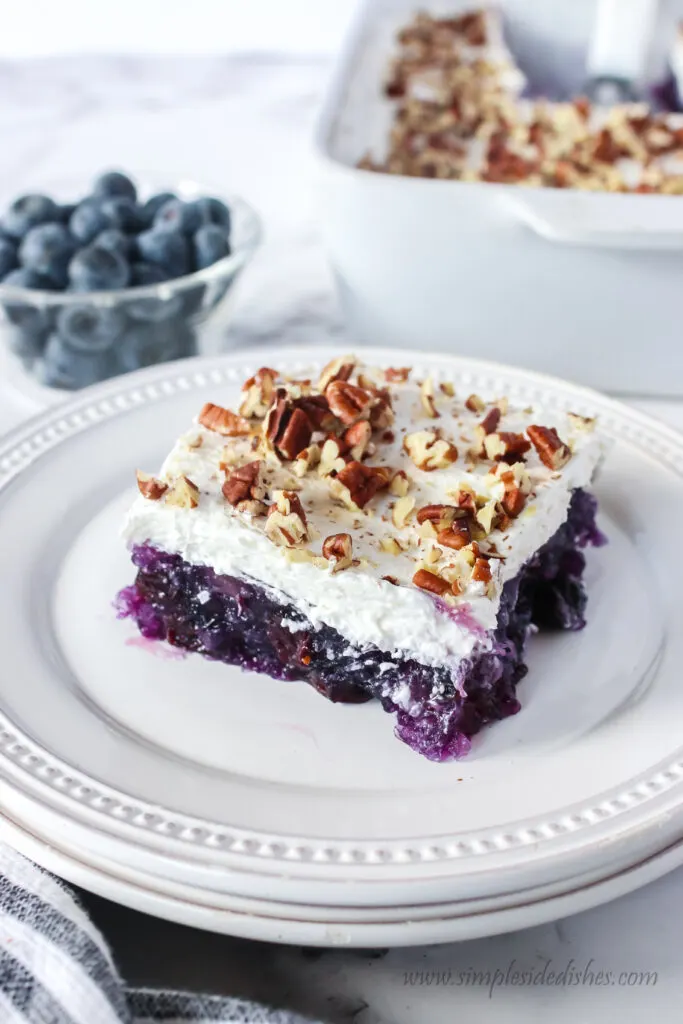 Is blueberry jello salad gluten free?
Yes this blueberry jello salad is naturally gluten free. Be sure to check your labels though because some companies add gluten to things like the blueberry pie filling.
Gelatin is not always certified gluten free, but it does not naturally contain gluten, so just check with your guests on how they approach foods like that if you have gluten free needs at your table.
The berry flavors in this blueberry jello salad give you a deep berry flavor all year long, making this a perfect thing to serve on feast days or as an easy weeknight dish.
Yield: 12 Servings
Blueberry Jello Salad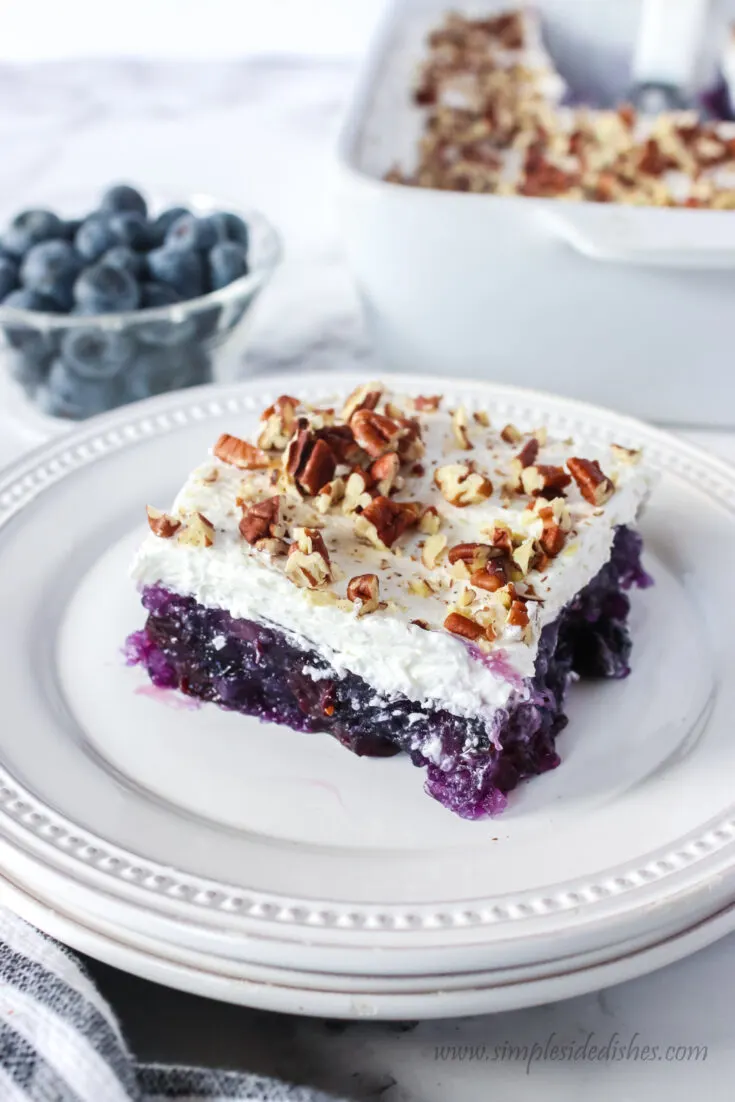 With its deep flavors and creamy topping, this delicious blueberry jello salad is the perfect side dish for all of your special occasions.
Additional Time
2 hours
30 minutes
Total Time
3 hours
20 minutes
Instructions
In a bowl combine grape jello, unflavored gelatin and 2 cups of boiling water. Mix well to dissolve jello.
Place in the fridge and stir every 5 minutes until mixture is thick but runny - think scrambled eggs before they are cooked.
Once mixture is a thick liquid, add blueberry pie filling and drained crushed pineapple. Mix well.
Cover jello and place in the fridge to chill until set - 2 hours or longer
Once jello is set, cream together cool whip and cream cheese.
Carefully spread this mixture over the jello.
Top with chopped pecans.
Serve immediately or cover and chill until ready to serve.
Nutrition Information:
Yield:
12
Serving Size:
1
Amount Per Serving:
Calories:

318
Total Fat:

20g
Saturated Fat:

10g
Trans Fat:

0g
Unsaturated Fat:

9g
Cholesterol:

19mg
Sodium:

159mg
Carbohydrates:

33g
Fiber:

1g
Sugar:

14g
Protein:

4g