Orange fluff salad is always a big hit whether you serve it as a snack, dinner side, or party dish. The perfect side dish to any meal.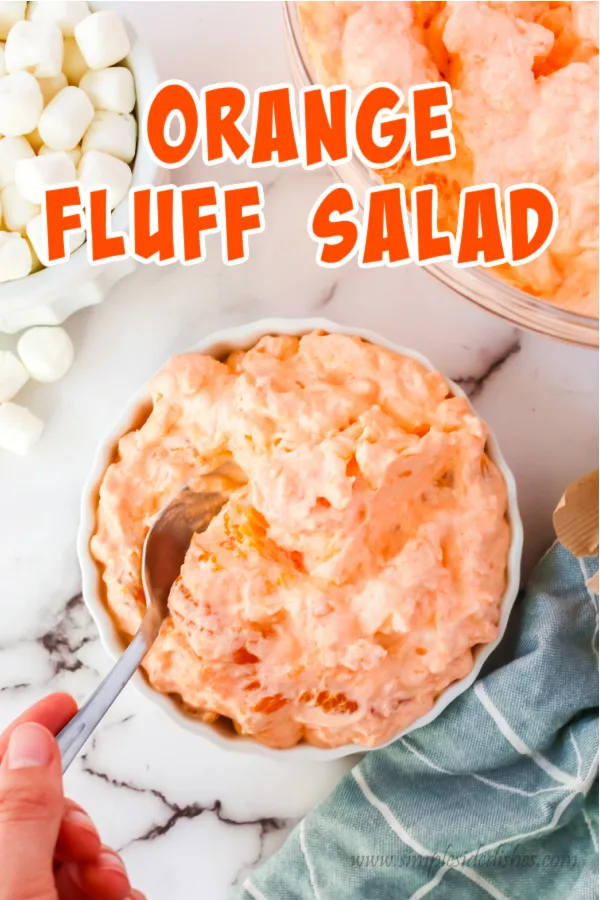 I am always looking for delicious recipes that keep everyone happy. When I tell you this orange fluff salad is a crowd favorite, do you believe me?
Maybe you have heard of an ambrosia salad which is basically a fruit salad that uses cool whip as the dressing. Or maybe you have memories of a similar recipe, the watergate salad which is more of a pistachio fluff salad.
Well this orange jello fluff is my favorite because it uses true citrus flavors without extra coconut or nuts or cherries to take away from the solid orange flavor.
It is a great recipe with simple ingredients that mixes into the perfect fluffy salad recipe dreams. You will want to make this orange fluff salad recipe anytime you need a party treat.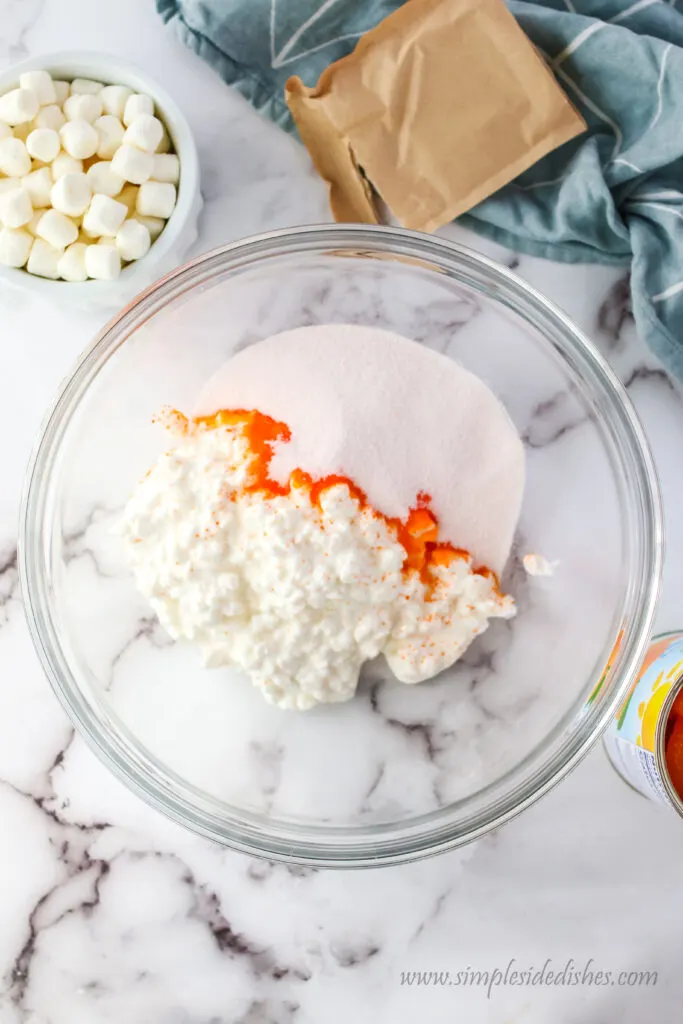 What is orange fluff salad?
It is a sweet treat of orange stuff that tastes as if you had a large bowl of orange creamsicle fluff that was allowed to be in the fruit salads category.
is cool, fluffy, delicious, and has great orange flavor.
Jello Orange Fluff is one of those sides that a lot of people have a strong opinion about.
They either love them, hate them, or can't believe a recipe including cottage cheese, a package of orange jello, and cool whip that can be called a dessert salad actually exists.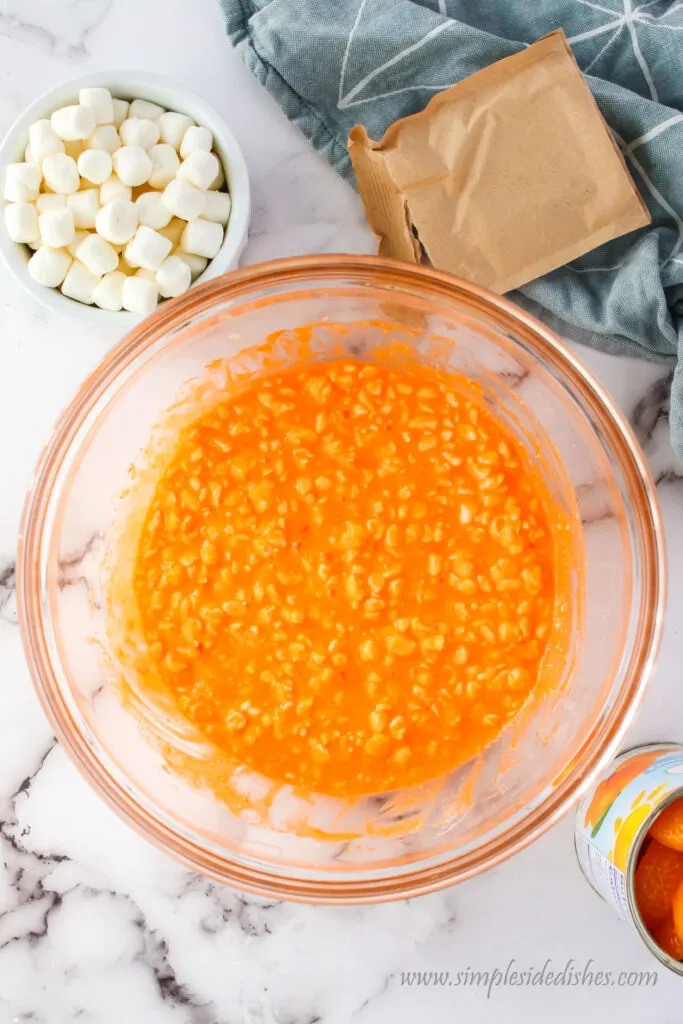 What ingredients are in orange fluff salad?
Cottage Cheese: if you don't love the texture, use small curd cottage cheese to blend it in better
Orange Jello: this adds flavor and transforms the cottage cheese into something delicious
Can Crushed Pineapple: be sure it is well drained so your fluff salad doesn't turn into soup
Mini Marshmallows: these add extra light texture to the dish
Mandarin Oranges: these add a nice bright punch to bring out the orange flavor
Cool Whip: thawed cool whip brings all the ingredients together and wraps them in a great smooth blanket of creamy sugar
Pro Tip: When making orange fluff jello salad you must use canned pineapple. If you use fresh pineapple, you will end up with a watery soup mess instead of light, creamy fluff.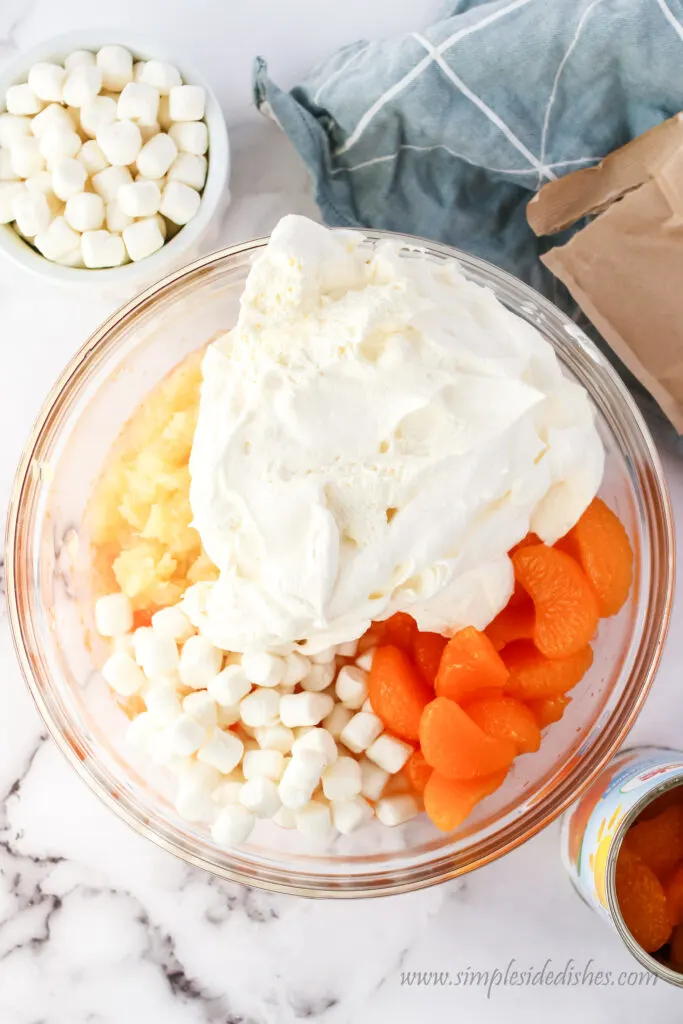 How to make orange fluff salad:
Mix cottage cheese and orange jello powder.
Add remaining ingredients and mix well.
Chill.
Serve!
Pro Tip: This dish tastes best when made the night before and then chilled overnight. It lets all the flavors mix together and set up into the most delicious jello salad you will eat.
Is orange fluff salad a side dish or a dessert?
Both! This is one of those great recipes that can be a side dish since it is called a salad. It does have pineapple tidbits and 2g protein per serving thanks to the cottage cheese.
But it can also be one of those fluff-style desserts that you pull out as a perfect cool and creamy dessert.
Pro Tip: However you serve it, just present it confidently and no one will question whether you are serving them an orange fluff recipe at the wrong time.
Can you freeze orange fluff salad?
No. You can technically freeze anything, but since this is a jello mixture, it will be runny after it has frozen and thawed.
Marshmallows also change texture when frozen and thawed.
Since this is such a simple recipe, for best results we recommend making it the day or the night before you want to serve it. Freeze something that will thaw better.
When to serve orange fluff salad:
Snack: this is an easy recipe to pull out for an afternoon snack
Dinner Side: this is a delicious side dish you can prepare ahead of time
Special Occasions: my kids think dessert salads make the best side dishes so we have them on the table for any holiday or family gathering
Summer Nights: this is a family favorite as a cool treat on warm summer nights
Potluck Dinner: this is one of my favorite salads to bring to a church potlucks since it's such a crowd pleaser
Is orange fluff salad gluten free?
Yes! Every ingredient in this recipe is naturally gluten free.
Most boxed gelatins are naturally gluten free. However, if you read your orange jello mix box, it will not have a certified gluten free rating. It might also say it is made in the same space gluten containing products are prepared.
If you are serving this to someone who eats gluten free, ask them how they use products with that on the label.
Is orange fluff salad a good weight watchers dessert?
Yes! This orange fluff dessert is a great option if you are looking for a healthy sweet craving. Simply enter all the ingredients you are using into your WW app to calculate the exact points.
Using cottage cheese adds extra protein which helps balance the sweetness. Some people like using greek yogurt, but I like the flavor and texture of cottage cheese better.
The oranges and pineapple add extra fruit nutrients and are good sources of fiber. So really this is one of the healthiest desserts you could eat.
Can you eat orange fluff salad before a colonoscopy?
No. Usually before your procedure, your doctors will instruct you to only eat clear liquids.
This orange jello salad is not clear. The jello is mixed with fruit, cool whip, and cottage cheese which are not clear food items. Save this recipe for a snack after your procedure.
This orange fluff salad is perfectly fluffy, creamy, and goes well with almost any dish you want to serve it with.
Yield: 8 Servings
Orange Fluff Salad Recipe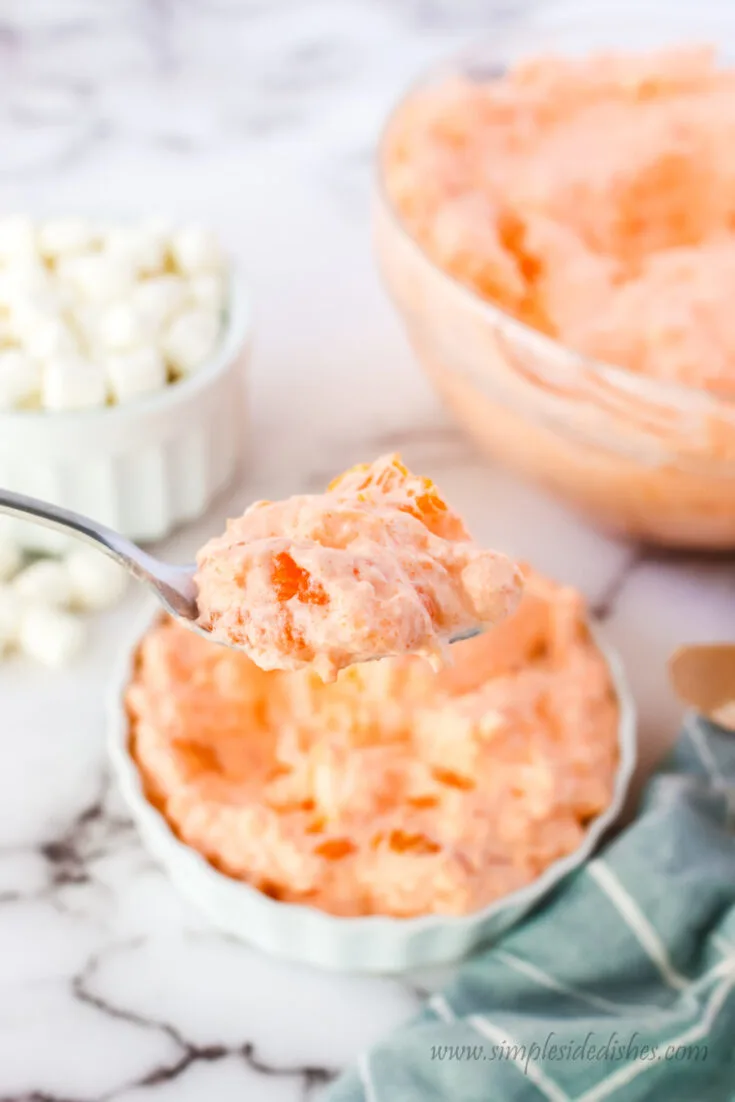 Orange fluff salad is always a big hit whether you serve it as a snack, dinner side, or party dish.
Total Time
4 hours
15 minutes
Instructions
Mix cottage cheese, and orange jello together.
Add pineapple, marshmallows, oranges and cool whip and mix well.
Chill several hours to overnight before serving.
Nutrition Information:
Yield:
8
Serving Size:
1
Amount Per Serving:
Calories:

78
Total Fat:

1g
Saturated Fat:

0g
Trans Fat:

0g
Unsaturated Fat:

0g
Cholesterol:

2mg
Sodium:

68mg
Carbohydrates:

16g
Fiber:

1g
Sugar:

14g
Protein:

2g