If you've ever wanted to 'taste the rainbow' then you've got to try this Rainbow Jello Recipe. Simple to make, everyone goes nuts when they see it. Fun, easy and oh so tasty!
This is one of the prettiest dishes I make. With its thin layers and different flavors, rainbow jello is really so beautiful when it comes out of the mold.
It is definitely one you can post on social media when you serve because the layers of jello make the whole dessert almost like food art. We all love looking at the perfectly cut layers and colors of the rainbow jello mold when it comes out clean.
When you make a layered jello dessert, it makes it look like it's rainbow ribbon jello because the layers are so thin like ribbons.
This is great for birthday parties, feasts, and if you pick different colors, it can be used as a beautiful layered mold for any special occasion.
This is a super simple recipe, but it just takes a long time waiting for the layers to set. If you use just a little patience, you will end up with beautiful rainbow jello cubes or slices you can serve any time of the year.
What ingredients are in rainbow jello?
Packages of Jello: the flavors of jello don't matter as much as the colors do for this recipe; usually unflavored gelatin does not have a color, so your colors will all have sweet flavors
Boiling Water: this activates the gelatin and gives the jello its volume
Vanilla Yogurt: this makes the light color between the gelatin layers and has better flavor than using sour cream
Pro Tip: When making rainbow jello, do not mess up the color order! My children freaked out when I made it the wrong way and refused to eat it. I have never made that mistake again.
The first layer is red, then followed by orange, yellow, green, blue, & the last layer is purple.
How to make rainbow jello:
This is not a fast recipe. It will take several hours to set plus chilling overnight. Be sure you have a jello mold too.
Dissolve gelatin in boiling water.
Pour into jello mold and chill.
Mix remaining gelatin with yogurt and pour yogurt gelatin mixture over previous layer.
Chill.
Repeat 1-4 for all the different color layers.
Chill overnight.
Remove Jello
Serve!
Pro Tip: Celebration is necessary anytime you use a jello mold. Layered jellos are a labor of love!
How to make variations of rainbow jello (holidays):
You can make variations of rainbow jello for different holidays. Just take the main colors of that holiday and use those colored jellos for your holiday themed party. Here are some ideas:
Mardi Gras: purple, green, and yellow
Valentine's Day: reds and pinks (cherry/raspberry/strawberry/watermelon)
St. Patrick's Day: green, yellow, green layer again or make a rainbow!
Easter/Spring: green (on the bottom for grass/leaves), then orange/yellow/pink
Graduation Days: whatever colors of the graduating school
USA Independence Day: red, white, and blue
Halloween: orange, purple, and yellow
Fall: orange, yellow, red
Christmas: red and green
Hanukkah: blue and white
Pro Tip: Making these in individual serving glasses or cups is so pretty too. Just pour the layers in a clear plastic cup and add a dollop of cool whip on top for a fun treat any time of year.
How to store rainbow jello:
Store rainbow jello in the fridge as much as possible. Once jello is set, it should stay solid, but the mixed yogurt layer does best when it is kept cool.
How long does rainbow jello last?
Rainbow jello will last about a week. Regular jello lasts a very long time; it is the yogurt that will change flavors before the jello goes bad. For best results, eat this the same week you make it.
How do you get the lighter layer in rainbow jello?
To get the lighter creamy layer in rainbow jello, you mix the gelatin mix with white vanilla yogurt. That gives you great flavor, a solid white layer color, and it still sets like a gelatin.
How do you keep the layers separate in rainbow jello?
The trick to keeping layers separate in rainbow jello is to take your time and really let the layers chill before adding the next one. The thickness of the yogurt milk layer also helps them not run together as much.
But if you rush and add a layer before the last one has set or try to put a boiling hot layer on top of a cool one, the layers will run together and mix.
Pro Tip: Mix the next layer as soon as you put one in the fridge so the next layer can be cooling at room temperature while the other one is setting.
Mom Tip: If it isn't perfect and the layers blend together, just explain it looks like a real rainbow where each color is not separated exactly, it blends!
How do you release rainbow jello from a mold without breaking?
To perfectly release rainbow jello from the mold without it breaking, you set the jello mold in a pan of warm (not boiling) water for just 10 seconds.
You want it to sit long enough to loosen the sides of the mold, but not so long that it melts everything and the layers run together.
If you don't hold it long enough, the mold sticks to the edges of the jello and it can break apart as you are releasing it.
Pro Tip: The first time you do it, go slowly. You will be able to feel if there is something stuck and not releasing and you can work on releasing the edges by dipping in the water again.
A beautiful rainbow layered jello is worth slowing down and making sure your edges have released.
Is rainbow jello a side or a dessert?
You get to decide if you serve rainbow jello as a side or as a dessert since it can be both! It can be a fun as squares, side dish, a great snack, or a great recipe to make a beautiful dessert.
When you serve it as a dessert, add an additional layer of plain whipped cream.
The Best Jello Recipes You'll Love…
Whether you are making this for your family or to bring to a party, rainbow jello is a beautiful and tasty simple side dish.
Yield: 12 Servings
Rainbow Jello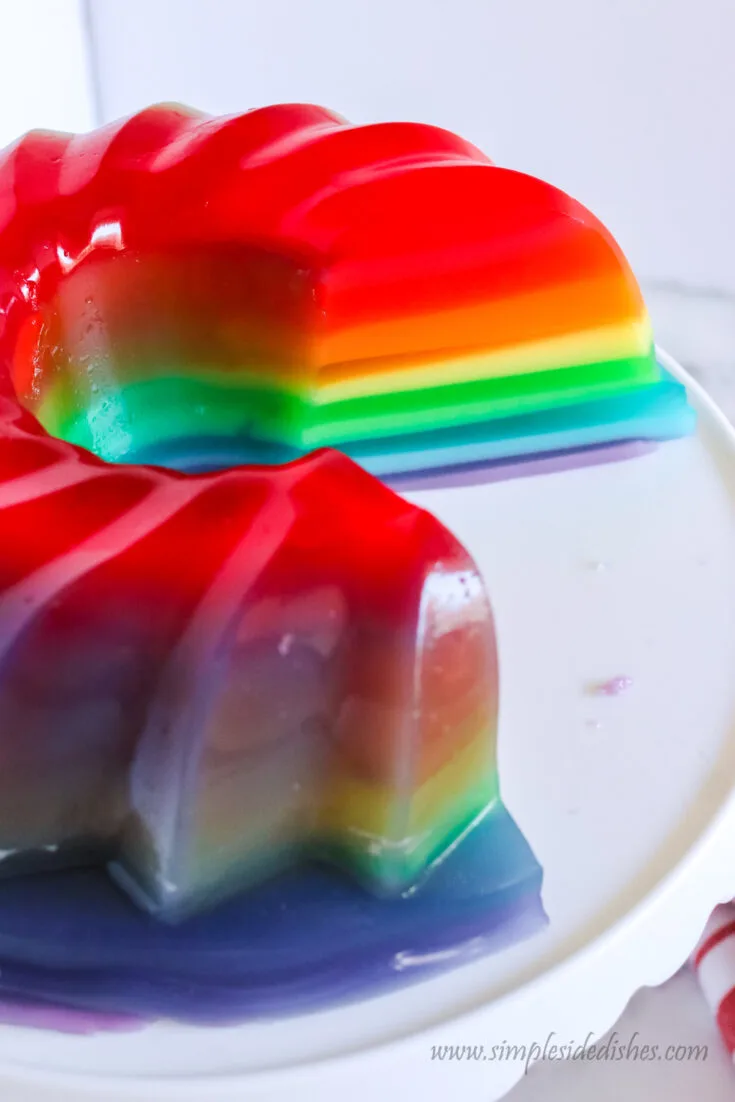 If you've ever wanted to 'taste the rainbow' then you've got to try this Rainbow Jello Recipe. Simple to make, everyone goes nuts when they see it. Fun, easy and oh so tasty!
Prep Time
3 hours
30 minutes
Total Time
9 hours
30 minutes
Instructions
In a small bowl, dissolve 3 ounce red gelatin in 1 ¼ cup of boiling water. Mix well.
Pour ¾ cup of the red jello into a ring jello mold. Don't pour all of it.
Chill 15 minutes.
With remaining red jello (which has NOT been refrigerated), add 3 Tablespoons of vanilla yogurt. Mix well.
After the red jello has set, pour creamy red jello over the top and return to the fridge for about 20 minutes.
Repeat with orange, yellow, green, blue and purple layers.
The color scheme in this order is a must have with kids. This way when you flip it over the red is on top.
Once the entire jello mold is filled, chill overnight.
To unmold, dip mold in warm water for about 10 seconds.
If using a Tupperware Jello mold, remove the LARGE lid first.
Place a plate on top and flip.
Once flipped, and on a plate/platter, remove the smaller inner lid.
Then lift up and the mold should stay.
Now congratulate yourself because you are a BEAST!
Nutrition Information:
Yield:
12
Serving Size:
1
Amount Per Serving:
Calories:

23
Total Fat:

0g
Saturated Fat:

0g
Trans Fat:

0g
Unsaturated Fat:

0g
Cholesterol:

1mg
Sodium:

26mg
Carbohydrates:

4g
Fiber:

0g
Sugar:

4g
Protein:

1g