This avocado chicken salad recipe has a perfect balance of flavors that makes it a great meal for a hot summer day and for a cozy winter luncheon.
Avocado chicken salad recipe is one of my favorite new recipes. It is fast, easy, delicious, and can be made even easier with my chicken shortcut I share below.
It also can use up leftovers you already have. Have extra chopped tomatoes from taco night? Use them here!
Leftover chicken breast? Next time, plan to save it for this easy salad.
And this chicken avocado salad keto friendly recipe is also healthy. So whether you need a different way to feed your keto friends, or just need a new vegetable side, this is for you.
With its creamy chunks of avocado and delicious marinated chicken, you are sure to love this simple chicken avocado tomato salad!
What ingredients are in Avocado Chicken Salad Recipe?
Extra-Virgin Olive Oil: this is the base of the cilantro lime vinaigrette dressing
Fresh Lime Juice: fresh juice adds the best flavors to this chicken salad with avocado
Fresh Cilantro: you want finely chopped cilantro to mix into the dressing
Salt: this balances the flavors in the homemade dressing
Romaine Lettuce: chopped into bite sized pieces
Cherry Tomatoes: cut these in half or quarter them if you have extra large tomatoes
Cucumber: slice these and quarter them so you get nice bite sized pieces
Cooked Chicken Breast: use shredded or cubed; I like mine cold so I usually use leftover chicken, but warm chicken pieces in a cold salad is nice too
Avocado: this dice should match the other vegetables so you can get a nice variety in one bite.
Ground Black Pepper: you can use a lot or a little depending on your taste, but be sure to include some because pepper will help you absorb the nutrients from the other foods in this dish
Pro Tip: Instead of cooking your own, use a Rotisserie Chicken! That is a great way to make this rotisserie chicken avocado salad an easy lunch, especially if you are serving a crowd!
How to make Avocado Chicken Salad Recipe:
Combine olive oil, lime juice, cilantro and salt in a small bowl.
Add cooked chicken to vinaigrette, mix well, then set aside to marinate.
Layer lettuce, tomatoes & cucumber in a large bowl or individual dishes.
Top with marinated chicken and avocado.
Sprinkle with fresh ground pepper.
Drizzle extra vinaigrette dressing over the surface of the salad and enjoy!
How to keep Avocado Chicken Salad Recipe from turning brown:
The ingredient in avocado chicken salad recipe that is most likely to turn brown is the avocado. Avocados turn brown when they mix with the oxygen in the air.
So to stop that, you need fresh ripe avocados that aren't brown when you cut them open, and then you need to layer them with an acid. The homemade dressing with fresh lime juice will coat them to keep them from turning brown.
But if you won't be putting the avocado on the salad right away, you need to put fresh lime juice on the slices and cover them with plastic wrap so they don't get exposed to air as long.
Is Avocado Chicken Salad Recipe healthy?
Yes this healthy avocado chicken salad recipe is great whether you are on a low carb, keto, gluten free, or even just a lot of veggies meal plan! It is loaded with vegetables, antioxidants, healthy fats, great proteins, and has no added sugars.
This salad is one of those quick meals that is a great option to rotate into your healthy lifestyle, whatever that looks like for you.
What side to have with Avocado Chicken Salad Recipe:
Sometimes I like to serve avocado chicken salad recipe as an easy light lunch entree because it's a complete meal by itself. But when I want a great salad side dish, here's what I like to have with it:
How to cut avocado for salad:
To cut the avocado for this avocado chicken salad recipe, you first want to cut it in half. Then pop out the seed, and scoop the half onto a cutting board.
There you can slice the creamy avocado into a grid up and down and side to side using your kitchen knife.
How to store leftover Avocado Chicken Salad Recipe:
Leftover avocado chicken salad recipe will not last very long if it is assembled and dressed.
If you are planning to keep this salad to eat the next day, you need to keep the fresh veggies separate from the marinated chicken, and the avocado separate from the crisp lettuce leaves.
You can do this by storing them in separate containers.
Or you can store them in mason jars by layering the dressing and marinated chicken and avocado salad on the bottom of the jar.
Then moving up with wet foods like sliced cherry tomatoes, then cucumber, with the crisp veggies at the top with the lettuce at the very top.
When you are ready to eat, shake the ingredients out onto a plate and you have an individual healthy chicken salad in less than a minute.
Layering in a mason jar or leftover sauce jar is my favorite way to bring salads like this chicken cucumber avocado salad on the go.
Can you freeze Avocado Chicken Salad Recipe?
No you cannot freeze avocado chicken salad recipe after you have mixed it all together.
You can freeze the homemade cilantro lime vinaigrette dressing and the cooked chicken in an airtight container for up to three months.
You can save them separately or marinate them together in a freezer safe container. The salad dressing may separate when you thaw it, so just be sure to mix it again once it is no longer frozen.
The rest of the salad has so much water that the frozen water crystals inside the lettuce, avocado, tomato, and cucumber will completely change the texture and flavor of the raw veggies.
It will leave you with limp, sad thawed vegetables.
More Salads You'll Love…
This avocado chicken salad recipe is a delicious salad with so much flavor it is sure to become one of your favorite recipes.
Yield: 4 Servings
Avocado Chicken Salad Recipe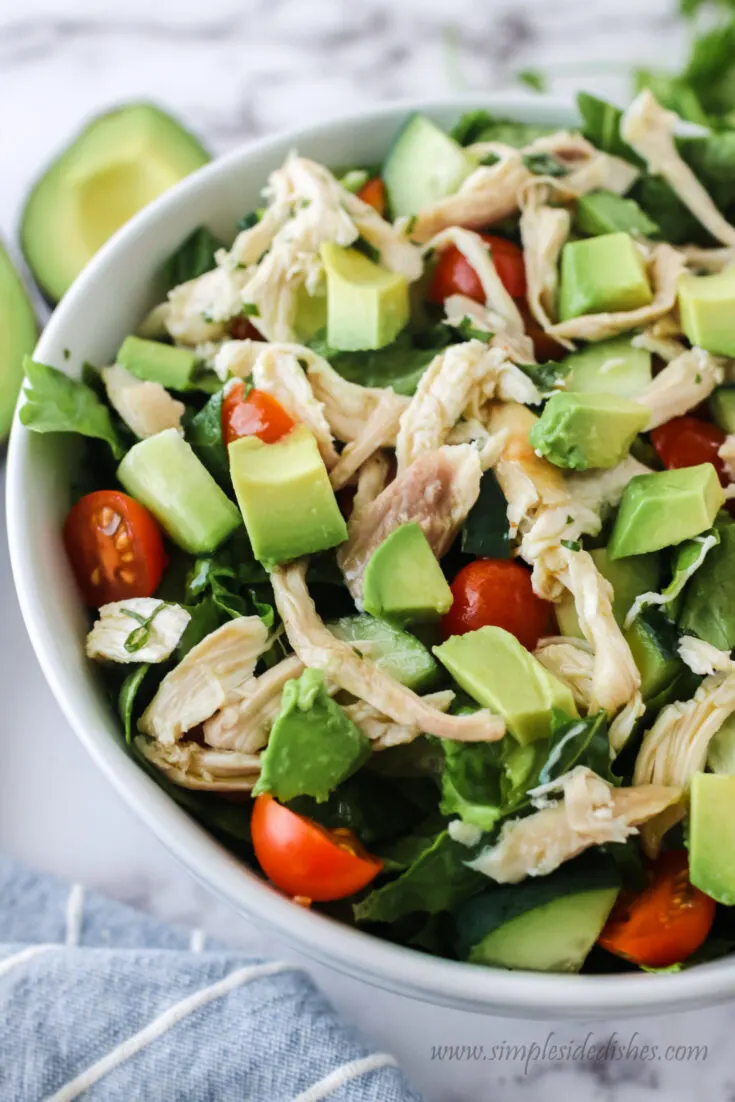 This avocado chicken salad recipe has a perfect balance of flavors that makes it a great meal for a hot summer day and for a cozy winter luncheon.
Instructions
In a large serving bowl combine olive oil, lime juice, cilantro and salt. Mix well.
Add chopped or shredded cooked chicken to vinaigrette. Mix and set aside to marinate for 5 minutes or longer.
Add lettuce, tomatoes & cucumber. Toss well
Add avocado and gently toss so you don't squish the avocado.
Sprinkle with fresh ground pepper.
Enjoy!
Nutrition Information:
Yield:
8
Serving Size:
1
Amount Per Serving:
Calories:

221
Total Fat:

16g
Saturated Fat:

3g
Trans Fat:

0g
Unsaturated Fat:

11g
Cholesterol:

69mg
Sodium:

294mg
Carbohydrates:

6g
Fiber:

3g
Sugar:

2g
Protein:

16g