This easy focaccia bread uses basic kitchen ingredients to give you a simple bread that has a perfectly crisp bottom and a thick, fluffy middle that you can use with almost any meal.
I really love bread. I know I love a lot of food, but I really love bread.
There is something about a perfectly fresh out of the oven warm bread. You can smell it cooking in your house. You can serve it with almost anything.
And everyone loves seeing good fresh bread on the table
One thing I especially like about this easy focaccia bread is how easy it is to make it look beautiful.
Focaccia bread doesn't have a perfect round loaf shape; it is flat like a super fluffy breadstick.
So you don't have to be an expert bread shaper to enjoy beautiful homemade bread. This really is the simplest and best focaccia bread recipe you will ever find.
What is easy focaccia bread?
It's kind of like a really great pizza dough with a crisp bottom and soft and fluffy insides. It doesn't have any toppings, and it grows really thick.
That makes it perfect for dipping in soups, slicing in half for sandwiches, or really any meal that you want to serve a good bread with.
This easy focaccia bread recipe uses simple, basic ingredients and still gives you a really great tasting bread for your table.
What do you need to make easy focaccia bread?
Active Dry Yeast: yeast is what makes the bread grow and rise to give you that great puffy texture
Warm Water: this wakes up the yeast.
Sugar: this feeds the yeast and helps create the fluffy texture in the bread
Extra Virgin Olive Oil: oil traps the moisture inside the dough so your bread doesn't dry out; we also use it to cook the focaccia bread and give it that crisper bottom
All Purpose Flour: this is the main ingredient in your bread that creates the structure so your bread can hold its shape
Fine Sea Salt: this is so important in bread because it slows down the yeast and the gases so your bread can slowly cook and keep bubbles inside, helping it to rise
Coarse Sea Salt: this is the finishing salt for the top of the bread that will add extra flavor to each bite.
Pro Tip: Be sure the water you use is warm; cold won't activate the yeast, and too hot water will kill the yeast. You want it to feel warm on your finger but not uncomfortably hot.
How to make easy focaccia bread:
Proof the yeast.
Add all ingredients and mix the dough until smooth.
Let rise until the dough has doubled.
Spread dough on oiled cookie sheet.

If needed, let dough rise until puffy.

Dimple dough and add salt to the top.
Bake and Serve!
How do you add dimples to easy focaccia bread dough?
Get your fingers wet. Wet fingers make it so the bread dough doesn't stick to your fingers.
Make a rounded hand shape and press fingers into dough. Move your fingers quickly. It's okay if they do or do not touch the bottom of the pan. You just want fast and sharp finger movements so the dough dimple is deep enough but not a huge hole.
Repeat until the dough is dimpled enough for you.
Why do you dimple easy focaccia bread?
Some people say it's because that's what focaccia bread looks like! Others say it needs to catch the seasoning salt for flavor.
But actually those dimples have a scientific reason. Putting dimples into the dough reduces the amount of air in the dough (because you poked it to release air).
It also helps the bread not rise too quickly while baking so you get an even flat bread instead of a more rounded loaf shape.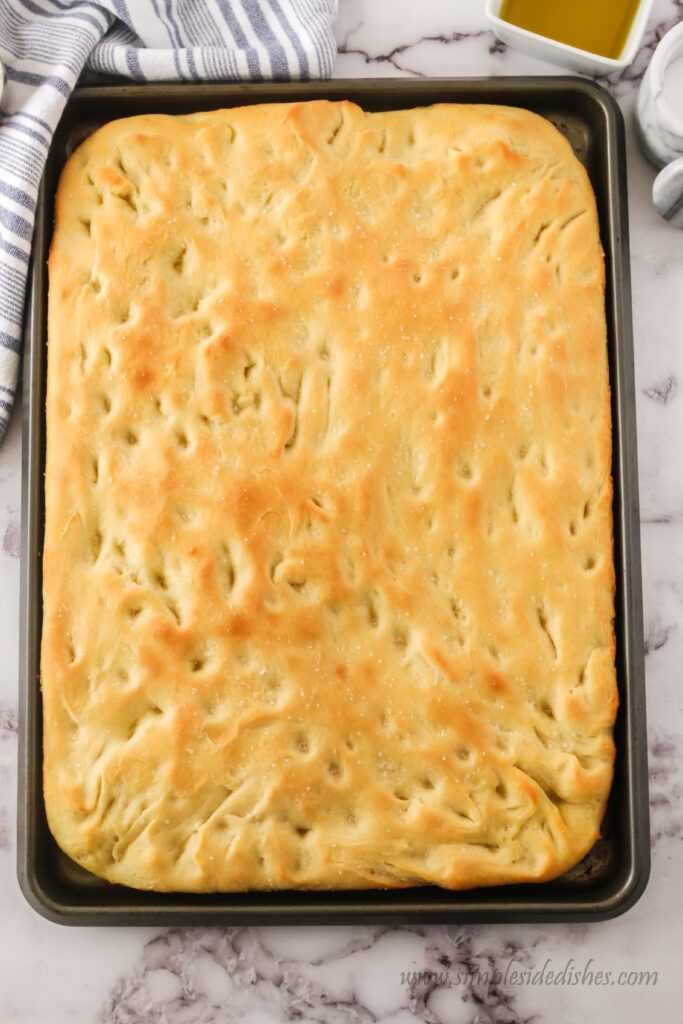 How to eat easy focaccia bread:
You can eat it plain. Some people like it with some butter. Other people like to dip it in olive oil and balsamic vinegar.
I often slice it, but I've been to places where they just rip pieces off when they want some, and it's rustic and fun that way too.
What to do with easy focaccia bread:
Slice and use it like breadsticks! You can use it as a side dish or dipped into soups.
Cut into squares and serve it as a roll. You can dip it in your favorite dip, spread, or fondue sauce.
Cut into squares and then in half and use it as sandwich bread. It holds up well to cold sandwiches as well as pressed panini sandwiches.
How to store easy focaccia bread:
This bread needs to be eaten within 24 hours. Really good homemade breads cannot store longer than that.
If you want to store it overnight, wrap it in tin foil, and it can be finished the next day.
Can I freeze easy focaccia bread?
Yes! After it has cooked, let it cool completely. Wrap it in plastic wrap and tin foil and put it in the freezer.
When you are ready to eat it, leave it on the counter all day and it will be ready to eat by dinner.
How to refresh easy focaccia bread:
If you want it crisp and warm like it just came out of the oven, put it on a cookie sheet and stick it in a 375* oven for 5-7 minutes. It will warm through and crisp up the crust perfectly
Pro Tip: If it is extra dry, sprinkle a few drops of water on top to help it steam and not dry out more.
Is easy focaccia bread healthy?
It's not the worst thing you could eat, but it's not the best thing you could be eating either.
Our easy focaccia bread recipe uses extra virgin olive oil which is a healthier oil to use than straight butter.
Is easy focaccia bread vegan?
Yes! None of the ingredients in this homemade focaccia bread come from animals. It is a tasty vegan bread.
If you are looking for a delicious and easy focaccia bread, this recipe uses basic ingredients and still has a great focaccia flavor.
Easy Focaccia Bread
This easy focaccia bread uses basic kitchen ingredients to give you a simple bread that has a perfectly crisp bottom and a thick, fluffy middle that you can use with almost any meal.
Prep Time
2 hours
30 minutes
Ingredients
Instructions
In a stand mixer, with a dough hook, add warm water and yeast and mix slightly. Cover with a towel and let sit for 5 minutes.
Once yeast has proofed, add sugar, 1/2 cup of olive oil, flour and the fine sea salt.
Mix for 5 - 7 minutes on low until dough is smooth and elastic.
Spray a large bowl with cooking spray (bottom and up the sides) and place dough in bowl.
Cover with a towel or saran wrap and place in a draft free spot for 1 - 1 1/2 hours until doubled in size.
When dough is ready, pour remaining 1/4 cup of olive oil onto a large cookie sheet and smooth around the entire sheet. Do not pour out any extras, the olive oil will give a nice crispy crust to your bread.
Preheat oven to 450*F.
Plop dough onto cookie sheet and push around until dough covers entire sheet.
Cover dough and let rest 30 minutes.
Dimple dough with your fingers, add sprinkle with 1 teaspoon of coarse sea salt.
Bake for 20 - 30 minutes.
Use within 24 hours, warm or cold.
Wrap leftovers in tinfoil. Use within 24 hours.
Nutrition Information:
Yield:
12
Serving Size:
1
Amount Per Serving:
Calories:

233
Total Fat:

5g
Saturated Fat:

1g
Trans Fat:

0g
Unsaturated Fat:

4g
Cholesterol:

0mg
Sodium:

532mg
Carbohydrates:

40g
Fiber:

2g
Sugar:

0g
Protein:

6g