These hasselback baked potatoes taste like a cross between a french fry and a loaded baked potato, but it has such an easy and beautiful presentation that everyone will think you are a master chef!
I love sides that look fancy, taste delicious, and are secretly really simple to make. These hasselback baked potatoes are one of those perfect side dishes.
Serving a plate full of beautifully fanned out potatoes that have perfectly crispy skin is one way to make a statement.
But it is so easy and has so much hands off cooking time that you can make any weeknight meal feel fancy by serving these as your side.
What are Hasselback Baked Potatoes?
Hasselback potatoes are a style of baking potatoes in oil or butter after they are cut into slices like a fan.
The slices are all connected leaving you a potato that is crispy on all the outsides like thick potato chips but soft on the inside like perfect baked potatoes.
The advantage is the seasonings and flavors get on the inside of every piece of potato, not just on the outside skin of the potato.
Why are they called Hasselback Baked Potatoes?
They are named after the place they were first served in. In Sweden, the Hasselbacken first served vegetables in this style.
It was a hit. So now every time a potato or eggplant or other vegetable is served in this style, they refer to it as a hasselback cooking style.
I love the flavors of a loaded potato, so in this hasselback potato recipe we will cook them and then load them up with my favorite potato toppings.
What ingredients are in Hasselback Baked Potatoes?
Russet Potatoes: russets are the biggest and best tasting baked potato. You can use other potatoes, but they will be smaller and sometimes mushier after baking.
Butter: melted butter spreads on the sliced potato so easy, giving flavor and extra crisp to each piece
Salt: this really makes everything else taste better. No skipping it!
Sharp Cheddar Cheese: this melts perfectly onto the baked potatoes
Sour Cream: a perfect creamy topping for any baked potato
Crumbled Bacon: you can't have loaded hasselback potatoes without bacon!
Green Onions: these add light flavor and crunch to the potato topping
How to make Hasselback Baked Potatoes:
Wash and Scrub potatoes.
Slice potatoes.
Rub with butter and salt.
Bake potatoes.
Sprinkle potatoes with cheese and let it melt.
Serve with extra toppings.
How to cut Hasselback Baked Potatoes:
Some people think slicing the potatoes makes this dish challenging. But I am here to tell you it could not be easier!
You just need two pencils or chopsticks. I like using Ticonderoga pencils because the wood is firm enough for the knife to touch but not cut through on each slice.
If you prefer to use chopsticks you really want to use some that don't have any engravings or designs. This will affect the depth of your cutting for these potatoes and may damage your chopsticks. I like these stainless steel chopsticks that are also dishwasher safe!
After you have washed your potatoes, place them on your cutting board with a pencil (or chopstick) on both long sides of the potato.
This makes a little nest for the potato, but more importantly it stops the knife from accidentally slicing all the way through the potato.
Then just slice all along the potato leaving small amounts connected on each end to easily move the potatoes.
Pro Tip: To cut the best hasselback potatoes, each time use the same pencils.
The knife will leave a slight indent on the pencil, so you can use those marks to guide where to cut so each potato has equally spaced cuts.
Do you peel Hasselback Baked Potatoes?
You choose! Some people really don't like baked potato skin. I really like not peeling potatoes.
To keep this dish even simpler, I do not peel my potatoes. And because I like to serve my hasselback potatoes with cheese, even people who don't like the skin will eat it with these.
What to serve with Hasselback Baked Potatoes?
Anything you would serve with a baked potato! Sometimes I just serve a salad and rolls and let the potatoes be the main dish.
Sometimes I serve it with steak, chicken, barbeque, or roast. You really cannot go wrong with this tasty side!
Can I reheat Hasselback Baked Potatoes?
Yes. But like any baked potato dish, there will be changes in texture depending on how you reheat it.
Think of these like french fries. You can reheat them, but reheating in the oven will taste much better than reheating in the microwave.
Pro Tip: If you know you will have extras, do not put the toppings on until you are ready to eat each one. Sour cream does not reheat well over cheesy hasselback potatoes.
Can Hasselback Baked Potatoes be prepared in advance?
Yes! Follow the instructions to bake the potatoes, but do not add any cheese or toppings.
Then when you are ready to serve, reheat in the oven until hot (about 10 minutes) and top and serve.
Pro Tip: Do not cut the potatoes and leave them without cooking. Uncooked potatoes will oxidize which means the skin will react with oxygen and turn brown, just like sliced apples.
Can you freeze Hasselback Baked Potatoes?
Yes! These freeze really well. Just bake the potatoes and do not put any toppings on.
Wrap the baked potatoes after they have cooled and store in freezer safe containers. Then when you are ready to serve, reheat in the oven until hot and top with cheese and other toppings before serving.
These hasselback baked potatoes are the perfect option for fancy baked potatoes without a lot of extra work. And they taste so good everyone is sure to ask for more!
Yield: 4 Potatoes
Hasselback Baked Potatoes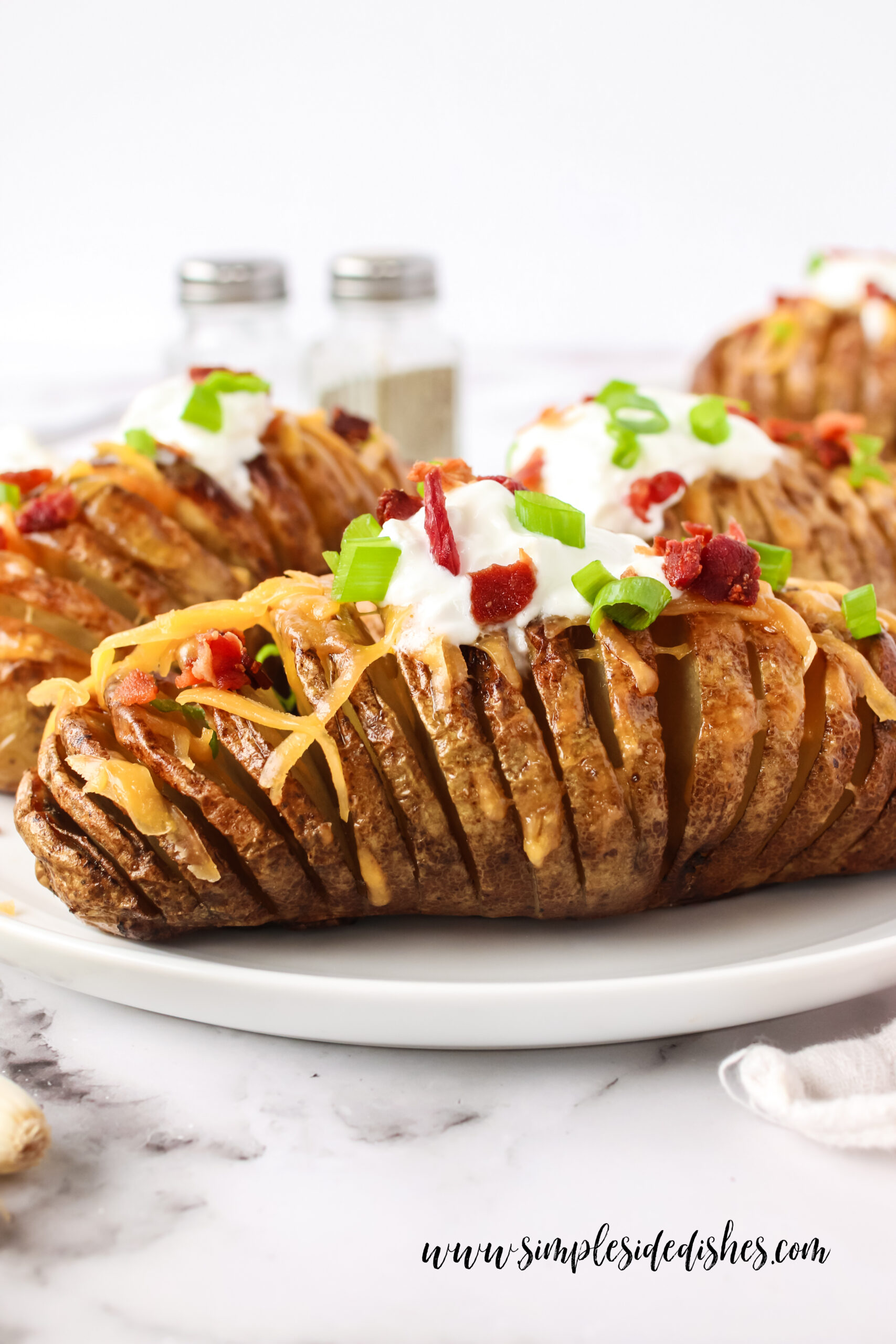 These hasselback baked potatoes taste like a cross between a french fry and a loaded baked potato, but it has such an easy and beautiful presentation that everyone will think you are a master chef!
Total Time
1 hour
5 minutes
Ingredients
Instructions
Preheat oven to 450*F
Prepare a rimmed baking sheet with a baking mat, non-stick foil or parchment paper. Set aside.
Wash and scrub each potato.
I prefer to use pencils but chop sticks work too. Grab 2 of whichever option you choose.
Lay potato on a cutting board.
Lay a pencil on each side of the potato lengthwise.
Starting ½ inch - ¾ inch from the edge of the potato, begin slicing the potato until the knife hits the pencils. This will ensure the knife does not go all the way through to the bottom of the potato.
Slice the potato in ¼ inch cuts until the entire potato is cut, leaving an additional ½ inch - ¾ inch from the opposite end.
Repeat for remaining potatoes.
Rub each potato in melted butter, making sure to get inside each slot and place on the prepared cookie sheet.
Sprinkle 1/4 teaspoon salt over each potato.
Pour remaining butter over the top of each potato.
Bake for 50 minutes in a preheated oven.
When the timer goes off, remove from the oven and sprinkle the tops with cheese. Allow cheese to melt for a few minutes.
Serve topped with sour cream, green onions and crumbled bacon.
Nutrition Information:
Yield:
4
Serving Size:
1
Amount Per Serving:
Calories:

909
Total Fat:

57g
Saturated Fat:

32g
Trans Fat:

2g
Unsaturated Fat:

18g
Cholesterol:

151mg
Sodium:

1385mg
Carbohydrates:

73g
Fiber:

9g
Sugar:

6g
Protein:

28g