Oven Baked Potatoes are a classic side dish that never disappoint. Serve them with soup, salads, ham or even by themselves.
There is something so comforting about perfect oven baked potatoes. They are warm, delicious, and so easy to make.
It also goes with almost anything you are cooking, or it can stand by itself as an easy side dish disguised as a meal.
In this baked potato recipe oven cooking works best, and as a bonus to using the oven, most of the cooking time is hands off, leaving you to do other things.
Prep other things for your meal, work on another project, read a book, or whatever you do with spare time.
When you come back to this Oven Baked Potatoes recipe, you will have a perfectly cooked potato ready to eat.
What ingredients do you need to make Oven Baked Potatoes?
Potatoes: you cannot make this without a potato. No substitutes. I prefer russet potatoes, but use whatever you like.
Vegetable oil: this keeps the seasonings on the potato skin while cooking and also helps to crisp up the skin.
Coarse Sea Salt: this has bigger crystals than regular table salt which will help it stick to your potato better.
Pro Tip: for the best oven baked potatoes every time, do not skip the salt! Coarse sea salt will stick better to the skin and give you the best flavor in every bite.
How to cook Oven Baked Potatoes:
Wash, scrub, and dry each potato.
Pierce potatoes with a fork all over.
Rub with oil and seasonings.
Bake in the oven.
Slice open and serve!
How long to Bake Potatoes in Oven:
Bake them until they can be pierced with a fork easily. This will take 40-60 minutes depending on how big your potatoes are.
Some people ask if you can make a quick oven baked potato, and the answer is the prep time is quick.
It will take you less than five minutes to get these into the oven. But do not rush the oven cooking time. There's nothing else you have to do but wait.
And perfectly seasoned and perfectly cooked Oven Baked Potatoes are worth it.
Can you bake potatoes in a toaster oven?
Yes! As with anything cooked in a toaster oven, just make sure nothing is near the heating elements and that your potatoes fit inside your toaster oven.
Then just follow this recipe as written for easy baked potatoes in your toaster oven.
Do I have to use foil to Bake Potatoes in the Oven?
No. Wrapping each potato in foil will steam your potato and give you softer skin. This recipe bakes the potato with crispy skin.
You can use foil to line your baking sheet for easy clean up. But you can also use parchment paper or a baking mat.
Why do you poke potatoes with a fork before baking?
Poking holes lets steam escape while cooking your oven baked potato.
It's not common, but when you don't poke holes, you risk the steam building up pressure which can make your potato explode while cooking.
Are Baked Potatoes in Oven healthy?
Yes! Baked potatoes are healthy. As a root vegetable, most of the nutrients and vitamins are found in the skin of the potato so be sure to eat that to get the most health benefits.
Are Oven Baked Potatoes vegan?
Yes! Everything in this recipe is vegan. Just make sure not to serve it with butter or sour cream to keep it vegan at the table.
What goes with Oven Baked Potatoes?
Almost anything! I eat baked potatoes year round. Here are some of my favorite things to eat with it:
Meat: steak, chicken, ham, you name it potatoes make a perfect side
Chili: you can eat these separately or pour the chili over your potato
Soups: baked potatoes go well with most soups
Salad: a salad and your favorite toppings make this potato a main dish all by itself
Toppings: butter, sour cream, bacon, cheese, chives, whatever your favorites are
How long do Oven Baked Potatoes keep in the fridge?
You can keep a baked potato in the fridge for up to 5 days before using it.
How do you reheat a baked potato?
Use your favorite kitchen appliance and reheat until it is cooked through.
You can use a microwave, the oven, an instant pot, a crock pot, a toaster oven, whatever your favorite method is.
How to reheat an Oven Baked Potato:
Preheat the oven, put your already baked potato on a lined baking sheet, and heat until it is warm all the way through. It will take about 10 minutes in a hot oven.
What to do with leftover baked potatos:
If you're cooking baked potatoes, it's so easy that sometimes I like to cook extra on purpose so I have leftovers I can use in other things. Here are some of my favorite ways to use them:
More Side Dishes You'll Love…
Whatever you are serving these baked potatoes in oven with, you are sure to have a perfectly cooked and deliciously seasoned potato every time.
Yield: 4 Baked Potatoes
Oven Baked Potatoes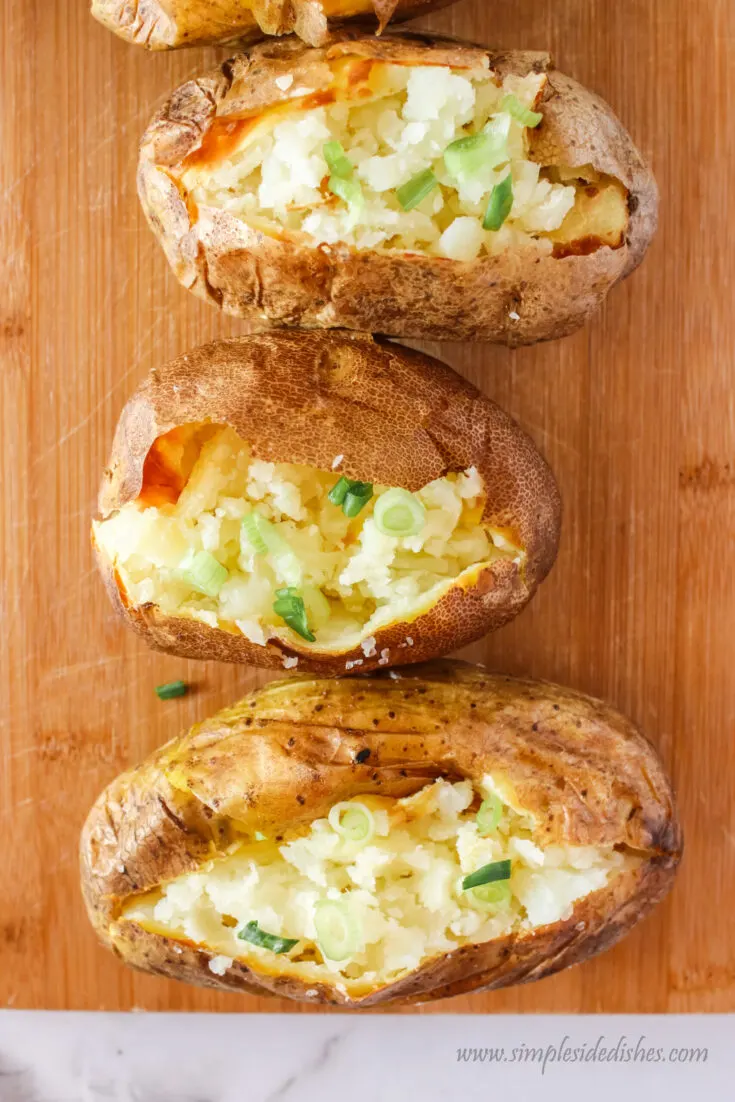 Oven Baked Potatoes are a classic side dish that never disappoint. Serve them with soup, salads, ham or even by themselves.
Ingredients
Instructions
Preheat oven to 450*F
Wash and scrub each potato and dry off with a non lint towel like a tea towel.
Pierce each potato 5 times with a fork, all around.
Rub each potato down with olive oil
Rub coarse sea salt around each potato. Don't overdo it, but it should have a nice semi coat (not heavy, not light).
Place on a lined baking sheet.
Bake for 40 - 60 minutes or until potatoes can be pierced easily. Exact timing will depend on your version of medium potatoes.
Remove from the oven, slice down the middle and gently press ends together to force the insides up to make the potato look fluffy.
Serve hot and with your favorite toppings like butter, green onions, bacon, sour cream etc.
Nutrition Information:
Yield:
4
Serving Size:
1
Amount Per Serving:
Calories:

228
Total Fat:

7g
Saturated Fat:

1g
Trans Fat:

0g
Unsaturated Fat:

6g
Cholesterol:

0mg
Sodium:

6369mg
Carbohydrates:

37g
Fiber:

4g
Sugar:

2g
Protein:

5g
Nutritional information is estimated, not exact.