These Maple Sweet Potatoes are perfectly mashed, deliciously sweet and savory at the same time, and they come together so quickly for a quick and easy side dish.
I know I have told you before about my love for sweet potatoes. Yes, they hit the big superfood list. And most people consider them a fall treat.
But I adore them and would eat them year round.
Not everyone feels that way, and if you have people in your house who are sweet potato resistant, this is the perfect recipe for them.
Why? Because I use a secret ingredient–REAL maple syrup.
You might laugh. And you are not the only one who asked: Is sweet potato and maple syrup a good combination?
Yes! Yes it is. Let me tell you why.
Sweet potatoes are (like the name says) naturally sweet, but it is a mild sweetness. Real maple syrup (not imitation) has a natural straight from nature sweetness that is more concentrated, but not sticky sweet.
When you combine these two, you get the perfect combination of savory and sweet flavors. The maple syrup makes the sweet potato taste sweeter while the sweet potato brings out the deep flavors of maple. Plus when you mash them, they turn into delicious Mashed Sweet Potatoes – which are as good as they sound!
This sweet potato recipe with maple syrup is a balanced dish anyone will love.
What ingredients are in Maple Sweet Potatoes?
Sweet Potatoes: baking these in advance makes this dish come together even quicker when you're ready to make them
Butter: I usually use salted butter, but use what you have. Butter adds a creaminess and helps it smooth out as you whip it together.
REAL Maple Syrup: be sure to divide it; half gets mashed with the potatoes and half is drizzled on top for serving.
Salt: never skip the salt! It makes everything else taste better
Pepper: pepper adds a bite to the dish giving it an extra savory kick
How to make Maple Sweet Potatoes:
Bake the sweet potatoes. Short on time? Use the microwave to speed it up!
Scoop cooked sweet potato into a bowl.
Add butter and mash potatoes.
Stir in maple syrup.
Scoop into serving dish.
Top with salt, pepper, and maple syrup.
Serve warm!
How to flavor sweet potatoes with maple syrup:
The best way to add flavor to mashed sweet potatoes is to use real maple syrup. I know I keep saying it, but real maple syrup has such a different flavor from imitation maple syrup.
They are not even in the same taste family.
Real maple syrup is naturally sweet (no sugar needed) but also has deeper maple flavors in every drop so you get better flavor. It's like a maple mashed sweet potatoes party with each bite.
Can you freeze Maple Sweet Potatoes?
Yes you can freeze maple sweet potatoes! If you have extra leftovers, go ahead and put them in a freezer safe container, label, and save for another day.
If you want to make these in advance and freeze them, I recommend not topping it with the extra maple syrup. Instead mash them then put them in a freezer safe container.
When you are ready to serve, heat the sweet potato casserole with maple syrup in the oven until warmed through, then top with salt, pepper, and maple syrup right before serving.
Can dogs eat Maple Sweet Potatoes?
People always want to know if dogs can eat human food recipes. If we take the main ingredients and put it in the question, you might know the answer without asking.
If instead we asked, "Can dogs eat sweet potatoes with butter and maple syrup?" the answer is more obvious.
Butter like most dairy products can cause a dog's stomach to be upset. Maple syrup while high in nutrients is also high in sugar which is not great for dogs. Cooked sweet potatoes can be fed to dogs in small amounts, but never raw.
So yes, dogs can eat maple sweet potatoes since there are no toxic ingredients for them. But to keep your dog really healthy, be sure it's only in very small amounts.
How long do Maple Sweet Potatoes last?
At my house they don't last more than a day. Everyone loves mashed sweet potatoes with maple syrup.
But if you find yourself with leftovers, these will last a week in the fridge, and even longer if you freeze them. Be sure to package them in airtight containers to keep them fresh.
Are yams sweet potatoes?
No. Though they are often confused, true yams and sweet potatoes are different. Sweet potatoes are a native food from the Americas. Yams are a native food from Africa.
Unless you have purchased yams from a specialty grocery store, you have probably never bought yams in a United States grocery store. Most are just different colored sweet potatoes.
True yams always have white flesh, and they have a harder, tree bark like skin. Sweet potatoes can have white, orange, or purple flesh and have a smooth skin.
People confuse them because of a marketing trick in the 1930s. Growers wanted people to know that their orange sweet potatoes were different from other sweet potatoes, so they called them yams.
Today anything that is labeled yam but is actually an orange sweet potato has to have both names on the label.
Are Maple Sweet Potatoes gluten free?
Yes! Every ingredient in this recipe is naturally gluten free.
Are Maple Sweet Potatoes vegan?
No. This recipe uses butter, which is not vegan. You could substitute using a vegan butter, but it will change the flavor and depending on the kind of vegan butter you use, it will change the texture too.
More Sweet Potato Recipes You'll Love…

Maple Sweet Potatoes are one of my very favorite ways to serve sweet potatoes. They are delicious, super simple, and a perfect side for any time of year.
Yield: 6 Servings
Maple Sweet Potatoes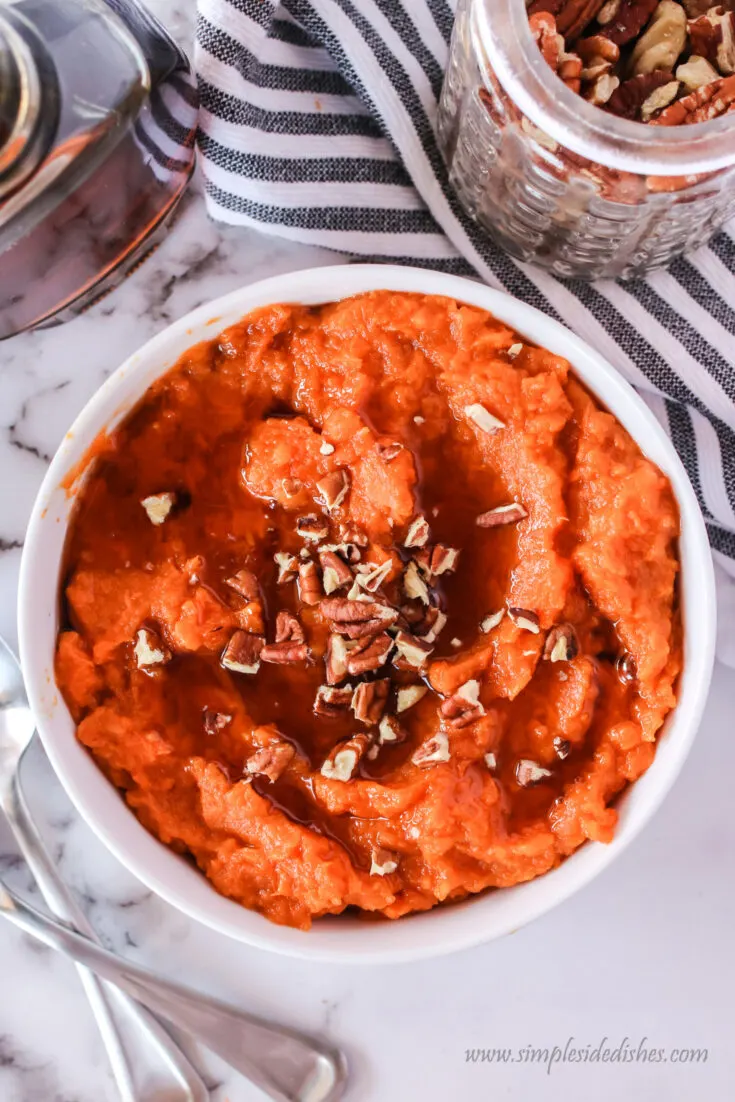 These Maple Sweet Potatoes are perfectly mashed, deliciously sweet and savory at the same time, and they come together so quickly for a quick and easy side dish.
Ingredients
Instructions
Rinse sweet potatoes.
Prick each sweet potato 5 times all around potato.
Bake in microwave under potato setting until potatoes are cooked through. Approximately 7 minutes, turned half way through. Timing will depend on size of potatoes.
Let potatoes cool until warm but able to touch them without burning yourself.
Once potatoes are cool enough to touch, scoop out flesh and place in a casserole dish.
Add butter, salt and pepper to sweet potatoes and mash.
Add 1/2 cup of maple syrup to mashed potatoes and mash.
If making this dish ahead of time, stop here and chill. Warm before continuing to step 9.
Top with remaining 1/4 cup of maple syrup and pecans. Serve warm.
Nutrition Information:
Yield:
10
Serving Size:
1
Amount Per Serving:
Calories:

195
Total Fat:

7g
Saturated Fat:

3g
Trans Fat:

0g
Unsaturated Fat:

3g
Cholesterol:

12mg
Sodium:

121mg
Carbohydrates:

33g
Fiber:

3g
Sugar:

20g
Protein:

2g
Nutritional information is estimated, not exact.