Oven baked sweet potato fries are sweet, crispy, delicious, and so much easier than frying them over a stove. You will love this homemade version of this perfect side dish!
I love sweet potatoes. I love their color. I love their sweetness. I love turning them into oven baked fries and eating them all by myself.
But did you know that sweet potatoes aren't technically a potato?
It's true. Potatoes are in the nightshade family of plants and are more starchy. Sweet potatoes are in the morning glory family of plants and have more fiber and vitamins.
Either way, they are both foods that I love to eat.
And when you take them and chop them into these oven baked sweet potato fries with a side of whipped cinnamon butter, everyone else loves to eat them too.
What ingredients are in Oven Baked Sweet Potato Fries with Cinnamon Butter?
Butter: beating room temperature butter makes the perfect dip for sweet potato fries
Light Brown Sugar: adds a sweet flavor to the butter dip
Cinnamon: the perfect spice to pair with sweet potatoes
Vanilla Extract: this makes all sweet dishes taste better
Sweet Potatoes: these orange potatoes are naturally sweet and add a fantastic color to the table
Vegetable Oil: this is what we use to crisp the potatoes without a fryer
Cornstarch: helps create the crispy outside to the sweet potato fries
How to Bake Sweet Potato Fries:
Mix the cinnamon butter and set aside.
Wash and scrub sweet potatoes.
Cut sweet potatoes into fries.
Soak sweet potatoes in ice water.
Drain water and towel dry sweet potatoes.
Coat sweet potatoes in oil and cornstarch.
Bake until golden, flipping halfway through cooking.
Cool and serve with cinnamon butter!
How to bake Sweet Potato Fries crispy:
Following these six steps will give you the best baked sweet potato fries every time:
Slice your fries thin. Thick fries won't crisp up. Be sure to slice them at ¼" thickness like the recipe says.
Soak in ice water. Soaking the uncooked sweet potato sticks in ice water helps release the starch inside which means the potatoes will cook crispier
Dry after soaking. Completely drying the outside of the fries will let the oil and cornstarch stick better which gives a crispier outer coating to the fries.
Completely coat with oil and cornstarch. This is the outer coating that will fry up and let the inside of the potato steam cook.
Cook in a single layer, not stacked. Make sure the fries are not touching when you put them on the sheet tray to bake.
Flip halfway through cooking. The last step to make sure you get crispy oven baked sweet potato fries is making sure every single fry is flipped so both sides can touch the pan while baking.
How to cut a sweet potato into fries:
Don't let cutting the sweet potato scare you! After you have a clean sweet potato:
Chop the ends off.
Cut your sweet potato in half or thirds so they are as long as you want your fries to be.
Cut the potato chunk in half the long way so it can rest flat on the cutting board.
Then slice it into ¼" pieces.
Turn the pieces to the side and cut again into ¼" fries.
Pro Tip: Use a large cutting board. If you don't have a large cutting board, keep a bowl close to move the cut pieces to so you have space to work cutting each potato into fries.
Are Oven Baked Sweet Potato Fries healthy?
Yes! Sweet potatoes are loaded with fiber, vitamins, and nutrients. And when we oven bake them instead of deep fry them, they absorb less oil while still giving you a delicious sweet potato fry flavor.
What do you serve with Oven Baked Sweet Potato Fries?
With these crispy baked sweet potato fries, I would serve almost anything.
They go great with anything from the grill: burgers, kabobs, hot dogs, brats. They also are a perfect side for any meat dish: chicken, steak, pork chops, etc.
While these make a great side dish for any time of day, sometimes we eat them as an afternoon snack. Because it's a delicious way to eat vegetables in the afternoon.
Whenever you serve them, the most important thing is to serve them with the cinnamon butter because it is so delicious!
Can I freeze Oven Baked Sweet Potato Fries?
Yes! After cooking, let the fries cool completely. Then put them on a single layer on a cookie sheet into the freezer to freeze individually.
Once each fry is frozen, put into a freezer safe container to store until you are ready to eat.
Pro Tip: If you freeze the cinnamon butter, let it come to room temperature and whip it again before serving. This will keep it extra fluffy for dipping.
How to bake frozen Sweet Potato Fries:
Remove your homemade baked sweet potato fries from the freezer and place on a cookie sheet sprayed with pan spray. Be sure the fries are not overlapping at all!
Bake for 10 minutes, flip fries over, and continue baking until crispy.
Are Oven Baked Sweet Potato Fries gluten free?
Yes! Every ingredient in this recipe is naturally gluten free.
Are Oven Baked Sweet Potato Fries vegan?
Yes! This baked sweet potato fries recipe is vegan. However, the cinnamon butter is not vegan since it contains butter.
Can dogs eat Oven Baked Sweet Potato Fries?
Yes! Dogs can eat this baked sweet potato fries recipe. But don't let your dog eat the cinnamon butter.
Pro Tip: Anytime feeding your dog a new food, always start in small amounts to make sure your dog can eat the new food without side effects.
This oven baked sweet potato fries recipe is sure to be a favorite for everyone at the table. With its perfectly crispy fries and delicious cinnamon butter, you will never buy frozen sweet potato fries again.
Yield: 4 Servings
Oven Baked Sweet Potato Fries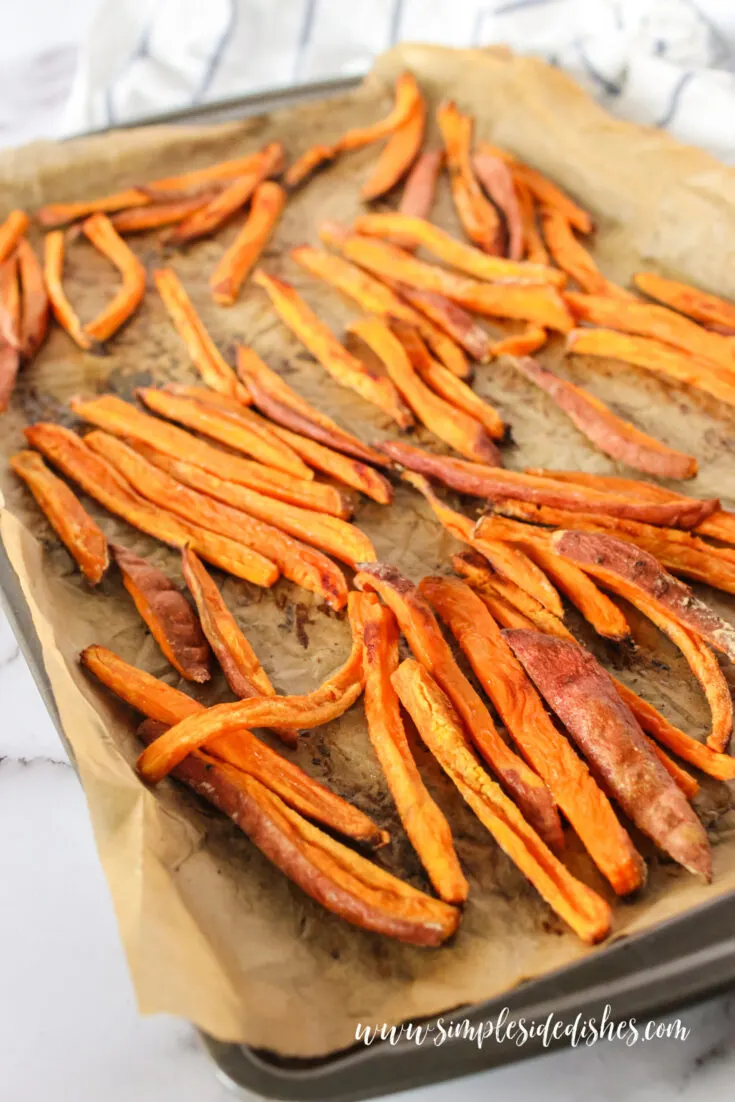 Oven baked sweet potato fries are sweet, crispy, delicious, much easier than frying them over a stove. You will love this homemade version!
Ingredients
Instructions
Make your cinnamon butter first. This can be made days in advance.
With a hand blender, beat butter and honey.
Add powdered sugar and cinnamon. Mix well. Set aside.
You can make sweet potato fries with or without skins on. We left our skins on.
Thoroughly wash and scrub each sweet potato.
Slice off the ends of the sweet potato if it looks not so great.
Slice each sweet potato in half, lengthwise.
Flip sweet potato cut side down on the cutting board.
Slice lengthwise in ¼ inch cuts.
For each ¼ inch cut, lay flat and slice again in ¼ inch cuts. You should end up with square or rectangle sticks.
Repeat until all potatoes are sliced into fries.
If the fries are too long, cut them in half.
Fill a medium bowl with ice water and submerge fries for 10 minutes. This helps release some of the starch to help them crisp.
While fries are soaking, preheat oven to 425*F
Prepare a rimmed baking sheet with a baking mat, parchment paper or non-stick foil.
After 10 minutes, remove fries from ice water and towel dry off.
Dump ice water out of the bowl, rinse the bowl and dry the bowl.
Add chilled and dried fries back to the bowl.
Add vegetable oil to the bowl and toss to coat.
Add cornstarch and toss to coat until your cornstarch is
soaked into the oil and you can no longer see the powdery residue.
Lay fries on a lined cookie sheet and ensure they are not stacked on top of each other. Depending on the size of your sweet potatoes, you may need to bake in two batches.
Bake for 15 minutes, then remove from the oven.
Flip fries, and bake for an additional 12-15 minutes. If fries are thin, they will need less time to cook. If thicker, then more time. Watch them so they don't burn! I cook mine for 15 minutes, then check them. If they are golden, I remove them. If not, I keep them in for up to 5 more minutes to help them crisp up.
Remove from the oven and let cool for 5 minutes before serving with cinnamon butter.
Nutrition Information:
Yield:
4
Serving Size:
1
Amount Per Serving:
Calories:

445
Total Fat:

33g
Saturated Fat:

15g
Trans Fat:

1g
Unsaturated Fat:

16g
Cholesterol:

61mg
Sodium:

204mg
Carbohydrates:

38g
Fiber:

2g
Sugar:

28g
Protein:

1g