This Raspberry Pretzel Jello Salad is my favorite mix of tart berries, no bake cheesecake, and a perfectly salty pretzel crust. You will love the flavors in this dish!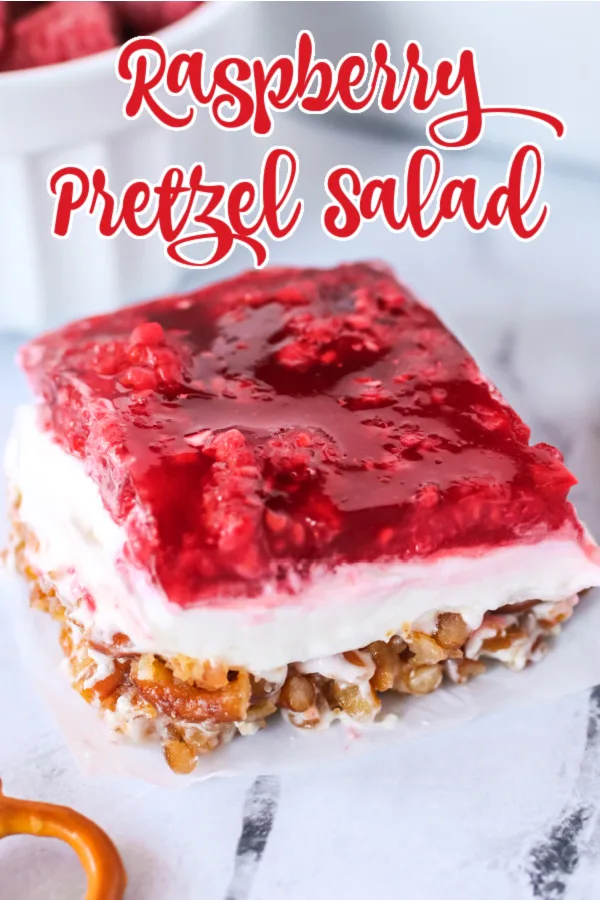 Layered jello salads are one of my favorite things to serve at a big gathering. The perfectly crisp lines of crust, white, and red are just so pretty!
On top of how beautiful it looks, it has the perfect combination of flavors. Deliciously salty pretzel crust, creamy cheesecake filling, and topped with a beautiful berry jello layer.
Everyone comes back for more! And as an even bigger bonus, I can make it in advance to save time the day of the event!
This easy raspberry pretzel jello salad really is the perfect dish for any occasion small or large.
What ingredients are in Raspberry Pretzel Jello Salad?
Chopped Pretzels: pretzels are the best crust to mix salty with sweet.

Pro Tip: Be sure they are broken into small pieces, not powdered.

White Sugar: Sugar adds a sweetness to the crust and cream cheese layers.
Butter: Melted butter combines with the pretzels to hold the crust together.
Cream Cheese: The base for the creamy filling.

Pro Tip: Be sure it's room temperature to mix easier!

Vanilla: My favorite extract! It makes every creamy dish taste better.
Cool Whip: this easy whipped cream keeps the cheesecake layer light and fluffy
Package Raspberry Jello: this makes the shiny top layer and adds flavor
Boiling Water: the best way to turn powdered gelatin into jello
Frozen Raspberries: an easy way to use real raspberries year round
How to make Raspberry Pretzel Jello Salad?
Prepare the crust.
Mix the cheesecake layer & spread on the cooled crust.
Combine the jello, cool it down, & pour over the creamy layer.
Chill and Serve!
Is Raspberry Pretzel Jello Salad a side dish or a dessert?
Both! I really love when dishes can be both.
This is a jello salad which means you can serve it next to your main course at a potluck or dinner or feast and have a great balance of sweet and salty next to tangy flavors like BBQ on your plate.
But this is also a raspberry pretzel salad dessert recipe. It looks so beautiful as a dessert, and the layers of flavor fit in perfectly as a beautiful stand alone dessert.
Can you make Raspberry Pretzel Jello Salad the night before?
Yes! This recipe works perfectly for making the night before! Because the crust and other layers need to cool, sometimes I even make it over 2 nights.
The first night I make the pretzel crust. The second night I make the cream and jello layers to put on top of the crust. Then it's ready the next day to serve!
Can you freeze Raspberry Pretzel Jello Salad?
No. The pretzel crust and cheesecake filling would be fine to freeze and pull out later. However, gelatin does not thaw well.
If you've ever frozen jello, when you thaw it the ingredients start to separate, and it leaves you with a soupy mess. Not something you want in a layered salad!
If you need to freeze it in advance, make the pretzel and cream cheese layer and freeze that. When you are ready to serve it, pull it out, make the raspberry jello layer and put it on top a few hours before serving (so it has time to set).
Can I use fresh raspberries in Raspberry Pretzel Jello Salad?
Yes! Fresh raspberries work great in this raspberry pretzel salad recipe.
Be sure to give yourself extra time to make this if you use fresh berries since they won't cool the jello layer as quickly as frozen berries.
Can I use fresh whipped cream in Raspberry Pretzel Jello Salad?
No. Fresh whipped cream is delicious, and I love it. But it also goes flat very quickly.
When I am making raspberry pretzel salad, cool whip keeps the creamy layer light and strong enough to hold up the jello layer. It's also simpler to open a container than to whip your own.
How long does Raspberry Pretzel Jello Salad last?
Not long at my house! But if you find yourself with plenty of extras, you can eat it for up to 3 days after all the layers are on without problems.
More than 3 days and the crust and berries won't be as fresh and crisp.
Pro Tip: If you really have too much, remove the set jello layer from the top and freeze the bottom cream cheese pretzel crust layer for an easy snack or dessert you can top with berries or syrup later.
How to crush pretzels for Raspberry Pretzel Jello Salad?
Let your child smash the bag of pretzels into pieces. This can be done on purpose or accidentally.
Use a knife and a cutting board. Be careful there are no fingers in the way, then place pretzels on the board, and chop like you're on your own cooking show.
Throw pretzels in a blender! But only pulse in short bursts or you will make pretzel powder!
Toss them in a food processor. Just like the blender, only use short bursts so you get pieces, not powder.
Use a rolling pin and a bag. Just put pretzels in a food safe bag on top of a flat surface, and roll the pretzels into pieces.
Use fingers to snap each pretzel into crumbs. This will take much longer than other methods, but can be a great fidget activity.
Pro Tip: Plan ahead and save the pretzel pieces (not only salt!) at the bottom of your snack pretzel bag to use for this recipe later.
Can I use frozen raspberries in Raspberry Pretzel Jello Salad?
Yes! Our raspberry pretzel jello salad recipe uses frozen berries on purpose.
Frozen berries are easy to find year round, cool down the gelatin layer faster, and because they are frozen right after picking give you a perfect fresh raspberry flavor full of nutrients.
If you are looking for the best raspberry pretzel jello salad, this is the perfect recipe for you. With simple ingredients and an easy to layer recipe, you'll have a beautiful delicious side every time!
More Side Dish Recipes You'll Love…
Yield: 12 Servings
Raspberry Pretzel Jello Salad
Raspberry Pretzel Jello Salad is my favorite mix of tart berries, no bake cheesecake, and a perfectly salty pretzel crust. You will love the flavors in this dish!
Additional Time
4 hours
20 minutes
Ingredients
Instructions
Preheat oven to 350*F.
In a bowl combine pretzels, ¼ cup white sugar and butter. Mix well.
Spread on the bottom of a 9x13 casserole dish and press down to create a tight crust.
Bake for 10 minutes then remove from the oven and cool completely.
Once the crust is cooled, make cream cheese layer.
In a bowl blend 1 cup sugar, cream cheese and vanilla together.
FOLD in the cool whip.
GENTLY spread this mixture over cooled crust. I've found it easiest to place globs all over then gently spread them together.
Make sure that white filling touches all sides of the pan. This will prevent Jello mixture from sliding UNDER the cream cheese layer and making the crust soggy.
Chill while you make the top layer.
In a medium bowl, stir together Jello and boiling water. Mix well until Jello is fully dissolved.
Add raspberries and mix until raspberries are thawed.
Mixture should begin to thicken as the frozen berries will quickly bring the temperature down. When the mixture is egg white consistency (thick, but soupy) (about 10 minutes) pour over the cream cheese layer.
Chill completely then serve.
Nutrition Information:
Yield:
12
Serving Size:
1
Amount Per Serving:
Calories:

228
Total Fat:

13g
Saturated Fat:

8g
Trans Fat:

0g
Unsaturated Fat:

4g
Cholesterol:

33mg
Sodium:

179mg
Carbohydrates:

29g
Fiber:

2g
Sugar:

22g
Protein:

1g