You are going to love the flavors in our classic Watergate Salad recipe. It is a creamy, fruity, and nutty delight that will make you feel you are in heaven!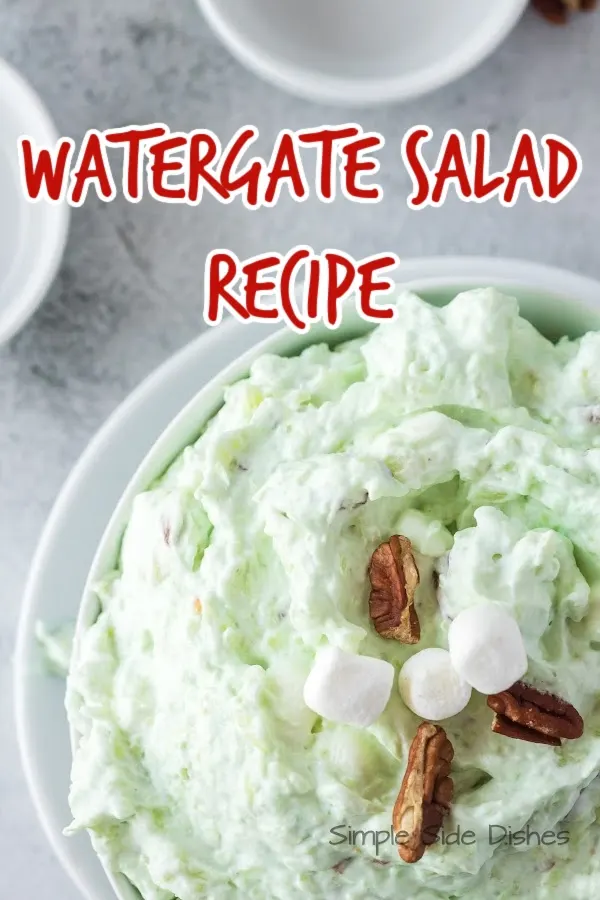 This easy watergate salad recipe is one of those vintage recipes that people have eaten for decades. And it is so easy to make!
With just a handful of simple ingredients, you'll have a delightful dish ready in no time.
It is smooth and creamy with just the perfect crunch from pecans in every bite, leaving you a sweet dish with a balance of perfect textures in every bite.
This salad is a crowd-pleaser at potlucks, picnics, and family gatherings. So if you need a recipe for watergate salad that everyone will love, this is the one for you!
What is Watergate Salad?
Watergate Salad is a creamy dessert salad featuring crushed pineapple, pistachio pudding mix, mini marshmallows, Cool Whip, and chopped pecans. The combination of pistachio pudding mix and cool whip give it a classic green color, and its sweet, nutty flavor make it a perfect treat.
Why is it called Watergate Salad?
The name "Watergate Salad" has a lot of explanations as to the origin of the name, but none have been proven to be the truth.
Some say it was first served at the watergate hotel. Others say watergate salad ingredients are the same as watergate cake which was invented in honor of the presidential scandal.
Others say pistachio pudding salad was invented by the Jell-O company and because it came out during the watergate scandal, it adopted the name.
Whether you call this a pistachio dessert salad or an ambrosia watergate salad, a large bowl of this retro dessert is a classic dish that everyone will love.
What ingredients are in Watergate Salad?
Crushed Pineapple: do not drain the juice; this adds natural sweetness and a citrus burst.
Instant Pistachio Pudding Mix: gives you the classic green fluff and pistachio delight flavor.
Mini Marshmallows: Bring a sweet and chewy texture to the salad.
Cool Whip: gives a creamy and fluffy consistency.
Chopped Pecans: Provide a satisfying crunch and nutty aroma.
Pro Tips:
Use canned crushed pineapple with its juice; you need the liquid for the instant pudding mix to activate.
For extra flavor, toast the pecans before adding them to the salad. Put them in a 350* oven for 5 minutes, stirring halfway for great nutty flavor.
How to Make Watergate Salad:
Combine pineapple and dry pudding mix.
Add marshmallows and mix thoroughly.
Gently fold in Cool Whip and crunchy pecans.
Chill until ready to serve.
Pro Tip: If your whipped topping is frozen, pull it out the day before you want to use it so it is smooth and ready to use.
Can you make Watergate Salad ahead of time?
Yes you can make watergate salad ahead of time! This is the perfect easy recipe to make ahead of time. The recipe even turns out best when made ahead of time and allowed to chill.
This is one of those family recipes I love to make the night before a big event so I have more time to do other things that day. That makes it perfect for parties, Thanksgiving or Christmas dinners, and busy potlucks.
How to Store Watergate Salad:
Store your Watergate Salad in an airtight container in the refrigerator. This classic recipe needs to stay chilled, so if you are serving at an event, put your dish over a tray of ice to keep it cold.
How Long Does Watergate Salad Last in the Fridge?
Watergate Salad will stay fresh in the refrigerator for up to 2-3 days. You may want to add marshmallows and pecans to improve the texture if it has sat for 2 days without eating and has some liquid at the bottom.
The texture of the marshmallows and fresh nuts will bring it back to the fresh made original recipe dish.
Can You Freeze Watergate Salad?
No, you cannot freeze this watergate salad reciepe. Freezing will change the salad's texture and consistency and leave you with a runny mess once it is thawed.
Is Watergate Salad Healthy?
Watergate Salad is not considered a healthy salad. It is straight sugar and cream. Eat this pistachio pineapple delight in moderation.
Is Watergate Salad gluten free?
Yes, watergate salad is gluten free! Every ingredient is naturally gluten free which makes it safe. The only one you will want to watch is the pudding.
Every line of pistachio pudding mix I have found in the USA has always been gluten free. They are not always certified gluten free, so be sure to ask your gluten free friends how they use foods not certified gluten free.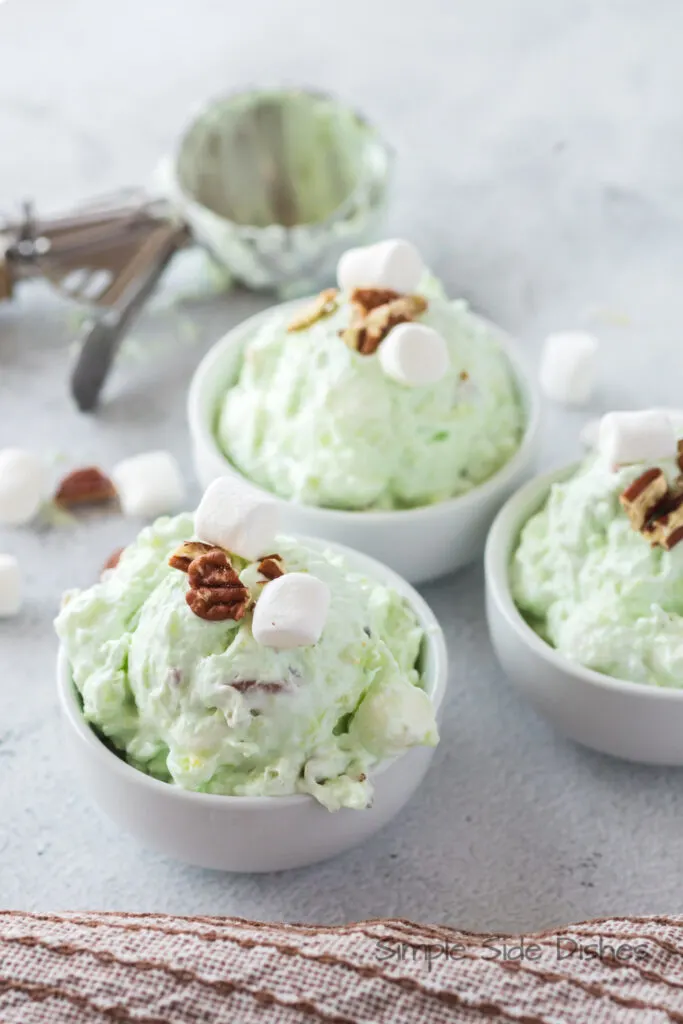 What to Serve with Watergate Salad:
I serve Watergate Salad with grilled meats, sandwiches, and other classic picnic dishes. It can also be served as a sweet side dish or dessert at any gathering.
Is Watergate Salad a Salad or a Dessert?
Watergate Salad is both a salad and a dessert. It is one of those creamy dessert salads that is accepted as an easy side dish salad. But its sweet, creamy, and fruity qualities make it a perfect dessert option.
Additional Jello Salads You'll Love…
Watergate salad is a great option for holiday tables as well as your general foods recipe stash. It can be an easy dessert or a simple salad; however you serve this green stuff it is sure to put a smile on everyone's faces!
Yield: 8 Servings
Watergate Salad Recipe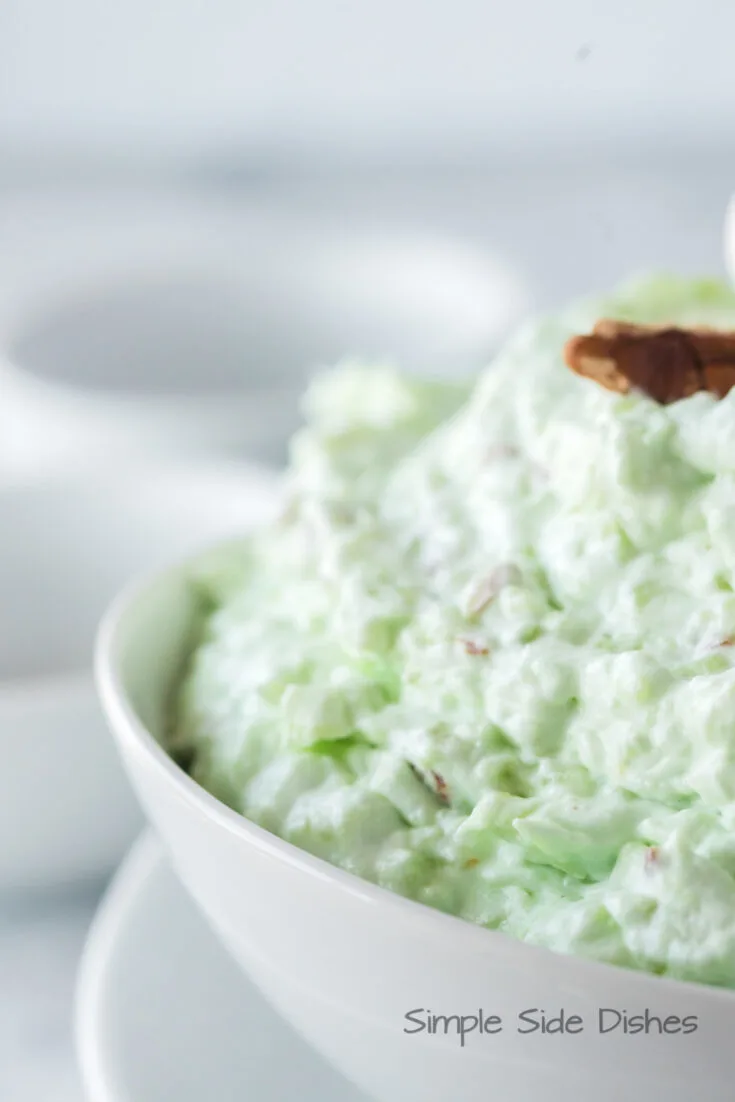 Indulge in nostalgia with our Classic Watergate Salad recipe. Creamy, sweet, and nutty, this delightful side dish is perfect for any occasion!
Total Time
1 hour
15 minutes
Instructions
Mix pineapple (with juice) and dry pudding.
Add marshmallows and mix well.
Add cool whip and pecans and mix well.
Chill until ready to serve.
Nutrition Information:
Yield:
8
Serving Size:
1
Amount Per Serving:
Calories:

114
Total Fat:

5g
Saturated Fat:

1g
Trans Fat:

0g
Unsaturated Fat:

4g
Cholesterol:

0mg
Sodium:

28mg
Carbohydrates:

17g
Fiber:

1g
Sugar:

13g
Protein:

1g