Get ready to take your salads and soups to the next level with our Garlic Parmesan Croutons. These easy homemade croutons are bite-sized flavor bombs that add a crunch and savory kick to your favorite dishes.
These garlic parmesan croutons are golden brown squares of perfection. I love croutons, but homemade ones are so much better and so easy!
Here are 5 reasons why you should try to make your own croutons this week:
The Flavor: blending garlic and parmesan is a classic combination, but when you make them you decide which flavor you want a little more and you can add it! Maybe you like a dash of italian seasoning thrown in; you can do it because you are creating it!
Fast & Easy: With just 4 ingredients and little prep time, you'll have these croutons ready in no time.
Use them anywhere: Croutons are for more than just salads. Use them over a small bowl of soup or munch on their own for a tasty snack.
You Pick the Size: You decide how to cut your bread. You can make small nibbles or hearty chunks, whatever you prefer!
Make-Ahead Recipe: These parmesan garlic croutons are best made in advance to have on hand for whenever you need them.
If this is the first time you make homemade croutons, you are in for an easy and delicious recipe that uses your leftover bread and turns it into something perfectly delicious. Go ahead, try these parmesan croutons today!
What Ingredients Are in Garlic Parmesan Croutons?
Baguette: you want the skinny long crunchy loaf of bread to give the base to your croutons.
Extra Virgin Olive Oil: this coats the bread cubes, giving them a rich, savory flavor.
Garlic Powder: gives the croutons a hint of garlic that gives an added bonus of flavor without being overpowering
Shredded Parmesan Cheese: adds a cheesy layer of goodness.
Pro Tips: Use a good parmesan cheese for the best flavor, and opt for a baguette with a crispy crust for the ultimate crunch.
How to Make Garlic Parmesan Croutons:
Preheat the oven.
Cut the baguette into bite-sized cubes, and toss pieces with olive oil and garlic powder in a large bowl.
Bake the cubed bread on a rimmed baking sheet, adding a cheese topping two times while cooking.
Allow the croutons to cool, then serve!
Pro Tip: Remember to toss the croutons garlic parmesan with the cheese while they're still hot for even distribution.
Does the quality of the bread matter with garlic parmesan croutons?
The quality of the bread and other ingredients will matter with homemade garlic croutons and any recipe. Better quality ingredients gives you better results.
But in this recipe you do not have to use fresh bread. The best bread can be a little bit old or stale and this recipe is the perfect way to take that good quality french bread and turn it into the best croutons you will eat.
Pro Tip: Changing the type of bread you use will change the flavor. If you use sourdough bread or whole grain bread you will end up with slightly different croutons. Choose a bread you like as a fresh loaf, and likely that will be a good choice as a crouton.
How to Serve Garlic Parmesan Croutons:
Serve Parmesan Croutons with salads and soups. These homemade croutons add a crisp crunch and a burst of flavor you will not get with store-bought croutons.
You can also serve them as a snack or appetizer which are sure to disappear quickly at any gathering.
Can You Make Garlic Parmesan Croutons Ahead of Time?
Yes you can make Parmesan Garlic Croutons ahead of time! Prepare a batch in advance and store them for later use. They'll stay fresh and delicious until you are ready to use them.
How to Store Garlic Parmesan Croutons:
Store your Garlic Parmesan Croutons in an airtight container at room temperature. If you have high humidity or prefer, you can store your own croutons in the fridge in a sealed container.
They may lose their crispness being stored in the fridge, so just toast them in the oven under the broiler until crisp.
Pro Tip: You will need to keep a more vigilant eye on these if you are toasting them under the broiler in a preheated oven. Set a timer even for 1 minute. The last thing you want is burned charcoal flavor thanks to forgetting and overcooking them!
How Long Does Garlic Parmesan Croutons Last?
When stored properly, these homemade parmesan garlic croutons will stay fresh for up to two weeks. However, they're so delicious, they're unlikely to last that long!
Can You Freeze Garlic Parmesan Croutons?
Yes, you can freeze these homemade croutons recipe for long-term storage. Just make sure they are well-sealed to prevent freezer burn.
Pro Tip: I like to double layer anything I put in the freezer. One for storing, another layer to fight freezer burn.
What to Serve with Garlic Parmesan Croutons:
You can serve these homemade parmesan croutons with your favorite salad, soups, and pasta. They are a perfect addition to this Greek Salad or this homemade roasted tomato basil soup.
You can also use them to add a flavorful crunch to your charcuterie or cheese platters.
However you serve these Garlic Parmesan Croutons, you will have a delicious cheesy twist in your dish. And this is an easy recipe to use that stale bread on your counter before it goes bad!
Yield: 8 Servings
Garlic Parmesan Croutons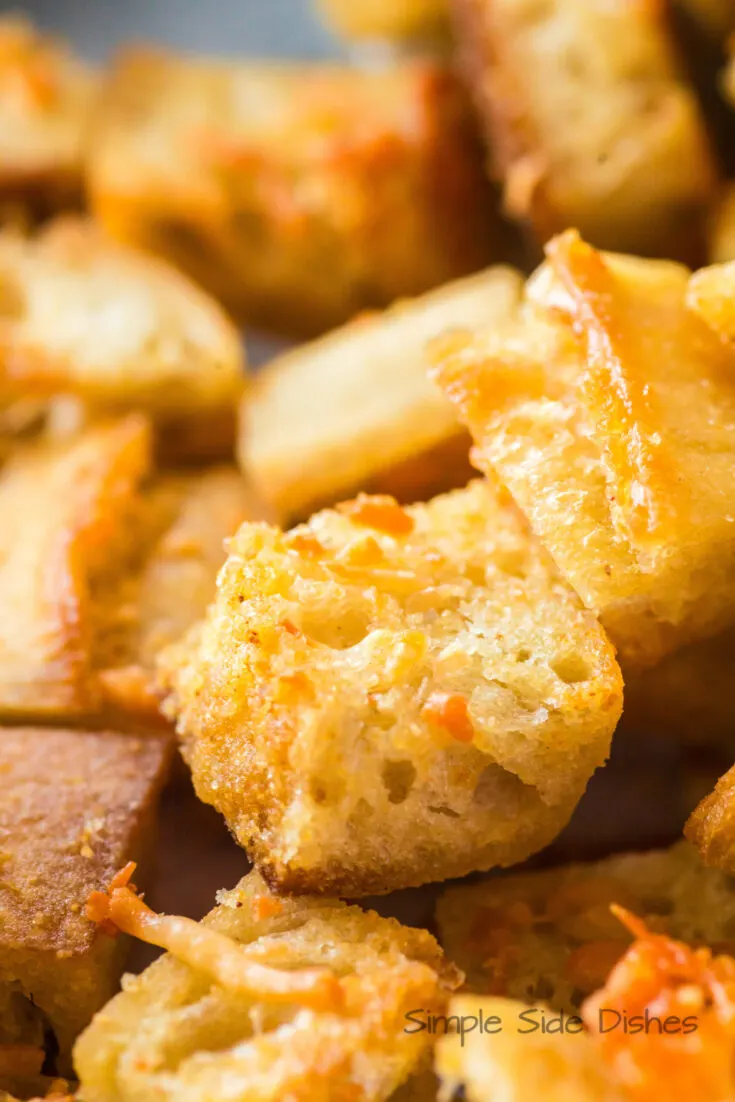 Elevate your salads and soups with our Garlic Parmesan Croutons! A quick, cheesy twist that adds a tasty crunch to your favorite dishes.
Ingredients
1 Baguette
2 Tablespoons extra virgin olive oil
2 teaspoons garlic powder
3/4 cup parmesan cheese, shredded
Instructions
Preheat oven to 375*F
Line a baking sheet with parchment paper or non stick foil (use parchment)
Cut the baguette into ½ inch - 1 inch cubes. Place in a large bowl.
Add olive oil and garlic powder and toss until bread is coated.
Rough chop your parmesan into smaller pieces - pieces should be about ¼ inch in size.
Bake for 5 minutes.
Remove from the oven and cover croutons with ½ of cheese.
Bake for an additional 5 minutes.
Remove and toss croutons with remaining cheese.
Bake for 10 minutes.
Remove from the oven. Toss and let cool.
Nutrition Information:
Yield:
8
Serving Size:
1
Amount Per Serving:
Calories:

174
Total Fat:

6g
Saturated Fat:

2g
Trans Fat:

0g
Unsaturated Fat:

4g
Cholesterol:

5mg
Sodium:

372mg
Carbohydrates:

22g
Fiber:

1g
Sugar:

2g
Protein:

7g