There's something comforting about the smell of freshly baked dinner rolls spreading through the kitchen. These Easy Dinner Rolls have the best parts of any roll; they are soft, fluffy, buttery, with a perfect golden outside.
We all know the perfect addition to any meal is a roll. Well these easy dinner rolls are the ones you will be reaching for.
This great recipe is so easy to make, and they turn out beautifully. They are perfect for impressing guests at your holiday meals.
My great grandma always said the best rolls have sticky dough and lots of butter. And this combination of butter and sugar in this quick dinner roll recipe gives you a rich and perfect flavor in every bite.
And my favorite part about this recipe is they are easy to freeze for another day. It's like having frozen quick dinner rolls that act like Rhodes rolls but taste better.
Serve it with a dollop of honey butter, and you will have a magical recipe that can go with almost any dish.
What ingredients are in Easy Dinner Rolls?
Hot Water: the warm water activates the yeast so your rolls grow
Warm Milk: the warm milk also helps the yeast, but the sugar in the milk helps feed the yeast and give you a softer roll
Egg: this gives structure to the roll so they don't fall flat
Softened Butter: the fat of the butter will give you a soft roll and add flavor inside and out
White Sugar: feeds the yeast to give you a fluffy roll with just a hint of sweetness
Salt: slows down the yeast so it doesn't grow and fall but gives you just the right amount of rise
All-purpose Flour: this gives the structure to the rolls
Active Dry Yeast: this is what makes the rolls rise; if needed you could use instant yeast instead
Pro Tip: Use room temperature ingredients for smoother dough.
How to Make Easy Dinner Rolls:
Combine all ingredients and knead until smooth in the mixing bowl of a stand mixer using the dough hook attachment.
Cover and let the dough rise in a warm place until doubled.
Quickly knead once more.
Shape the dough into walnut-sized portions and arrange dough balls in a prepared baking dish.
Give the rolls a second rise until nearly doubled in size.
Bake until golden brown.
Right when you pull the rolls out of the oven, brush with melted butter and serve!
Pro Tip: Letting the dough rise twice ensures maximum fluffiness.
How to Shape Easy Dinner Rolls:
You want to shape these dinner rolls into equal pieces so they cook the same amount of time on your pan. Different sized rolls will cook faster or slower and either dry them out or give you doughy rolls.
To shape them, pinch off a walnut sized piece of dough and roll into a smooth ball. I like to stretch and then roll it so the outside doesn't have any lumps. Then place the wrinkled side down so the pretty side is on top when you bake these soft dinner rolls.
Are Easy Dinner Rolls Vegan?
No, this recipe for easy dinner rolls contains both egg and butter, making it non-vegan. If you want to make vegan dinner rolls, find a specifically vegan recipe. I have found modifying non-vegan baking recipes does not always turn out well.
Can You Freeze Homemade Dinner Rolls?
Yes, you can freeze these homemade rolls after they are baked! Put them in a freezer safe bag (I like to double bag bread when I freeze it to protect it from freezer burn).
When you are ready to eat these easy dinner rolls, let them come to room temperature overnight and then reheat for fresh-out-of-the-oven deliciousness.
Can You Freeze Easy Dinner Rolls Dough?
Yes, you can freeze the easy dinner rolls dough! This is the best dinner rolls dough to freeze because even when frozen, they turn out perfectly.
After the first rise, shape your dough into balls and place on a parchment paper lined baking sheet in the freezer for an hour until the balls are frozen. Then place in a freezer safe airtight container for convenient, ready-to-bake rolls whenever you want them.
When you pull them out, place the dough balls on a baking pan sprayed with cooking spray and let them rise until doubled. It might take 8 hours from frozen to do this.
You could also put them on the baking pan covered in plastic wrap in the fridge until they are thawed, then pull them out and let them rise until doubled and at room temperature. Then follow the recipe to cook.
What Makes Bread Soft and Fluffy?
Bread is soft and fluff when you use milk, butter, and eggs in the dough. Those add tenderness and moisture and just enough sugar to protect the yeast which gives you soft, fluffy dinner rolls. That is why these dinner rolls from scratch are my favorite ones to make.
Why Are My Dinner Rolls Dense?
A few things can make your dinner rolls dense. If you use expired yeast that does not rise, your rolls will be dense. If you skip the rising time so your dough can't grow air bubbles, your rolls will be dense. And if you place your rolls in a cold oven before baking or open the oven door too many times while cooking so the temperature changes, your rolls will be dense.
For best results, follow the recipe closely and pay attention to your dough's rise time.
With basic ingredients and a little patience, you will have easy dinner rolls perfect for a weeknight meal and delicious enough for thanksgiving dinner. These buttery dinner rolls are the best part of any meal.
Yield: 20 Dinner Rolls
Easy Dinner Rolls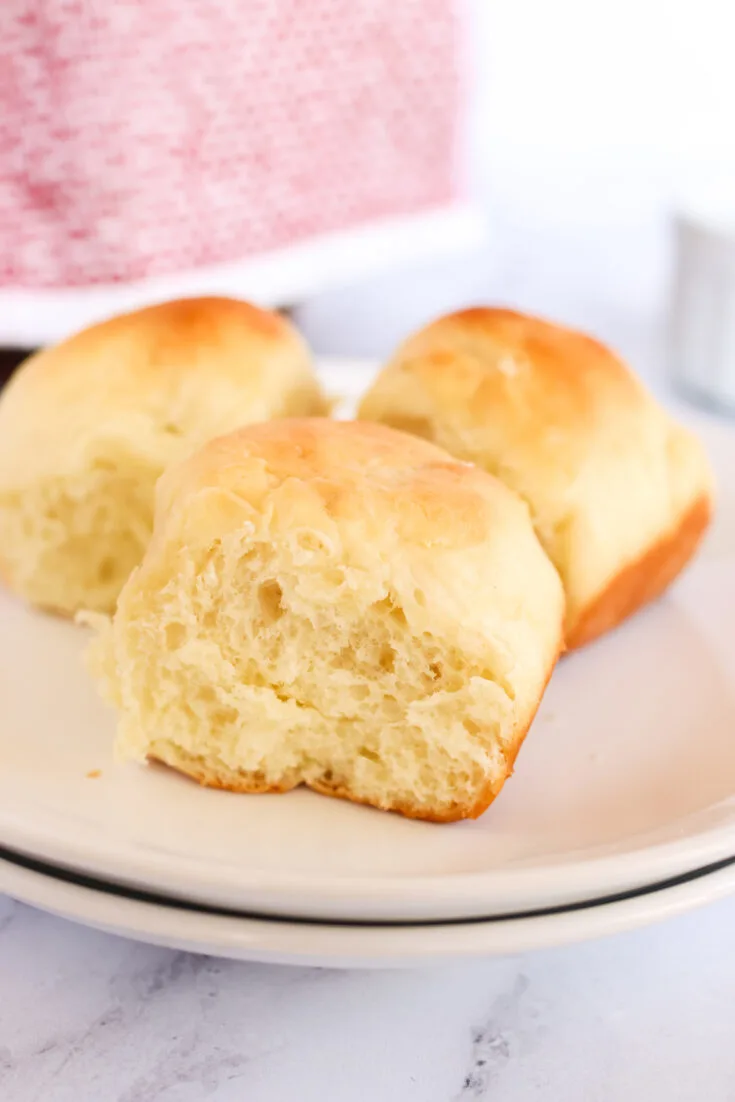 These irresistible easy dinner rolls are soft, fluffy, and buttery. Delicious rolls are the perfect side dish for any meal!
Total Time
2 hours
20 minutes
Ingredients
1/2 cup hot water
1/2 cup warm milk
1 egg
1/3 cup butter, room temperature
1/3 cup white sugar
1 teaspoon salt
3 3/4 cup all-purpose flour
2 1/2 teaspoons active dry yeast
1/4 cup butter, melted for brushing on the tops
Instructions
Combine water, milk, egg, 1/3 cup softened butter, sugar, salt, flour and yeast in the bowl of a stand mixer. with a dough hook.
Knead mixture until elastic and smooth; 5-7 minutes.
Transfer dough to an oiled bowl.
Cover with a light cloth and allow to double in size.
Punch dough down and knead again using a stand mixer for 3 more minutes.
Spray a 9x13 casserole dish with nonstick spray.
Pinch off bits of dough which are roughly the size of a shelled walnut.
Place these in the prepared casserole dish. You should be able to get 4 across and 5 down (20 rolls).
Cover rolls with a clean kitchen town and put in a warm place to let rise at least 1 hour, until nearly double in size.
Preheat oven to 400*F.
Bake in a preheated oven for 10 to 15 minutes, until golden.
Immediately after removing from the oven, brush the tops of the rolls with melted butter.