This is the best Cilantro Lime Rice and Black Beans recipe you will ever find. With its fast prep time and only 4 step instructions, this is a delicious side dish that you will enjoy making too!
If you need something more than plain rice or are specifically looking for Mexican black beans and rice, this is the recipe for you. It is an easy cafe rio restaurant copycat dish that you can even make with plain leftover rice.
You just mix cooked rice with the black beans, lime, and fresh chopped cilantro to have a side dish that is so easy a beginner could do it.
But the best part is this white rice with black beans is so good that it could feature in a main dish like cilantro lime rice bowls for a fantastic and easy dinner. It also makes a perfect side dish for fiesta dinners like fajita vegetables or kabobs.
Whether you need a really easy side dish or something quick to have on a busy weeknight, this cilantro lime rice with black beans is a great choice because of its flavor and how fast and easy it is.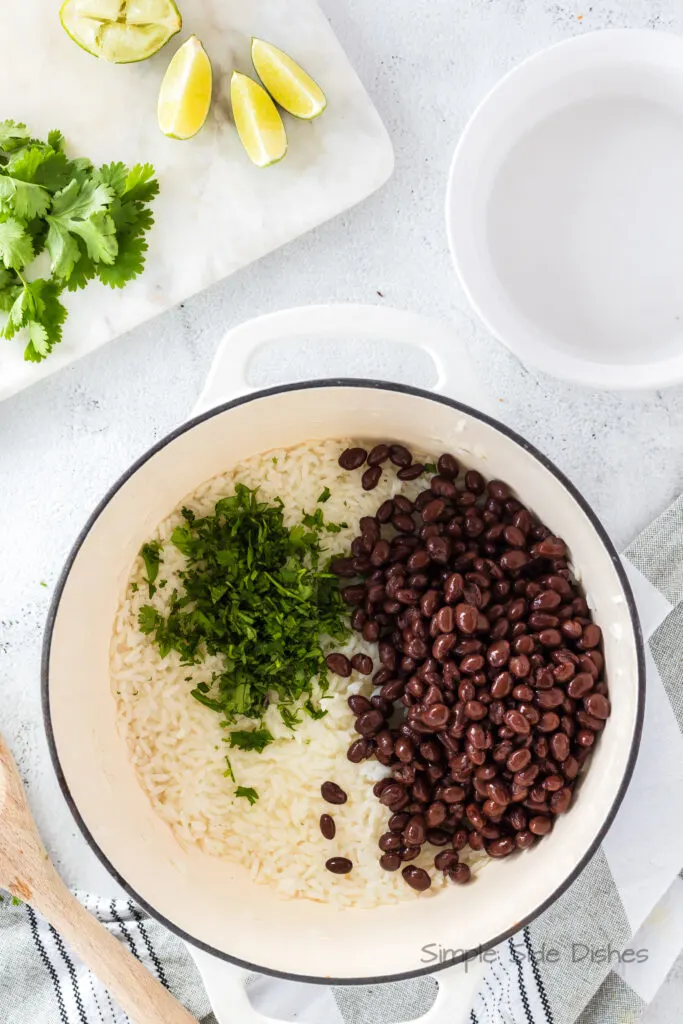 What ingredients are in Cilantro Lime Rice and Black Beans?
Long Grain White Rice: I like to use basmati, but use your favorite long grain rice for the base of this dish
Water: use this to cook the rice
Lime Juice: adds a kick and tanginess to the bowl of rice
Fresh Cilantro: gives a refreshing taste that goes perfectly with the lime zest
Canned Black Beans: Brings heartiness and protein to the dish.
Pro Tips:
Use fresh lime juice for the best flavor impact, and for extra zing, zest the lime before juicing.
Some people insist on rinsing the rice to remove excess starch. If you want sticky rice, you need to leave it alone. If you prefer separate cooked rice pieces, rinse it before cooking.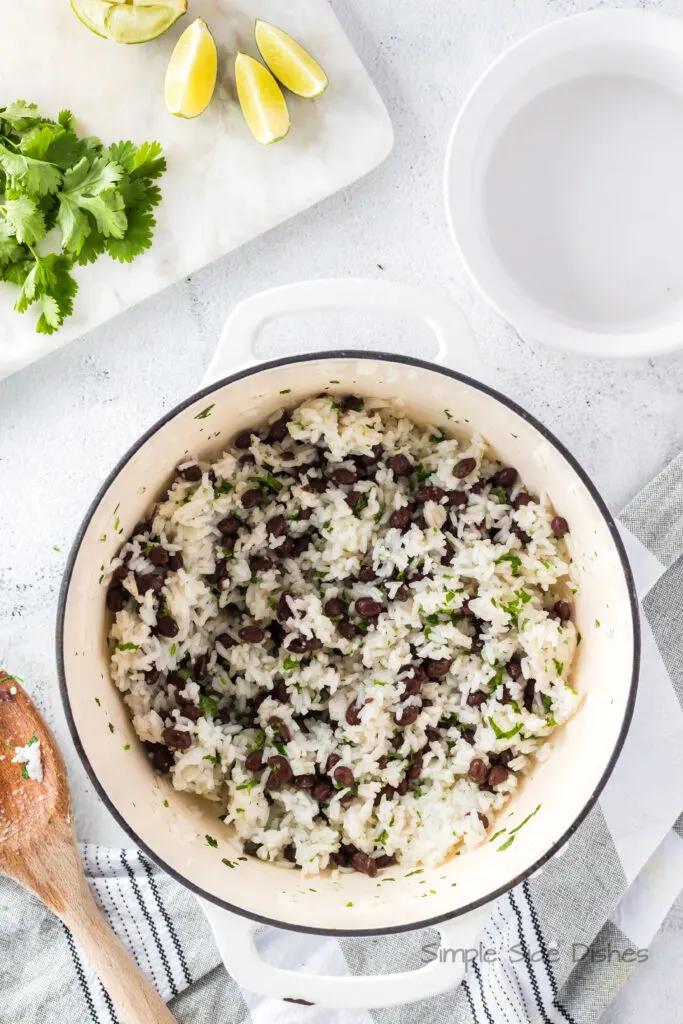 How to Make Cilantro Lime Rice and Black Beans:
Boil rice and water on the stove top.
Simmer covered.
Let rice sit.
Mix in lime juice, cilantro, and black beans.
Serve!
Pro Tips:
Be sure to gently mix in ingredients to keep the rice fluffy and not mash the beans.
If you prefer to cook rice in a rice cooker or instant pot, go ahead! There are so many different ways to cook rice. This recipe needs to use your favorite cooked rice and mix it with the other ingredients.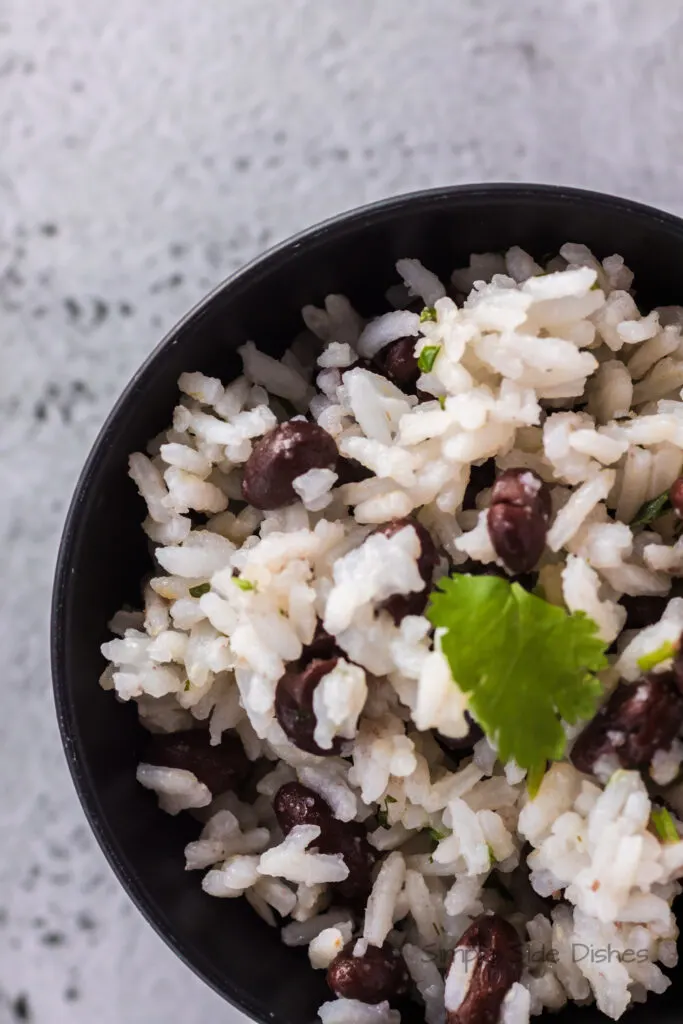 What Goes With Cilantro Lime Rice and Black Beans?
My favorite thing to serve with white rice with black beans are burrito bowls. You can make a big batch to feed a crowd or just have it ready as easy meal prep the next day.
Just put this easy black beans and rice at the bottom of a bowl, add your favorite protein, the layer taco or burrito toppings like green chilies, red onion, green onions, salsa, cheese, or sour cream.
This dish also goes great with other mexican-inspired meals like grilled chicken, shrimp, or roasted vegetables.
Are Cilantro Lime Rice and Black Beans Healthy?
Yes, this black beans and rice dish is healthy! It uses whole grains and is packed with fiber, protein, and fresh ingredients. As always when you are eating a healthy lifestyle, pay attention to your portions and this is a great option for you.
Can I Use Brown Rice to make Cilantro Lime Rice and Black Beans?
Yes you can use brown rice to make easy black beans and rice! Just be sure to adjust the cooking time since brown rice cooks longer. You will also get a heartier textured dish when you are ready since white rice tends to be fluffier.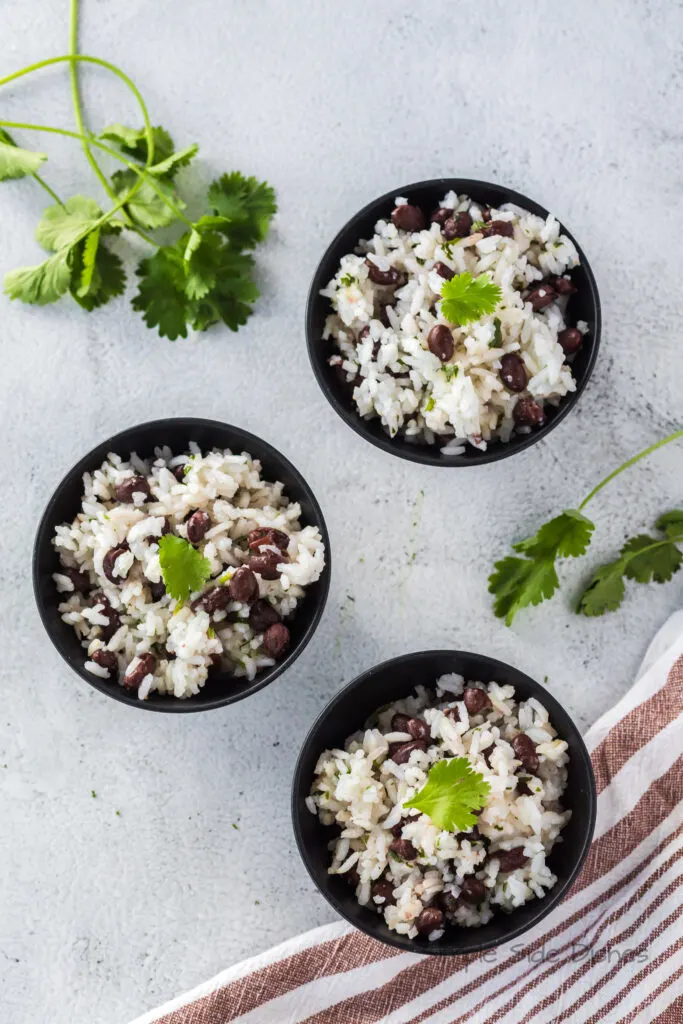 Is white rice with black beans gluten free vegan?
Yes, this rice and black beans recipe is naturally gluten free vegan. No ingredients come from animals or contain gluten. As always, read the ingredients label of all your ingredients to verify, but this is a perfect dish to serve your friends who need to eat egg free, dairy free, nut free, gluten free, and soy free.
How to Store Cilantro Lime Rice and Black Beans:
Store Mexican black beans and rice in an airtight container in the fridge. Store leftovers for up to 3-4 days in the refrigerator to enjoy later. After that the cilantro starts to wilt.
Pro Tip: Reheat with a splash of water to maintain the rice's moisture.
Can You Freeze Cilantro Lime Rice and Black Beans:
Yes, you can freeze rice and black beans. First you need to let it cool completely. Then move the cooled rice to a freezer-safe container and store it for up to 3 months.
Can Dogs Eat Black Beans and Rice?
Plain black beans and rice are safe for dogs, even though dogs sometimes have a hard time digesting a lot of beans at once. But this homemade lime rice and black beans dish should never be given to your pet. Limes are toxic for dogs and can affect their digestive track or even poison them.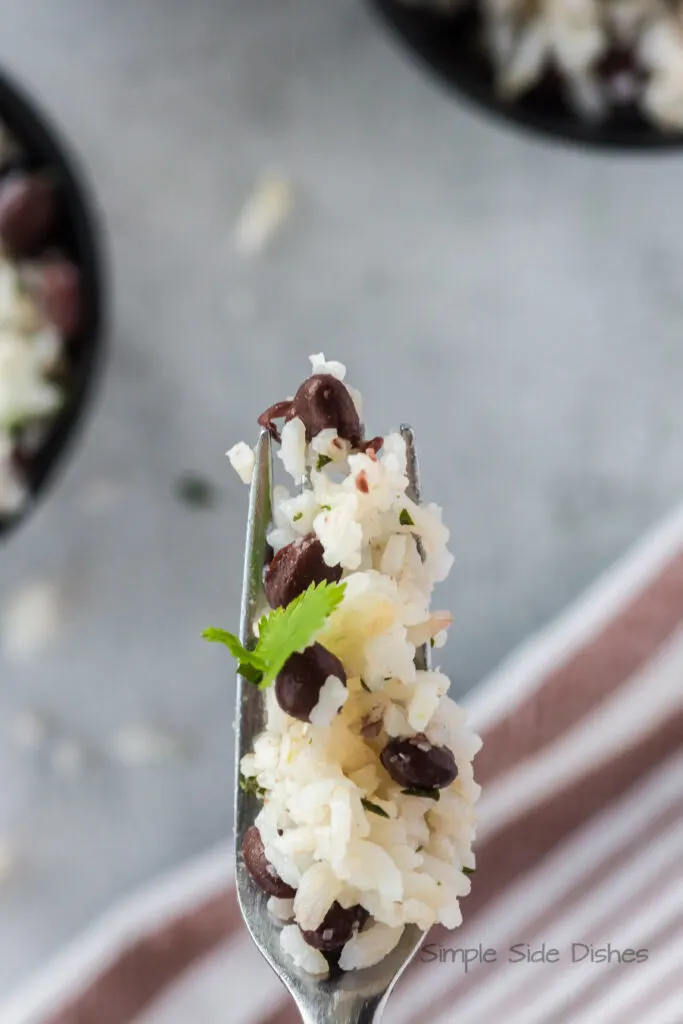 More Rice Side Dishes You'll Love…
Delicious Vegetable Side Dishes You'll Love…
This black beans and cilantro rice is a flavorful side dish you will come back to again and again; with so much flavor and such an easy prep, it will soon become one of your favorite recipes.
Yield: 4 Servings
Cilantro Lime Rice and Black Beans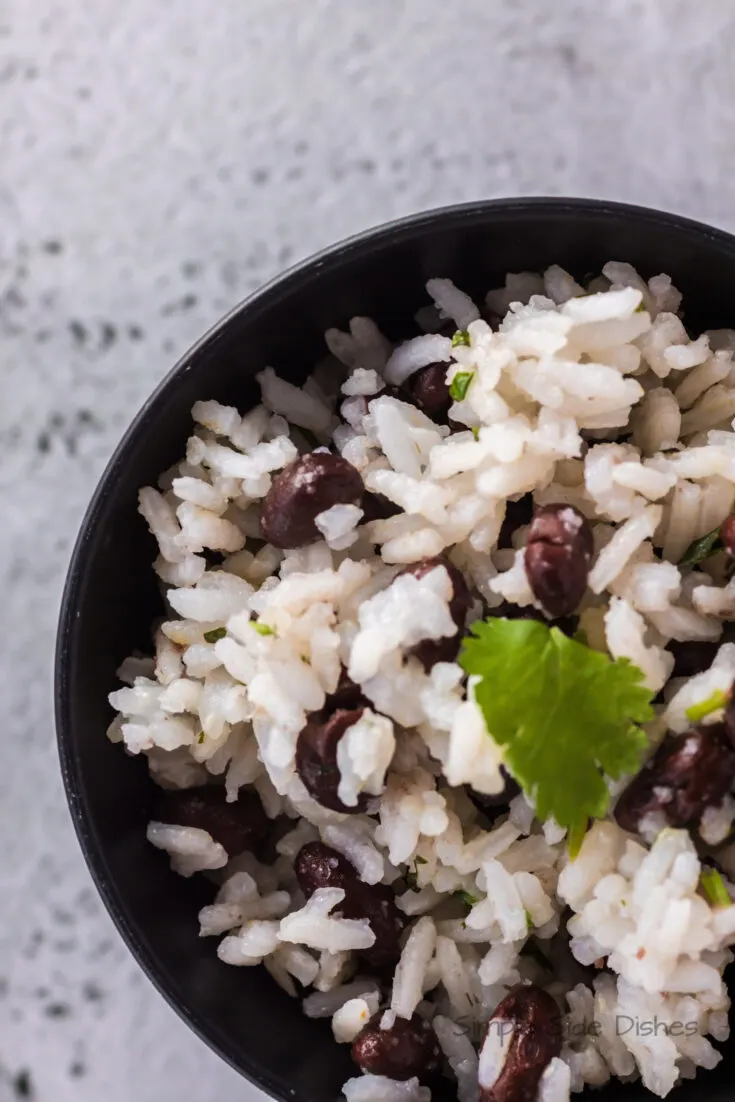 Zesty and wholesome, this Cilantro Lime Rice with Black Beans recipe is top notch. A burst of flavors and nutrients in every bite!
Instructions
Bring your rice and water to a boil
Reduce the heat to a simmer, cover and continue cooking for 15 minutes.
Then turn your heat off, and let your rice sit for 5 more minutes.
Mix in your lime juice, chopped cilantro and black beans.
Serve immediately.
Nutrition Information:
Yield:
4
Serving Size:
1
Amount Per Serving:
Calories:

161
Total Fat:

0g
Saturated Fat:

0g
Trans Fat:

0g
Unsaturated Fat:

0g
Cholesterol:

0mg
Sodium:

6mg
Carbohydrates:

33g
Fiber:

4g
Sugar:

0g
Protein:

6g