This buttered rice dish is the perfect side for any main dish; it is easy, delicious, and perfectly baked every time.
My family loves rice, so we have it often. And even though I like to make it a lot of different ways, we always come back to this simple side dish recipe.
This recipe is perfect every time, even without a rice cooker.
The nice thing about it is you can cook it in the oven and still get perfectly fluffy, not sticky, hot buttered rice for whatever you are serving it with.
There are a few more ingredients than just cooking rice with water on the stove, but the taste and the texture are so worth it in the end. Because of that, it's one of our favorite dishes to serve to guests.
What simple ingredients are in buttered rice?
With only a handful of ingredients you too can whip up this long grain rice recipe. Save room on your stove top and use your oven to create the buttery flavor of this simple side dish.
Chicken Broth: Instead of using cups of water, you'll use chicken broth instead. This simple switch will give your rice mixture so much flavor. Don't have chicken broth, you can use vegetable broth or even beef broth. Both will give different flavors but also tasty!
Water: water is important to help the rice absorb enough liquid to be fluffy
Uncooked Rice: use your favorite; I love Jasmine rice, but plain white rice or basmati rice are great too. Just note Basmati rice takes a little longer to cook so add an extra 5 minutes to the cooking time. One cup rice is all you need.
Sugar: this is a secret ingredient to give you perfect rice texture
Salt: this will balance all the flavors to give you an amazing simple rice dish
Lemon Juice: just a little bit stops the plain rice from sticking together when cooking
Butter: this is stirred in at the end of cooking to give you great buttered flavor in every bite. You can use salted or unsalted butter.
Pro Tip: If you want to switch things up, add garlic to make garlic rice. This might be a basic recipe, but this easy side dish can be easily customizable to your tastes.
How to make buttered rice:
Boil broth and water over medium heat, then stir in other ingredients.
Pour in a greased dish and cover with foil.
Bake.
Remove and stir in butter. Make sure to give it a good stir.
Serve the finished rice to all your guests.
Pro Tip: Do not forget to cover before baking! Whether you cook this easy rice dish on the stove, in a rice cooker, or baked like in this recipe, you need the moisture to be sealed in so the buttery rice can absorb it. So for best results, cover the dish with foil!
When your dish isn't sealed, you will get crispy and unevenly cooked rice pieces. So be sure to cover your dish before putting it in the oven.
Do you need to rinse rice before making buttered rice?
There is a great debate whether or not you should rinse your rice before cooking it. Most people will swear by one or the other.
Rinsing rice will remove extra starch dust from the dish. This extra dust will make the rice more sticky and overall more creamy because as the starch is heated it becomes more like a gelatin.
But when you rinse the rice and starch dust off, you also rinse any added vitamins and nutrients. And that makes it less healthy.
For this buttered rice dish, we do rinse our rice so that we don't get gluey rice.
Is buttered rice healthy?
I can think of a lot more unhealthy things that you could be eating. But, depending on your health needs, you may need to watch your portions when eating this.
It is so delicious that I could easily sit and eat spoonful's of this buttered rice recipe by itself. But it is not the healthiest thing I could be eating.
You decide what your body needs most and then can figure out how this dish fits into your health needs.
Is buttered rice gluten free?
Yes! And I'm so glad it is. This is one of my go to recipes whenever I am serving someone who eats gluten free.
I just take this with my favorite gluten free main dish (like this easy chicken) and have a perfect meal for everyone.
What to serve with baked rice:
Any dish that you normally eat with rice tastes better with this buttered rice! It makes a great side to a main course. Here are some of my favorites:
Can I make this buttered rice dish in a different sized pan?
I have been there. A recipe says use your 8×8 pan and it's dirty or being used somewhere else in the house. It takes a little math to understand, but I've done that for you.
Here are two easy ways to make this recipe in a different sized pan:
Use a 9" round pan. An 8×8 square pan is 64 square inches; a 9 inch round pan is 63.5 square inches. Since it is so close (half a square inch difference), you can easily swap pans without making any changes.
Use a 9×13 casserole dish and double the recipe. 2 8×8 pans are 128 square inches; a 9×13 pan is 117 square inches. This means it will fit in the casserole and because it is a little thicker than when you put the recipe in a smaller pan, you will have to add about 5 minutes of cook time. But you will get the same results for this perfect side dish.
Can babies eat buttered rice?
Yes! There is nothing in here that is dangerous for babies. Each family has their own method for introducing new foods.
But this recipe for buttered rice is one I have fed to my babies when they are old enough to eat rice.
I have even taken this and smashed it for my babies who weren't ready for rice pieces but still wanted to eat the simple meal we were eating.
Can dogs eat buttered rice?
Yes! There is nothing in this recipe that is dangerous for your dog.
However, since dogs shouldn't eat very much butter, save a portion of this dish for your dog before mixing in butter at the end.
More Easy Recipes with Rice You'll Love…
This baked buttered rice dish is the perfect recipe for anyone who can't make rice on the stove; it will be perfectly cooked every single time!
Yield: 4 Servings
Buttered Rice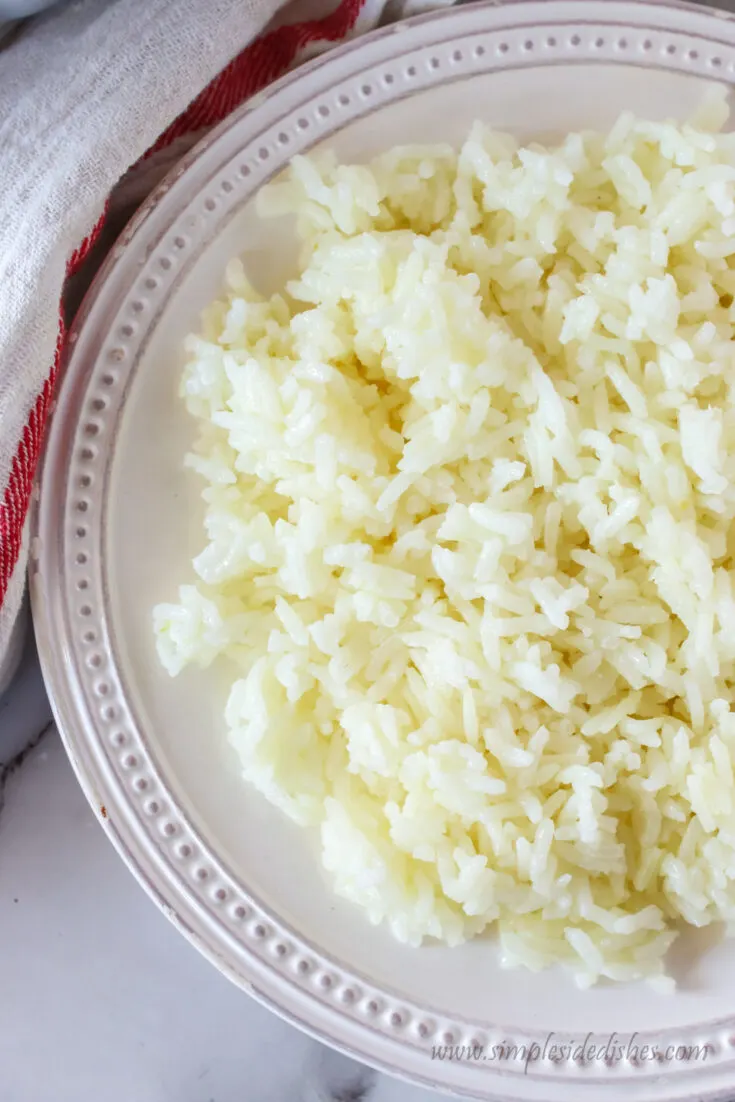 This buttered rice dish is the perfect side for any main dish; it is easy, delicious, and perfectly baked every time.
Ingredients
Instructions
Preheat oven to 350*F
Coat an 8x8 casserole dish with cooking spray and set aside.
Add chicken broth and water to a saucepan and bring to a boil.
Once at a boil, add rinsed rice, sugar, salt and lemon juice. Stir well.
Gently pour rice mixture into prepared casserole dish.
Cover with aluminum foil and bake for 30 minutes.
Remove the rice from the oven and carefully remove aluminum foil.
Add butter to rice and stir well, until butter is melted and mixed in.
Serve immediately.
Nutrition Information:
Yield:
4
Serving Size:
1
Amount Per Serving:
Calories:

134
Total Fat:

9g
Saturated Fat:

6g
Trans Fat:

0g
Unsaturated Fat:

3g
Cholesterol:

24mg
Sodium:

566mg
Carbohydrates:

12g
Fiber:

0g
Sugar:

1g
Protein:

2g