You are going to love this coconut milk rice. It doesn't take any more work than regular rice, but it gives you a deliciously sweet coconut flavor!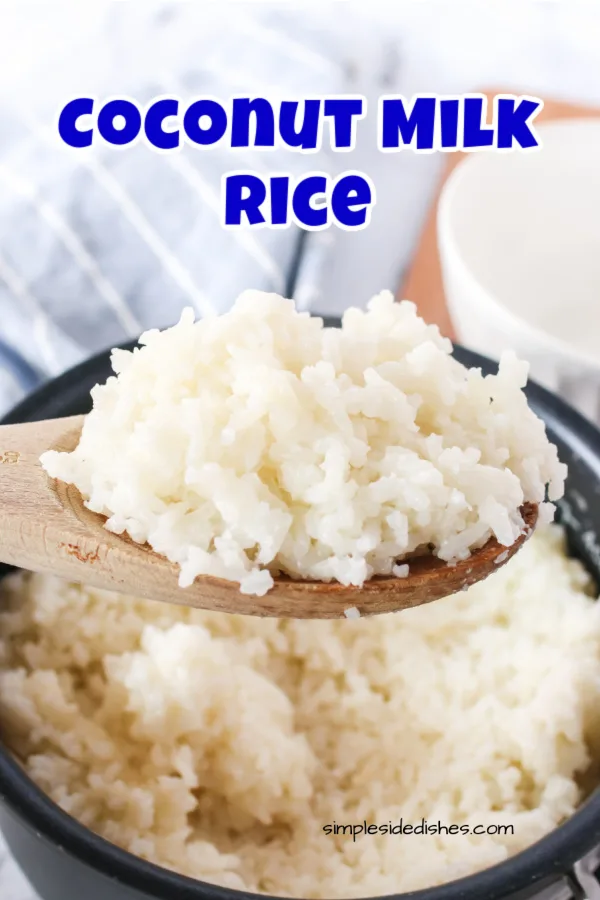 My family loves rice. They would eat rice all the time if I let them. But sometimes I need something more than just plain rice.
Enter this coconut milk rice. It is simple to prepare, simple to make, absolutely full of flavor, and my family loves it.
The sweet coconut rice flavor mixes so nicely together with almost any main course. It will pair perfectly with your favorite stir fry, meat, fish, or vegetable dish.
You will love it so much, it just might become your new basic rice recipe!
What is Coconut Milk Rice?
It's simply rice with a coconut flavor. It takes the same amount of time to prep and cook as regular rice, but it gives you that tasty coconut flavor.
What ingredients are in Coconut Milk Rice?
Jasmine Rice: this makes the perfect restaurant style rice. You can use other kinds of rice, but Jasmine is our absolute favorite.
Canned Coconut Milk: the easiest (and fastest!) way to get real coconut flavor
White Sugar: this sweetens the natural flavors of the coconut
Salt: salt brings out the flavors of every other ingredient
How to make Coconut Milk Rice?
Rinse the rice.
Place all ingredients in a pot.
Bring to a boil and simmer.
Fluff and serve.
What to eat with Coconut Milk Rice?
You can eat almost anything with this coconut rice! Take your favorite stir fry, curry, or Thai food and pair it with this coconut rice instead of plain rice.
For a fun change, try using this coconut jasmine rice as a dessert! Just add an extra sprinkle of sugar, top with fresh cut fruit (we love mangoes or berries or both) and enjoy.
Pro Tip: Try using leftover coconut rice in your favorite rice pudding dessert for an coconut milk rice pudding variation!
Is Coconut Milk Rice healthy?
Yes! I know that everyone has their own definition of what healthy means to them, so here is why I say yes.
The rice (grain) is cooked in coconut milk which is full of healthy fats, vitamins, and nutrients. It's like giving your rice a superfood boost while it is cooking. Superfood whole grain is healthy in my book.
Can you cook rice in coconut milk?
Yes! This recipe cooks the rice straight in coconut milk.
When you cook rice in different liquids, the rice absorbs the flavor of whatever you are cooking it in. In this case, cooking the jasmine rice with the milk gives the rice a delicious coconut flavor.
Is Coconut Milk Rice gluten free?
Yes! Every ingredient in this recipe is naturally gluten free.
Is Coconut Milk Rice keto?
No. Rice is a grain, which is never allowed on a keto eating plan.
Can you freeze Coconut Milk Rice?
Yes! And it's so easy. Just take the already cooked and cooled down rice, put it in freezer safe containers, and stick it in the freezer.
When you are ready to eat, just stick the frozen rice in a microwave safe container and heat it in the microwave until hot. Perfect homemade rice in just two minutes!
Is there a difference between Coconut Milk Rice and Thai Coconut Rice?
There is probably as much difference between our version of coconut rice as there are different versions of thai coconut rice. But the base recipe and how to cook it are exactly the same.
Our recipe is easy and simple. Only four ingredients including the spices.
Some Thai Coconut Rice recipes add four or five more spices to the list. Some have extra crushed red pepper flakes for spice, others have turmeric to add a yellow color and flavor, some add chopped green onions. The extra combinations are endless.
So yes, there is a difference between our coconut milk rice recipe and extra spicy thai coconut rice. But if your favorite thai coconut rice is simple straight coconut flavored rice, this recipe will fit perfectly!
Can I use coconut milk that I drink instead of canned coconut milk?
Unfortunately, no. Boxed coconut milk drink is not the same as canned coconut milk and won't give you the same results for this recipe.
If you read the ingredients on each label, the one you drink often has all kinds of extra things added which changes the way it works in a recipe.
Canned milk however is exactly what it says and is thicker than the kind you pour on your cereal.
For this easy coconut milk rice recipe, be sure to use the canned version.
Pro Tip: be sure your can is milk and not coconut cream!
Can dogs eat Coconut Milk Rice?
Sure! Like all things, only eating coconut rice isn't great for your dog. But the ingredients in this recipe are not harmful to dogs.
Rice is often found in commercial dog foods, and is safe for dogs to digest. Coconut milk is not toxic to dogs, but if they have too much it can cause some bloating or diarrhea. The amount of sugar and salt is so small that it won't affect them too much.
When you need more than just plain rice, this coconut milk rice recipe is definitely a winner. And there are so many sweet and savory options to use the leftovers with that you won't regret making too much!
Yield: 5 Servings
Coconut Milk Rice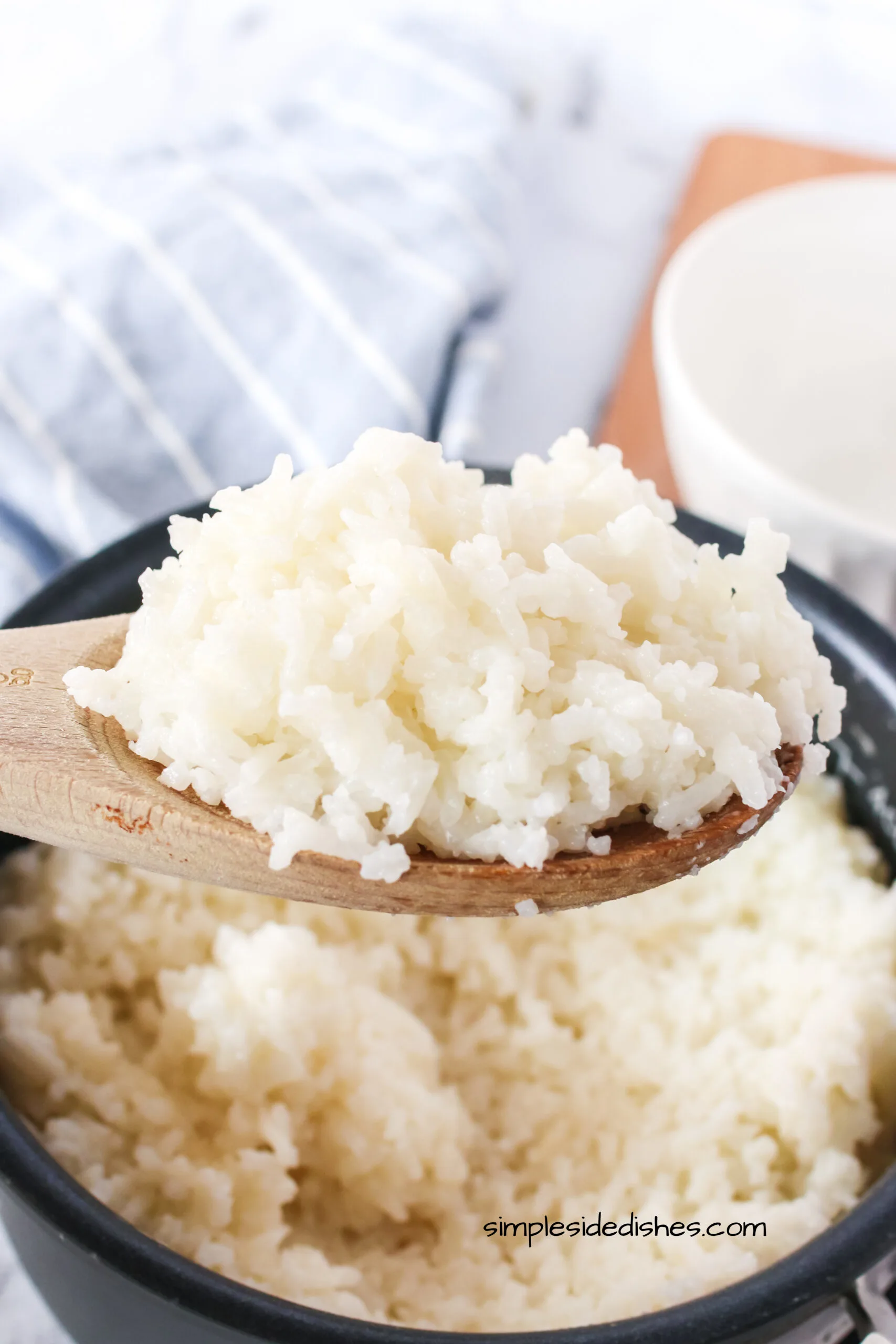 You are going to love this easy coconut rice. It doesn't take any more work than regular rice, but it gives you a deliciously sweet coconut flavor!
Additional Time
5 minutes
Ingredients
Instructions
Rinse rice 3 times to remove extra starch, then place in a pot.
Add coconut milk, sugar and salt.
Mix well and bring to a boil, stirring regularly so rice doesn't stick to bottom of pan.
Once mixture comes to a boil, place lid on pot and reduce heat to a simmer.
Cook for 20 minutes.
After 18 minutes, remove the lid and fluff the rice.
Let sit for 5 minutes then Serve immediately.