You are going to love these baked cinnamon sugar tortilla chips all year long! They are delicious enough to be a dessert for a crowd, but easy enough for a quick afternoon snack.
I love a good chip. There is something just so satisfying about crunching down and having each bite full of flavor. But I also have a sweet tooth.
Thankfully these cinnamon and sugar tortilla chips satisfy both cravings! Perfectly sweet and crunchy, easy to make, they store well, and there are so many options to eat them with!
Whether you need an on the go snack, or an elaborate tray of dessert nachos, you will love these simple and tasty baked cinnamon sugar tortilla chips!
What are Baked Cinnamon Sugar Tortilla Chips made of?
Sugar: this sweetens the chips giving them that tasty coating all over
Cinnamon: the star spice of the dish gives each chip a great flavor
Flour Tortillas: premade tortillas make this dish come together so quickly; flour tortillas are lighter and fluff better than other kinds of tortillas
Butter: this adds flavor, gives the chips a crunch without frying them, and it helps the cinnamon sugar coating stick to each chip
Pro Tip: Be sure your butter is room temperature so it spreads easily!
How to make Baked Cinnamon Sugar Tortilla Chips?
Mix the cinnamon and sugar.
Spread butter over tortillas, then sprinkle with cinnamon sugar.
Cut into chips.
Bake, cool and serve!
Pro Tip: Use a pizza cutter to cut chip pieces quicker!
Why are they baked instead of fried?
Because it is so much easier! Frying requires extra oil, perfect temperatures, and requires you to always watch and monitor the equipment.
When you follow this baked cinnamon sugar tortilla chips recipe, you can prep the next batch, clean up, or sit down and breathe while they are cooking.
I promise that when you have baked flour tortilla chips, cinnamon sugar, and no oil mess you will make these far more often than if you were to fry them. And they taste just as good!
Are Baked Cinnamon Sugar Tortilla Chips a dessert or snack?
Both! And they can even be an appetizer too. When you put baked flour tortilla chips and cinnamon sugar together, you have a perfectly delicious snack for any time of the day.
But you also have an easy appetizer or dessert that can be mixed with so many different things to give variations.
What to serve with Baked Cinnamon Sugar Tortilla Chips?
My family loves them plain, but there are so many ways you can serve these chips:
Plain: I know I said this already, but they really are simple and tasty enough to be served plain.
Whipped Cream: grab cool whip or canned whipped cream or whip your own and dip or top each chip with some fluffy cream
Fresh Fruit: whatever fruit is in season is great. Ones we like with cinnamon are strawberries, raspberries, apples, or peaches.
Fruit Salsa: grab your favorite fruit salsa and have a dessert chips and salsa party!
Jam: Don't have fresh fruit? Grab your favorite jam and drizzle it on top of a chip
Dessert Sauce: drizzle a chip or a plate of chips with your favorite dessert sauce. We like chocolate, caramel, or strawberry.
All of the above! To get really fancy, take a plain chip, add fruit, whipped cream, and a drizzle of jam and sauce for a crunchy, fruity, cinnamon flavor burst. Simple and tasty!
Pro Tip: For an easy dish for a crowd, serve them as dessert nachos. For a fancier presentation, serve them as individually topped bite sized desserts.
Are Baked Cinnamon Sugar Tortilla Chips gluten free?
This recipe uses flour tortillas, so it is not gluten free. To make it gluten free, you can use your favorite gluten free tortilla.
If you use corn tortillas, they will take less time to cook and they will be more brittle after baking than cinnamon sugar flour tortilla chips.
Pro Tip: Be sure not to use a flavored tortilla. It will not mix well with the cinnamon sugar.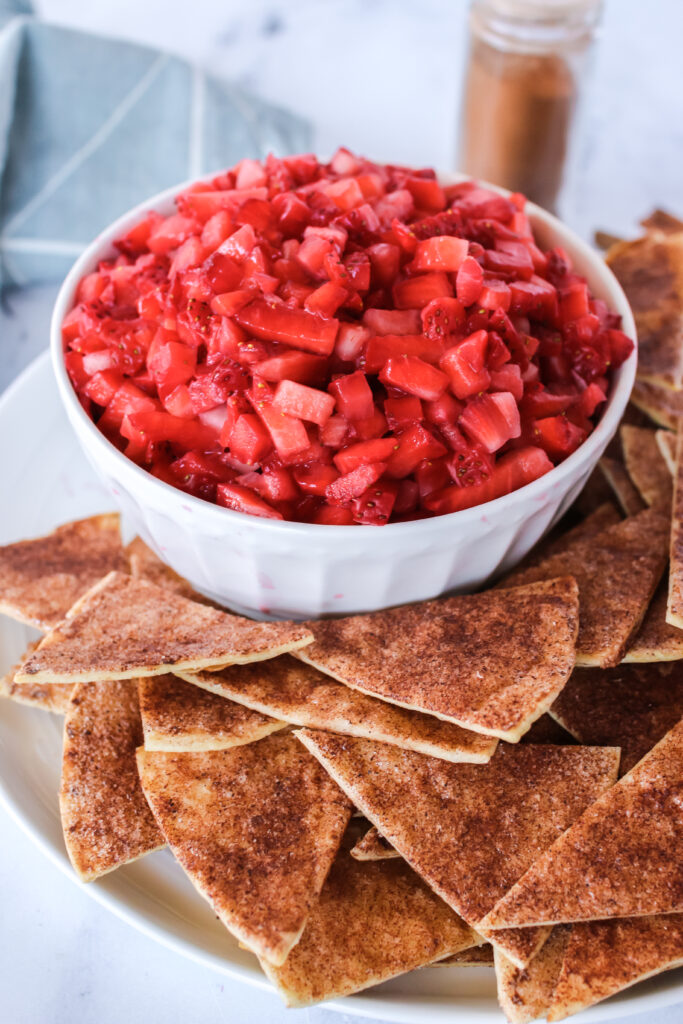 Are Baked Cinnamon Sugar Tortilla Chips keto?
Not the way I make it. Flour tortillas are made from a grain which is never allowed on a keto eating plan, and traditional sugar is limited.
There are substitutions using keto approved tortillas and sugar free cinnamon sugar, but I recommend using a keto specific recipe as all those changes will affect the flavor and texture.
How to store Baked Cinnamon Sugar Tortilla Chips?
Store them in an airtight container. That will keep them fresh the longest! When they are exposed to air, they go stale faster.
Can I make Baked Cinnamon Sugar Tortilla Chips in advance?
Sure! If these chips are stored properly, they will keep for a couple of weeks on the counter. While I love them fresh, it is so easy to have them ready to eat in the pantry.
You can also freeze them if you make a giant batch. They are easy to eat straight from the freezer, but to crisp them up doesn't take much time.
Simply take them from the freezer, lay them on a cookie sheet so they aren't touching, spray lightly with cooking spray, and toast them in the oven for 2-3 minutes. They'll be warm, crisp, and so tasty!
With a simple to prep recipe and easy ingredients you already have on hand, you will never be without a fast, crunchy, sweet snack again. I know you will love these baked cinnamon sugar tortilla chips as much as I do!
More Recipes with Cinnamon You'll Love…
Yield: 8 Servings
Baked Cinnamon Sugar Tortilla Chips
You are going to love these baked cinnamon sugar tortilla chips all year long! They are tasty enough to be a dessert or a side dish snack.
Ingredients
Instructions
Preheat oven to 350*F
Prepare a cookie sheet with parchment paper, non-stick foil or silicone mat.
In a small bowl combine sugar and cinnamon.
Butter one side of each tortilla.
Sprinkle each tortilla generously with the cinnamon sugar mixture.
Using a pizza cutter or sharp knife, cut each tortilla like a pizza into "slices"
Place tortilla slices on a cookie sheet and bake for 8 minutes or until edges turn golden.
Once cooked, serve with your favorite diced fruit (like strawberries!)
Nutrition Information:
Yield:
8
Serving Size:
1
Amount Per Serving:
Calories:

220
Total Fat:

12g
Saturated Fat:

7g
Trans Fat:

0g
Unsaturated Fat:

4g
Cholesterol:

31mg
Sodium:

122mg
Carbohydrates:

29g
Fiber:

3g
Sugar:

22g
Protein:

1g