Homemade Creamed Corn is the perfect side dish when you want a creamy version of those sweet, summer flavors. Because this recipe uses frozen corn, you can enjoy the fresh corn flavor any time of the year.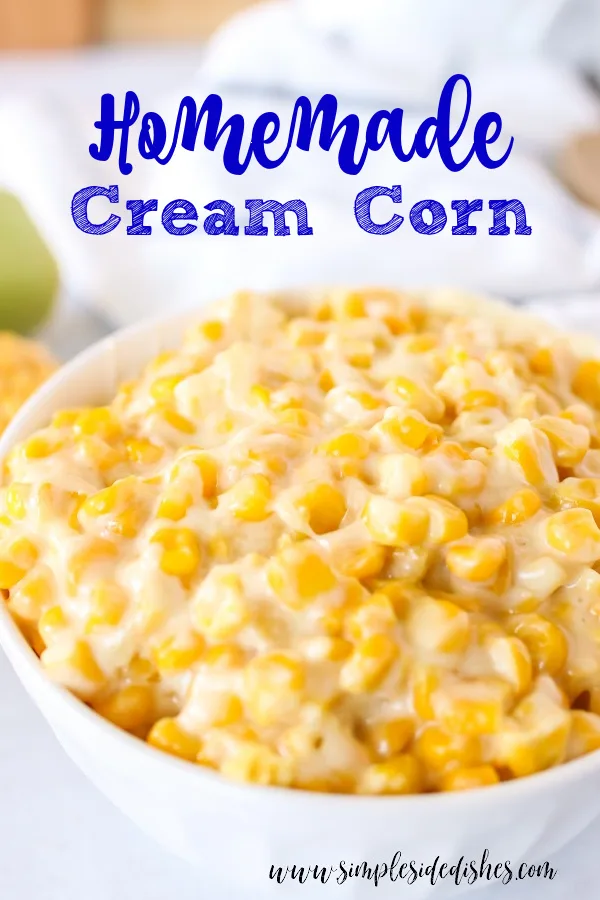 My family loves when I make homemade creamed corn. You would almost say they cheer when it joins the table. The best part is, this comes together so quickly for a fast and easy and oh-so full-of-flavor side dish.
There's something about sweet corn in a creamy sauce that just makes everyone happy. My little ones and the grown ups all love to see it on the menu.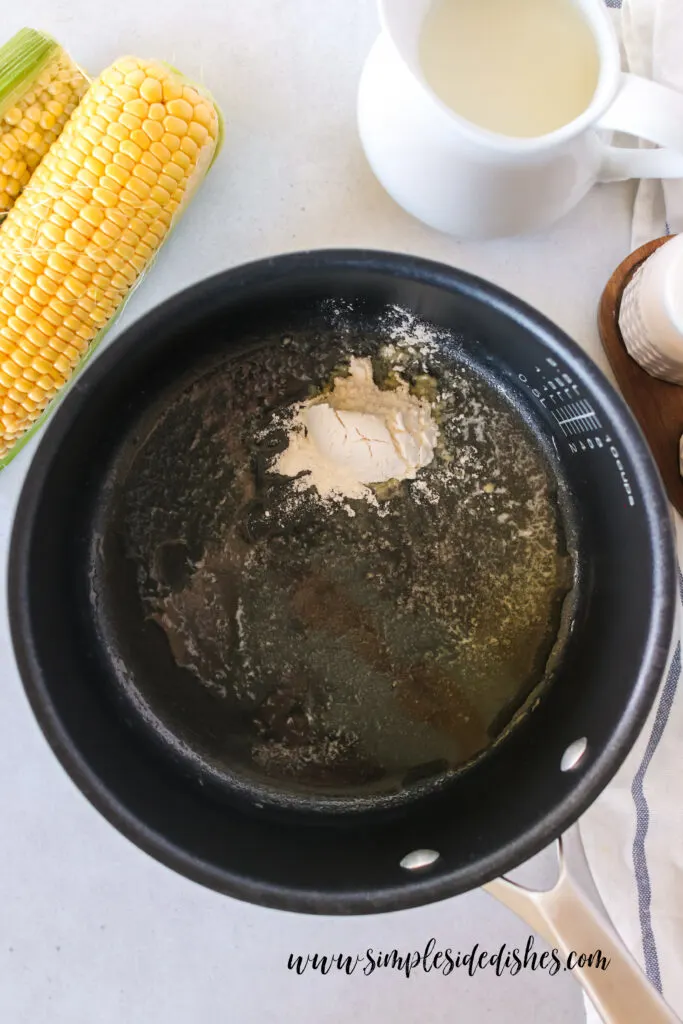 What is Homemade Creamed Corn?
Creamed Corn, or cream style corn, is a dish usually made of whole corn kernels in a thick cream sauce with seasonings blended in.
It is a classic side that has roots in Native American culture. Today it is commonly eaten in the midwestern or southern United States and in the Canadian province of Quebec.
Traditionally, milky cream is scraped from the cobs of corn, and some people still make it that way today. We are going to skip that step and use heavy cream which is an easier option without giving up any flavor.
There are so many variations on seasonings and toppings, and debates on what the truest version of this dish should look like.
But I promise homemade creamed corn is better than any canned cream corn you'll ever eat. They aren't even the same dish.
I like this version with simple seasonings and topped with parmesan cheese the best.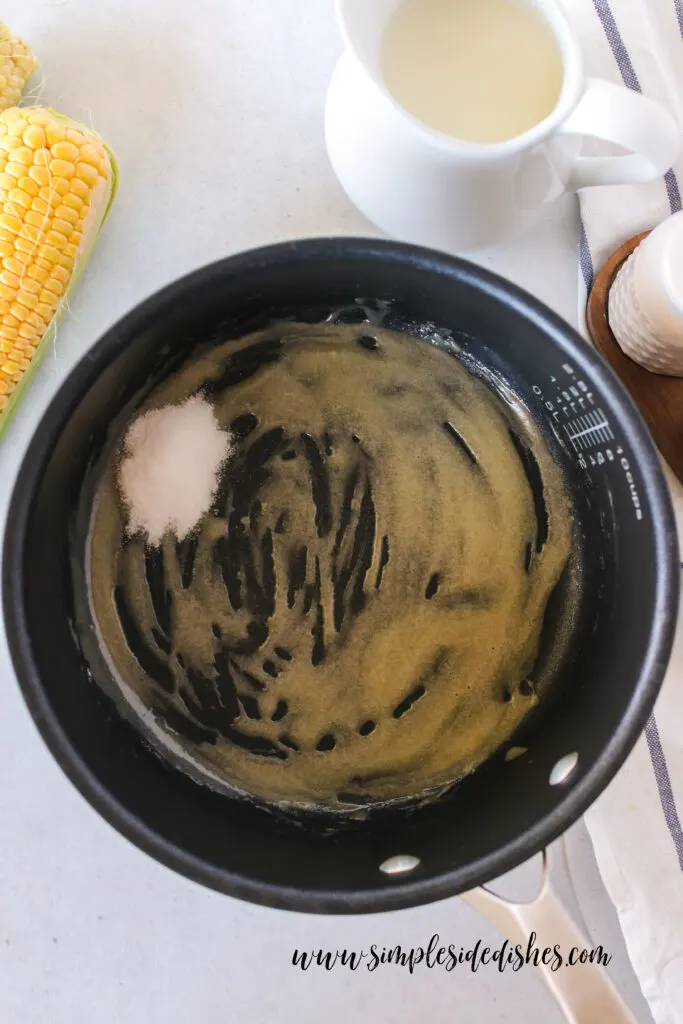 What ingredients are in Homemade Creamed Corn?
Butter: this adds creaminess and flavor
Flour: our classic sauce thickener
Sugar: sugar helps bring out the flavor of the sweet corn
Salt: this sharpens the flavor of every other ingredient
Heavy Whipping Cream: fresh cream is thick, flavorful, and what puts the "creamed" in the creamed corn recipe
Frozen Corn: the star of the dish! Frozen corn is fresh all year long.
Parmesan Cheese (not powdered): this cheese has a strong flavor so you can use less and get more taste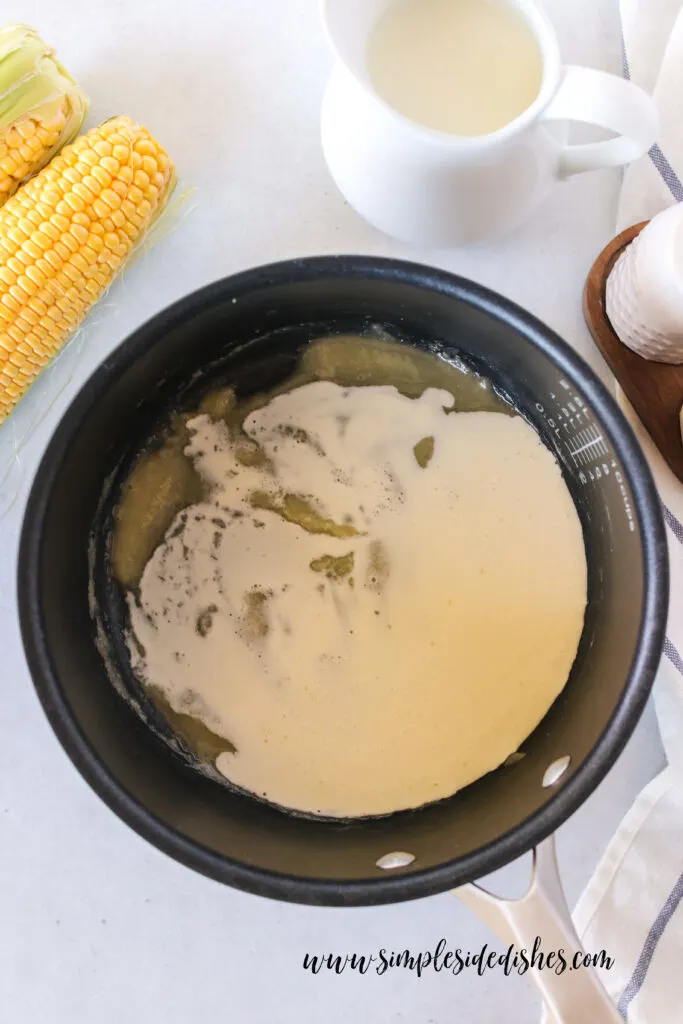 How to make Homemade Creamed Corn in 3 simple steps:
Make the cream sauce.
Add the corn & boil.
Top with cheese & serve!
Is Homemade Creamed Corn gluten free?
This recipe uses flour which is not gluten free.
However, to make this recipe gluten free, you can substitute corn starch (use less or it will clump the sauce!) or any gluten free flour at the same amount called for in the recipe to use as your sauce thickener.
Pro Tip: using coarse flours will change the texture of the dish and may make it gritty.
What to make with Homemade Creamed Corn?
You can serve almost anything with it! My personal favorites are to serve it as a barbeque side dish in the summer or as a side dish in cooler months like Thanksgiving or Christmas.
It goes especially well with chicken, (any) barbeque meat, and fish.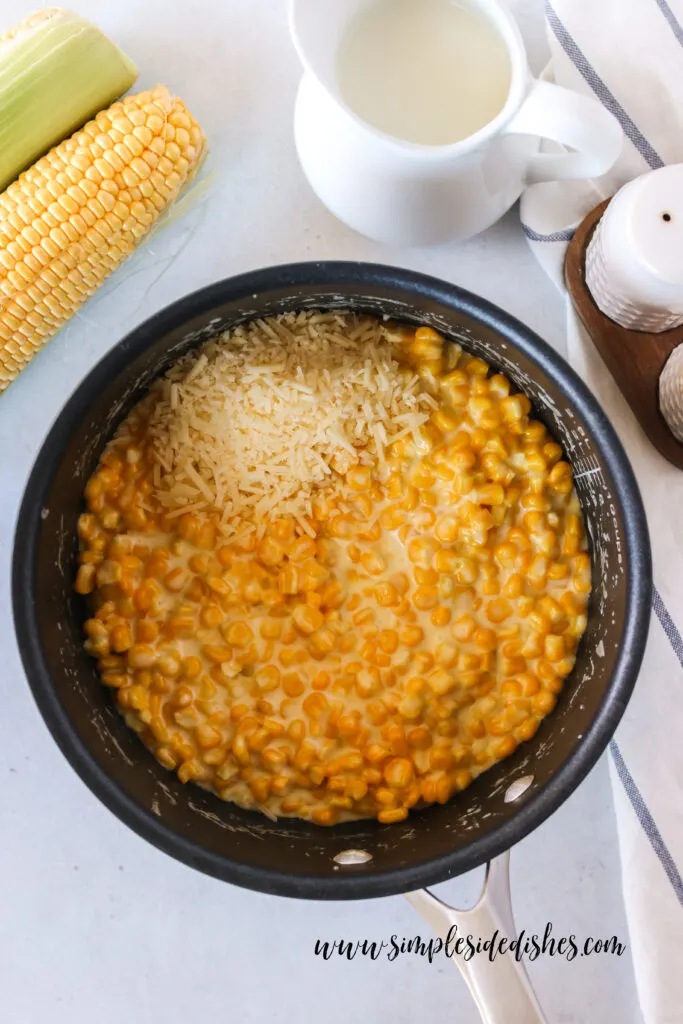 How to freeze Homemade Creamed Corn?
This is a great freezer option; you can freeze it as a full side or as individual servings.
Once you've made the creamed corn, let it cool. You can do this quickly by spreading the corn in a casserole dish and putting that dish on top of another dish filled with ice water.
Once your homemade creamed corn has cooled, divide it into bags or other freezer safe containers leaving room for it to expand (about 1 inch at the top) the place in the freezer.
Thaw overnight in the fridge for a ready to eat side the next day!
I don't have frozen corn, can I use canned corn?
This Homemade Creamed Corn recipe is pretty forgiving, so canned con is an option. Be sure to drain the canned corn first!
What we like about frozen corn is that it is frozen at the peak of flavor, so even when it's thawed it will have a nice crunch and flavor. Canned corn can be mushy and may have a "canned" flavor when used as a substitute.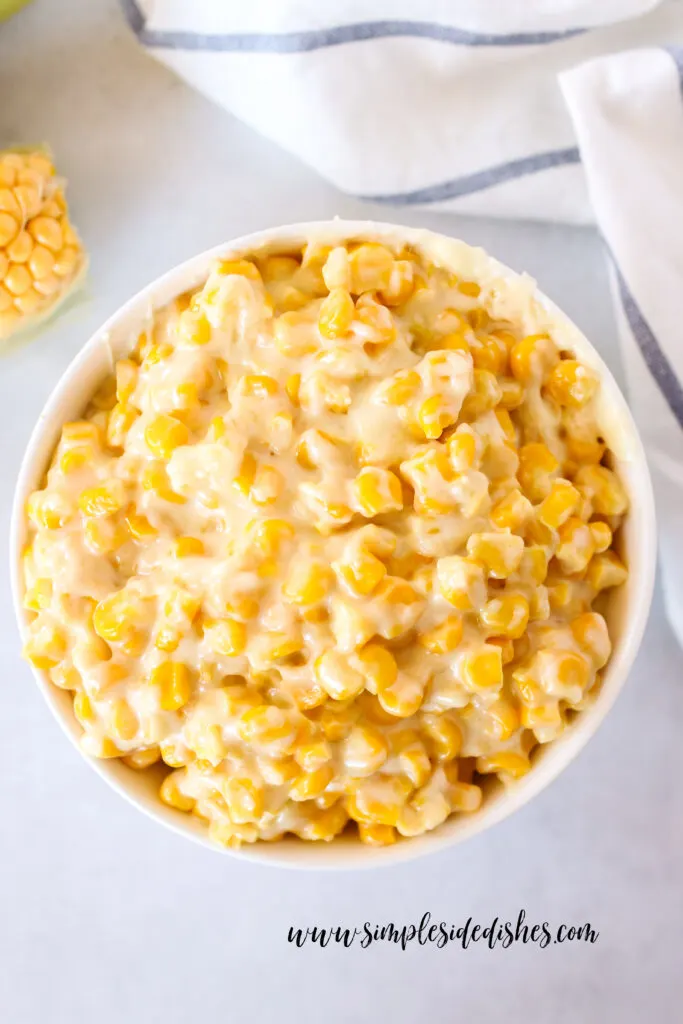 My Homemade Creamed Corn is too runny!
Like your creamed corn to be thicker? The easiest fix is to just let it boil a little longer to let more moisture boil off. This keeps all the flavors in balance.
If your corn is still too runny, you can always add flour or cornstarch to help thicken it.
Remove 1-2 tablespoons of liquid, mix in 1 tablespoon flour or 1 teaspoon cornstarch to the removed liquid. Then add the thickened liquid back to the pot to thicken the entire dish.
Pro Tip: Do not add cornstarch or flour straight to the finished dish. It will clump!
Can dogs eat Homemade Creamed Corn?
Corn is a good source of fiber and vitamins, so it is safe for dogs to eat corn in moderation. But do not let your dogs fill up on this homemade creamed corn.
This dish has dairy ingredients in addition to corn. Some dogs tolerate dairy, but many dogs are lactose intolerant.
Dogs who eat dairy ingredients like butter, heavy cream, and cheese, may get issues like vomiting, diarrhea, or other digestive upset.
Instead, give your dog straight frozen corn kernels as a snack. They'll appreciate the frozen element on a hot day and get extra nutrients too!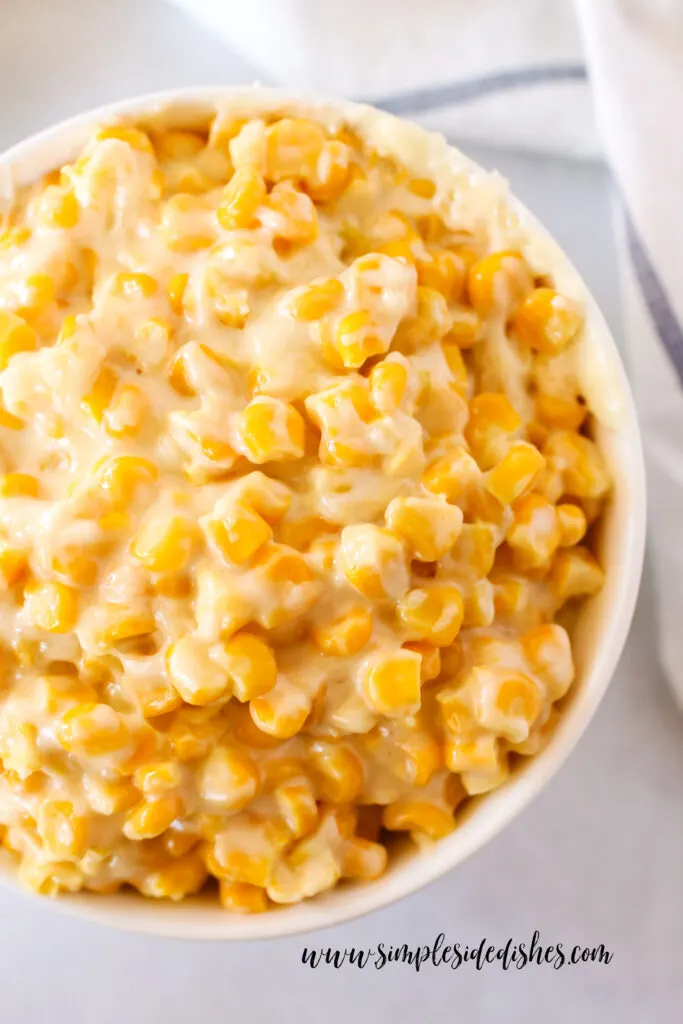 Is Homemade Creamed Corn healthy?
When you are making something homemade, it's automatically more healthy than using already prepared dishes that are filled with extra salt to make it last longer.
This recipe has great whole food ingredients, and is full of fiber and dairy. You decide how it fits into your healthy lifestyle.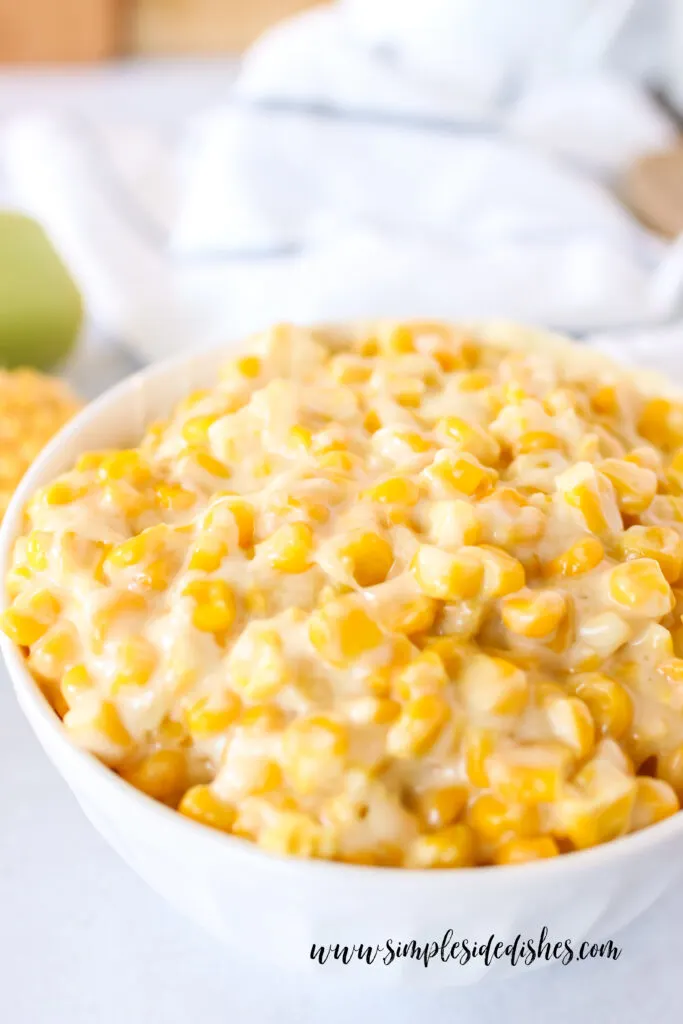 Is Homemade Creamed Corn vegan?
This recipe is not vegan. It uses butter, heavy cream, and parmesan cheese; all dairy ingredients.
You could attempt to substitute using this recipe, but I recommend finding a specifically vegan creamed corn recipe to use instead.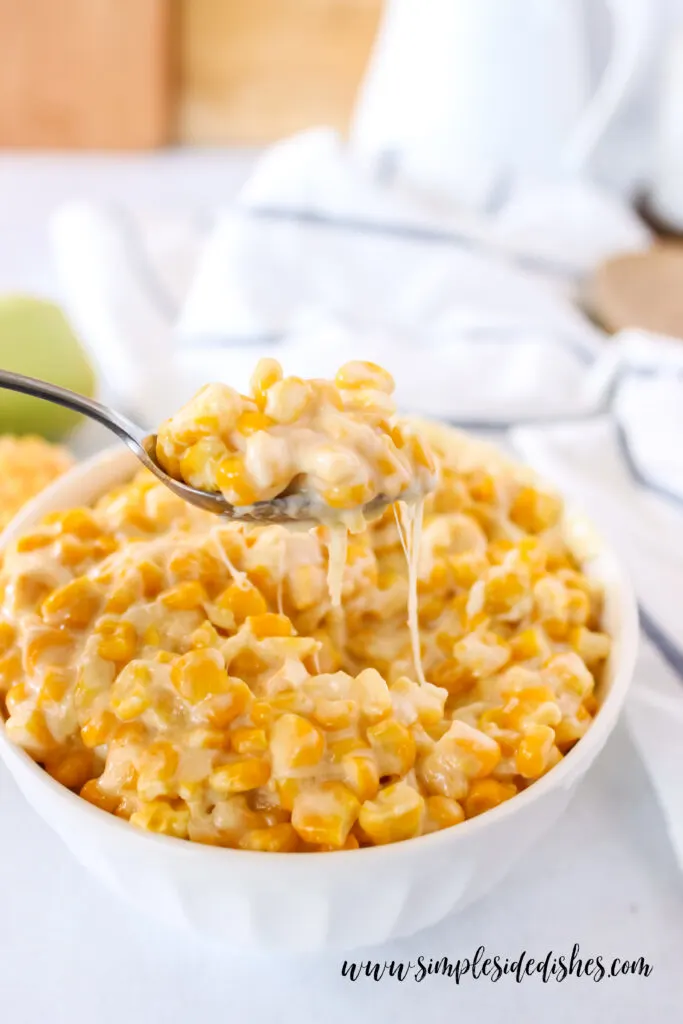 Once you've made this Homemade Creamed Corn it will be your go-to side dish. The creamy flavors are sure to be a hit with everyone around the table.
Yield: 6 Servings
Homemade Creamed Corn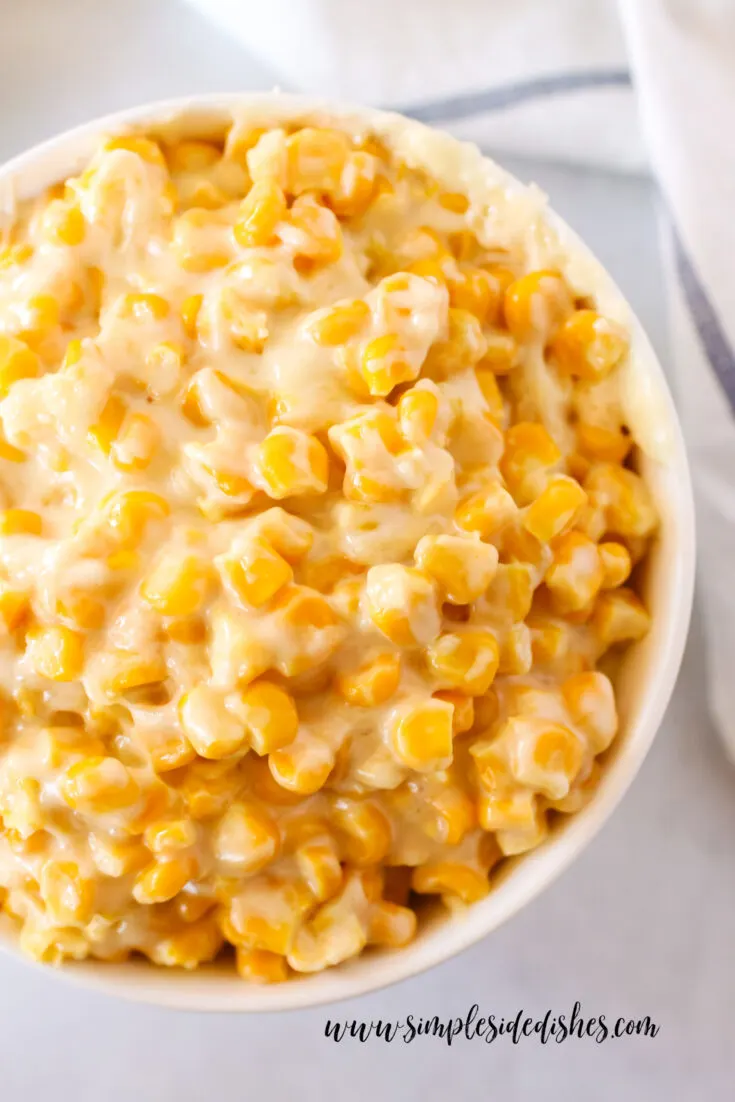 Homemade creamed corn is the perfect side dish when you want a creamy version of those sweet, summer flavors. Because this recipe uses frozen corn, you can enjoy the fresh corn flavor any time of the year.
Additional Time
5 minutes
Ingredients
Instructions
In a medium pot, melt butter.
Add flour and mix. Cook for 1 minute.
Add sugar and salt, mix again.
Slowly add heavy whipping cream ¼ cup at a time, blending well between each addition. Mixture WILL get thick, then thin out.
Add frozen corn.
Bring mixture to a boil and cook for 5 minutes.
Turn off heat and add parmesan cheese. Stir until cheese is melted.
Serve immediately.
Nutrition Information:
Yield:
6
Serving Size:
1
Amount Per Serving:
Calories:

192
Total Fat:

18g
Saturated Fat:

11g
Trans Fat:

1g
Unsaturated Fat:

5g
Cholesterol:

53mg
Sodium:

270mg
Carbohydrates:

7g
Fiber:

0g
Sugar:

3g
Protein:

3g