This Jalapeno cornbread recipe is a delicious change from regular cornbread. Packed with flavor, but no spice (unless you want spice) and oh so tasty!
Really delicious cornbread is one of those perfect sides. It's slightly sweet, perfectly savory, moist (not dry), cooks quickly, and can go with so many things year round.
Served with butter and honey or maple syrup it is something everyone looks forward to.
My kids love cornbread too, and when I make this jalapeno cornbread it feels extra fancy even though I've only added jalapenos!
Bonus: Jalapenos are a pepper which is a vegetable which means everyone who eats this gets an extra vegetable serving for the day. I call that a win!
Is your Jalapeno Cornbread Recipe spicy?
This Jalapeno Cornbread recipe isn't' spicy if you don't like spicy food! Let me tell you, I am a spicy food wimp. I cannot take anything spicier than a jalapeno. And I don't even like how spicy they are.
But the secret to less spice is removing all the seeds. Leaving the seeds in will make your cornbread spicy. Remove the seeds will allow you to enjoy the flavor but not the heat.
So for a sweet jalapeno cornbread with a perfect not too spicy jalapeno flavor, remove those seeds before chopping.
Or if you love spice, keep those seeds in and enjoy the extra heat.
What ingredients do you need to make a Jalapeno Cornbread Recipe?
All-Purpose Flour: this white flour keeps the cornbread light and not so heavy
Cornmeal: this adds the classic cornbread taste to your dish
Sugar: this sweetens the cornbread
Baking Powder: this also helps the cornbread rise and not be packed together
Salt: this improves the flavor of everything around it
Milk: this adds a creamy flavor and helps the cornbread not dry out
Vegetable oil: oil also helps the cornbread not dry out
Egg: eggs act like glue when baking; it binds everything together so the cornbread is not crumbly
Jalapenos: (with seeds removed) add a perfect pepper flavor without too much spice
How to make Jalapeno Cornbread Recipe:
Combine dry ingredients.
Stir in wet ingredients.
Add jalapenos and mix.
Pour into a greased pan and bake.
Serve!
How to make Jalapeno Cornbread muffins:
To make Jalapeno Cornbread Muffins, you'll use the exact same recipe. However, instead of cooking it in a pan, you cook this sweet jalapeno cornbread in a muffin pan.
The muffins will cook faster than cornbread in a pan, so watch to make sure you do not burn the bottoms! I suggest baking 16 – 18 minutes.
How to remove seeds from a jalapeno:
If you have ever cut jalapeno peppers, you know that the juice gets on your hands and stays for days! It only took me making that mistake once and then rubbing my eyes to never do that again.
Now I keep food safe gloves in my kitchen specifically for cutting jalapenos.
Just wash the peppers, then with your gloves on cut the bottom off, turn the pepper the long way, thinly slice a side off, then you can turn and make 3 more slices.
When you are done you will have the stem, the white ribs, and all the seeds connected, leaving you the green pepper to use to make the best jalapeno cornbread recipe ever.
You don't get pretty jalapeno circles this way, but you don't have any seeds.
What to serve with Jalapeno Cornbread Recipe:
Chili: any kind of chili works great with this dish
Soup: this goes great with most soups too
BBQ anything: can you even have a true barbeque without cornbread?
Beans: this is a perfect side to a pot of beans
Butter, Honey, or Maple Syrup: eating it as a snack or dessert is perfectly delicious on it's own
Can I add cheese to the Jalapeno Cornbread Recipe?
If you love cheese, then yes you can add it to this easy jalapeno cornbread. Some people love a jalapeno cheddar cheese cornbread combination. Others like to kick the spice up and add pepper jack cheese to the top.
I prefer it without cheese since I don't eat cornbread without honey or maple syrup. And putting cheese on my cornbread stops me from drizzling sugar over it.
Can you freeze Jalapeno Cornbread Recipe?
Yes! Cornbread freezes really well. Just put it in a freezer safe container, label it, and pull it out when you are ready.
It can thaw on the counter and be ready to eat for easy jalapeno cornbread another day.
What to do with leftover Jalapeno Cornbread?
If you find yourself with extra that you don't want to freeze, here are some ways I use the cornbread:
Turn it into cornbread croutons! So easy, and so tasty for salads or soups.
Cube leftovers then use them to make stuffing
Use it to make strata
Make a tomato panzanella salad
Make jalapeno cornbread french toast
Dry it out and crumble it up to use as breadcrumbs in another recipe
Is your Jalapeno Cornbread Recipe gluten free?
No, our Jalapeno Cornbread is not gluten free. Our recipe uses all purpose flour which makes this recipe have gluten.
Is Jalapeno Cornbread recipe vegan?
Unfortunately this Jalapeno Cornbread recipe is not vegan. This recipe uses eggs and milk which makes this not vegan. Also if you serve this with honey, the honey makes it not vegan too.
Can dogs eat Jalapeno Cornbread Recipe?
Unfortunately, dogs cannot eat this Jalapeno Cornbread. This sweet jalapeno cornbread has sugar and peppers which dogs should not be encouraged to eat as it can upset their digestive system.
Is this Jalapeno Cornbread Recipe healthy?
Yes this Jalapeno Cornbread recipe is healthy! We use cornmeal which is a whole grain and jalapenos which have vitamins and nutrients. Eaten as part of a balanced diet, this jalapeno cornbread is full of good things.
You will be surprised how much you love this easy jalapeno cornbread recipe. It is sweet, delicious, and comes together so quickly any time of the year.
Yield: 9 Servings
Jalapeno Cornbread Recipe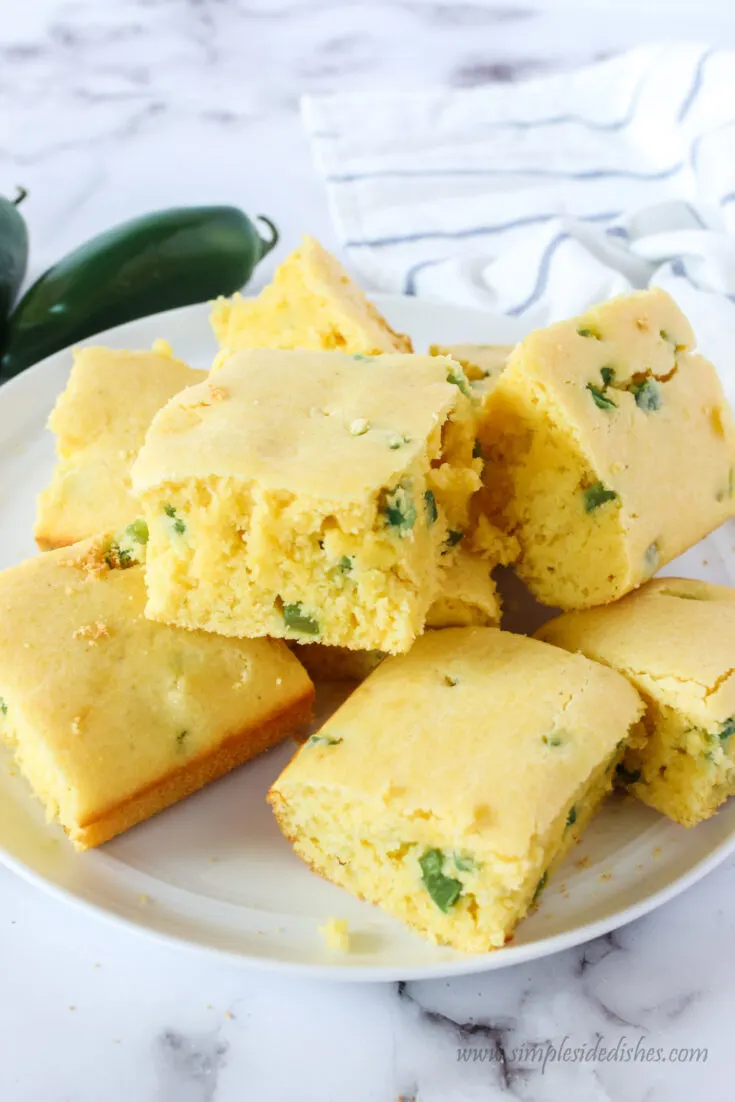 This Jalapeno cornbread recipe is a delicious change from regular cornbread. Packed with flavor, but no spice (unless you want spice) and oh so tasty!
Ingredients
Instructions
Preheat oven to 400*F
Spray a 9x9 casserole dish with cooking spray and set aside.
In a bowl combine flour, cornmeal, sugar, baking powder and salt. Mix well.
Add milk, vegetable oil and egg. Mix well.
Add diced and seeded jalapenos, mix well.
Pour cornbread mixture into prepared casserole dish.
Bake 23-27 minutes or until edges begin to turn golden and toothpick comes out clean.
Let cool for 15 minutes, then slice and serve.
Nutrition Information:
Yield:
9
Serving Size:
1
Amount Per Serving:
Calories:

199
Total Fat:

8g
Saturated Fat:

1g
Trans Fat:

0g
Unsaturated Fat:

6g
Cholesterol:

23mg
Sodium:

251mg
Carbohydrates:

29g
Fiber:

1g
Sugar:

7g
Protein:

4g