This homemade sweet cornbread is a classic simple side dish that comes together quickly and perfectly moist every time.
Are you a cornbread lover? I confess, I have not always been on team cornbread. I just don't like dry, crumbly bread.
But then I discovered a way to have easy homemade cornbread that is moist, light, and holds together well.
And this is it!
Full disclosure, if you are a pure homemade southern cornbread family, this recipe is not for you.
True southern cornbread is more savory and often cooked in a cast iron pan.
This is rebellious homemade sweet cornbread and it is sweet, cooked in any pan you'd like, and is so delicious.
What ingredients are in homemade sweet cornbread?
All Purpose Flour: this makes it so your cornbread holds together and isn't crumbly
Cornmeal: this is the classic corn flour flavor we look for in cornbread
Sugar: this helps keep our cornbread sweet
Baking Powder: this makes the cornbread rise so it isn't so dense and heavy
Salt: salt makes everything taste better and helps the bread not rise too fast and fall
Milk: this adds a great creamy flavor to bind the batter together
Vegetable Oil: oil also helps hold your cornbread together so it isn't as crumbly
Egg: when baking, eggs are an important protein block that binds the ingredients together and holds them up
Pro Tip: Cornmeal is just ground up corn kernels. So if you don't have cornmeal, put some plain popcorn kernels in a high speed blender or food processor and pulse until it has a coarse texture with no big chunks.
Be sure the cornmeal is all the same size before using or your cornbread will be more gritty than normal.
How to make homemade sweet cornbread:
Combine dry ingredients.
Stir in wet ingredients.
Bake until cooked through.
Serve!
Pro Tip: Do not overmix the cornbread! You only want to stir until the flour is moistened. Lumps are okay.
What happens if you overmix homemade sweet cornbread?
Short Answer: It can change the texture of your bread giving you a denser, chewier bread and possibly big air bubble pockets or tunnels.
Long Answer: Cornbread is in a family of recipes we call quick breads. Biscuits and cornbread are quick breads which is a bread you make that doesn't have yeast to help it rise.
It uses other things like baking powder and the natural glutens in flour to give the quick bread shape and lightness.
Also because it doesn't have yeast you can cook it quicker than other breads.
But when you overmix quick breads, you risk activating the gluten in the flours too much. When they are activated too much, they become gluey.
Then instead of holding their shape to trap the right amount of air pockets, those glutens squish down and give you heavy, dense bread.
The best homemade cornbread batter still has lumps, but it doesn't have any streaks of flour inside the batter.
Pro Tip: Use a spatula to scrape the edges and the bottom to check that all the flour has been mixed in.
Sometimes chunks of flour like to sit on the edges of the bowl so always check with a spatula before pouring into the pan.
Can you freeze homemade sweet cornbread?
Yes! After making this homemade cornbread recipe, let it cool. Then make sure it is in a freezer safe container, wrapped in 2 layers, and put it in the freezer.
When you are ready to eat it, let it come to room temperature on the counter overnight or all day long.
To eat it warm, heat it in a preheated oven until it is as warm as you like it. Don't leave it in too long though or it will dry out.
How long does homemade sweet cornbread last?
We recommend eating this within 5 days of making it. If you have extras you won't use, freeze them for another time!
How to store homemade sweet cornbread:
Store in an airtight container on the counter.
Is homemade sweet cornbread gluten free?
No. Our recipe uses All Purpose Flour which contains gluten.
The gluten in the wheat flour helps give our homemade cornbread strength to rise so it is light and moist instead of dense and crumbly.
Is homemade sweet cornbread vegan?
No. This recipe uses milk and eggs which are not vegan. Also if you top it with butter and honey, those are not vegan either.
Can dogs eat homemade sweet cornbread?
Yes. Nothing in this cornbread will hurt your dog.
But this is not a great thing to feed your dog often since it doesn't have very many nutrients for them.
If they eat some crumbs or find a leftover bite, that's fine, just don't feed it to them every day.
Is homemade sweet cornbread healthy?
It is medium healthy. Cornmeal is a whole grain which is great, but the oil, sugar, and flour aren't great for you if eaten regularly.
Homemade sweet cornbread can be part of a healthy diet, but we don't recommend eating it every day.
What do you serve with homemade sweet cornbread?
Toppings: butter, honey, maple syrup, or any combination of those are classic cornbread toppings
Chili: chili and cornbread are like peanut butter and jelly; a combination that cannot go wrong
Soup: my favorite soups to serve with cornbread are taco soup, pumpkin soup, and fiesta chicken soup
BBQ: any barbeque dish goes well with cornbread like ribs, pulled pork, or brisket
Beans: sweet beans, canned beans, pork and beans, whatever kind of beans you like
Whenever you serve it, the light, moist, sweet flavors of this classic homemade sweet cornbread will have everyone asking for another piece.
Yield: 9 Servings
Homemade Sweet Cornbread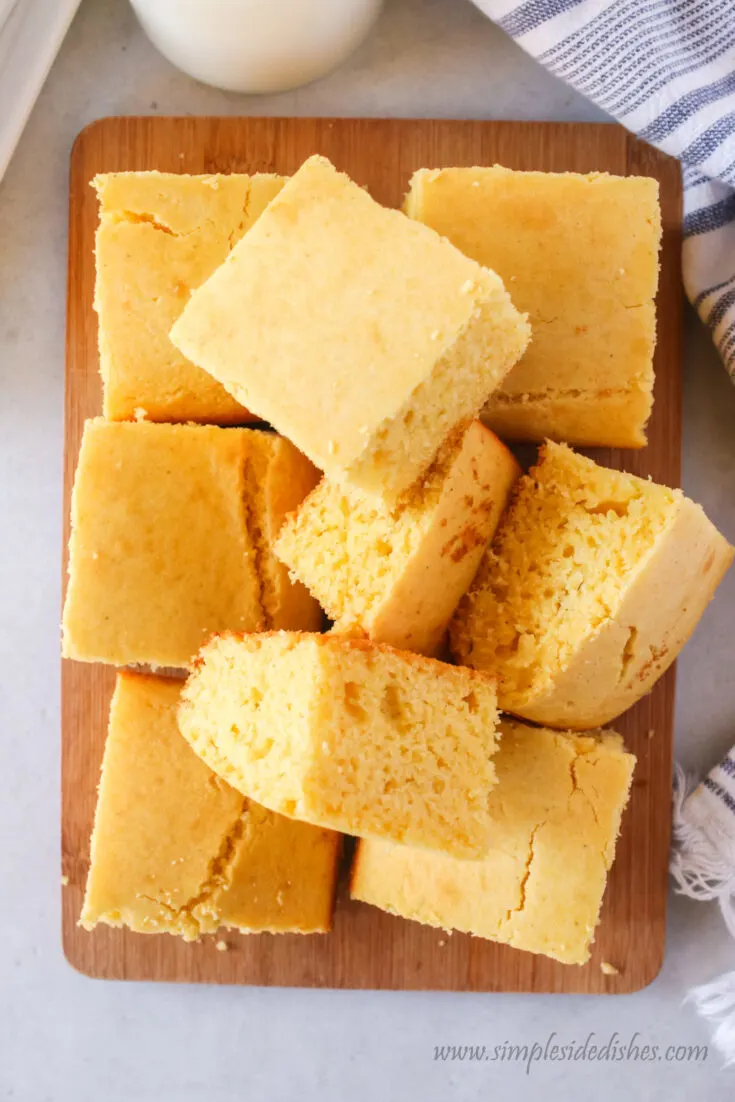 This homemade sweet cornbread is a classic simple side dish that comes together quickly and perfectly moist every time.
Ingredients
Instructions
Preheat oven to 400*F
Grease a 9x9 inch square pan with cooking spray or butter.
In a bowl combine flour, cornmeal, sugar, baking powder and salt. Mix.
Add milk, oil and egg and mix well.
Pour mixture into prepared casserole dish.
Bake for 25 = 30 minutes or until toothpick inserted into the center comes out clean.
Let cool 5 minutes, then slice and serve.
Nutrition Information:
Yield:
9
Serving Size:
1
Amount Per Serving:
Calories:

197
Total Fat:

8g
Saturated Fat:

1g
Trans Fat:

0g
Unsaturated Fat:

6g
Cholesterol:

23mg
Sodium:

250mg
Carbohydrates:

28g
Fiber:

1g
Sugar:

7g
Protein:

4g