This easy candied carrots recipe has only 5 ingredients, uses 1 pot, and is always delicious. The best side dish to any recipes.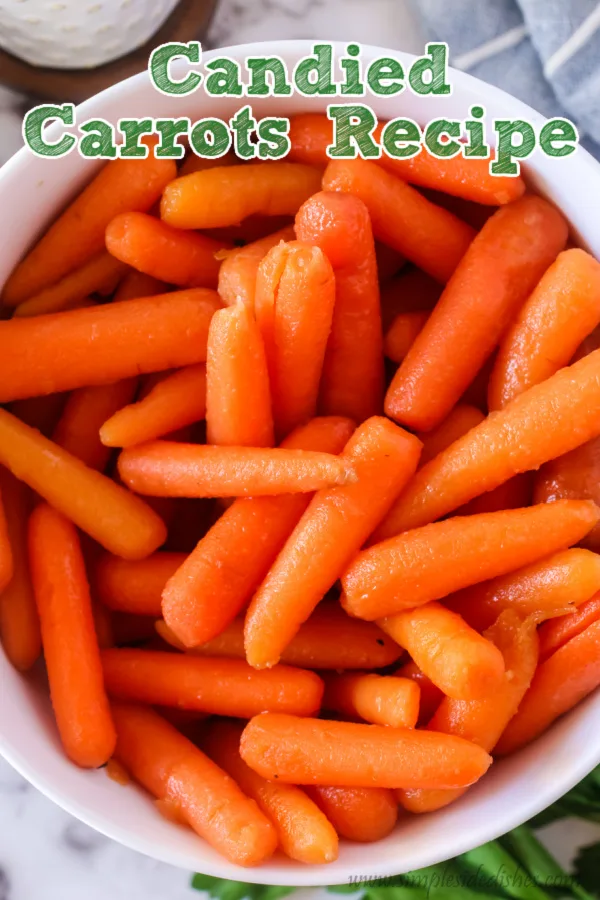 I love side dishes that taste fantastic and are secretly so simple. In this candied carrots recipe, simple means there are just a few ingredients (5), very little prep work (just boil the water), and only one dish to wash at the end (the pot).
I also love that you can have candy glazed carrots without cutting or peeling carrots which means less dishes to wash, and faster time to get the food on the table. Or time doing other things in your life. You choose.
What are candied carrots?
Candied baby carrots, are cooked carrots covered with a warm sugar glaze. They are tender, sweet, sticky, and absolutely delicious.
This recipe uses an old fashioned candied carrots style of cooking, so you will boil them first and then coat them in the sugar sauce.

What ingredients are in this candied carrots recipe?
Baby Carrots: baby carrots are already cut, washed, and peeled which makes this recipe so fast!
Butter: this is the oil we use to candy the carrots, it has great flavor too!
Brown Sugar: this sugar has a deep molasses flavor that turn into the candy sauce
Salt: just a pinch will bring out the flavors of the other ingredients
Black Pepper: just a pinch to add a low spice flavor
How to make this candied carrots recipe:
Boil carrots in salt water.
Drain carrots.
Stir in other ingredients and cook until bubbly.
Serve hot!
Pro Tip: Watch the carrots near the end of the boiling time. You don't want to overcook them and end up with mashed carrots!
Can I make this candied carrots recipe ahead of time?
Yes! You can prepare this recipe ahead of time.
If you are planning to do that, I recommend just boiling the carrots and then putting them in the fridge. Then you can add the other ingredients and heat them with the sauce until bubbly right before serving.
Putting the candied sauce on the carrots fresh makes it so you don't have to worry about burning the sugar glaze when you reheat them.
Who invented baby carrots?
Short answer: Mike Yurosek, a farmer from California, invented baby carrots.
Long answer to why he invented them: He was upset at how many of his carrots were wasted because they grew in funny shapes which meant the grocery stores couldn't sell them.
If you've ever tried to grow your own carrots, you will understand what I mean. Not very many carrots grow perfectly.
Instead of taking good, funny shaped carrots and throwing them out, he started peeling and cutting carrots into smaller bite sized pieces.
When the carrots are in smaller pieces, you can't tell that the carrots are "ugly" or "imperfect" anymore.
People loved them.
And now, baby carrots are the most popular kind of carrots sold in stores today.
And we can all thank one farmer who took ugly, misshapen carrots and changed our lives so we can make things like this delicious candied carrots recipe without the extra step of peeling and chopping.
Can I freeze this candied carrots recipe?
Yes! Candied baby carrots can be frozen after cooking. But it will change the texture of the carrots so they will be more rubbery and not crisp fork-tender.
Why do frozen carrots get rubbery?
Carrots have a lot of water in them. So when you freeze them, the water inside the carrots becomes ice crystals which then damage and break the proteins that give carrots their crunchy texture.
When you bring the frozen carrots back to room temperature or warmer, the water inside melts, but the proteins have already been destroyed.
So while this candied carrots recipe can be frozen, you will get a different texture when you pull them out to eat again later.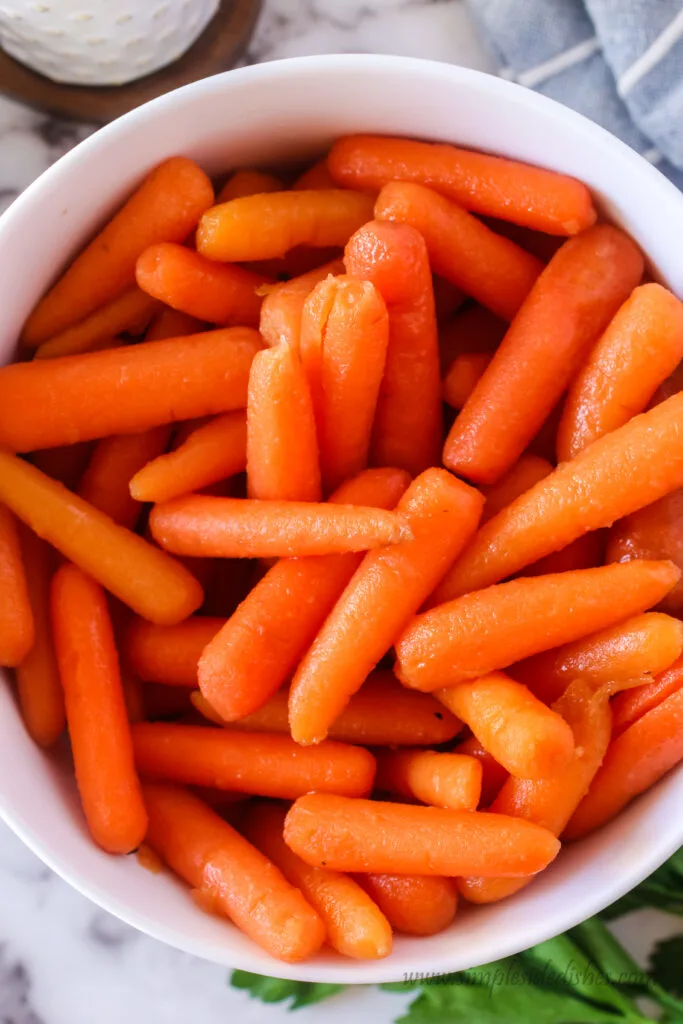 Are candied carrots gluten free?
Yes! Every ingredient in this candied carrots recipe is naturally gluten free.
What do you serve with this candied carrots recipe?
Meat: chicken, pork, steak, ham
Feast Meals: Holiday meals like Thanksgiving, Christmas, and Easter often have these delicious candied carrot sticks on our table.
Other Vegetable Sides: Green Bean Bundles, Cashew Broccoli, Salad
Why do you add black pepper to every recipe?
That's a great question. There are four reasons why ground black pepper is important even in recipes like this candied carrots recipe that only uses a pinch.
It adds flavor. If you've ever tasted black pepper by itself, you know it has an earthy, spicy flavor. Which is great in a lot of dishes even if it is just a pinch to spread through the flavors of a sauce.
It helps you digest your food. Black pepper helps the hydrochloric acid in your stomach activate. When the stomach acid is active, you can better digest your food.
It helps your body get more nutrients into your blood. Black pepper has piperine; piperine helps your body take nutrients from food and put them into your bloodstream. So adding black pepper in this candied carrots recipe helps your body absorb the nutrients in the carrots better.
It boosts your immune system. When you eat black pepper, it increases the amount of white blood cells in your body which is what your body uses to fight infection.
So even though it may seem strange to add just a dash, black pepper has a lot of health benefits and tastes great even in recipes like these sweet candied carrots.
Whether you are eating this candied carrots recipe for the first time or are just looking for one that you've eaten before, I think this classic and simple way to make them is the best.
Yield: 6 Servings
Candied Carrots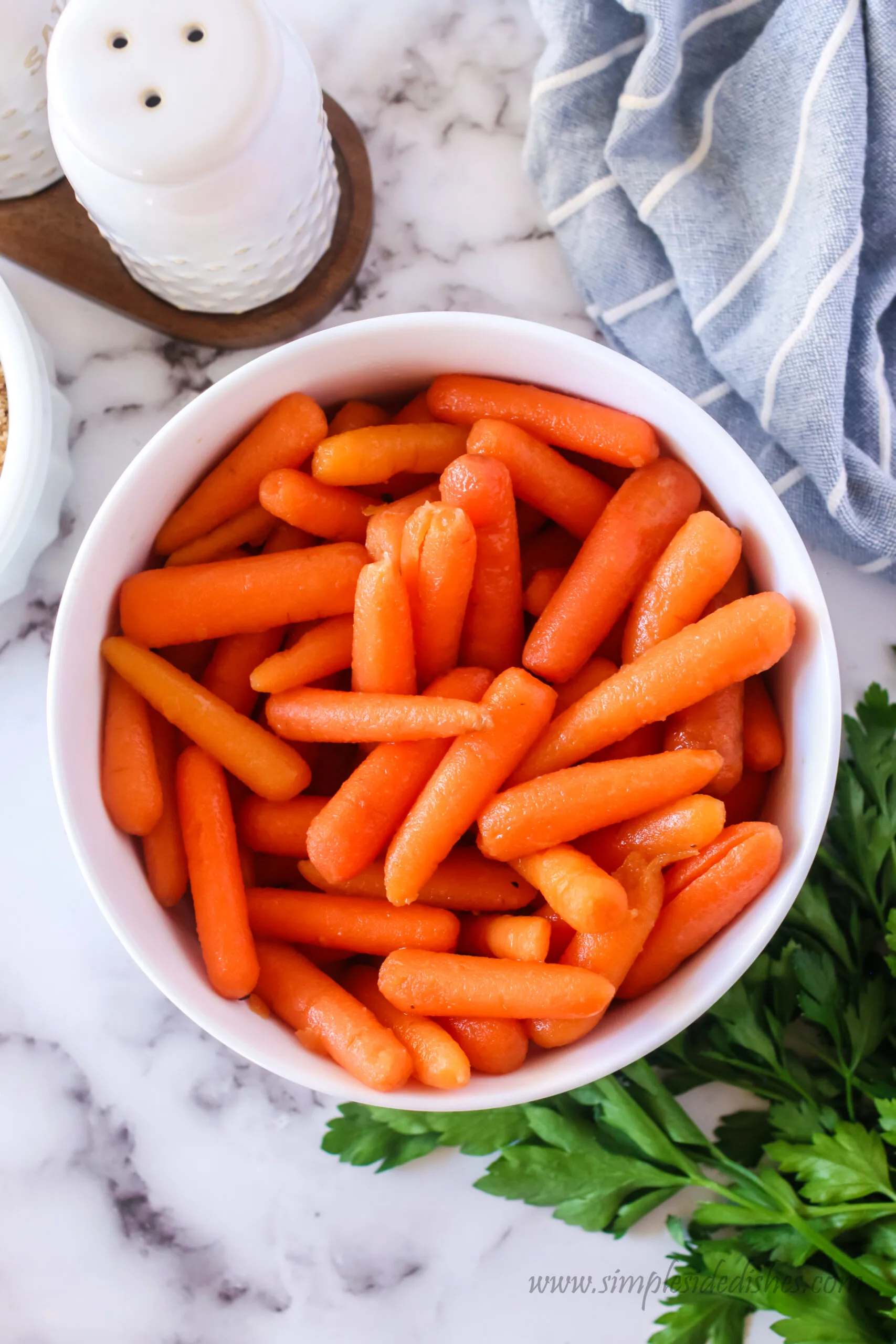 This easy candied carrots recipe has only 5 ingredients, uses 1 pot, and is always delicious. The best side dish to any recipes.
Ingredients
Instructions
Place carrots in a pot and cover with water.
Bring carrots to a boil and lower heat to simmer. Cook for 20 minutes or until fork tender. Don't over cook and turn to mush.
Drain carrots and turn stove to low.
Add butter, brown sugar, cinnamon, salt and pepper. Gently stir.
Cook 3-5 additional minutes until sugar is bubbly and dissolved.
Serve immediately.
Nutrition Information:
Yield:
6
Serving Size:
1
Amount Per Serving:
Calories:

90
Total Fat:

4g
Saturated Fat:

2g
Trans Fat:

0g
Unsaturated Fat:

1g
Cholesterol:

10mg
Sodium:

114mg
Carbohydrates:

14g
Fiber:

2g
Sugar:

11g
Protein:

1g