This easy cilantro lime rice is so fast and easy to make; you can transform basic rice even if you have already started cooking!
There are times I am just in the mood for restaurant quality meals. And nothing will make a basic rice dish feel fancier than this quick and easy cilantro lime rice.

Do you ever have those times when you have already started cooking rice, but you aren't in the mood for plain rice?
This recipe is the perfect rescue for you because you make this rice by adding the extra flavors at the end of cooking before serving.

So even if you started dinner meaning to just get something on the table, this will change it to something you are excited about eating. That's my kind of kitchen magic!
What is Easy Cilantro Lime Rice?
It's a basic rice dish with two extra flavors: cilantro and lime. It changes simple rice to an easy, bright dish that can go with so many different things.

There are many different variations, but I think the best rice is this recipe. It is so simple and keeps it so you can taste the flavor of each ingredient.

Other recipes add so many extras, and I love being able to have a straight lime and cilantro rice flavor.
What ingredients are in Easy Cilantro Lime Rice?
Water: the simplest way to cook rice
Butter: my favorite flavor burst, but it also keeps the rice from sticking together
Rice: you can't have a rice dish without it! My family prefers Jasmine Rice like restaurants use
Lime zest: zest is tiny pieces of the skin of the lime, and it adds a burst of flavor without adding any uncomfortable texture to the dish
Fresh lime juice: fresh is my favorite, and since you need lime zest, use the same lime and squeeze all the juice out
Cilantro: a classic flavor mixed with lime that brightens the dish and adds a nice color pop to the rice
Pro Tip: To squeeze the most juice out of your lime, be sure it's room temperature first.
How to make Easy Cilantro Lime Rice:
Rinse the rice.
Cook the rice.
Stir in lime & cilantro.
Serve!
Pro Tip: Do not skip the first step! Rinsing the rice helps remove extra starch that will leave you with perfectly fluffy rice that doesn't stick together in a big clump.
What goes with Easy Cilantro Lime Rice?
There are so many options here! The first one most people think of is a Mexican dish.
Think of Chipotle cilantro lime rice, or any other restaurant lime and cilantro rice. You can use it in a rice bowl, with taco or burrito toppings, or under a salad.

But it also works really well as a side dish for Thai, chicken, or fish dishes — especially ones that have lime or cilantro in the recipe.

I also love it for anything we are grilling. Rice makes the perfect bed for grilled veggies, kabobs, or anything else you put on the grill.
Is Cilantro Lime Rice gluten free?
Yes! Every ingredient in this recipe is naturally gluten free.
Is Easy Cilantro Rice vegan?
This recipe as written is not vegan because it uses butter to cook the rice. To make a vegan rice, use your favorite vegan oil or butter to cook the rice.
How long does Lime and Cilantro Rice last?
For the freshest flavors, we recommend eating this recipe within 3 days after making it. You can eat it up to a week after, but fresh herbs like cilantro wilt fast even when mixed inside a dish.
Can you freeze Easy Cilantro Lime Rice?
Yes! I love freezing rice because it gives me instant sides that I can pull out when I need something fast, like after I've made a big grocery run.

If you have frozen homemade cilantro rice, a rotisserie chicken, and some salad, you have an instant dinner.
To freeze, just take your already cooked and cooled down rice, put it in a freezer safe container in the portions you want it in, and freeze.

When you are ready to eat it, pull it out and microwave until hot. Or add frozen rice in a saucepan with 1-2 teaspoons of water and heat until hot.
Is Easy Cilantro Lime Rice healthy?
Yes! I always say everyone has their own definition of healthy, so here is why I say yes.

This recipe has all whole food ingredients. Whole grain (rice), fresh fruit (lime), fresh herbs (cilantro), and a small amount of butter.

It is a great healthy food option when served with other foods to make a balanced plate.
Can dogs eat Lime Rice?
No! Limes are toxic to dogs. You can give your dog plain rice or rice with cilantro. But save this easy rice recipe for the humans at your table.
I don't have Jasmine Rice. Can I still make Cilantro Lime Rice?
Yes! Jasmine rice (a white, long grain rice) is my absolute favorite, but it's not the only kind of rice you can use.
Long grain rice will give you more light and fluffy rice.
Short grain rice will give you more sticky rice.
White rice is brown rice that has had the outer layer removed so it cooks faster.
Brown rice takes longer to cook, but it has more nutrients than white rice.
Black rice will add a nutty flavor and is fun to mix in with other colors of rice.
Changing the type of rice you use will change your end result and flavors. Use your favorite kind of rice for a familiar flavor and texture, but use Jasmine rice for my favorite version of this dish!
More Rice Recipes You'll Love…
This easy cilantro lime rice recipe is perfect for any meal, can make a quick kitchen magic change from simple to fancy, and is perfect to freeze for later. You really can't go wrong making this dish!
Yield: 6 Servings
Easy Cilantro Lime Rice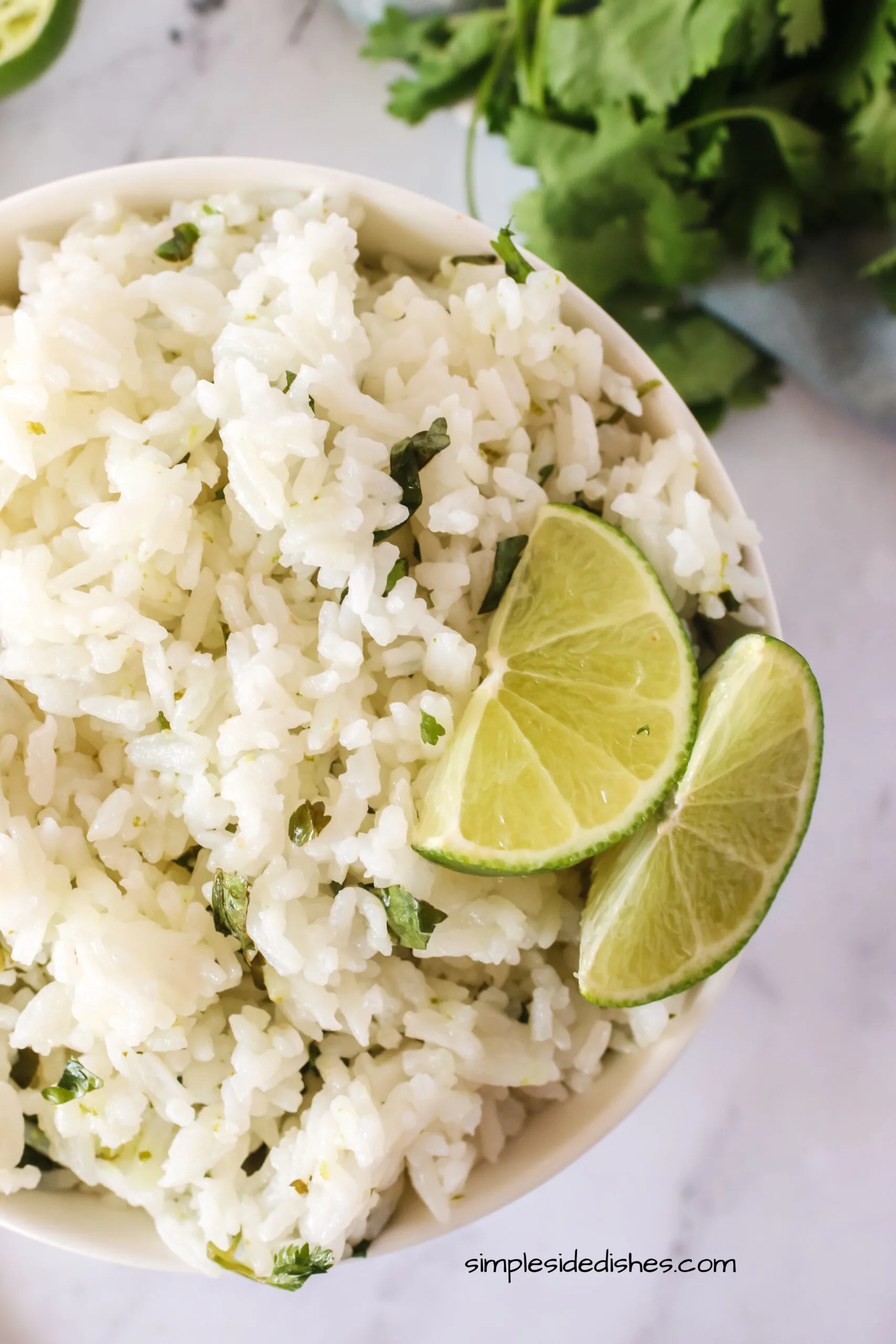 This easy cilantro lime rice is so fast and easy to make; you can transform basic rice even if you have already started cooking!
Ingredients
Instructions
Place rice in a fine mesh strainer and rinse until water runs clear.
Once water runs clear, transfer rice to a pot.
Add water and butter. Bring rice mixture to a boil, stirring regularly so rice doesn't stick to the bottom of the pot.
Once rice comes to a boil, cover and turn stove down to simmer.
Cook covered for 17 minutes.
Turn off stove, open lid and stir rice. Rice should be a little watery still.
Add lime zest, lime juice and cilantro. Mix well. Mixture should be a littler watery still.
Replace lid and let rice sit for 4 minutes.
After 4 minutes, remove lid and serve immediately.
Nutrition Information:
Yield:
6
Serving Size:
1
Amount Per Serving:
Calories:

87
Total Fat:

2g
Saturated Fat:

1g
Trans Fat:

0g
Unsaturated Fat:

1g
Cholesterol:

5mg
Sodium:

19mg
Carbohydrates:

15g
Fiber:

0g
Sugar:

0g
Protein:

1g