This easy French Bread Recipe is simple, delicious, and so perfect you will reach for it anytime you need a good side of bread on your table.
Are you a bread lover? At my house, we adore bread. And when you have bread fresh out of the oven, there is something extra special about it.
It's a combination of the smell and waiting for it to rise that just builds excitement waiting for it to be ready.
And then when it is ready, it's so tasty it doesn't need anything else with it. Though I will never say no to jam or butter on top.
If you've never made your own bread before, do not be scared! This easy french bread recipe has simple steps that you can follow.
You will find that you want to make homemade french bread again and again!
What is french bread?
French bread is an oval shaped bread loaf with soft, fluffy insides and a beautiful shiny crust. The bread has a delicious flavor perfect for dipping in sauces, spreading with garlic butter, or just enjoying fresh out of the oven.
Before you know it, you will be baking french bread whenever the craving hits you. And with basic pantry ingredients, you will be able to do it at home anytime.
What ingredients are in this easy french bread recipe?
Yeast: this is what makes your bread rise and grow
Sugar: this will feed the yeast to wake it up and give it energy to grow and add a touch of sweetness to the bread
Warm Water: this also feeds the yeast waking it up and helping it grow
Hot Tap Water: it needs to be hot to keep the yeast growing as you mix in other ingredients
Melted Butter: we melt it to mix even throughout the bread dough
Salt: this makes your bread taste better at the end and helps make the nice brown crust
All-Purpose Flour: this works great as the main grain in your bread
Cornmeal: this stops the bread from sticking to the cooking pan and lets air get underneath it to help it cook evenly
How to make this easy french bread recipe:
Don't be intimidated by the longer list of steps! When making bread, a lot of the time and steps are waiting for the dough to grow.
Activate yeast until bubbly.
Mix dough ingredients, then let dough rest for 5 minutes to get puffy.
Add remaining flour and mix for 10 minutes.
Cover and let dough rise until doubled.
Knead out all the bubbles, cut dough in half, and shape into loaves.
Place loaves on a baking tray, slice slits on top, cover and let rise.
Brush saltwater on top of bread and bake loaves; brushing tops every 15 minutes.
Remove, let the loaves cool, and enjoy!
Pro Tip: For super fluffy bread, do not skip the first 5 minute rest before mixing in all the flour. This lets the gluten in the flour relax and starts building the proteins up so the bread will have a stronger shape letting it rise fluffier instead of falling into a flat, dense bread.
How to shape french bread loaves:
After the dough has risen, use your hands to punch down the bubbles. Then take half the dough and spread it so it's a nice rectangle. As wide as your rectangle is will be about as long as your bread is when it has finished.
Then roll the dough up from one side to the other and be sure to press the seam shut. This will help the bubbles go up through the loaf of bread helping it rise instead of escaping through the bottom seam.
Place the loaf with the seam side down onto your prepared cookie sheet and you have perfect loaves of bread for your easy french bread recipe.
How to reheat this easy french bread recipe:
If you have made this in advance and want to warm it up before serving it, just place it in a preheated oven for 5-10 minutes.
It will warm through and crisp up the crust to make it perfect for serving. It will taste like it just came out of the oven because it did!
Is this easy french bread recipe vegan?
No. Our recipe uses butter which is not vegan.
What to do with this easy french bread recipe:
Serve as a dinner side to pasta, chicken, soup, casserole, etc.
Eat it as a snack plain or with butter or honey or jam.
Turn it into french toast! (Homemade french bread makes the best french toast!)
Use it for regular toast or sandwiches.
Turn it into french bread pizza or cheesy garlic bread.
Cube it to make croutons for soup or salad.
Dip it into your favorite dip or fondue.
Freeze some for later.
Can you freeze french bread?
Yes! Once baked completely, let the loaf cool. Then wrap it in plastic wrap and foil and stick it in the freezer.
When you are ready to eat, let it thaw to room temperature overnight and reheat it in a warm oven for about 5 minutes. Freezing it is perfect for fast and easy french bread.
Is this easy french bread recipe healthy?
Bread is a grain, and it is delicious and has a place in all healthy eating plans.
Our recipe uses all purpose flour which is not as healthy as a whole grain flour, but it is so much easier to make the bread perfect each time.
You decide what that means in terms of how much to eat. I will confess, it has never stopped me from eating half a loaf in one sitting.
How long does this easy french bread recipe last?
Not long at my house! This is really the best french bread recipe I have ever made, and it is usually gone in 24 hours.
But if you don't have extra people at your house and no room in your freezer to save it for another day, I recommend eating this in 3-4 days.
It will get more stale each day after it has been cooked. And eventually it will grow mold.
So if you aren't going to eat it, and you aren't going to freeze it, consider making half of the recipe at a time or gifting one loaf to another person.
Whether you are a French Bread lover or brand new to making your own, this Easy French Bread Recipe is perfect for when you need a homemade side to be the star.
Yield: 2 loaves
Easy French Bread Recipe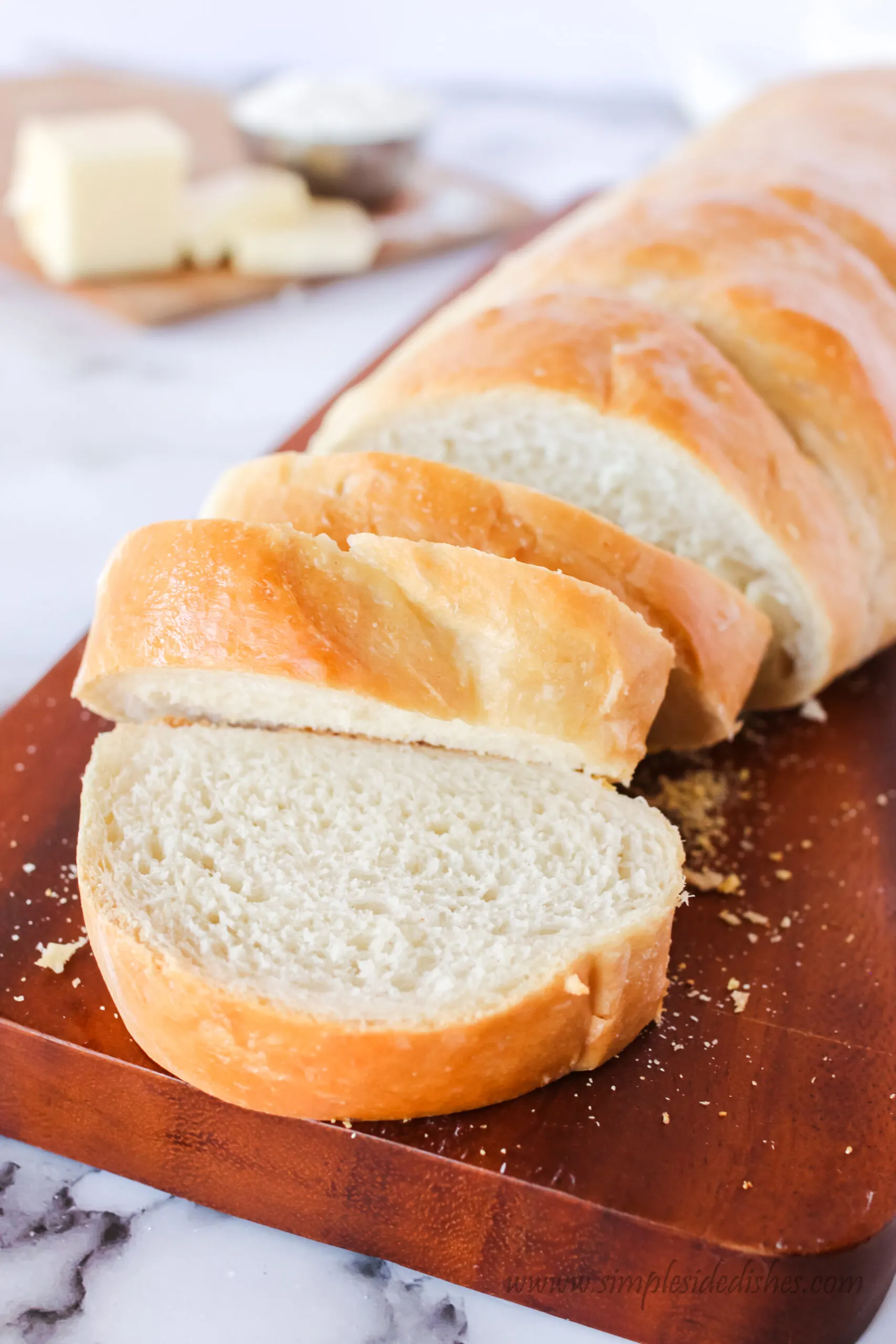 This easy French Bread Recipe is simple, delicious, and so perfect you will reach for it anytime you need a good side of bread on your table.
Prep Time
3 hours
30 minutes
Total Time
4 hours
15 minutes
Ingredients
Instructions
Combine yeast, 1 teaspoon sugar and lukewarm water in a mixing bowl with a dough hook.
Cover with a towel and let yeast activate for 5 minutes.
Once yeast has been activated and is bubbly, while the mixer is on, add melted butter, hot water, 2 Tablespoons sugar and 1 Tablespoon salt.
Add 2 cups of flour, ½ cup at a time, mixing well between each addition.
After 2 cups of flour have been added to the mixing bowl, turn the mixer off and cover for 5 minutes.
Mixture should be puffed up. Slowly add remaining 4 - 4 ½ cups of flour, ½ cup at a time, mixing well between each addition.
If using a Bosch mixer, let the machine knead the dough for 10 minutes.
If using a mixer that struggles to mix bread dough, knead bread on a lightly floured surface for 10 minutes. Dough should be nice and stretchy.
Spray a large bowl with cooking spray and place dough in the bowl.
Spritz the top of the dough with a light coat of cooking spray and cover the bowl with plastic wrap.
Place the dough bowl in a warm place and let double in size - 1 - 1 ½ hours.
Prepare a cookie sheet with parchment paper and 1 cup of cornmeal on top of the parchment paper, spread out.. This will prevent bread from sticking to the pan and allow air to get under the loaf while baking.
Once dough has doubled in size, flip dough out onto a lightly oiled surface and knead out all the bubbles.
Cut dough in half.
Working with one half of the dough at a time, and using your hands only, press dough into a 9x13 rectangle.
Starting with the long edge, roll dough and press together the seams.
Place the dough log onto the prepared cookie sheet. And repeat with the second half of the dough.
Once both loaves are on the cookie sheet, using a sharp knife, slice several slits in the top of the dough every few inches down the loaf.
Cover with a tea towel and let rise again, about 1 hour.
When the bread has risen, remove the towel.
Preheat oven to 350*F
In a small bowl combine ¼ cup salt and ½ cup water until salt has dissolved.
Brush this mixture onto the top of the bread. This will help give you a nice brown crust.
Bake for 40 - 45 minutes, brushing the tops of the loaves every 15 minutes with salt water.
Remove from the oven and let the loaves cool before enjoying!
Nutrition Information:
Yield:
30
Serving Size:
1
Amount Per Serving:
Calories:

618
Total Fat:

3g
Saturated Fat:

1g
Trans Fat:

0g
Unsaturated Fat:

1g
Cholesterol:

2mg
Sodium:

1167mg
Carbohydrates:

128g
Fiber:

5g
Sugar:

1g
Protein:

17g