This instant pot macaroni and cheese recipe is delicious, quick and a great recipe to have when you're busy. Picky eater approved and one of our favorite easy recipes.
Some instant pot recipes save me a lot of cooking time, and sometimes I use the instant pot so that I have less hands on cooking time.
I mean the kind of recipes that have less busy-in-the-kitchen steps and more set it and let it go time. This is one of those recipes.
I can have perfect mac and cheese in the instant pot cooking while I either make other dishes, play with my kids, or do something not in the kitchen.
This dish works great even if it sits a little longer before cooking so I can set it before running the kids to an activity and be back to a perfect dish ready to eat.
If your family is a fan of the blue boxed stuff, then hang on because your picky kids will be amazed with the cheesy sauce that makes this the ultimate comfort food.
Fast, tasty dishes are the perfect reasons to use your electric pressure cooker. And instant pot mac and cheese is one of those fast and perfect dishes.
What ingredients are in instant pot macaroni and cheese?
Chicken Broth: this adds a perfect layer of flavor to the pasta as it is cooking; so much tastier than plain water!
Water: this cooks the pasta
Salt: the pasta absorbs the salt as it is cooking to bring out the flavors of everything else in the dish
Dry Mustard Powder: this adds a touch of sharpness to the dish
Paprika: this adds a smoky layer to the flavors of the dish
Black Pepper: this spice helps the body absorb the nutrients from all the other ingredients
Garlic Powder: this is such an easy way to get great garlic flavor and nutrients
Elbow Macaroni: this is the classic mac and cheese pasta shape. You'll want to use dry pasta (uncooked).
Butter: this adds flavor to the sauce that covers the macaroni
Half-and-Half: this makes the sauce creamy to cover the pasta
Sharp Cheddar Cheese: sharp has a great strong flavor so you can use less cheese and get more flavor. Use pre shredded cheese to save time!
Grated (not powdered) Parmesan Cheese: this goes so well with the cheddar and adds a really great balance of flavors to the mac and cheese sauce
Pro Tip:
You can use different cheeses to create different flavors. If you like a little spice, try adding a little pepper jack cheese instead of sharp cheddar for extra flavor. Do you prefer a white macaroni and cheese? We recommend using a white cheddar. Simply use your favorite cheeses to create the best mac you can imagine.
You can substitute vegetable broth for chicken broth and elbow macaroni for another shape. This is a very forgiving recipe.
How to make macaroni and cheese in an instant pot:
Mix broth, water, seasonings, and macaroni in the instant pot.
Close lid, seal valve, and set timer to cook over high pressure.
Once the cook time has passed, let homemade mac sit for 5 minutes for a natural release, then do a quick release pressure.
Open the instant pot, turn off, stir in butter, half-and-half, and cheese.
Mix and let thicken to a creamy sauce.
Serve your delicious mac and watch the compliments roll in!
What to serve with instant pot macaroni and cheese:
Pork: pulled pork, ham, ribs.
Barbeque: chicken, ribs, whatever your family favorite is.
Meat: steak, chicken, shredded or whole, all go well with this.
Salad: salad and pasta go well together to take two simple sides and turn them into a great meal.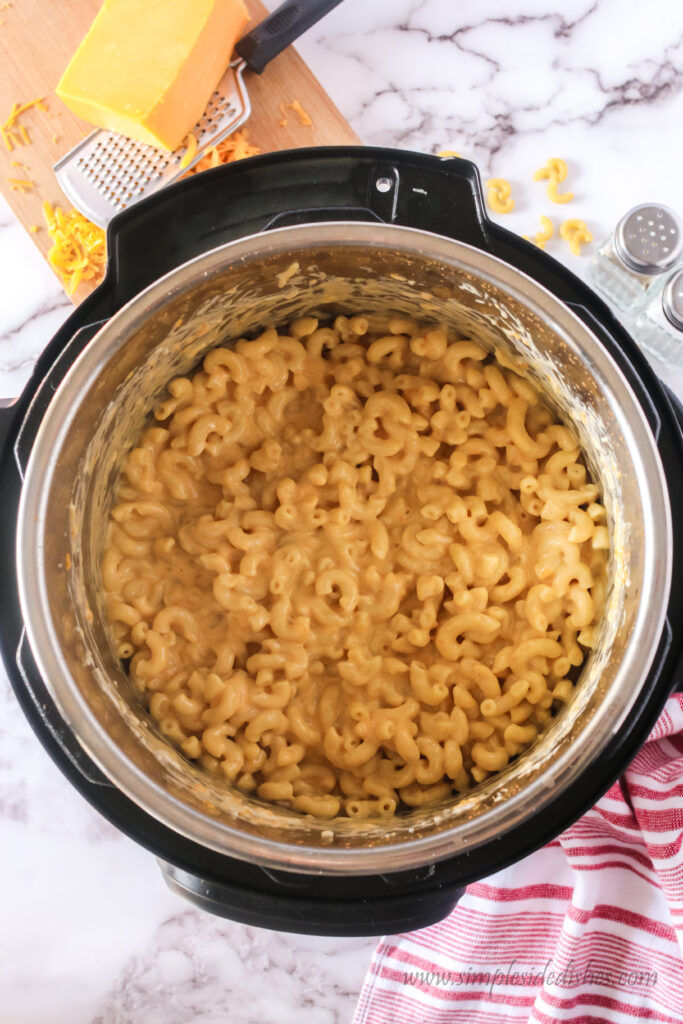 Can you freeze instant pot macaroni and cheese?
Yes! Once the mac and cheese in the instant pot is cooked, let it cool, then transfer it to a freezer safe container.
I like to put it in a casserole dish with an easy topping like powdered croutons and extra parmesan. Then I can reheat it in the oven for an easy baked macaroni and cheese.
You can also freeze it in individual portions for easy individual meals to heat anytime.
Is instant pot macaroni and cheese healthy?
It is healthier than some things, and it has a lot of ingredients that have important nutrients. And it is delicious.
Depending on your nutrient needs, this may be the perfect dish or just a tasty side. Either way, we don't recommend eating only this for every meal.
Healthy food choices have a lot of variety, and this can fit perfectly in a balanced meal plan.
Can dogs eat macaroni and cheese?
No. This easy instant pot macaroni and cheese has garlic powder and mustard powder. Garlic and mustard are toxic to dogs.
If your dog eats a piece that falls to the floor, it shouldn't hurt them since there is such a small amount of seasoning on each piece of macaroni.
But to be safe, don't let your dog eat any of this dish.
Who invented macaroni and cheese?
No one really knows who first made it. We do know written mac and cheese recipes have been found in multiple recipe books from the 1700s.
Thankfully with today's technology we can make instant pot creamy macaroni and cheese much faster than it was made 300 years ago.
Do you put eggs in instant pot macaroni and cheese?
No, we do not add eggs to our pressure cooker mac.
When you use eggs to make a creamy cheese sauce, you have to cook it so it becomes more like a custard, but not fast enough that it turns into scrambled eggs.
Some people love eggs in their mac and cheese, but this mac and cheese in the instant pot has perfect texture without bothering with an egg.
How to store instant pot macaroni and cheese:
Keep leftovers covered in the refrigerator for up to one week before eating or freezing.
Can I make instant pot macaroni and cheese ahead of time?
Yes! If you want to make this ahead of time, we recommend making just the pasta then adding a little bit of butter or oil to the pasta so it doesn't stick together as it cools.
Then when you are ready to serve it, combine the butter, half-and-half, and cheeses in a warm pot on the stove and add the pasta to it until warmed through.
Does macaroni and cheese expire?
Everything eventually expires. We recommend eating this instant pot macaroni and cheese within a week of making it for best flavor and results.
More Easy Instant Pot Recipes You'll Love…
Instant pot macaroni and cheese is the perfect recipe for busy weeknights. A simple side dish for a creamy, cheesy, delicious comfort food, ready in minutes.
Yield: 8 Servings
Instant Pot Macaroni & Cheese
This instant pot macaroni and cheese is cheesy, delicious, and is a great recipe to have hands off cooking time.
Additional Time
10 minutes
Instructions
In an instant pot add chicken broth, water, salt, mustard powder, paprika, black pepper, and garlic powder. Mix well.
Add in elbow macaroni and mix well.
Close the lid and turn the pressure valve to seal.
Set the timer for 4 minutes. It will take 10 minutes to build pressure, then 4 minutes to cook.
Once the timer goes off, let the instant pot sit for 5 minutes to naturally depressurize.
Then carefully flip the quick release pressure to release the remaining pressure.
Once pressure has been released, open the lid.
Turn the Instant pot off.
Stir in butter until melted.
Add half and half and then cheese. Mix well.
If the mixture is soupy, wait 5 minutes and it will naturally thicken.
Serve immediately.
Nutrition Information:
Yield:
8
Serving Size:
1
Amount Per Serving:
Calories:

230
Total Fat:

18g
Saturated Fat:

10g
Trans Fat:

1g
Unsaturated Fat:

5g
Cholesterol:

51mg
Sodium:

556mg
Carbohydrates:

7g
Fiber:

1g
Sugar:

1g
Protein:

12g