This raw zucchini salad is the perfect dish to make ahead of time, so you don't need to do anything but pull it out of the fridge to have a deliciously fresh side dish on the table.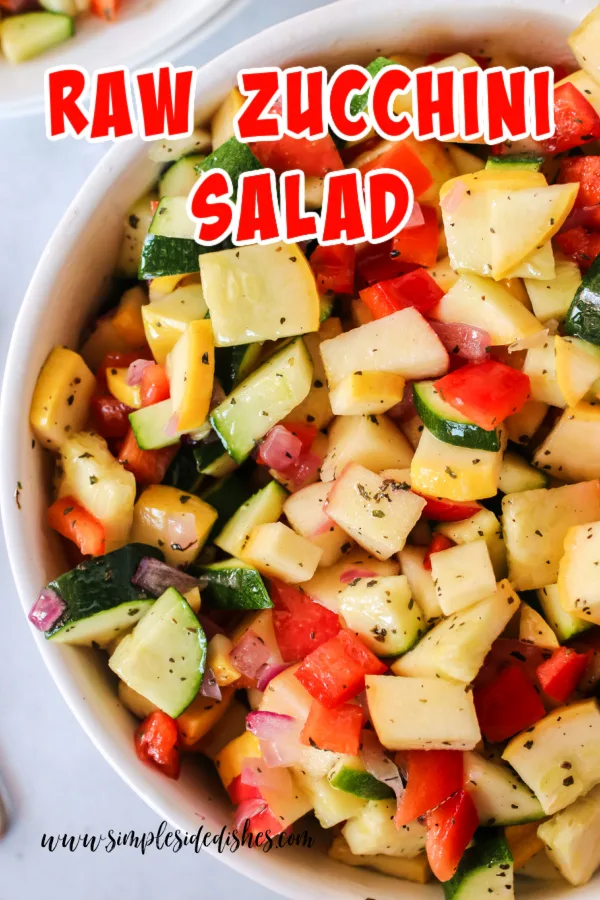 Is zucchini season year round for you? I could eat it all year long, but there is something magical about a summer zucchini salad. It's cool, fresh, refreshing, loaded with summer vegetables, and delicious.
It's a great summer salad to bring to outings because you can make it the night before, it doesn't have mayonnaise so it won't go bad sitting in the sun, and it is absolutely delicious.
I'm always a fan of recipes that use fresh produce – especially garden produce and love when I don't need my vegetable peeler to make it!
Of all the zucchini salad recipes you could make, this is my favorite because it comes together so quickly and easily the night before, I can let it sit all night, then it's ready to go whenever I need it the next day.
It also is covered in a vinaigrette salad dressings which makes this zucchini squash salad lighter than mayonnaise covered salads.
How do you make zucchini salad? It is so much easier than you think. And we will even make a homemade dressing for it!
What ingredients are in raw zucchini salad?
This zucchini salad is made with simple ingredients found at your local farmers market or own garden. It's a great way to use up all the zucchini from your bumper crop each year. With fresh ingredients you can never go wrong!
Zucchini: diced medium zucchini is the star of the dish!
Yellow Squash: this is a cousin to zucchini and works great diced in a salad together
Honey Crisp Apples: these apples are perfect diced in salads because they don't turn brown as fast as other apple varieties
Red Bell Pepper: this pepper is sweet, not spicy, and when it's seeded and diced it adds a bright red color and taste to the dish
Red Onion: diced red onion is so great in salads since it isn't as strong as a yellow or white onion but still adds flavor and health benefits.
Olive Oil: this makes great salad dressing – extra virgin is great!
Red Wine Vinegar: this is the kick in the salad dressing to give it the most flavor
White Sugar: a spoonful of sugar sweetens everything, improving the natural flavors
Dried Basil: this is the easiest way to add great basil flavor to your salad dressing. You could use fresh basil if you have it on hand too.
Salt: this makes everything around it taste better
Black Pepper: this adds a light peppery taste through the salad dressing.
Pro Tip: If you love cheese, you could easily add some to your salad. Feta Cheese, Goat Cheese or even Parmesan Cheese would make a love addition to this healthy recipe.
How to make raw zucchini salad:
The easiest part of this salad is that it uses all raw vegetables, making it the perfect side dish to any main dish.
Add vegetables to a large bowl and set aside.
Mix salad dressing ingredients.
Pour vinaigrette over the salad and mix well.
Chill 12+ hours.
Serve!
Can you eat zucchini raw in a salad?
Yes! Zucchini is a great vegetable to eat raw. Sometimes we eat raw zucchini sticks dipped in veggie dip. But my favorite way to eat raw zucchini is in this cold zucchini salad.
It is so refreshing and covered with the flavors of the homemade dressing. You won't want to eat raw zucchini salad any other way.
How to cut zucchini for salad:
In this raw zucchini salad recipe, we want all the vegetables to be diced. You can dice the zucchini a little bit larger than the other vegetables, but mostly we want them to be the same size.
Cut the ends off each zucchini.
Slice zucchini in half the long way.
Cut each zucchini in half again the long way.
Turn the zucchini and cut into cubes (diced) going down the zucchini the long way.
Pro Tip: A sharp knife will make a world of difference when it comes to chopping vegetables! Give yours a quick sharpen before you begin!
How to eat zucchini in salad:
You can put raw zucchini in any salad. You could put it over a green tossed salad if you'd like. But this mix of zucchini and squash salad is one that I go back to again and again.
I really love the brightness of the dressing and the simple combination of squashes, pepper, and onion.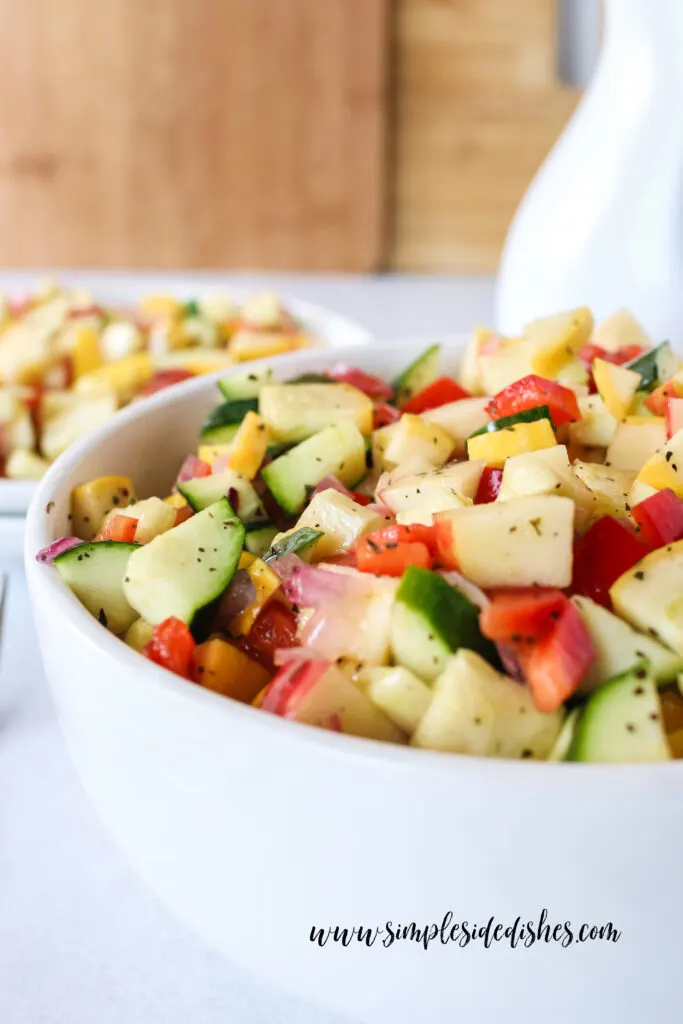 Do you peel zucchini for salad?
No! The peel of the zucchini has more nutrients than the inside flesh. Always leave the skin on.
It also adds a great color to this beautiful raw zucchini salad.
Pro Tip: Always wash the skin of your zucchini really well before cutting it up. Since we want the vitamins and minerals in the skin, you want to make sure whatever happened to the zucchini from when it was growing in nature to the time it got to your kitchen is good to eat.
Can I make this raw zucchini salad ahead of time?
Yes! Since this salad needs to sit for 12+ hours to get the best flavor, it is the perfect salad for making the night before.
Just be sure to give the salad a good mix so everything that sits in the dressing on the bottom is mixed through the salad before serving it.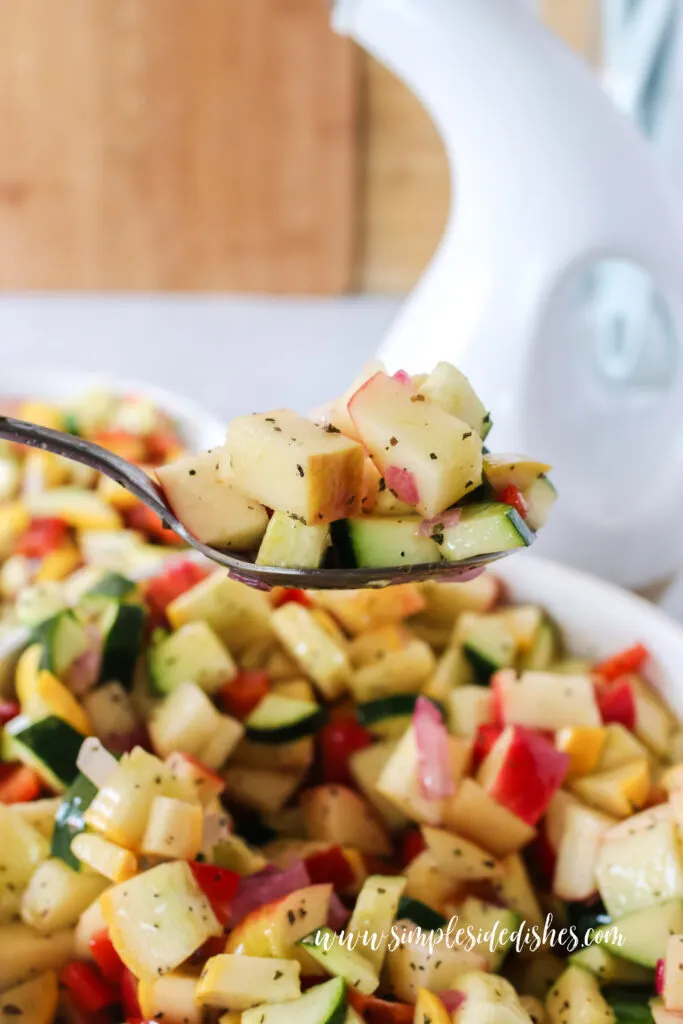 Can dogs eat zucchini?
Yes! Zucchini is very nutritious for dogs. Raw zucchini is more nutritious than zucchini mixed as human food, so be sure to save pieces for your dog before mixing everything together into the raw zucchini salad.
How to store leftover raw zucchini salad:
Because this is a marinated zucchini salad, you want to store it covered in an airtight container in the fridge.
If your fridge is packed and there is risk of tipping, you might want to make sure it's a leakproof container too.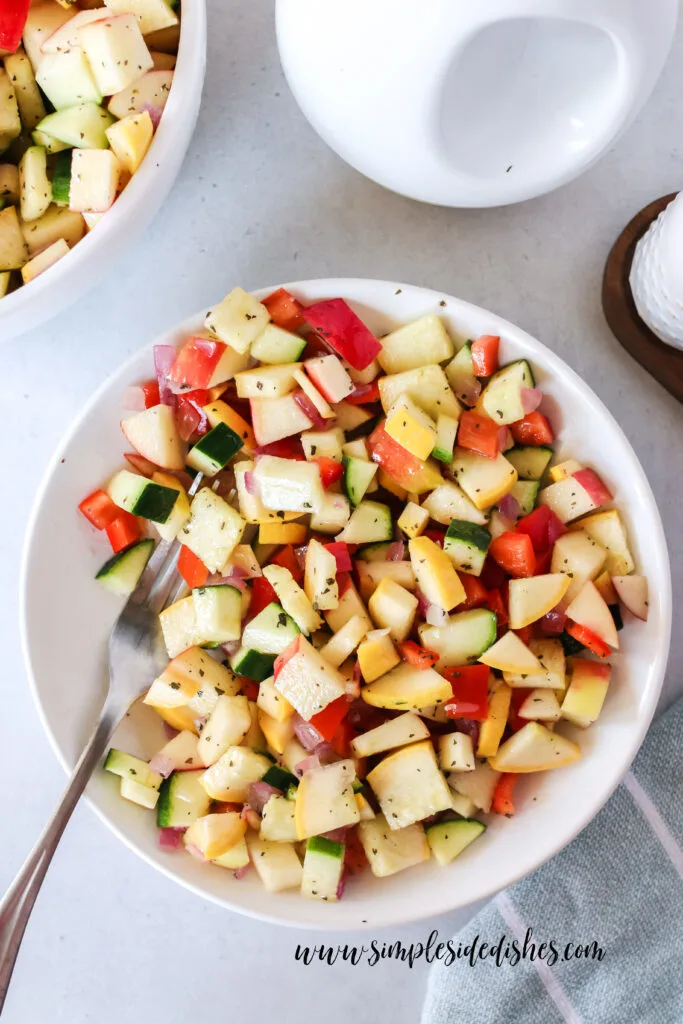 How long do raw zucchini salad leftovers last?
If stored safely in the fridge, you can eat this fresh zucchini salad for a week before the flavors and texture of the vegetables starts to change.
We hope to offer even more zucchini recipes as the years continue. But for now, try these other side dishes.
Whether you need a use for extra zucchini, an easy make ahead summer salad, or you just want a beautiful colored dish for the table, this raw zucchini salad is delicious any time of the year.
Raw Zucchini Salad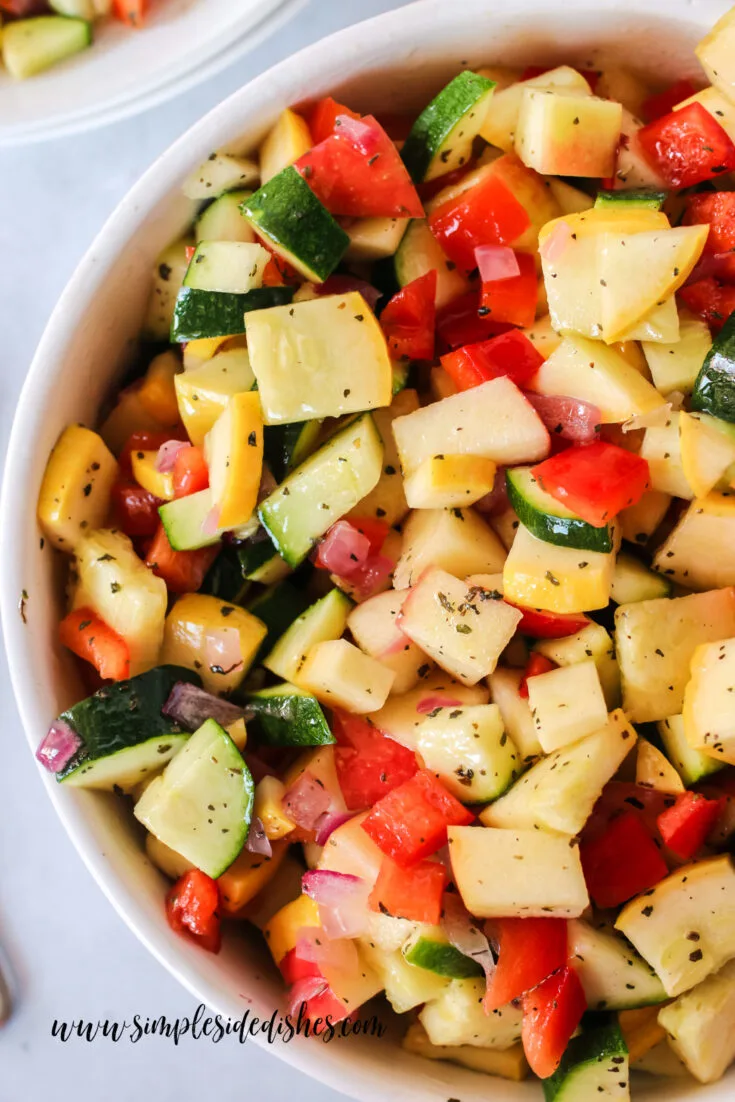 This raw zucchini salad is great for making ahead for any meal and tastes delicious. Who knew raw zucchini would taste so great!
Instructions
In a large bowl add zucchini, yellow squash, apples, bell pepper and red onion. Set aside.
In a small bowl or a mason jar, add olive oil, red wine vinegar, sugar, basil, salt and black pepper.
Mix well or place the lid on the jar and shake well.
Pour vinaigrette over the salad and mix well.
Chill 12+ hours before serving to allow flavors to meld.
Nutrition Information:
Yield:
8
Serving Size:
1
Amount Per Serving:
Calories:

160
Total Fat:

10g
Saturated Fat:

1g
Trans Fat:

0g
Unsaturated Fat:

8g
Cholesterol:

0mg
Sodium:

204mg
Carbohydrates:

19g
Fiber:

4g
Sugar:

13g
Protein:

2g