You will love how fast this bacon wrapped asparagus recipe comes together; you can go from nothing to a delicious side dish in just fifteen minutes!
This bacon wrapped asparagus recipe is the perfect fast side dish.
You can make it to feed a crowd or just yourself. You can serve it as a delicious appetizer or an elegant side dish. It even makes a great snack!
It is full of healthy nutrients and fiber. And it is a tasty side dish and a family favorite. Even if you are not an asparagus fan, this is a delicious way to prepare a healthy vegetable.
Can I tell you the best part? It is so fast to prepare.
With simple ingredients and just minutes of prep time, this is such an easy recipe, even your kids can help you do it!
I have found that the more you can get your children involved in making your meals, the more likely they are to eat new items.
And dishes like this are so easy to make that even if it takes a little bit longer for them to help, you won't be in the kitchen all night waiting for this to be ready to eat.
So let the kids put the bacon wrapped asparagus bundles together before you grill them. You will get help and they will be interested in the food.
What ingredients do you need for this bacon wrapped asparagus recipe?
Fresh Asparagus Spears: this bright green vegetable has lots of fiber and nutrients
Bacon: use any flavor you like; smoky bacon, salty bacon, even brown sugar ones all taste great
Olive Oil: this cooks the ends without letting them stick to the grill.
Pro Tip: If it's not asparagus season and you need to choose asparagus stalks that might not be as fresh, you want ones that have a bright green color, are firm and not rubbery, and have the tips closed tight and not loose and open.
The most tender asparagus will have the tightest closed tips and a woody end that is kept in water until ready to use.
Some people love the thin ones, others prefer more plump ones. That is mostly personal preference.
How to make bacon wrapped asparagus:
Wrap bacon around asparagus.
Drizzle ends of the spears with oil.
Grill over medium heat.
Serve!
Pro Tip: Use a cooking sheet to wrap your bundles on so your prep area stays clean. You can also use this sheet to take your bundles to and from the grill.
How to wrap bacon around asparagus:
Grab asparagus spears to make about a one inch thick bundle. Depending on how thick your asparagus is, you will need 3 or 4 spears.
Wrap a full length piece of bacon around the bundle of asparagus spears, starting at the top, and then working your way down.
Pro Tip: Make sure to lightly overlap the slice of bacon as you wrap. If you do, it will secure itself so you don't have to worry about it coming apart while cooking.
How to cook bacon wrapped asparagus recipe:
Cooking bacon wrapped asparagus tastes the best when you do it on the grill.
If you are grilling directly on the grate, make sure to grease the grate really well so the bacon doesn't stick. Or you can grill on a grilling mat or non stick foil.
If you use foil, be sure the dull side faces UP.
You can also cook bacon wrapped asparagus spears in the oven or toaster oven, but I prefer the flavor of cooking them on the grill.
How long to cook bacon wrapped asparagus recipe:
These bacon wrapped asparagus grill for approximately 3 – 4 minutes per side. You want to make sure to rotate each bundle so the bacon cooks evenly.
Remove them when the bacon is crisp and the asparagus is tender.
Can asparagus be stored overnight wrapped in bacon?
Yes! If you want to wrap these in bacon strips the night before so they are ready to go on the grill the next day, go ahead. Just be sure to store them in a sealed, airtight container.
If you are worried about keeping your asparagus fresh, you can add a damp paper towel to the bottom of the bag so the ends of the asparagus stay moist in the fridge overnight.
Can you make bacon wrapped asparagus recipe ahead of time?
You can make this ahead of time, but we recommend eating them after they have been cooked fresh. They completely cook in just 4 minutes, so it's easy enough to just cook fresh.
What to serve with bacon wrapped asparagus recipe:
Grilled Entrees: burgers, chicken, ribs, Pineapple Chicken Kabobs, pork chops, Grilled Stuffed Flank Steak or any main course you are already making on the grill works great with this side.
Rice: a rice main dish like stir fry or curry go really well with this recipe or even Coconut Milk Rice or Cilantro Lime Rice
Tailgating Party: this makes an easy appetizer to add to your tailgating parties with all of your other favorite sides
Special Occasion Food: this is a beautiful side dish for any time of year, but it is an impressive side at holiday feast meals
How to reheat bacon wrapped asparagus recipe:
While these taste the best made fresh, if you have leftovers, just store them airtight in the fridge.
When you are ready to eat them, reheat them on the grill or under the broiler until warmed through and crisp.
Can you freeze bacon wrapped asparagus recipe?
Yes! Put them in a freezer safe bag and store them tightly wrapped in the freezer.
The next time you are ready to eat them, you can heat them straight from frozen or let them thaw overnight in the fridge before reheating.
More Bacon Recipe's You'll Love…
This bacon wrapped asparagus recipe is the perfect grilled side dish anytime of year.
Yield: 6 Servings
Bacon Wrapped Asparagus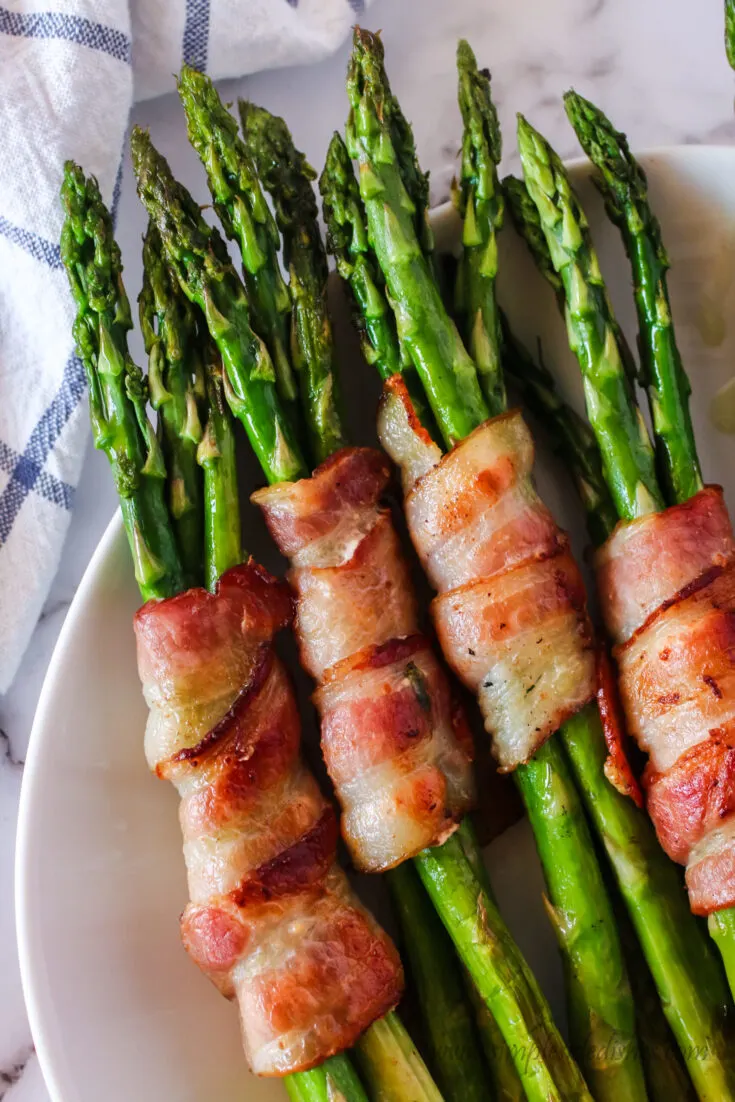 You will love how fast this bacon wrapped asparagus recipe comes together; you can go from nothing to a delicious side dish in just fifteen minutes!
Instructions
Preheat grill.
Wash and dry asparagus.
Holding towards the end of the asparagus, snap off the woody section of each asparagus spear.
Grab 3 pieces of asparagus.
Gently wrap 1 long piece of bacon around the asparagus to create a spiral. Overlap bacon slightly and it will secure itself - no toothpicks needed!
Repeat for remaining bacon and asparagus.
Once all asparagus are assembled, gently drizzle olive oil on the non bacon wrapped portions of asparagus.
Spray grill with cooking spray to prevent bacon from sticking and place bacon wrapped asparagus onto grill. If you are worried about sticking, you can place asparagus on a grill mat or non-stick foil.
Grill for 3-4 minutes per side to ensure bacon cooks all the way through.
Remove from grill once bacon is crispy and asparagus is tender.
Serve immediately and enjoy!
Nutrition Information:
Yield:
6
Serving Size:
1
Amount Per Serving:
Calories:

111
Total Fat:

8g
Saturated Fat:

2g
Trans Fat:

0g
Unsaturated Fat:

5g
Cholesterol:

16mg
Sodium:

280mg
Carbohydrates:

3g
Fiber:

2g
Sugar:

1g
Protein:

7g