These Green Bean Bundles are the perfect year round side, and they come together so quickly! The green beans are covered with a tasty slice of bacon, so everyone will love eating their vegetables.
Do we really need a reason to wrap anything in bacon? My family loves when I make these Green Bean Bundles, and I love when they eat so many green beans!
One thing I like about this dish is how fancy it looks with very little effort. It is so impressive to have the bundles wrapped and lined up on the table. And it doesn't take long to make!
Sometimes I prep an extra batch to save for an easy side another day. Because who doesn't like ready to eat meals sitting in their freezer?
What is in a Green Bean Bundle?
Bacon: the star flavor of the dish – do NOT use thick cut!
Green Beans: use fresh, not canned.
Brown Sugar: a sweet hint of brown sugar adds a great flavor to balance the bacon.
Lawry's Season Salt: also known as regular salt with other seasonings mixed in, but this is easier.
How to make Green Bean Bundles?
Cook the bacon halfway.
Boil the green beans.
Wrap green beans in bacon.
Season, Bake, and Serve!
How many green beans are in a bacon wrap?
These bacon wrapped green bean bundles do best with 5 or 6 beans wrapped in one piece of bacon.
If you use too many beans, the bacon doesn't wrap around them. If you don't use enough beans, the beans get lost inside the bacon, and the bacon doesn't cook evenly.
Can I make Green Bean Bundles in advance?
Yes! You can prepare your green beans wrapped in bacon the day before. But do not cook them in the oven until you are ready to serve them.
Can I freeze Green Bean Bundles?
Yes you can freeze these green bean bundles! Be sure to package them properly for the freezer.
I like to take cooked and cooled bundles, wrap them in plastic wrap or foil, then place them in another layer of foil or zipper bag or closed freezer safe container.
When you are ready to eat them, take however many bundles you need, place them with the bacon ends down on the cooking sheet, and bake in an oven until heated through and crispy.
You can also freeze these after you have the green beans wrapped in bacon and brown sugar, but before you have baked or grilled them. Just be sure to cook the bacon until crispy before serving.
Note: frozen green beans will not be as crisp as green beans that have never been frozen.
How to secure the bacon to green beans?
The trickiest part to Bacon Wrapped Green Bean Bundles is keeping the bacon where you want it to be while cooking the bundles.
The easiest way to do that is to make sure the ends of the bacon are underneath the green beans when you place them on the cooking sheet. The weight of the beans will keep the bacon in place.
If the bacon ends are on top of the beans, the bacon will fall open to the side as it cooks.
Can I make Green Bean Bundles without sugar?
You CAN. But since the sugar adds a delicious caramelization to the outside of the bacon and yummy dark molasses flavor, I don't think you really want to.
Are Green Bean Bundles keto?
If you want to make these truly Keto, leave off the sugar! True keto diets avoid all sugars, so this recipe can be keto if you leave the brown sugar out.
Some people like sugar free substitutes (like brown swerve). Other people use less sugar per bundle and account for that in their daily percentages.
Are Green Bean Bundles healthy?
I think you will have to answer this question for yourself. Here are some things to help answer the question.
Green Beans are a nutrient packed vegetable. Bacon is a fatty meat. Both of those ingredients fit inside a healthy, balanced lifestyle.
If all you eat every day is Bacon Wrapped Green Beans, then you are missing other healthy nutrients. If you eat these as a side when you normally wouldn't eat green beans, then yes this is a healthier side.
Can I use thick cut bacon for Green Bean Bundles?
I love thick cut bacon. Unfortunately it doesn't work well in this recipe. I recommend using regular bacon.
The thicker pieces of bacon make it harder to wrap around the bean bundles and harder to cook evenly. They also produce a chewier side dish instead of a crispy one. You want beans wrapped in perfectly cooked crispy bacon.
Can you grill Green Bean Bundles?
Absolutely! If you love a grilled char on your food, this is perfect for that.
Follow the recipe to make the bundles, but instead of placing them on a cooking sheet in the oven, place them on the grill for 10-15 minutes to crisp the bacon and finish cooking the green beans.
You may want to secure the bacon with a toothpick if grilling since you will be lifting the bundles up and down to the grill.
Can I use frozen green beans for Green Bean Bundles?
The nice thing about frozen vegetables is they have already been pre-cooked. So you don't have to boil the beans, just thaw them so they aren't frozen.
If you are using frozen green beans, know that they will end up softer than fresh green beans because they have already been cooked.
More Green Bean Recipes You'll Love…
You will love these Green Bean Bundles every time you make them, and so will your dinner guests whether it's friends, family, or just you. Enjoy this flavor loaded simple side!
Yield: 24 Bundles
Green Bean Bundles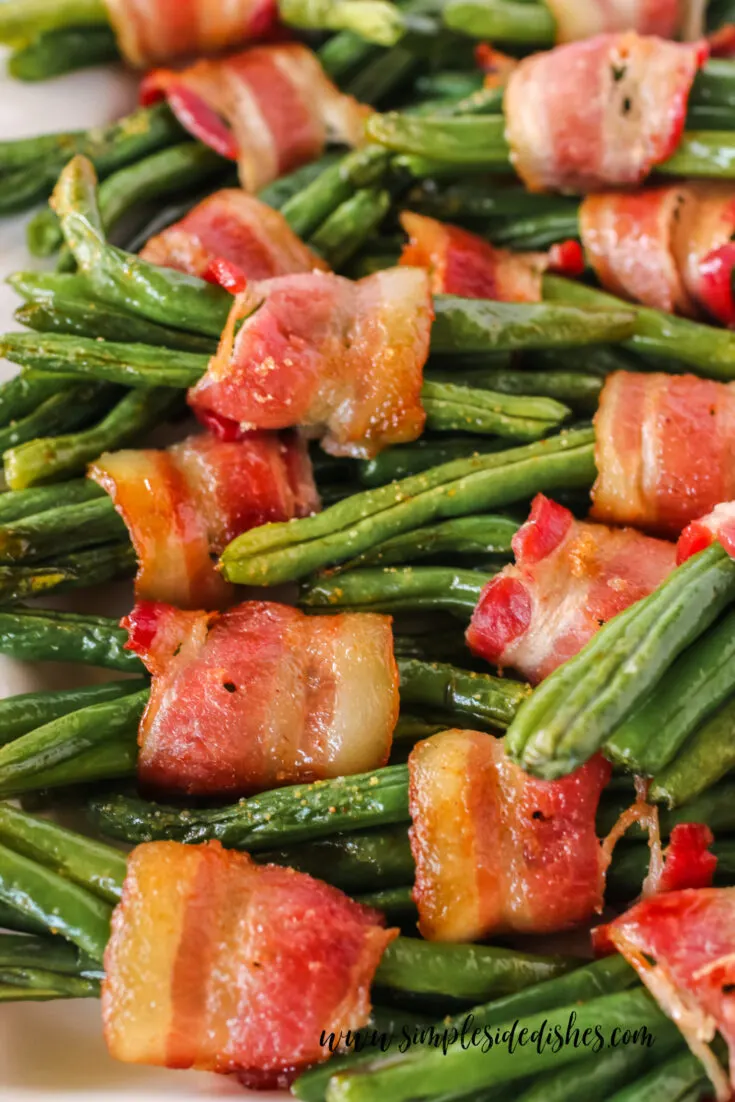 These Green Bean Bundles are the perfect year round side, and they come together so quickly! The green beans are covered with a tasty bacon flavor, so everyone will love eating their vegetables.
Instructions
Preheat oven to 375*F
Line a cookie sheet with a baking mat, parchment paper or non-stick foil. Set aside.
Cook bacon until bacon is half way cooked. You want it semi cooked but still pliable.
Reserve grease for later.
Bring a pot of water to a boil.
Add green beans to water and boil for 3 minutes.
Remove green beans from water and place in reserved bacon grease. Toss to coat and transfer to a plate.
Take a piece of bacon and place 5 - 6 green beans in the middle.
Wrap the green bean bundle with bacon and place on the prepared baking sheet with bacon ends down so they don't pop open during baking.
Sprinkle each with a pinch of season salt on the green bean ends and a pinch of brown sugar on the bacon.
Bake for 20 minutes or until bacon is cooked.
Serve immediately.
Nutrition Information:
Yield:
24
Serving Size:
1
Amount Per Serving:
Calories:

13
Total Fat:

0g
Saturated Fat:

0g
Trans Fat:

0g
Unsaturated Fat:

0g
Cholesterol:

0mg
Sodium:

182mg
Carbohydrates:

3g
Fiber:

1g
Sugar:

2g
Protein:

1g
Nutrition information isn't always accurate, though we do our best.