You will love this refreshing Lime Jello Salad. With only 5 ingredients (and water) it is so easy to make to serve a crowd.
Lime Jello salad with pineapple. Are you a lover already? Depending on whether you grew up with Jello salads, they are one of those dishes everyone loves to comment on.
No matter your opinion Jello is a year round side dish. And Jello salads are the perfect dish to bring a refreshing treat on the go whenever you need it.
I love that this vintage Lime Jello Salad looks great, can be made in advance, and is full of flavors to go with any situation. My family loves it so much we often eat it as a snack.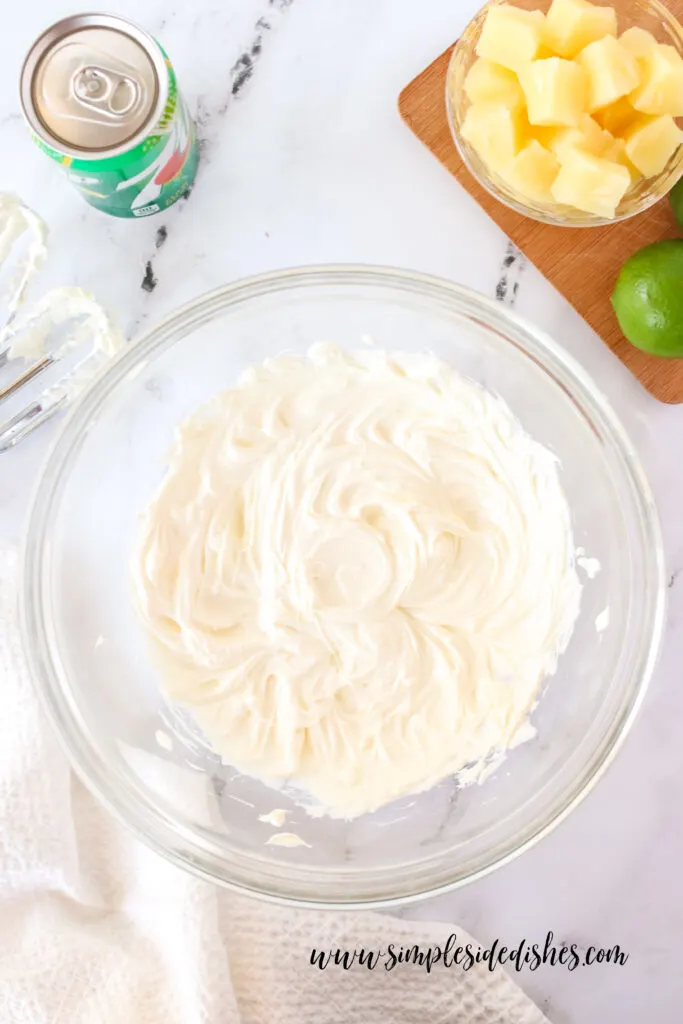 What is Vintage Lime Jello Salad?
Lime jello salad is a classic gelatin salad. It is different from other vintage jello salads in that there is no clear flavored gelatin layer. There isn't even clear gelatin.
Instead, this green Jello salad mixes the gelatin with pineapple and cool whip before it sets. That makes it creamy and thick–more like a lime pie filling but with a little extra zing.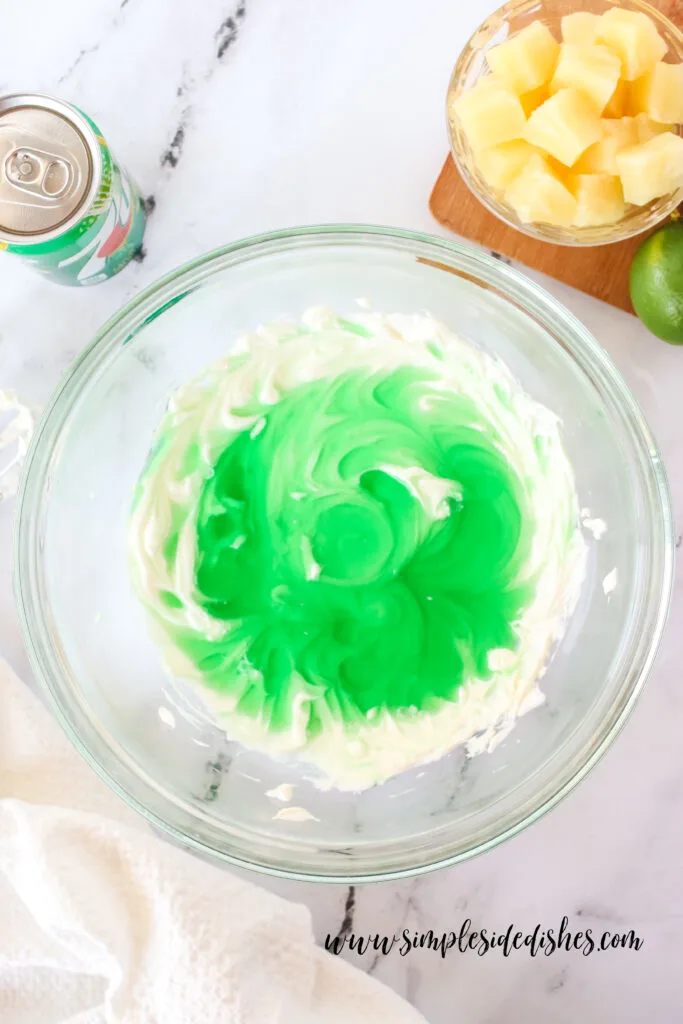 What do I need to make Vintage Lime Jello Salad?
Package of Lime Jello: this is the star of the dish and gives a great, easy lime flavor
Boiling Water: this helps activate and set the gelatin
Cream Cheese: this needs to be room temperature so you can cream it without lumps
7 UP: using lemon-lime soda goes so well with the lime jello. Be sure the 7 UP is chilled.
Canned Crushed Pineapple: using this fruit adds flavor, sweetness, and the perfect texture
Cool Whip: whipped cream is one of my favorite things, and a perfect way to bring a light, refreshing flavor to the dish
Pro-Tip: Thaw cool whip overnight in the fridge–it will keep the texture of the whipped cream better than leaving it at room temperature. Do not try to thaw in a microwave!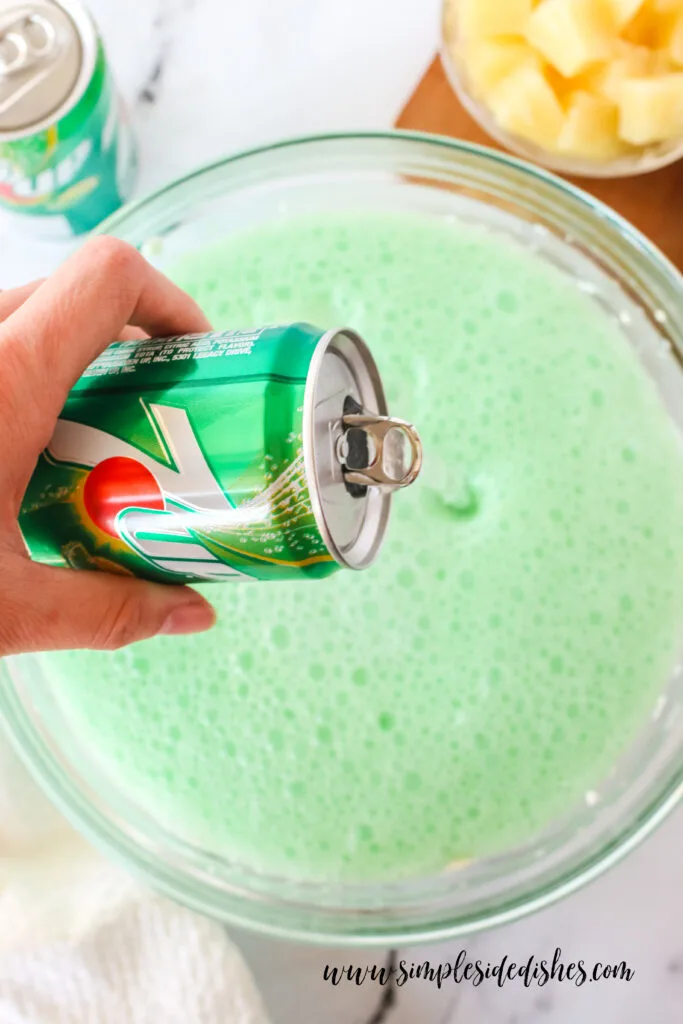 How to make Vintage Lime Jello Salad?
Prepare jello mixture.
Cream the cream cheese until smooth.
Slowly mix jello, cream cheese, and 7 UP.
Chill until it starts to set, but isn't fully set.
Mix in the cool whip then the pineapple.
Chill & Serve!
Pro Tip: You cannot spend too much time blending the cream cheese. Blend it until smooth by itself and with the Jello. It is worth the time to make sure you have a perfectly smooth, lump-free dish.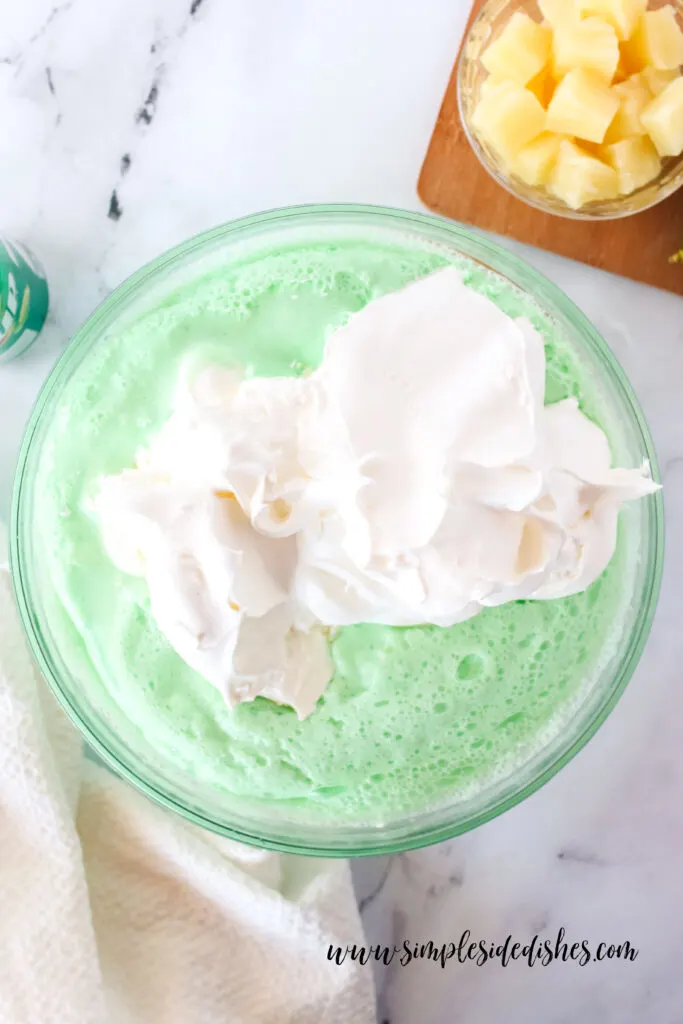 Is Lime Jello Salad gluten free?
Yes! Every ingredient is made from items that do not naturally contain gluten.
However, most boxed flavored gelatin is made in places that also process food containing gluten. So they do not have a certified gluten free rating.
If you are making this for someone who eats gluten free, ask them how they approach foods processed in places that have gluten.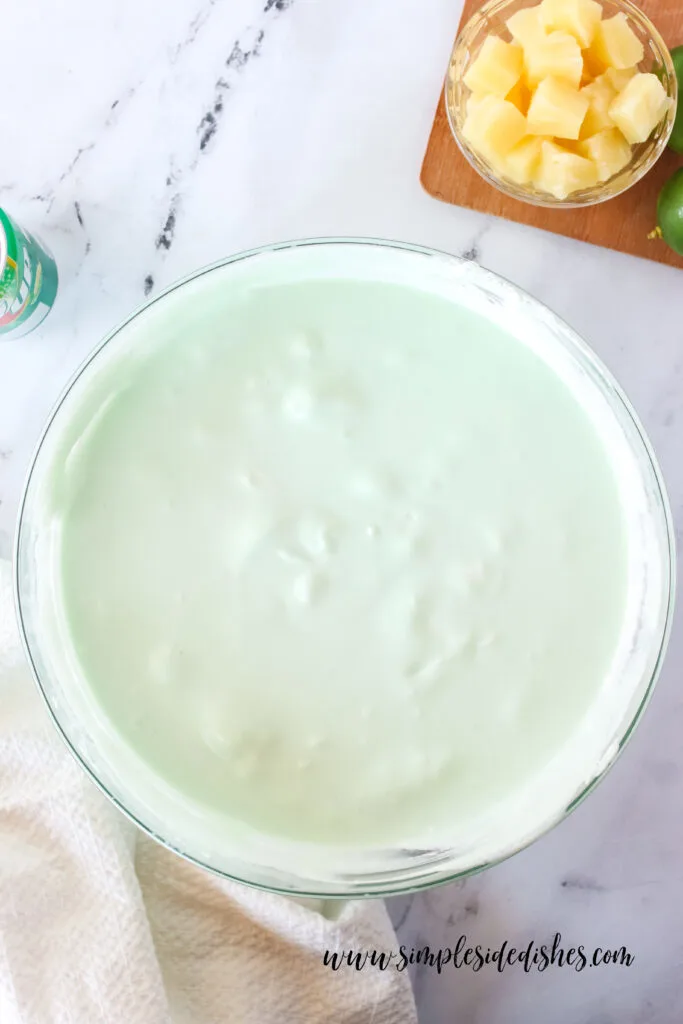 Can you use fresh pineapple in Vintage Lime Jello Salad instead of canned?
No. I love fresh fruit, but you cannot use fresh pineapple in jello salads. You must use canned pineapple.
Fresh pineapple has an enzyme called bromelain. Bromelain enzymes break things down. The problem is, it will break down the protein in the gelatin making it so the jello salad will never set. Ever.
The pineapple enzyme is destroyed in the high heat used to can pineapple. That means you can use real pineapple flavor and texture without making lime jello soup.
Canned crushed pineapple will give you perfectly set, thick, creamy jello salad every time.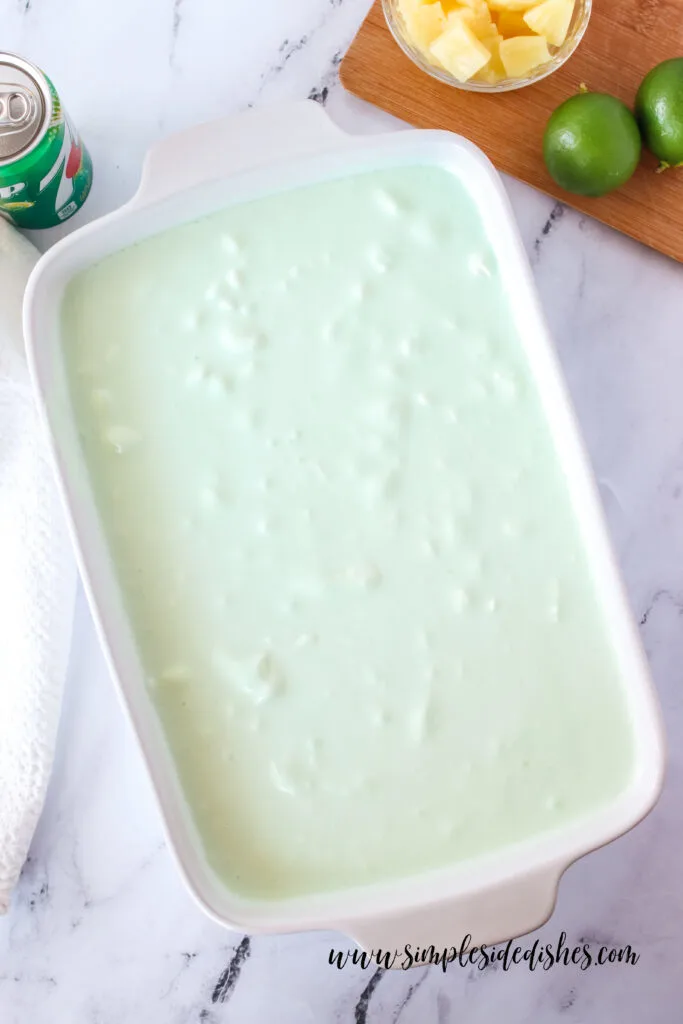 Can you make Vintage Lime Jello Salad the day before?
Yes! This dish works fantastic when made the day (or even 2 days) before because it gives you plenty of time to let it set. And that lets the flavors blend too!
Making it early also gives you more free time the day you are ready to serve it to get any other last minute items done.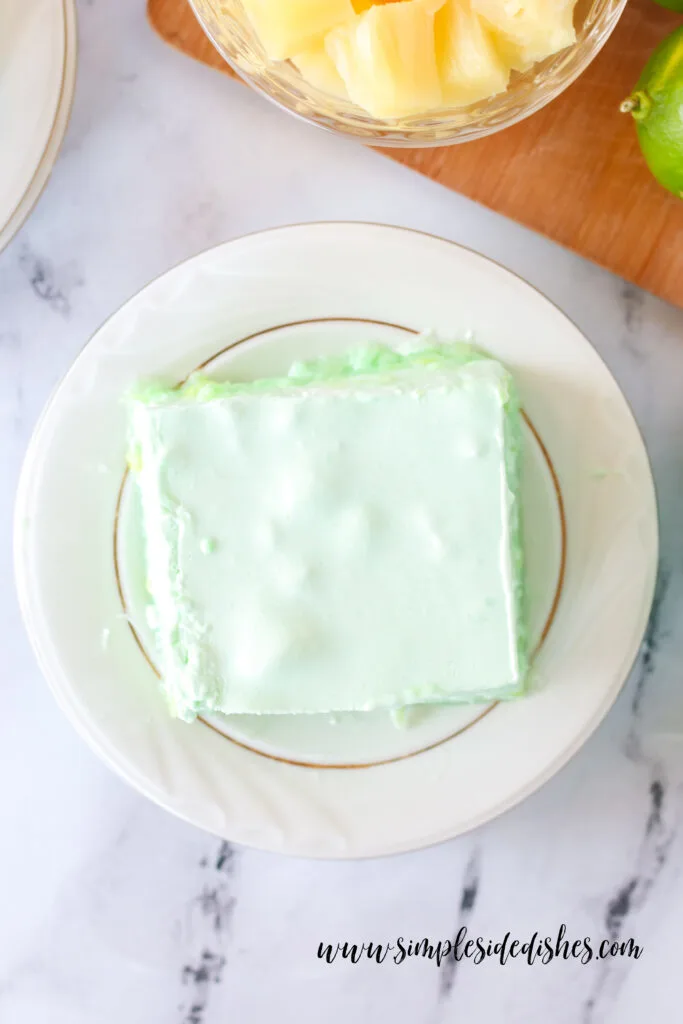 Is Vintage Lime Jello Salad a dessert?
That is your call. Since gelatins with fruit mixed in are in the salad category, this can be a sweet side dish, or you can serve it as a dessert.
Pro Tip: Make sure to throw some extra whipped cream on top if you're serving it as a dessert!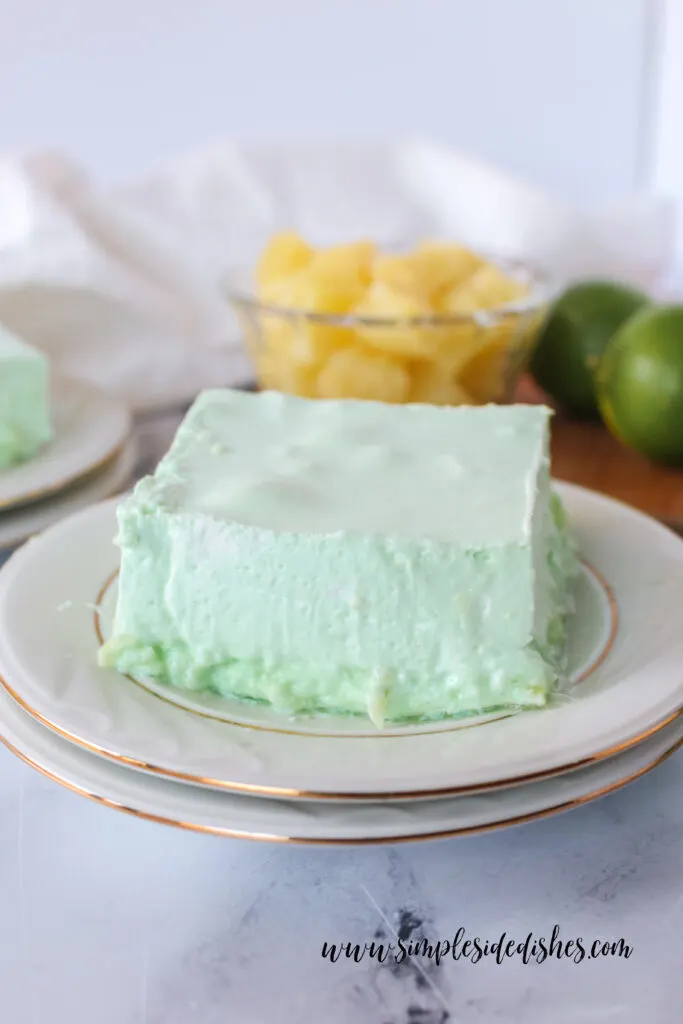 Can dogs eat Lime Jello Salad?
No. We do not recommend feeding your dog this dish.
Many flavored gelatins contain xylitol which can be harmful to dogs. Even if you purchase a gelatin without xylitol, this lime green jello salad has a lot of sugar and dairy products (cream cheese, whipped cream) and many dogs are lactose intolerant.
It's safer to skip this dish for your dog and just feed them something else.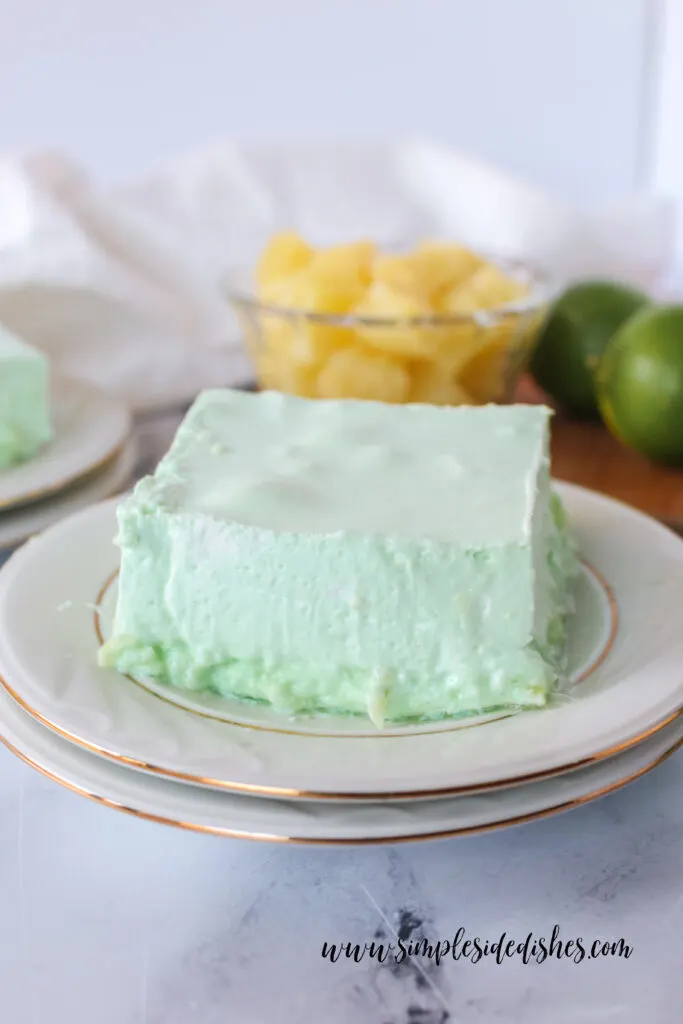 Can you eat Vintage Lime Jello Salad before a colonoscopy?
No. Before a colonoscopy you can only eat clear liquids.
Because of the whipped cream, cream cheese, and pineapple pieces, this dish is not clear. It is creamy and delicious, but choose something else before your procedure.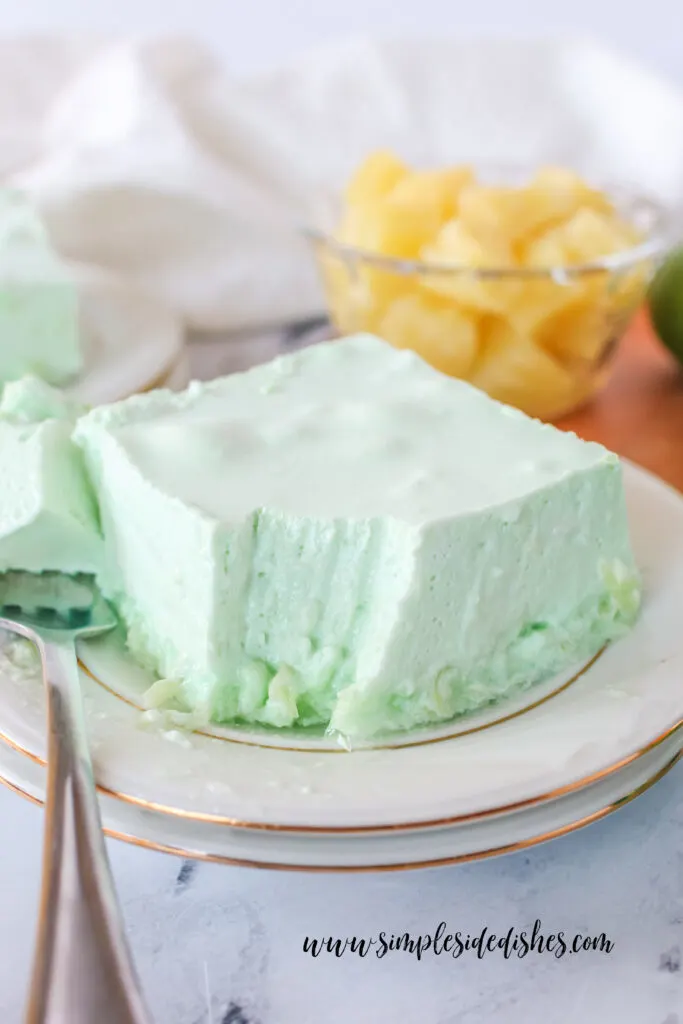 Fun and Easy Lime Jello Salad Variations:
Try making this in a gelatin mold like a wreath.
Use a bundt pan for a fun shape without a mold.
Serve it with fake flowers on top to look like a garden.
Use berries and whipped cream to decorate the top.
Pour it into individual serving containers before the final chill
Use it as a holiday side for any holiday you celebrate, but especially the green ones (Mardi Gras, St. Patrick's Day, Easter, Christmas, and more!)
More Jello Recipes You'll Love…
Whether you need a snack, a simple side, or dessert for a crowd, this Vintage Lime Jello Salad is perfect for any occasion.
Yield: 12 Servings
Lime Jello Salad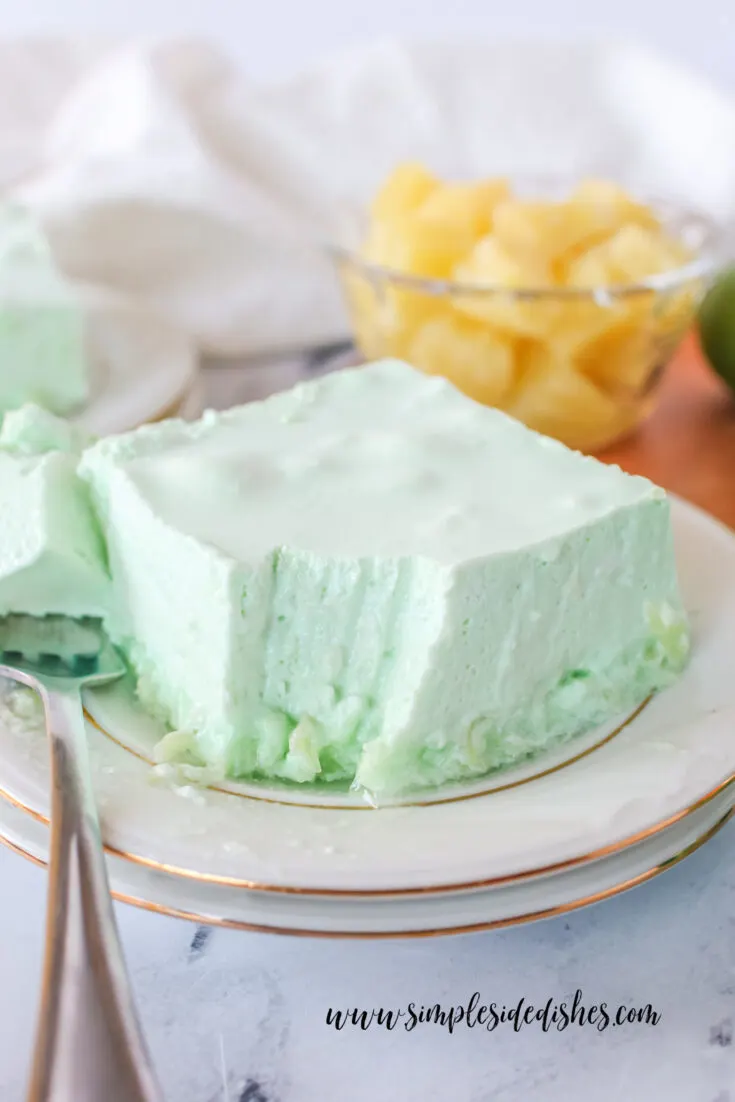 You will love this refreshing Lime Jello Salad. With only 5 ingredients (and water) it is so easy to make to serve a crowd.
Total Time
5 hours
10 minutes
Instructions
Bring water to a boil and add Jello packet - while in pot. Mix well.
In a separate bowl, blend cream cheese.
Add dissolved Jello mixture to cream cheese in 3 batches, blending with a hand mixer between each addition. This is to help prevent lumps.
Add 7 UP and mix by hand.
Chill until mixture resembles egg whites or slime, about 30 - 60 minutes - this will vary depending on the temperature of the fridge, so check every 15 minutes or so.
When the mixture is thick but soupy, add cool whip and mix well by hand.
Add crushed pineapple and mix well.
Pour mixture into a 9x13 serving dish or Jello mold.
Chill till fully set.
Nutrition Information:
Yield:
12
Serving Size:
1
Amount Per Serving:
Calories:

47
Total Fat:

1g
Saturated Fat:

1g
Trans Fat:

0g
Unsaturated Fat:

0g
Cholesterol:

2mg
Sodium:

22mg
Carbohydrates:

9g
Fiber:

0g
Sugar:

9g
Protein:

0g
Nutrition information isn't always accurate.