Strawberry Fluff Salad is so fast, easy, colorful, and tasty that it will surprise you how often you come back for more of the tasty pink fluff!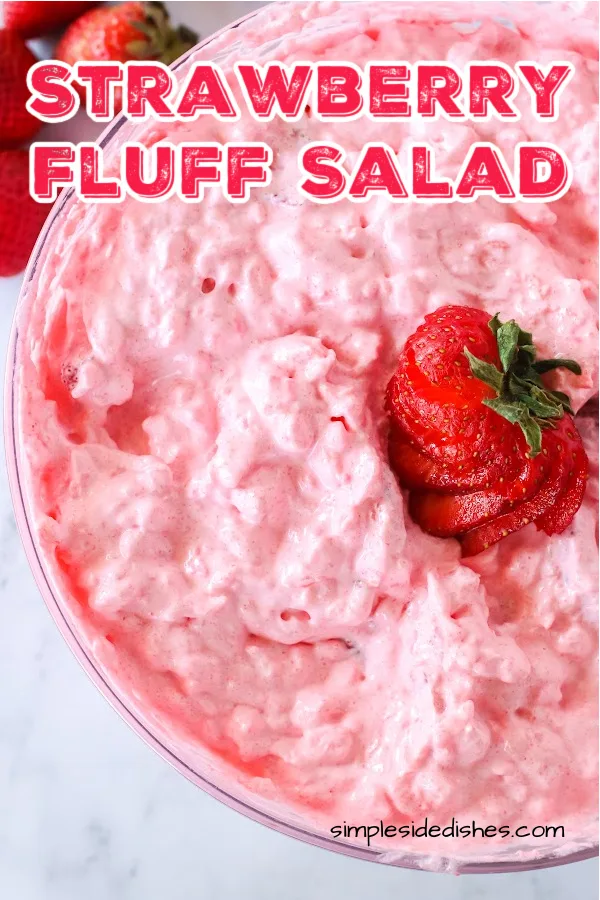 This recipe is one of those that people will love from their childhood or raise their eyes at the ingredients list because *spoiler alert* it uses cottage cheese.
If you're not much of a cottage cheese person, just know that once you mix it with a package of dry jello, it transforms from something many people hate to a delicious base for this easy strawberry fluff.
Even the loudest no cottage cheese people will change their mind once they have tried this fluffy pink mix!
What is Strawberry Fluff Salad?
Fluff is a kind of sweet jello salad made with jello and whipped cream and either pudding or cottage cheese. Cottage cheese adds a little protein and keeps the fluff not too sweet while pudding adds extra sweetness.
In this strawberry fluff recipe we use cottage cheese; that makes it healthier and not overly sweet.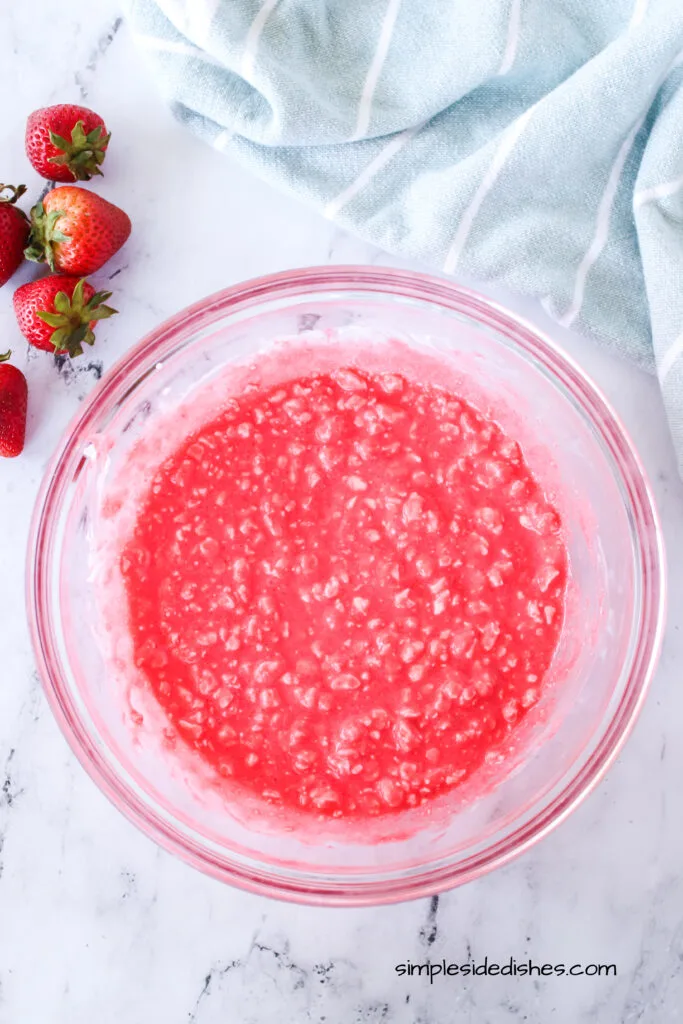 What is Strawberry Jello Salad made of?
Cottage Cheese: It doesn't add a strong flavor, but the cottage cheese adds perfect texture, mixes with the flavor of the jello, and keeps the dish fluffy
Package of Strawberry Jello: a dry package mix is all you need to add a bright pink color and flavor to the dish
Canned Crushed Pineapple: this adds a bright flavor and texture. Be sure it is well drained before mixing or you will get soup!
Cool Whip: light and fluffy sweet cream mixes perfectly with the fruit and makes the fruit flavors less intense
Fresh Strawberries: real sliced strawberries make this fluff sweet and delicious
Pro Tip: After taking the green tops off the strawberries, use an egg slicer to slice them to the same size quickly and evenly!
How to make Strawberry Fluff Salad:
Mix cottage cheese and dry jello mix.
Mix in the crushed pineapple.
Fold in cool whip and berries.
Chill, stir, and serve!
Pro Tip: to smooth out the texture of the cottage cheese, use an electric hand mixer or a whisk. Using a spoon will leave the cottage cheese texture as it came.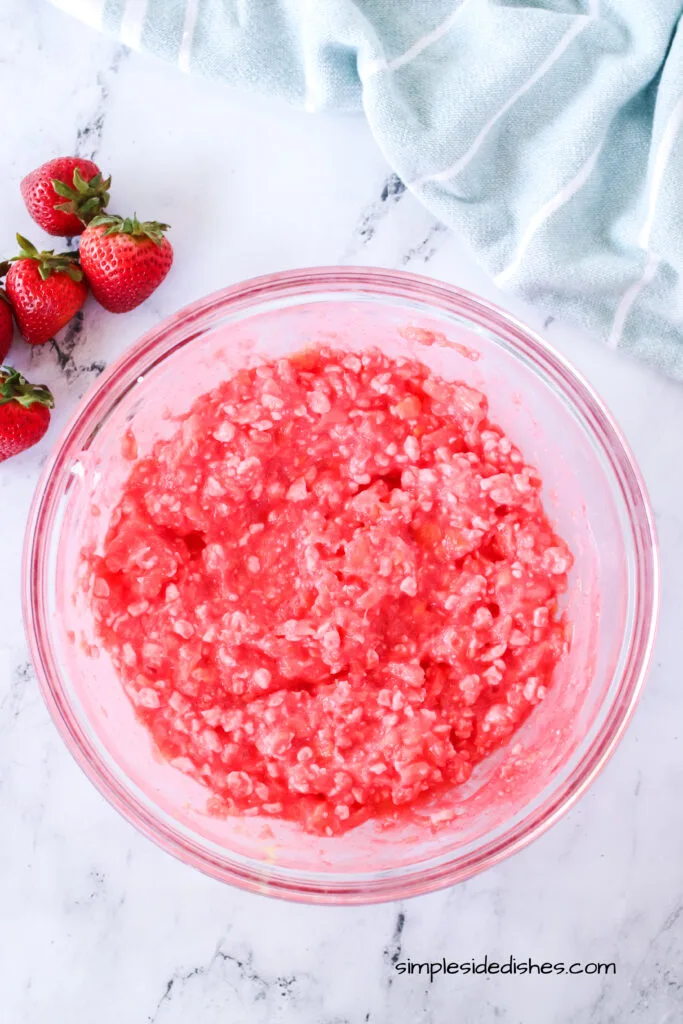 Is Strawberry Jello Fluff a dip, side, or dessert?
It can be all three of them! My family loves it as a side dish for a fun color pop with whatever meal we are eating. And when we call it a strawberry fluff jello salad, it makes it a side salad.
But it's so easy to put graham crackers or biscoff cookies on the side to dip in it for a fun pink spread.
It can also be served as an easy no bake dessert!
Pro Tip: For a fun and fancy presentation, try hollowing out fresh strawberries and filling them with this easy strawberry fluff!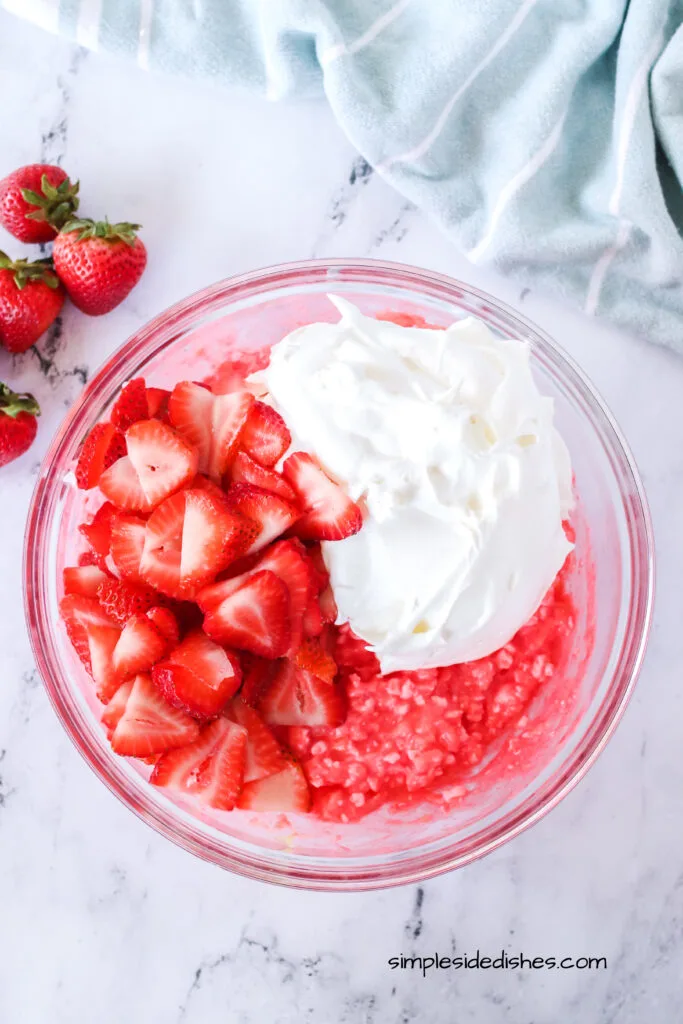 What to eat with Strawberry Jello Fluff?
If you're eating this for breakfast, snack or dessert, it works by itself perfectly.
But this dish also makes a great side for most potlucks and barbeques. The sweetness of the dish is a good balance for the tangy flavors you find in a lot of barbeque dishes.
Can you make Strawberry Fluff Salad ahead of time?
Yes! This dish needs to chill to let the flavors come together and the dry jello to completely dissolve. Just stir and put fresh strawberries on top to make it pretty before serving.
Pro Tip: For the fluffiest texture, do not make more than one day in advance of serving.
How long does Strawberry Fluff Salad last?
Not long at my house! If there are any leftovers, it's gone for the next snack or breakfast time.
We recommend eating within 2 days of making it for the best fluffy texture.
Can you freeze Strawberry Fluff Salad?
If you freeze this, it will not thaw the same way that it freezes. It will not be as fluffy or smooth once it has thawed.
But, you can freeze it into ice cube sized squares to throw in with your morning smoothies! It makes a great fruity, protein boost for your smoothies.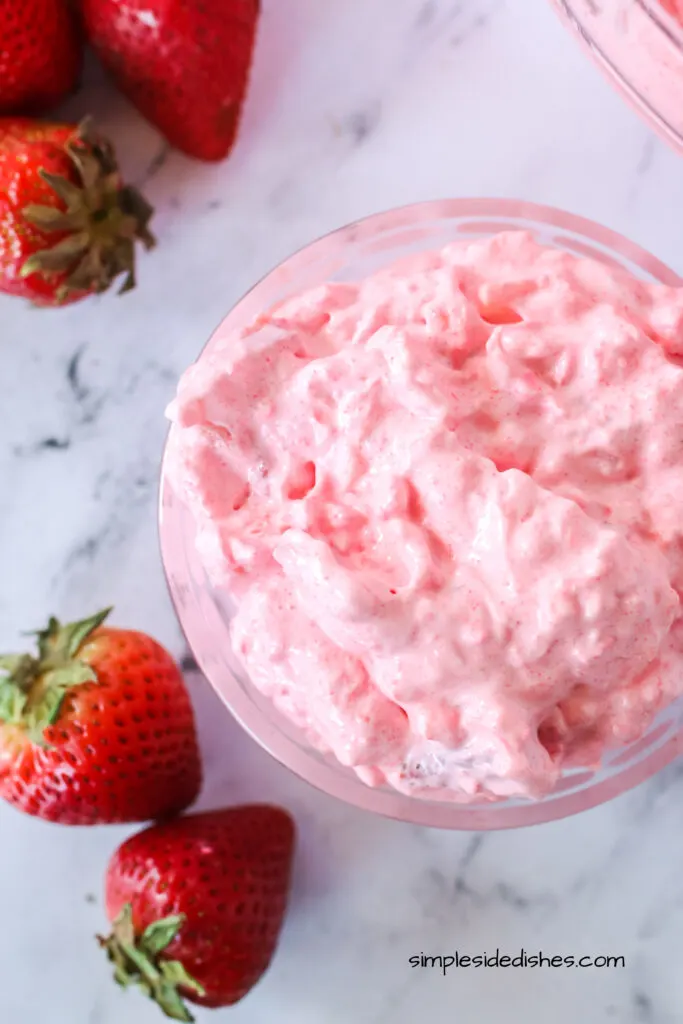 Is Strawberry Fluff keto?
There are no grains in this dish, but there is a lot of sugar. This dish probably does not fit in a true keto eating plan without seriously looking at the other items you have eaten that day.
Is Strawberry Fluff Salad gluten free?
Yes! All the ingredients in this recipe are naturally gluten free.
You might notice that the boxed jello doesn't have a certified gluten free rating. Instead it should say on the package that it is made in a place that also processes food with gluten.
Pro Tip: Ask someone who eats gluten free if they use foods processed in places with gluten before serving them.
Can dogs eat Strawberry Fluff?
Because of the sugar, dairy products, and the box of flavored gelatin, we do not recommend feeding your dogs this strawberry pink fluff recipe. All of those ingredients contain things that can cause intestinal issues for dogs.
Can you make Strawberry Fluff Salad with fresh whipped cream instead of Cool Whip?
No. Cool Whip has ingredients added that keep it fluffy no matter what you do to it.
Unless you are expert at making homemade whipped cream that adds gelatin so it doesn't sink, we do not recommend using fresh whipped cream in this dish. It will end up more soupy and less fluffy.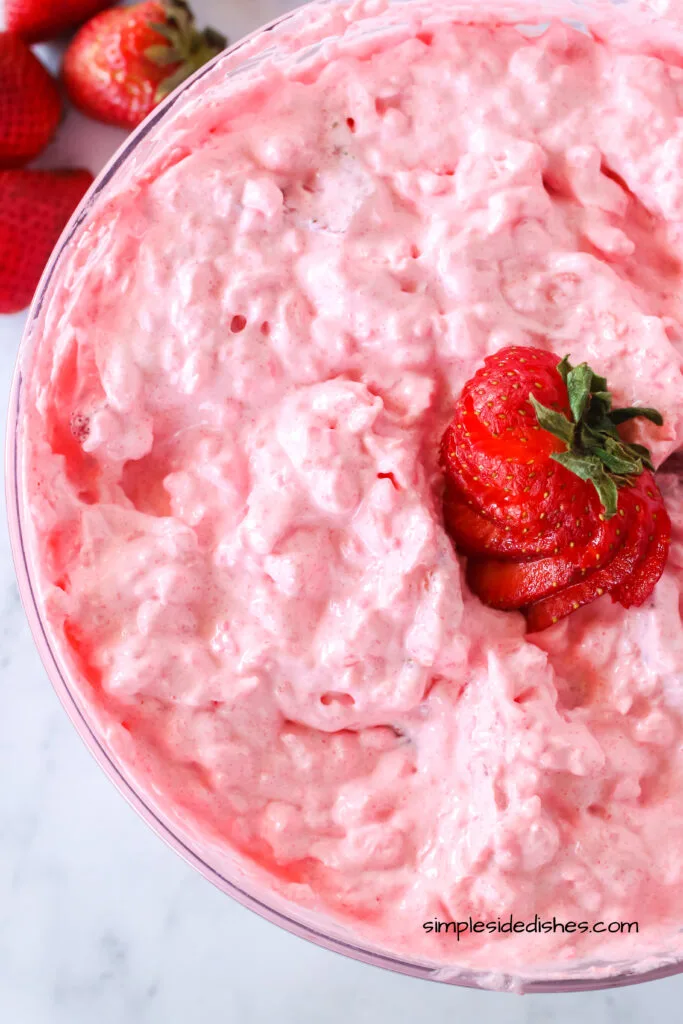 Can you make Strawberry Jello Fluff with frozen strawberries?
Sadly, no. Using frozen strawberries will make it runny and will give you soup instead of a strawberry fluff salad.
I don't have strawberry jello! Can I make Strawberry Jello Fluff with a different kind of jello?
The strawberry jello adds a color and a big part of the flavor in our pink jello fluff.
You could substitute a different flavor of red jello like raspberry, but it will also add a raspberry flavor. If you do use raspberry, then use fresh raspberries in place of the strawberries to make it a Raspberry Fluff recipe.
If you love this dish, experiment and see if you find one you like! This is my favorite, so I recommend sticking with strawberry jello and fresh strawberries.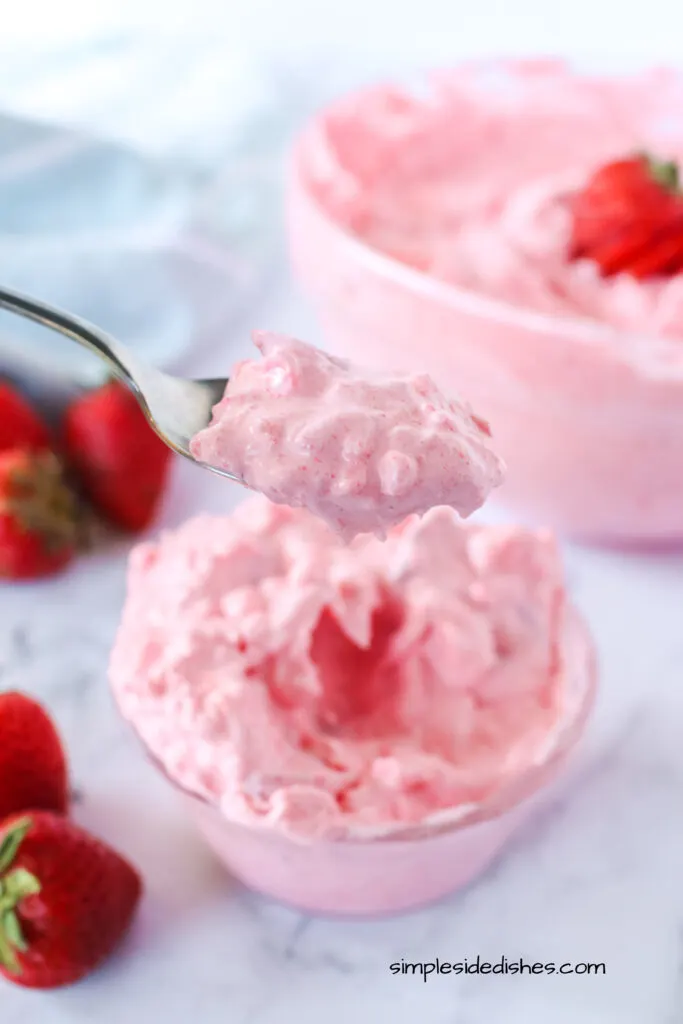 More Fruit Recipes You'll Love…
Whether you have always loved it or are just meeting it for the first time, I know you will love this no bake strawberry fluff Salad as a side, salad, or dessert!
Yield: 6 Servings
Strawberry Fluff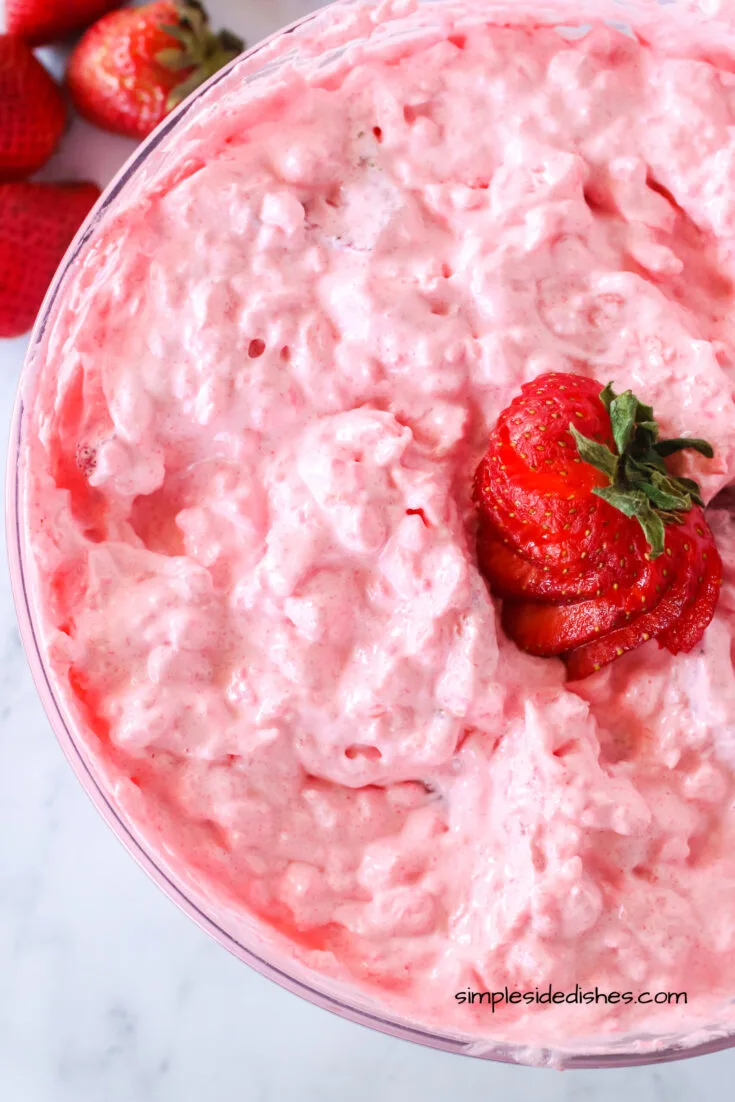 Strawberry Fluff Salad is fast, easy, colorful, and tasty that it will surprise you how often you come back for more of the tasty pink fluff!
Total Time
2 hours
15 minutes
Instructions
In a bowl combine cottage cheese and dry strawberry jello.
Mix well.
Add well drained pineapple and mix again.
Fold in cool whip and fresh strawberries.
Refrigerate until chilled, stir again and serve.
Nutrition Information:
Yield:
6
Serving Size:
1
Amount Per Serving:
Calories:

49
Total Fat:

2g
Saturated Fat:

1g
Trans Fat:

0g
Unsaturated Fat:

1g
Cholesterol:

5mg
Sodium:

48mg
Carbohydrates:

7g
Fiber:

1g
Sugar:

6g
Protein:

2g