This oven roasted acorn squash is fast, easy, hands off, and so perfectly tasty you will use it as a simple side as often as you can.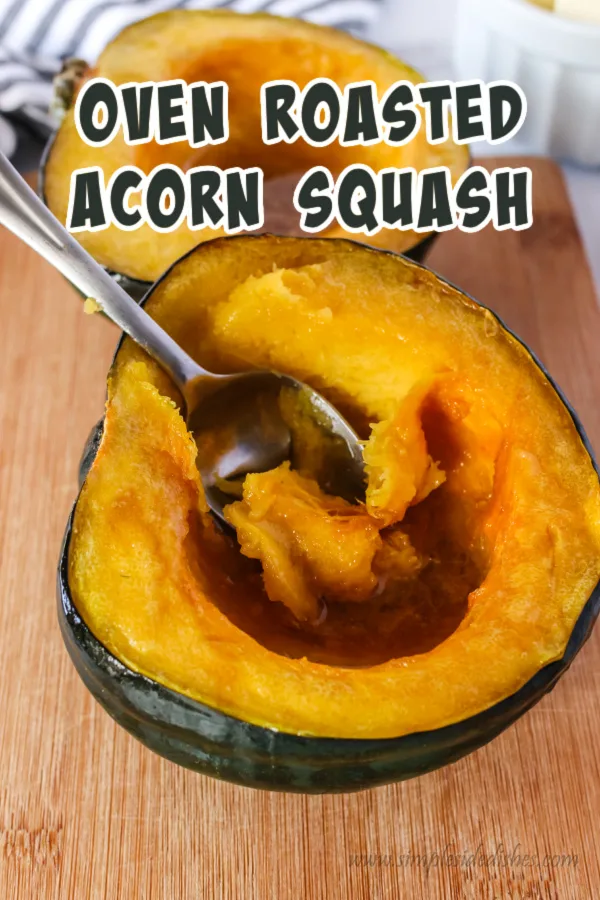 I really love roasted squash. Roasting squash always gives you a perfectly delicious side dish that is full of flavor, nutrients, and it is so easy.
The nice thing about acorn squash is that it is smaller than other winter squash, so it cooks faster. Which means it can get on your table faster for dinner.
Really, roasting acorn squash halves is one of the fastest prep time recipes I have ever given you.
So if you need something to throw together fast while you do other things, this is the recipe for you.
As a bonus, you also get a perfectly delicious packed with vitamins side dish that will look like you put a lot of work into it, but really you had time to work on other things.
Have I convinced you about how easy roast acorn squash is yet?
There are only three ingredients and three steps to get this simple side on the table. A flavor packed side that really is so simple anyone can make.
What do you need to make oven roasted acorn squash?
Acorn Squash: this perfectly nutty squash looks like an oversized acorn. It will be dark green with some patches of orange when you find it with other squash
Brown Sugar: the molasses in the brown sugars goes so well with the nutty flavors of the acorn squash
Butter: butter makes everything taste better. It's also a perfect oil for roasting squash in the oven.
Pro Tip: When choosing an acorn squash, you want one that is heavy for its size, has no soft spots or deep cuts in the skin, and is dark green. It will be orange where it was sitting on the ground, so a mix of those colors is fine.
How to roast acorn squash in the oven:
Cut open squash and remove seeds.
Combine butter and sugar, brush inside squash, and pour extra into the middle of each squash half.
Bake until tender and serve hot!
Pro Tip: Save the seeds! They can be roasted and made into a great snack or salad topping later.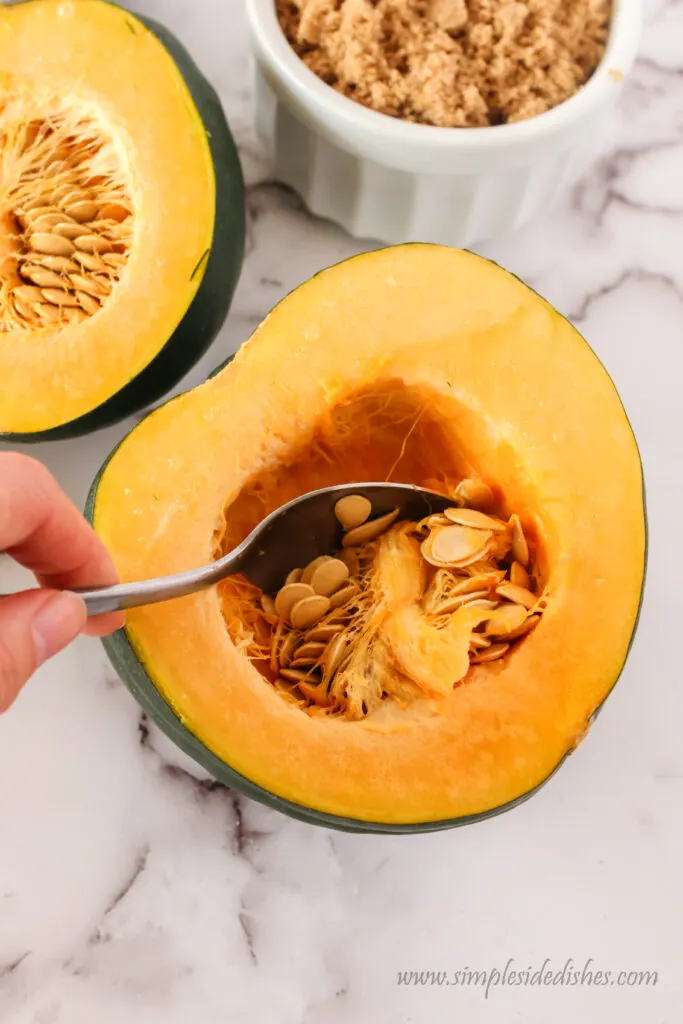 How long to roast acorn squash:
In my oven roasted acorn squash recipe I suggest cooking it for 30 minutes in the oven. But the real answer is you want to cook it until it is fork tender.
Pro Tip: Fork tender means you can take a fork, press it into the flesh and not have any pressure or popping to get the fork into the squash. It is so tender that a fork easily pierces it.
Can you eat the skin of oven roasted acorn squash?
Yes! Winter squashes have hard skin which is why they can last so long after harvesting. But when you roast winter squash in the oven, it softens the skin which makes it so you can eat it easier.
The skin has a lot of nutrients and antioxidants too which makes it even healthier for you!
Can I reheat oven roasted acorn squash?
Yes! If you have leftovers you can reheat them in the microwave until warm, in the oven or toaster oven until heated through, on a skillet on the stove, or if you prefer you can even eat the leftovers of this roasted acorn squash recipe cold.
Can you roast acorn squash seeds?
Yes! After you remove the seeds for this oven roasted acorn squash, save them. Roasted acorn squash seeds will taste like roasted pumpkin seeds.
Simply separate the seeds from the pulp, rinse them, then roast with oil until golden brown. They are a great healthy and tasty snack.
How to cut an acorn squash:
Acorn squash are shaped like an acorn. Which means the stem side is more flat than the pointy side. But the stem is hard to cut through.
So that gives us two different options for cutting your acorn squash in half.
Chop off the entire stem by cutting off the top ¼-½ inch of your acorn squash. Then put your squash with the cut flat side down on your cutting board so it will not move and cut it in half.
You will cut it in half like an avocado. Set your whole acorn squash on the cutting board and start with your knife facing the stem. Follow a groove and push your knife down until you get to the hollow center, then rotate your squash cutting through to the center until you get back to the stem on the other side. Then holding each side of the squash twist until the halves come apart with the stem connected to one of the halves.
Both ways will get it cut in half. One slices off some of the flesh, but both are simple ways to get your squash cut in half.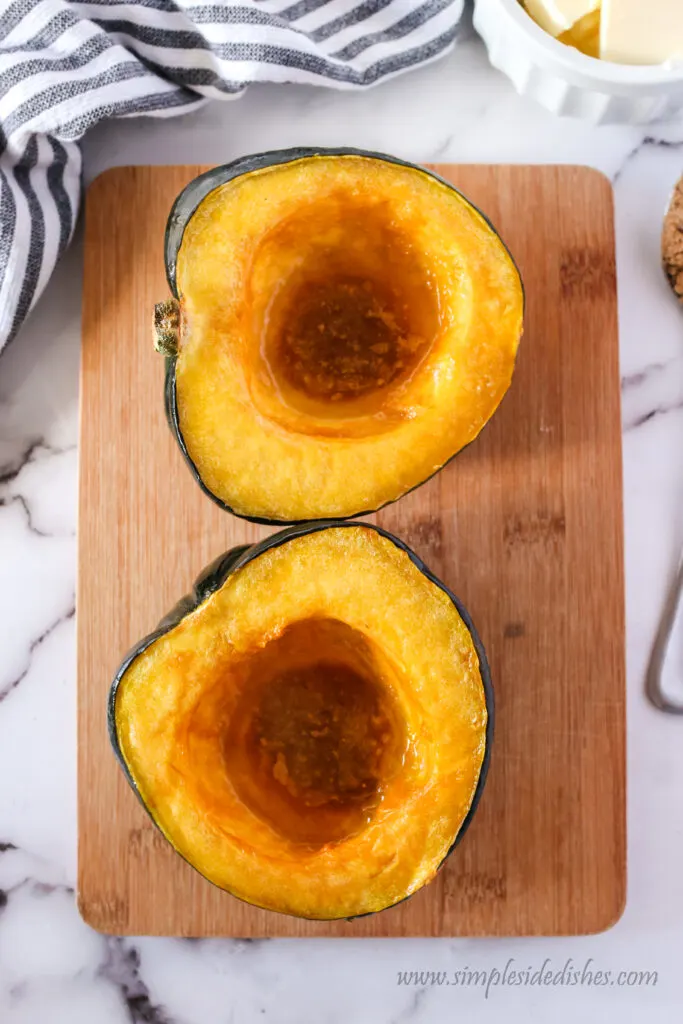 Is oven roasted acorn squash healthy?
Yes! Acorn squash is full of nutrients. It has vitamins in the skin and in the flesh of the squash. It is also a great source of antioxidants which help the body in so many different ways.
This simple side is really a great healthy option for everyone you serve it to.
If you are looking for a fast, easy, and so tasty simple side, this oven roasted acorn squash is the perfect one for you. With just three ingredients, three steps, and 35 minutes you can get it on the table ready to eat.
Yield: 2 Squash Halves
Oven Roasted Acorn Squash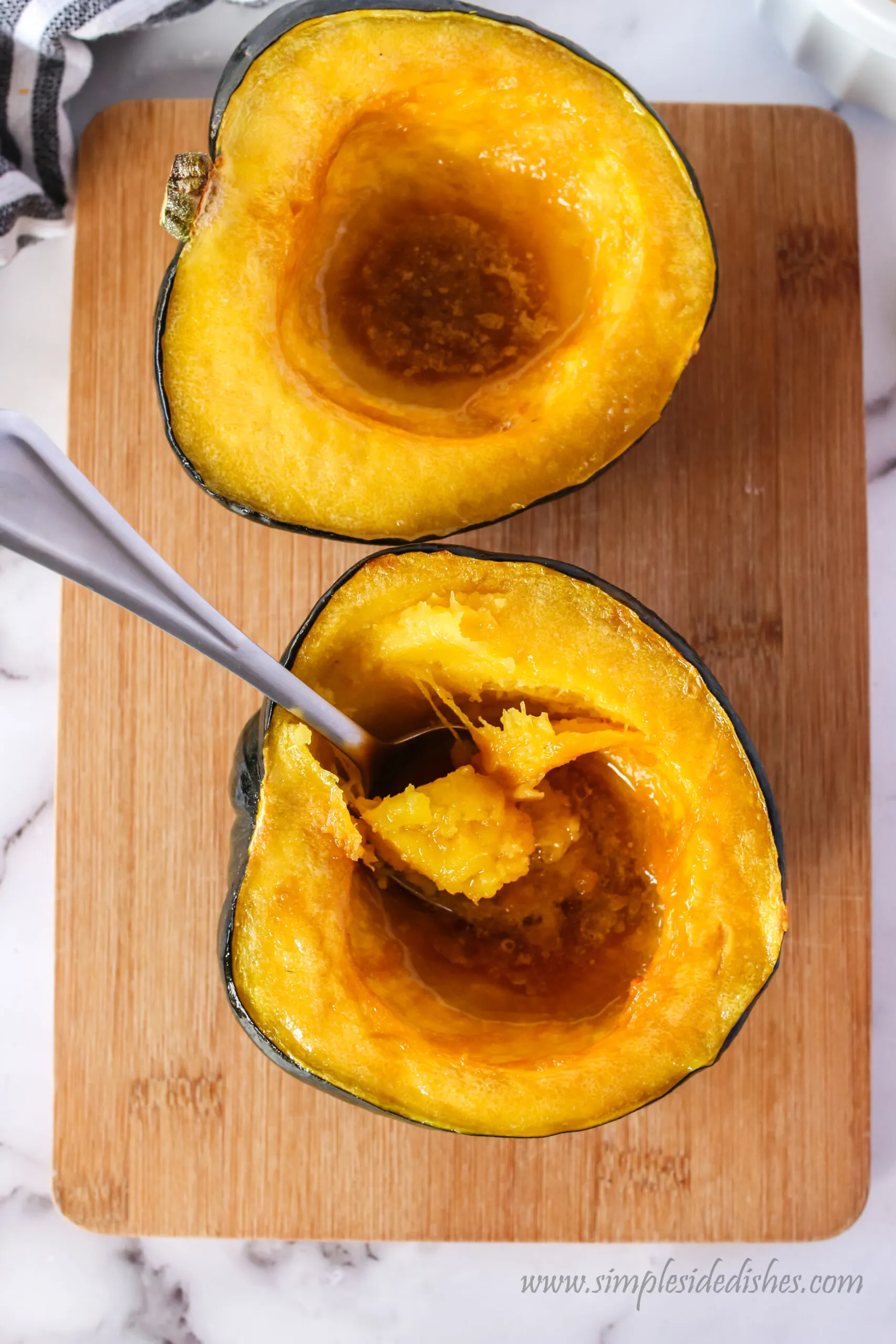 This oven roasted acorn squash is fast, easy, hands off, and so perfectly tasty you will use it as a simple side as often as you can.
Ingredients
Instructions
Preheat oven to 400*F
Slice acorn squash in half
Scoop out the seeds and discard seeds or save to roast later.
In a small bowl, combine melted butter and brown sugar.
Brush butter mixture inside each acorn squash.
Pour remaining butter in the center of each acorn half.
Bake in the oven for 30 minutes, until tender.
Serve hot. Skin can be eaten.
Nutrition Information:
Yield:
2
Serving Size:
1
Amount Per Serving:
Calories:

180
Total Fat:

12g
Saturated Fat:

7g
Trans Fat:

0g
Unsaturated Fat:

3g
Cholesterol:

31mg
Sodium:

97mg
Carbohydrates:

20g
Fiber:

5g
Sugar:

5g
Protein:

1g