This cashew broccoli is a perfect side salad when you want a vegetable with a lot of flavor and extra protein. It comes together so quickly too!
Some people love broccoli. Some people only eat broccoli if it has a great dressing mixed with it.
Cashew broccoli is the answer for both of those people who live in the same house.
If you are a broccoli lover looking for a new way to eat your broccoli, this is an easy and fun way to change up your broccoli routine.
If you are looking for new flavors to smother your broccoli with, this cashew broccoli sauce is a nice variation from other broccoli salads.
Basically you take steamed broccoli and mix it with roasted cashews and a tasty soy sauce dressing. Doesn't that sound delicious?
It's a really easy way to have a plain side of steamed broccoli become a delicious garlic cashew broccoli salad.
What is in cashew broccoli?
Whole Unsalted Cashews: these are the star of the dish! They add texture, protein, and great nutty taste to the dish
Broccoli: you will need a whole head of broccoli since it is the main vegetable in this dish
Butter: this will give flavor and be the main oil in the sauce
Garlic: minced garlic will add flavor to the sauce, especially after being toasted in melted butter
Brown Sugar: this sweetens the sauce and helps it stick to the broccoli
Soy Sauce: this adds salt and balances the flavors of the sauce
White Vinegar: you need this acid to work with the soy sauce and sugar in the sauce so it isn't too salty or sweet
Black Pepper: this adds a peppery hint in the sauce
Corn Starch: this thickens the sauce so it glazes each piece of broccoli better
Water: this mixes with the corn starch so you don't get lumps of corn starch in your sauce
How to make cashew broccoli:
Bake cashews then let them cool.
Cut and steam the broccoli.
Melt butter, toast garlic, and boil sauce.
Thicken sauce with corn starch and add chopped cashews.
Put broccoli in a serving dish and pour sauce over.
Mix and serve!
Can I use frozen broccoli to make cashew broccoli?
Yes! The nice thing about frozen broccoli is that it has already been washed, chopped, and steamed. So you can skip those steps and just heat the broccoli and make the sauce.
Pro Tip: When using frozen broccoli be sure to choose whole broccoli florets. Chopped broccoli will give you a lot of diced stems instead of pretty heads of broccoli.
Can I use salted cashews to make cashew broccoli?
Yes! But make sure that if you use salted cashews you use a low sodium soy sauce. The extra salt from the cashews can overpower the dish if you don't remove the salt somewhere else.
What to serve with cashew broccoli:
Chicken: grilled, teriyaki, rotisserie, and even strips go really well with this dish.
Rice: plain, fried, turmeric, and wild rice all go great with broccoli and cashews
Steak: grilled whole steak or sliced into strips, broccoli is a great friend to steak at the table.
Vegan: I like this with sauteed tofu, roasted garbanzo beans, sweet potatoes, and many other vegetarian courses. This cashew broccoli goes great with a lot of flavors.
Can dogs eat cashews?
Yes! Cashews are high in fat and in protein and are a great every once in a while snack for your dog. Be careful not to feed your dog every nut, but this one is safe for your dog to eat.
Pro Tip: If you want to feed your dog the same food as you, skip the sauce in this cashew broccoli. You want to avoid too much sugar and salt, and while it isn't too much for a human, it can be too much for your dog to digest at once.
Instead feed your pup broccoli (raw or steamed) and unsalted cashews (raw or roasted).
Are cashews good for you?
Yes! Cashews have all kinds of different nutrients and antioxidants which help your body do all kinds of different things.
They also have almost the same amount of protein in them as meats for the same weight. Also the fats in cashews are unsaturated which is the good kind of fat for your body.
Where do cashews come from?
Cashews are native to Brazil, but they have been taken around the world and now most of the nuts we buy were grown in Africa or India.
Are cashews keto?
Cashew nuts have a higher amount of carbs in them than most nuts which makes them hard to fit into a keto meal plan.
If you love cashews, you can make it work and still keep your carb ratios in balance, but cashews will use a lot of the carbs you have each day.
Is cashew broccoli gluten free?
Yes! If you use gluten free soy sauce, this recipe is great for people who eat gluten free.
Is cashew broccoli vegan?
No. The way I wrote this recipe uses butter. To make it vegan you would need to substitute a different oil which will change the flavor of the sauce you pour over the broccoli cashew salad.
You could use coconut oil which will add a hint of coconut to the sauce, or you could use another cooking or dressing oil like olive oil which again will change the sauce flavors.
This cashew broccoli side dish is simple, and a really fun way to eat broccoli if you are looking for a simple way to get new flavors with a regular vegetable.
Broccoli Recipes You'll Love…
Yield: 6 Servings
Cashew Broccoli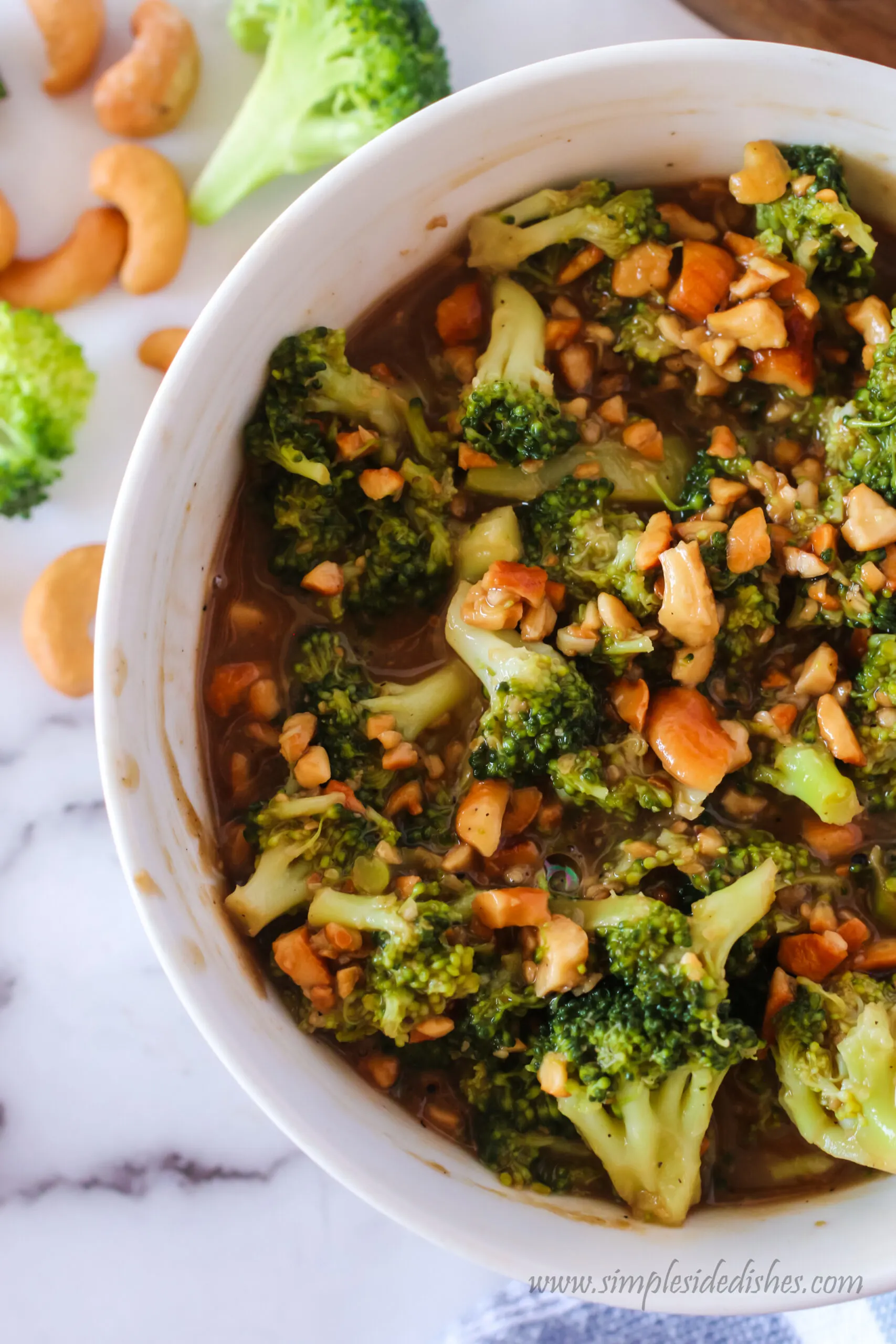 This cashew broccoli is a perfect side dish when you want a vegetable with a lot of flavor and extra protein.
Ingredients
Instructions
Preheat oven to 375*F
Place cashews on a baking tray and bake in the oven for 5-8 minutes. This is to bring out the flavor in nuts.
While nuts are cooking, chop broccoli into larger bite-sized pieces.
Remove nuts and let cool.
Place broccoli pieces in a pot with 1 inch of boiling water on the bottom.
Place a lid on the pot and cook for about 5 minutes. Broccoli should be tender crisp. The cooking time will depend on how big your broccoli pieces are.
While broccoli is cooking, in a skillet add butter and cook over medium heat until butter is melted.
Add garlic and cook for 30 seconds - 1 minute allowing flavors to pop.
Add brown sugar, soy sauce, vinegar and black pepper and bring to a boil.
Once the mixture comes to a boil, remove from heat.
In a small bowl add 1 teaspoon cornstarch and 2 teaspoons water. Mix well.
Add mixture to soy sauce and stir. Mixture should thicken.
Chop nuts into smaller pieces and add to sauce. Mix well.
Place broccoli in a serving bowl.
Pour sauce over the top and mix well.
Serve immediately.
Nutrition Information:
Yield:
6
Serving Size:
1
Amount Per Serving:
Calories:

90
Total Fat:

6g
Saturated Fat:

4g
Trans Fat:

0g
Unsaturated Fat:

2g
Cholesterol:

15mg
Sodium:

509mg
Carbohydrates:

8g
Fiber:

2g
Sugar:

3g
Protein:

2g