Whether you are ready for easy summer grilling or just looking for a great grilled vegetable, this grilled zucchini recipe is the perfect side dish!
Do you garden during the summer months? I try every year. And sometimes I get defeated because it feels like everyone can grow zucchini except for me.
Zucchini or green summer squash is one of those vegetables every gardener has a story about.
They have either doorbell ditched baskets of extra zucchini on their neighbors doorsteps, or have a story of a giant zucchini that can compete with their biggest fish story.
Even though I've not successfully grown zucchini myself, I still love it. There are so many different ways to enjoy it and everyone has their own favorite zucchini recipes. This one just happens to be one of mine. I've found this is the perfect way to eat a medium zucchini. Plus who doesn't like healthy recipes?
Whether you have zucchini envy like me, you grow too much zucchini, inherit it from an overwhelmed neighbor, or find it in the produce section, there are never too many ways to serve and eat this green vegetable.
And this grilled zucchini recipe is an easy side dish that will make the whole family reach for more.
What do you need to make this Grilled Zucchini Recipe?
Zucchini: this summer squash is the perfect one to grill. You'll want thin slices.
Kosher Salt: it really brings out the natural flavors of the zucchini, so don't skip it!
Black Pepper: this adds a light peppery bite to give the zucchini more flavor
Vegetable Oil: a little bit helps the zucchini not stick to the grill
Shredded Parmesan Cheese: this adds a sharp cheesy flavor without overpowering the zucchini.
Pro Tips:
Do not use powdered parmesan cheese. It doesn't have as sharp of a flavor, and it won't stick to the zucchini as well as shredded does.
Smaller Zucchini or medium-sized zucchini tend to hold together better when grilling. They have smaller seeds.
You could use extra-virgin olive oil instead of vegetable oil if you prefer the extra flavor.
How to grill zucchini:
With just a few basic steps, and simple ingredients, you can take your good zucchini and turn it into great zucchini!
Cut ends of the zucchinis, slice zucchini, and season each side. Preheat your grill to medium-high heat.
Oil grill grates of your outdoor grill then place zucchini on the hot grill and cook first side.
Flip and cook on the other side.
Remove and sprinkle cheese on top.
Serve!
Pro Tip: Do not substitute cheeses here. You really want the flavor of grilled zucchini parmesan to come out. Real shredded parmesan cheese will make a big difference in the end flavors.
How long to grill zucchini:
This really depends on how thick you cut your zucchini. When you are cooking zucchini on the grill, you are looking for good grill marks on each side.
You also want to make sure the zucchini is warmed through without being mushy.
If you cut your zucchini ⅓ inch thick as we suggest in this grilled zucchini recipe, it will take 6-8 minutes of actual time on the grill to cook your zucchini.
How to cut zucchini to grill:
Cut both ends off of all the zucchini.
Turn zucchini and slice zucchini lengthwise ⅓ inch thick.
Pro Tip: Don't be tempted to cut your zucchini in half before slicing lengthwise. While it might make it easier to control your knife, the smaller pieces are more likely to fall through the grates of your grill.
The best way is to take the biggest knife you have and while holding your hands up and over like a rainbow, place the knife directly under the rainbow and press the knife down and smoothly pull forward like you are vacuuming.
You will have better control of your knife and your fingers are safely out of the way and never directly underneath your knife blade.
Can I make grilled zucchini recipe into spears?
Yes! If you prefer grilled zucchini spears, use this same recipe. Just cut the zucchini into spears instead of slices. This really is a simple recipe that can be adapted to your lifestyle.
Pro Tip: To cut zucchini into spears, simply cut the ends off then slice the zucchini into long quarters. Cut it in half the long way then in half again and you have spears.
Do you grill zucchini with the skin on?
Yes! The skin has so many nutrients you definitely want to eat the skin for the most health benefits.
But also the skin gives a beautiful bright green color to the grilled zucchini slices.
Is this grilled zucchini recipe healthy?
Yes! Not only is this a great vegetable side dish, zucchini is full of vitamins and minerals that are important to a healthy diet. It is also a low carb option for one of your favorite vegetables and as mentioned before makes a great side dish.
In this recipe we also use parmesan cheese which is a sharp cheese with a lot of flavor. So you get a great cheesy flavor without needing to use very much.
Grilling is also a great way to add more flavor to your food without adding extra calories. Since this recipe is grilled, a vegetable, and uses parmesan, it's basically the perfect healthy side dish.
Can I feed my dog grilled zucchini?
Yes! Grilled zucchini is a very nutritious snack for your dog.
Just feed it to your pooch without the parmesan cheese on top, and go light on the salt. Dairy can upset your dog's stomach, and too much salt isn't good for them either.
Can I freeze grilled zucchini?
Yes! You can freeze this vegetable. Just know when you thaw it, the texture will be different than fresh zucchini.
Then adjust your grilling time to about 3 minutes per side. Be sure to have the skin side down when you are sprinkling parmesan cheese before serving.
Can I make grilled zucchini ahead of time?
No. This dish is really best served fresh.
When our grilled zucchini recipe sits out, it gets soggier. Making it fresh gives you the perfect balance between cooked through and still a good not mushy bite.
If you are looking for the best grilled zucchini recipe, you will love this one! It is easy, fast, and has the best flavors with the simplest ingredients.
Yield: 6 Servings
Grilled Zucchini Recipe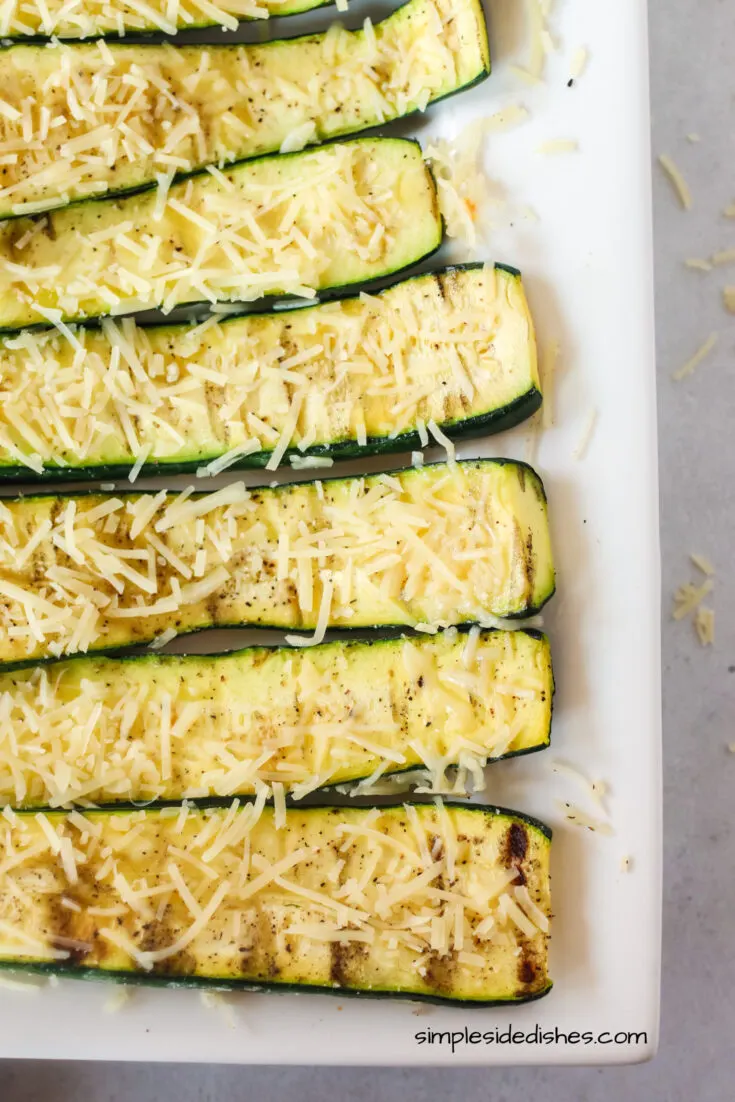 Whether you are ready for easy summer grilling or just looking for a great grilled vegetable, this grilled zucchini recipe is the perfect side dish!
Ingredients
Instructions
Cut the stem and end off of each zucchini.
Slice zucchini lengthwise ⅓ inch thick.
Lightly salt and pepper each side.
Heat grill to medium heat.
With a pastry brush, oil grates of the grill to prevent zucchini from sticking.
Lay zucchini out on oiled grill grates and cook for 3 - 5 Minutes.
Flip zucchini and cook for an additional 3 minutes, oiling grates as needed.
Remove from the grill and sprinkle parmesan cheese on top.
Serve immediately.