Creamy Pasta Salad is one of my favorite side dishes. It's cool, loaded with vegetables, easy to make, and looks so beautiful on the table!
I am a pasta salad lover. It's fast, easy, delicious, and it has pasta which keeps the kids happy.
This version I'm sharing today, is definitely the best pasta salad I make though. The simple ingredients are combined to make magic when covered with the homemade creamy pasta salad dressing.
With all the fresh vegetables, it is a perfect summer pasta salad too making it a family favorite recipe.
But the dressing is really what makes it delicious. It's cool, creamy, tangy, and has just the right kick of flavors to make it really special.
If you've never had cold pasta salad, or never had one that you like, you are in for a treat today. This one will turn any non pasta salad eaters into believers.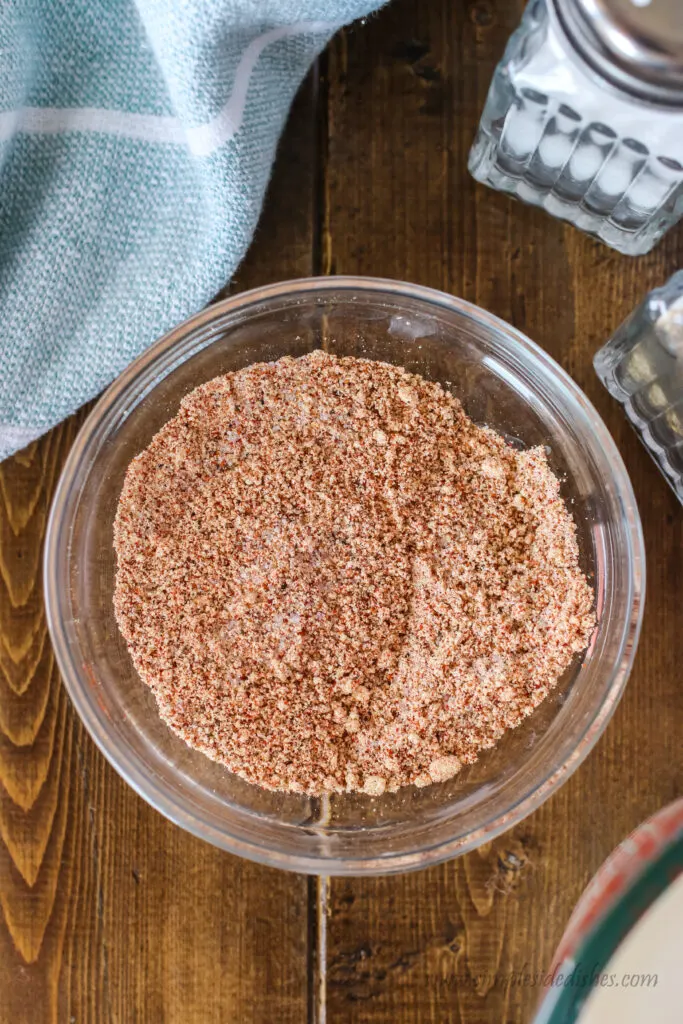 What is Creamy Pasta Salad?
It is a cold pasta side dish loaded with vegetables and tossed with a delicious creamy dressing that gets better the longer it sits.
It is perfect as a side dish you can take with you to events, and it also is a great make ahead dish and eat it through the week.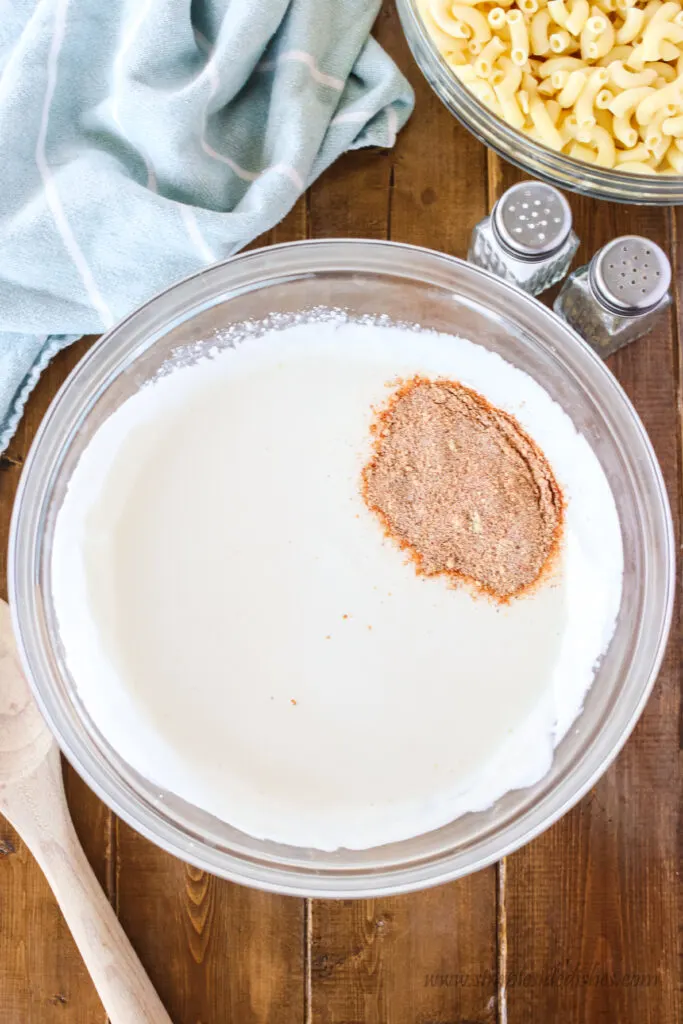 Creamy Pasta Salad Ingredients:
Salt: salt always makes everything taste better
Dry Mustard Powder: this adds a slightly spicy mustard kick to the dressing
Garlic Powder: the simplest way to add garlic to your dish
Paprika: this adds a Smokey flavor that will coat each bite of salad
Onion Powder: an easy way to get great onion flavor in every part of the dressing
Black Pepper: pepper balances the mustard, garlic, and paprika to give flavor to the dressing
Elbow Macaroni: the curves and holes in this pasta make it perfect for catching extra dressing instead of letting the dressing fall to the bottom of the dish
Mayonnaise: this is the creamy dressing base
Sour Cream: this mixes into the dressing making it lighter and adding a delicious tang
Milk: this thins out the dressing so it will not be as thick
Onion: be sure this is minced very small or you might get large pieces of raw onion which will take over the other flavors of the salad
Red Bell Pepper: diced into beautiful red cubes this adds a sweet vegetable taste
Yellow Bell Pepper: diced into cubes it gives a yellow color and fresh flavor
Celery: diced to give a crunch and color to the salad
Carrots: these are also diced to give crunch, flavor, and color to the salad
Pro Tips:
Green Pepper, Red Onion, Cherry Tomatoes, Black Olives, Green Onions and sweet corn can all be substituted or added to really kick this creamy macaroni salad recipe up a notch.
You can substitute your favorite pasta for the macaroni or use bow tie pasta. My kids love just about any cooked pasta in this dish.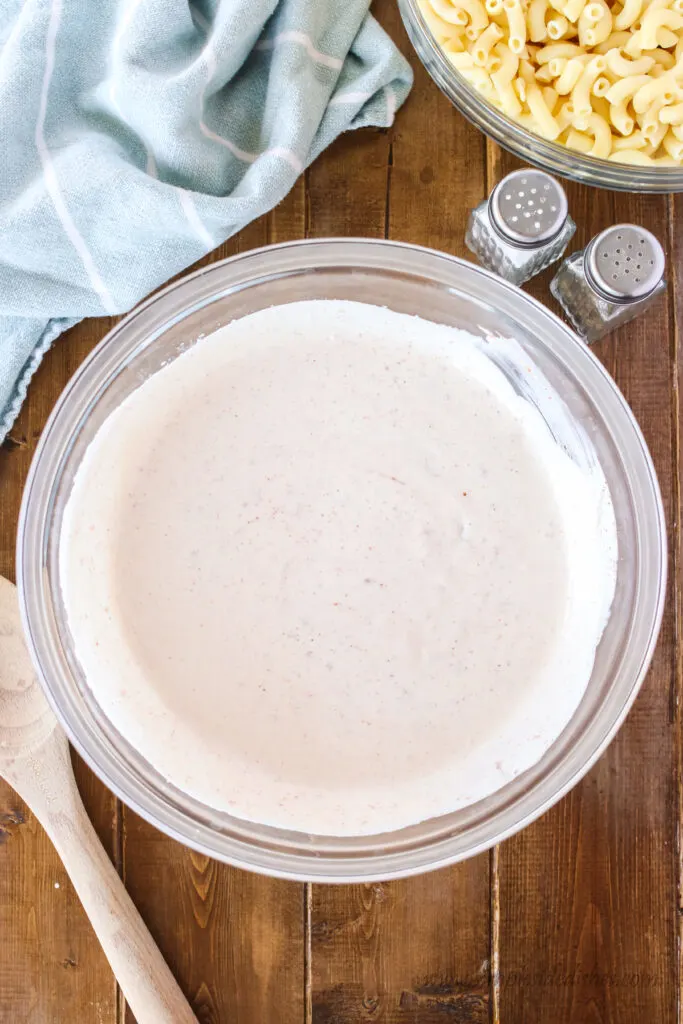 How to make this Creamy Pasta Salad Recipe:
Combine dry seasonings in a small bowl.
Cook pasta according to package directions or to al dente and drain pasta.
Mix creamy dressing and add seasoning mix to a large bowl.
Add macaroni pasta then mix in vegetables.
Chill and serve!
Pro Tip: While the pasta is cooking, chop all your other vegetables so they are ready to mix in once the pasta is done.
Do you have to rinse your pasta to make Creamy Pasta Salad?
Rinsing pasta is such a hot argument between people. Some insist on rinsing pasta, and others argue it should never be done.
When pasta is cooked and drained, it has a starchy film on it. The starchy film will help warm sauces stick to the pasta pieces if you're making a traditional pasta meal.
However, other people argue that when you are making cold dishes, the pasta needs to be rinsed in cold water to stop it from cooking and to rinse off the starch so the pasta doesn't stick together and get clumpy or gummy.
Personally, I never rinse my pasta and always have perfect pasta salad. Once you add in the creamy mayonnaise dressing, I haven't seen much improvement by taking the time to rinse the pasta.
Pro Tip: If you feel your pasta is too sticky, go ahead and rinse it before making this creamy pasta salad. Some brands and types of pasta will be stickier than others.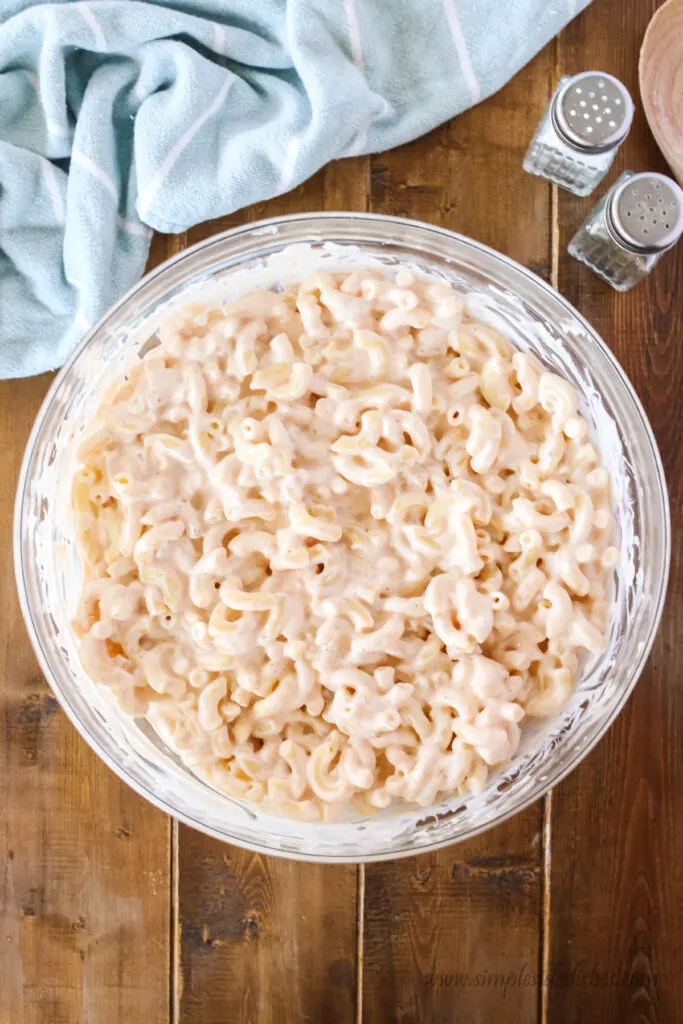 What goes with Creamy Pasta Salad?
This is such a great dish because it goes with so many easy meals. For a main course I'd serve it with Smoked Pork Butt or Sweet Pork Recipe. We've eaten this with Air Fryer Hot Dogs and Pineapple Chicken Kabobs.
Put it alongside any meat for a beautiful addition of color, vegetables, and cool flavor.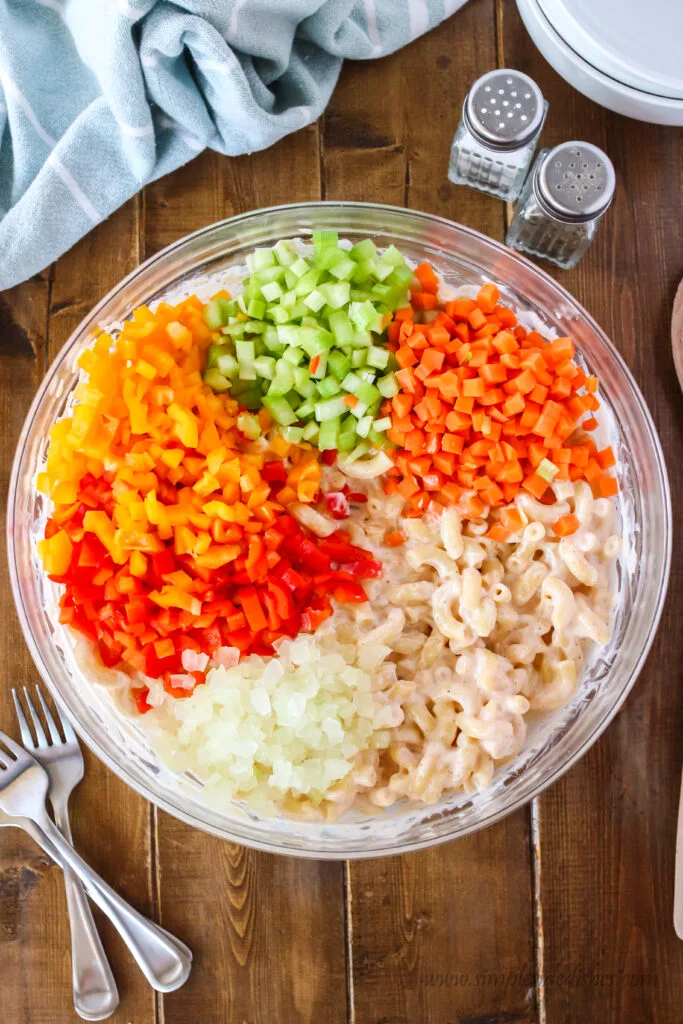 Is Creamy Pasta Salad healthy?
You know how I feel about this question. Only you can answer that based on your personal healthy definition.
While this does have a creamy dressing, it also has lots of vegetables mixed into every bite. And my children are more likely to eat vegetables in this easy pasta salad recipe than to eat vegetables on their own.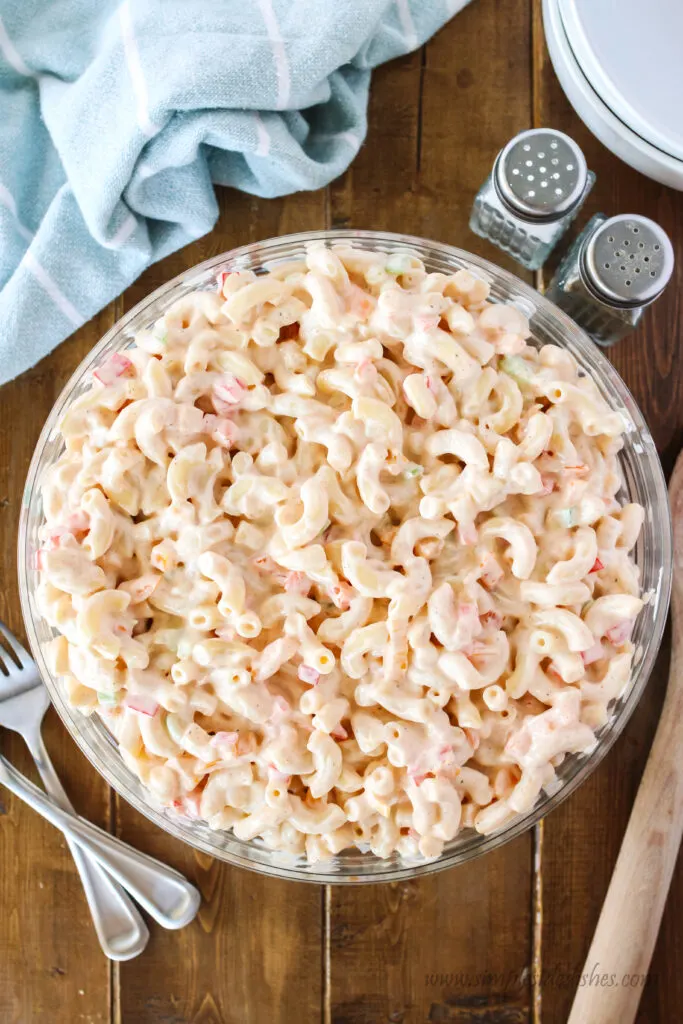 Can you make Creamy Pasta Salad ahead of time?
Yes! This is great for making the day before you need to eat it. Just remember to stir before serving to mix in all the dressing that settled on the bottom while in the fridge.
How long does Creamy Pasta Salad last in the fridge?
This will store in the fridge for 5 days which makes it perfect for making on the weekend and then eating each day through the week. We recommend storing it in an airtight container for maximum freshness.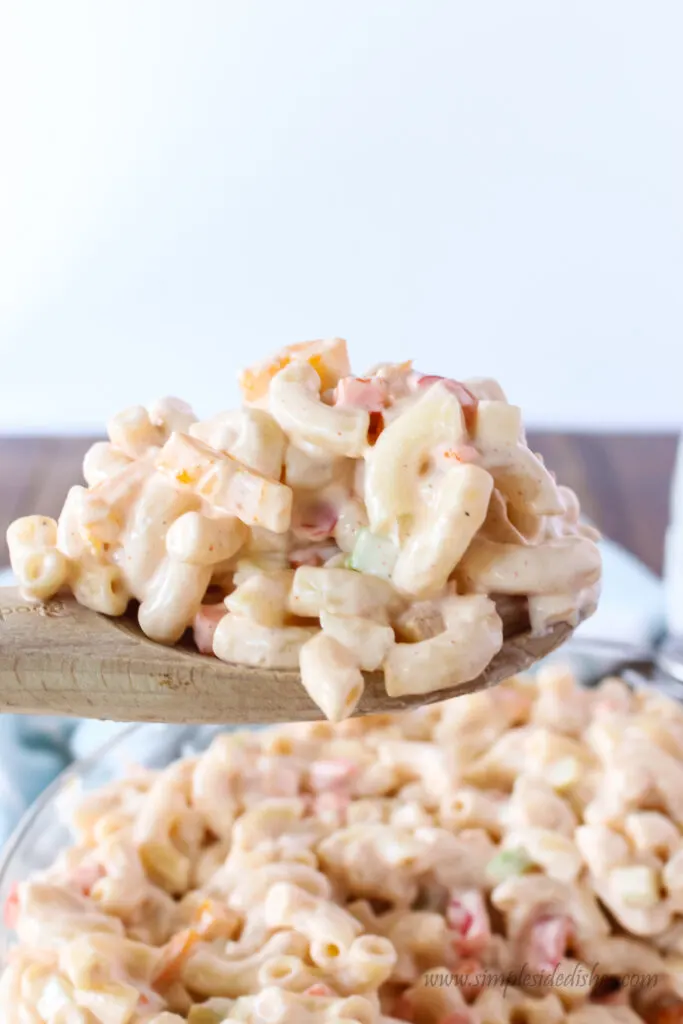 Do I need to worry about how long Creamy Pasta Salad is out of the fridge?
Yes. The tasty creamy dressing is made with dairy ingredients which grow bacteria faster when left at room temperature for more than 2 hours.
If you are serving this outdoors in warm weather, keep it chilled with ice and in the shade. Otherwise be sure to keep it in the fridge until you are ready to serve it.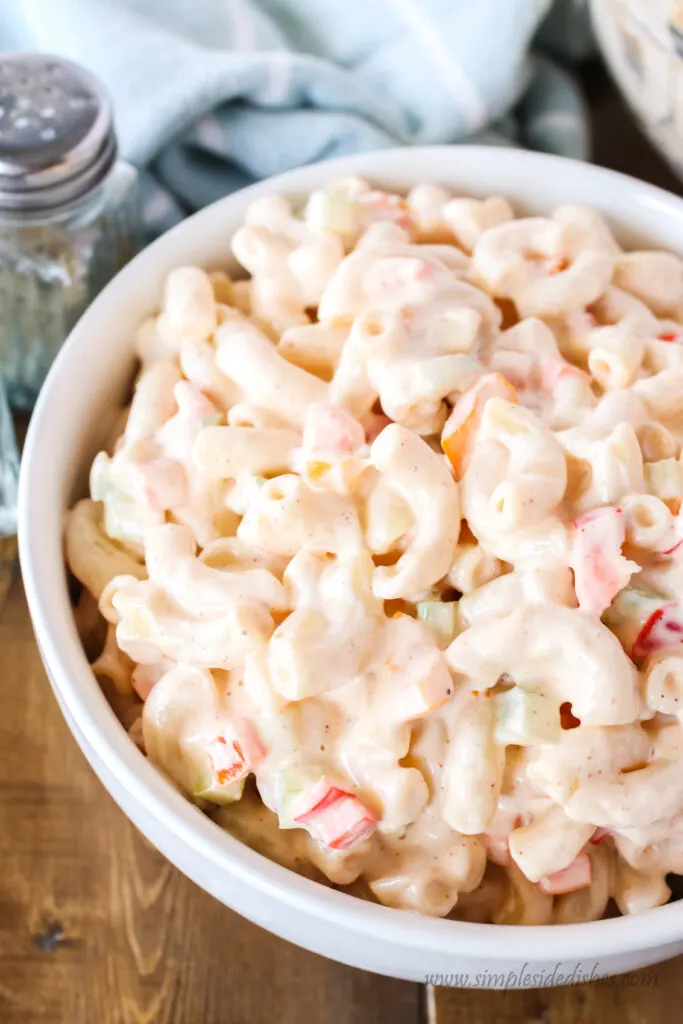 Can you freeze Creamy Pasta Salad?
Some people freeze it, then just thaw in the fridge, stir and serve. The fresh bell peppers do not thaw very well so the texture changes when you freeze and thaw it.
It's also such an easy pasta salad to make that for best results I recommend eating it fresh, not frozen.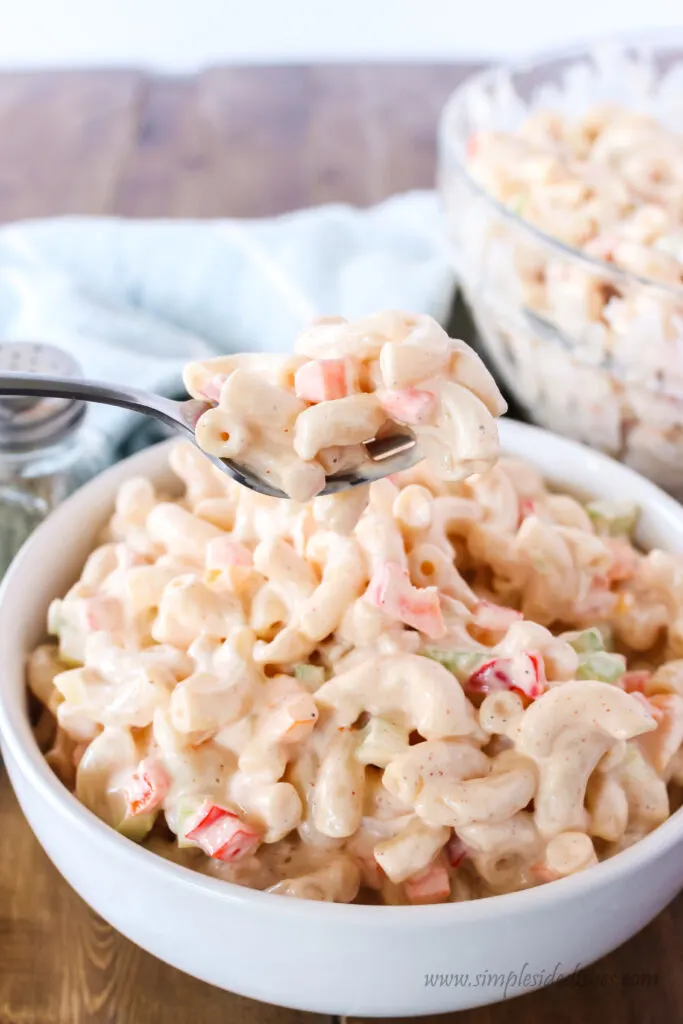 Whether you need it for easy lunches, dinner tonight, or a group feast, this creamy pasta salad is the perfect side dish when you want cool, creamy, tangy flavors.
Yield: 8 Servings
Creamy Pasta Salad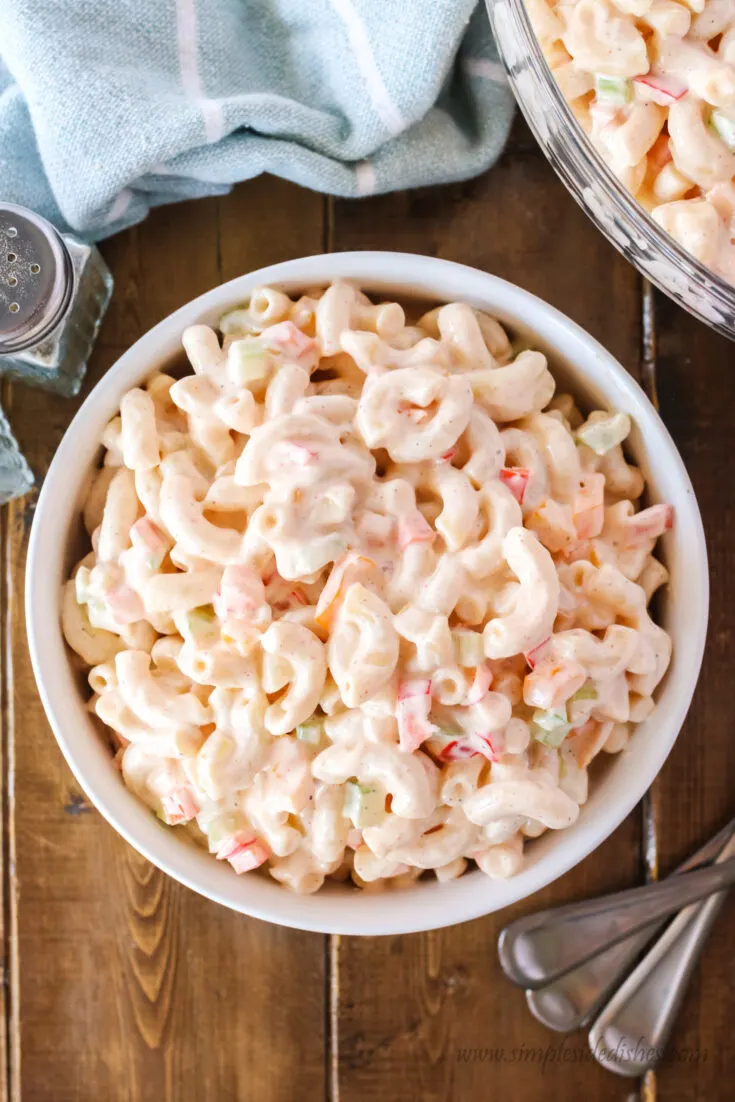 Creamy Pasta Salad is one of my favorite side dishes. It's cool, loaded with vegetables, easy to make, and looks so beautiful on the table!
Total Time
2 hours
50 minutes
Instructions
In a bowl combine salt, mustard, garlic powder, paprika, onion powder, and black pepper. Set aside.
Cook macaroni according to package directions.
Drain macaroni and set aside.
In a large bowl, add mayonnaise and sour cream. Mix well.
Add milk and mix well.
Add seasoning mix and stir.
Add cooked and drained macaroni and mix well.
Add onion, red bell pepper, yellow bell pepper, celery and carrots, stir.
Chill 2+ hours then stir again and serve.
Nutrition Information:
Yield:
8
Serving Size:
1
Amount Per Serving:
Calories:

625
Total Fat:

56g
Saturated Fat:

10g
Trans Fat:

0g
Unsaturated Fat:

44g
Cholesterol:

39mg
Sodium:

994mg
Carbohydrates:

26g
Fiber:

2g
Sugar:

4g
Protein:

6g