These roasted winter vegetables are easy, delicious, and perfectly roasted every time. It's one of our favorite ways to eat vegetables because they are packed with flavor and a great way to enjoy winter veggies.
The secret to eating more vegetables is roasting them. I don't care what the vegetable is, turning it into sheet pan roasted vegetables will taste better. There are very few exceptions to this rule.
When you are roasting vegetables, it brings out more flavors from the vegetable. The heat takes the sugars that are naturally inside the vegetables (yes, even vegetables have sugar), and it caramelizes them from the inside out.
That is why when you eat a roasted squash or tomato the flavor is completely different from the raw version of that same vegetable. The chemistry inside of it has changed from heat, changing the flavors so they are more focused and intense.
That is why it is so important to have a simple roasted vegetables recipe ready to turn your veggies into something delicious. This roasted winter vegetables with brussels sprouts recipe will makes the perfect side dish that everyone will enjoy!
Can you roast winter vegetables?
Yes! Winter vegetables are some of the best vegetables to roast. They hold up really well to long, slow oven roasting as long as they are in a single layer.
If you are looking for the best winter vegetables to roast, this recipe has them all. Roasted cut vegetables is a great way to meal prep for the week or cook all your favorite vegetables at one time.
What vegetables are in this roasted winter vegetable recipe?
Brussels Sprouts: halved brussels sprout will take on the flavor of the seasonings and roast faster than whole ones
Parsnips: this sweet, nutty, peppery vegetable gets even sweeter when roasted
Baby Carrots: a classic sweet vegetable that adds a beautiful orange color to the plate
Sweet Potato: sweet potatoes when roasted become almost caramelized adding great flavor to the other vegetables
Gemstone Potatoes: these are baby or little potatoes that are red, white, and sometimes purple
Red Onions: this adds important flavor to each of the other vegetables and a good texture even after roasting
Pro Tips:
Butternut squash makes a great addition to these vegetables as do whole garlic cloves and golden beets.
If you want more greens try adding mustard greens fennel bulbs or even a medium turnip will change up this recipe. Any root veggies will do.
The best way to guarantee the vegetables cook evenly is to cut them to approximately the same size.
What seasonings do you use in this roasted winter vegetables recipe?
Olive Oil: this will spread the seasoning flavors and help them stick to all of the vegetables
Rubbed Sage: I think of this as the fall/winter spice; it just smells like holidays at home
Garlic Cloves: fresh minced garlic will roast and stick to the other vegetables adding a different texture and flavor than just using powdered
Pro Tip: Rubbed sage is not the same as regular sage. Sage grows as an herb and is usually dried and packaged 3 different ways in the store.
You can buy ground sage (everything ground up). You can buy sage leaves (the whole leaf dried). And you can buy rubbed sage (dried sage leaves rubbed together).
Rubbed sage is lighter and fluffier than regular ground sage since it has more of the leaf shape to it.
How to roast winter vegetables:
Combine the seasonings with good olive oil.
Place chopped veggies on a lined large baking sheet.
Drizzle seasoning mix over veggies and toss to coat everything.
Bake in a hot oven stirring halfway.
Serve!
Pro Tip: Do not skip lining the sheet pan before cooking. When the vegetables cook and caramelize, they will stick to the cooking pan.
If you do not want to have sheet pan vegetables stuck making a terrible mess to clean, always line the pan.
Can you roast cranberries with your winter vegetables?
Yes! If you want roasted winter vegetables with cranberries, just add the whole cranberries when you stir the vegetables halfway through the cooking time.
If you are adding dried cranberries, those can just be added at the end for 3-5 minutes.
What temperature to roast winter vegetables?
This sheet pan roasted winter vegetables recipe cooks best at 375℉.
Are roasted winter vegetables healthy?
Yes! Roasted vegetables are really healthy for you. Vegetables have a high amount of nutrients, and this is such an easy way to give them more flavor before eating. Roasting vegetables is also one of the best ways to get a tasty side dish on the table – because it's a set it and forget it kind of dish.
What do you serve with roasted winter vegetables?
Meat: roast chicken, beef, pork, turkey, most meats will go really well with this dish
Salad: roasted vegetables are a great side to a hearty salad
Rice: this would go great as a side with rice or as an option to put on top of a make your own rice bowl
Bread: roasted veggies and fresh bread are the perfect pair!
How to store roasted winter vegetables:
Store the oven roasted vegetables covered in an airtight container in the fridge. Use or freeze within 5 days of cooking.
Can you freeze roasted winter vegetables?
Yes! If you have leftovers, let them cool completely, then put them in a freezer safe container and save them for easy roasted winter vegetables another day.
Some people like to spread them out on a sheet not touching and freeze them for an hour before moving to a bag or container so the vegetables do not stick together and can be separated to heat up easier.
Pro Tip: If you are planning to make these ahead of time, don't cook them the full amount of time. Leave 5-10 minutes of cooking time to go so when you heat them back up they finish cooking.
Are roasted winter vegetables gluten free?
Yes! Every ingredient in this recipe is naturally gluten free, making it the perfect side to serve anyone on a gluten free diet.
Are roasted winter vegetables vegan?
Yes! There are no animal products or byproducts in this recipe, so it is safe to feed your vegan friends.
You will love how easy it is to have perfectly roasted winter vegetables to accommodate your easy dinners. This is a basic recipe that anyone can make confidently and have great success with. Make sure to cook a little extra to enjoy another day.
Yield: 8 Servings
Roasted Winter Vegetables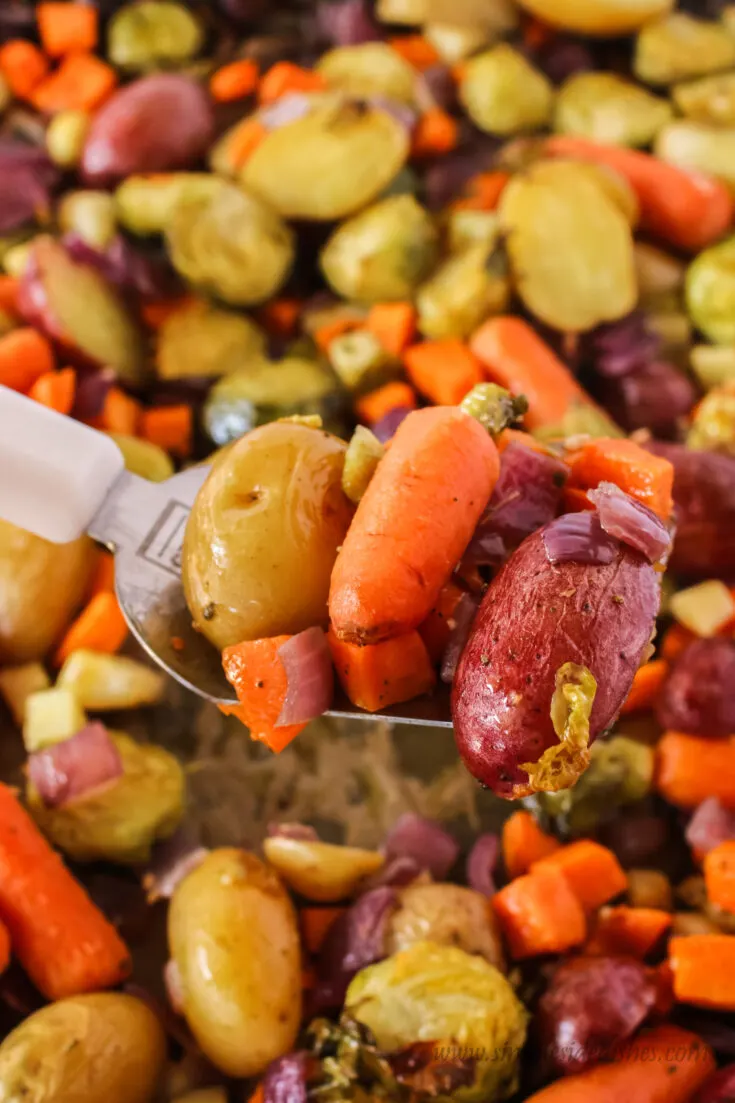 These roasted winter vegetables are easy, delicious, and perfectly roasted every time. It's one of our favorite ways to eat vegetables because they are packed with flavor.
Instructions
Preheat oven to 375*F
In a small bowl, combine olive oil, sage and garlic. Set aside.
Line a cookie sheet with a baking mat, parchment paper or non-stick foil.
Add all prepared vegetables to the baking sheet.
Drizzle olive oil mixture onto vegetables, making sure to scrape the bowl to get all the flavor.
Gently toss vegetables and olive oil to ensure all vegetables are coated.
Bake uncovered in the oven for 45 minutes - stirring at the 25 minute mark.
Serve with your favorite main dish.
Nutrition Information:
Yield:
8
Serving Size:
1
Amount Per Serving:
Calories:

199
Total Fat:

14g
Saturated Fat:

2g
Trans Fat:

0g
Unsaturated Fat:

11g
Cholesterol:

0mg
Sodium:

39mg
Carbohydrates:

18g
Fiber:

4g
Sugar:

5g
Protein:

2g