These air fryer baked potatoes have deliciously crispy skin and are perfectly cooked without using your oven.
If you're looking for the best baked potatoes, then then this easy recipe for air frying your potatoes is for you! The best part of making them in the air fryer is that you don't have to heat up your entire kitchen with your oven on a hot summer day or for just two potatoes!
Can you bake a potato in an air fryer?
Yes! And the best part about air fryer baked potatoes is they create the perfect crispy skin and smooth insides that you want in a great baked spud.
Baking potatoes in the oven is great except when you need the oven space or when it's the middle of summer and turning on your oven will heat your entire house.
Microwaving or instant pot cooking baked potatoes is great when you are in a hurry and need the potatoes done fast. But that doesn't give you the perfectly crisp seasoned skin of a truly great potato.
Baked potatoes in the air fryer will give you crispy skin without heating up your oven or waiting for it to preheat. You can just turn on the fryer and start cooking. Plus it takes less time than in your oven!
And then you will have a perfectly cooked potato ready to eat without heating up the house. In hot southern summers, that is a huge win!
Pro Tip: The air fryer works by moving hot air around the food when cooking. This is why we recommend medium potatoes for your air fryer. If you use large potatoes , they may not fit. Check the fit in your air fryer before you begin.
For best results, try to use potatoes that are the same size and that do not crowd the basket of the fryer.
What ingredients do you need for air fryer baked potatoes?
Russet Potatoes: this is the star of the dish so make sure to pick good ones!
Olive Oil: this helps the salt stick to the skin of the potato You could also use avocado oil if you prefer.
Sea Salt: this turns a regular baked potato into a perfect side dish; the sea salt has larger crystals to help with the flavor in each bite.
How to cook baked potato in air fryer:
Wash and poke potatoes.
Cover with oil and salt.
Bake, flip, and bake again. Use tongs so you don't burn yourself when flipping or removing!
Serve! If you cut the top of the baked potato and press the ends together you'll get the perfect fluffy center.
Do I need to wrap potatoes in foil before cooking in an air fryer?
No! These air fryer baked potatoes cook perfectly without being wrapped in anything.
Are air fryer baked potatoes healthy?
Yes! Potatoes have a lot of vitamins and minerals and fiber that are an important part of a healthy lifestyle.
Most of the nutritional values are found in the skin of the potato, so for the most health benefits be sure to eat the skin too.
Making a baked potato in the air fryer is a much healthier way of cooking a great vegetable than french fries or tater tots. Those are delicious, but much less healthy.
What toppings do you put on air fryer baked potatoes?
Simple: a pat of butter, kosher salt, and black pepper
Classic Loaded: butter, dollop of sour cream, cheddar cheese, fresh chives, bacon or bacon bits
Mostly Classic Options: ranch dressing, green onions, nacho cheese
Chili: chili, cheese, sour cream
Veggie Lovers: grilled onions, grilled mushrooms, green onions, grilled peppers, steamed spinach and garlic, steamed broccoli
Southwest: taco meat, salsa, cheese, onions, tomatoes
Your favorite sauce: really you can put your favorite meat or sauce on a baked potato. I have done pesto chicken baked potatoes and even BBQ pork baked potatoes.
Pro TIp: Everyone has a favorite way to eat baked potatoes, so for an easy way to feed a crowd try doing a baked potato bar.
You provide the potatoes, and everyone can put their favorite toppings on for an easy, custom dinner.
Can you freeze air fryer baked potatoes?
Yes! Once the potatoes have cooked and cooled down, wrap them in plastic wrap or aluminum foil to protect them from freezer burn then place them in a freezer safe container or bag.
They will stay fresh for up to 3 months in the freezer. Let them thaw in the fridge overnight or put them frozen and warm them in the air fryer when you are ready to eat them.
What to eat with air fryer baked potatoes:
Salad: side salad and loaded potatoes are a great way to get a meal packed with a lot of nutrients
Meat: steak, chicken, pork, fish, all are great with a side baked potato
Chili: eat them together or side by side; they work great together
What is the best potato to bake?
Russets make for a great baked potato in the air fryer. They have a thicker skin than other potatoes, so that helps the skin crisp up better.
We're also fans of Yukon gold potatoes, for a creamier potato. They are less starchy and the skins are thinner.
Potatoes with thinner skins however, end up steaming more than baking and don't give you that classic, perfect baked potato.
Are air fryer baked potatoes gluten free?
Yes! The three ingredients used in this recipe are naturally gluten free. If you use classic toppings as described above, you're entire meal can easily be gluten free!
Are air fryer baked potatoes vegan?
Yes! There are no animal products or byproducts used in this recipe. Simply use vegan toppings to create the ultimate baked potato.
Can dogs eat air fryer baked potatoes?
Yes. Regular cooked potatoes are fine for your dog. Try not to let them eat too many since there aren't a lot of extra nutrients your dog needs in there.
But a small snack when you have a baked potato in air fryer will be just fine.
More of our favorite air fryer recipes are:
Easy Air fryer baked potatoes are the easiest way to get perfect baked potatoes with deliciously seasoned crispy skin anytime you want them. A recipe the whole family loves that can be a main dish or side dish!
Yield: 4 Baked Potatoes
Air Fryer Baked Potatoes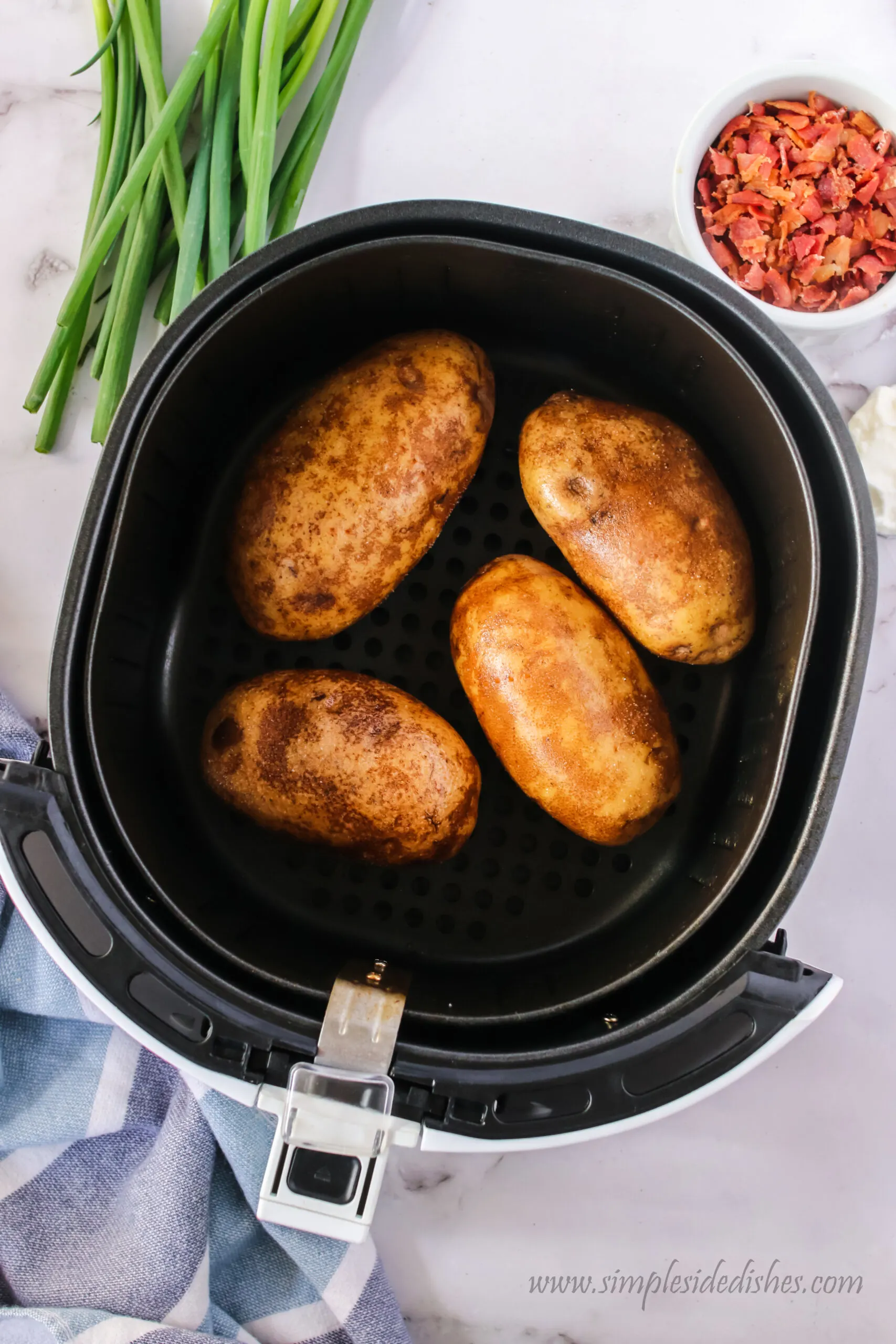 These air fryer baked potatoes have deliciously crispy skin and are perfectly cooked without using your oven.
Ingredients
Instructions
Wash each potato to remove excess dirt.
Prick each potato 5 times around potato with a fork.
Cover each potato in olive oil.
Cover each potato in a light layer of sea salt.
Place all 4 potatoes into your air fryer.
Bake potatoes in air fryer at 400*F for 30 minutes.
Open air fryer and using tongs, flip potatoes and Bake at 400*F for an additional 15 minutes.
Serve immediately with your favorite toppings like sour cream, cheese, green onions and bacon.
Nutrition Information:
Yield:
4
Serving Size:
1
Amount Per Serving:
Calories:

227
Total Fat:

7g
Saturated Fat:

1g
Trans Fat:

0g
Unsaturated Fat:

6g
Cholesterol:

0mg
Sodium:

1082mg
Carbohydrates:

37g
Fiber:

4g
Sugar:

2g
Protein:

5g