You will love this beautiful, delicious and soft sweet potato rolls recipe. Whether you are using feast day leftovers or opening a can of sweet potato puree, these rolls are perfectly delicious with any meal you are making.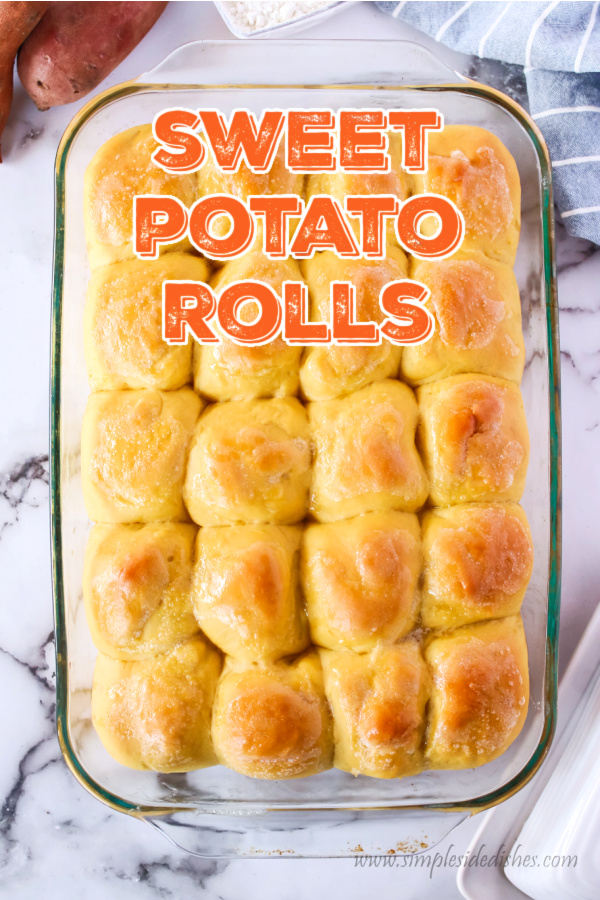 Today I have brought you another bread recipe. Did you have any idea there were so many simple bread recipes?
I hope you're excited. Because even without using a bread machine, this recipe is fast, easy, and (as a bonus) it can use up leftovers from the night before. Is that the best thing you have heard all day?
These sweet potato dinner rolls fill all those requirements and still give you hands off time so you can do whatever else is on your list.
What more could you ask for in a side dish?
What is a sweet potato roll?
It's homemade rolls made with sweet potatoes! Which might sound a little strange if you haven't had them at first.
But when you are staring at your thanksgiving dinner leftovers, a new way to use up sweet potatoes is a perfect addition to your recipe card pile.
And this sweet potato rolls recipe is so easy and delicious that it is sure to become a family favorite. You might even put it on your thanksgiving menu for all the time!
What ingredients do you need to make sweet potato rolls?
Active Dry Yeast: these are sweet potato yeast rolls, so you need yeast to make them puff and grow
White Sugar: this feeds the yeast when proofing and throughout the cooking process to help the yeast grow
Mashed Sweet Potato Puree: if you don't have leftovers, you can also use canned sweet potato puree
Warm milk: using milk instead of water in rolls will make them softer
Butter: you want softened butter so it mixes easily into the dough. For best results, use salted butter. If you use unsalted, add just a dash more salt to the recipe
Salt: this is so important in baking with yeast because it slows down how fast the yeast grows; without it, your rolls would grow and then fall flat
Eggs: these will help the rolls get a nice golden brown color as well as keep the dough soft and moist
All-purpose Flour: this is the structure of your roll; be sure to measure your cups of flour carefully because too much will give you a dry roll
Pro Tip: My great-grandmother taught me that the secret to a good roll is sticky dough and lots of butter.
While you don't want the dough so sticky that you can't form a ball with it, you definitely don't want to add too much flour that it gives you a dry roll.
How to make sweet potato rolls:
Proof the yeast in warm milk and sugar in a large bowl.
Add everything to the yeast mixture except flour and mix well.
Stir in 1/2 cup of flour at a time, then shape dough into a smooth ball.
Place dough ball into a greased bowl, turning to coat all sides in the oil, cover and let dough rise in a warm place.
Punch down dough, divide into balls, cover with plastic wrap and let them rise again.
Bake until golden.
Remove from oven and immediately spread butter on tops of rolls.
Serve warm!
Can I make sweet potato rolls ahead of time?
Yes you can make sweet potato rolls ahead of time! All breads taste best if they are eaten as close as possible to the baking time, but these rolls stay soft and delicious even if you eat them the next day.
This recipe uses milk instead of warm water to proof the yeast and it includes an egg. Using milk and eggs when making bread means it will stay softer longer and will preserve it to be shelf stable longer.
Pro Tip: Use whole milk or one with some fat in it (not skim) because it's the fat that adds all those benefits to the recipe!
How long do sweet potato rolls last?
These keep 3-5 days at room temperature. Though at my house we have a problem keeping them longer than one meal.
We never have leftovers because everyone likes them so much!
How to store leftover sweet potato rolls:
Store in an airtight container on the counter if you can. Putting rolls in the fridge will dry them out faster.
Can I freeze sweet potato rolls?
Yes! Once they are baked and cooled, wrap them in plastic wrap to help prevent freezer burn and place in a freezer safe container. They can be stored in a regular freezer for a month and a deep (not self-thawing) freezer for up to 4 months.
How to thaw frozen sweet potato rolls:
Simply pull the rolls out of the freezer and let them come to room temperature on the counter. You can warm them in the oven for 3 minutes and brush with melted butter to freshen them up.
How do you make sweet potato puree?
You need cooked sweet potatoes–they can be baked, boiled, roasted, microwaved, cooked in an instant pot, hot or cold, you just need them cooked and not raw.
Then mix them your favorite way. You can use a food processor, a blender, an immersion blender, a regular blender, a potato masher, or the paddle attachment in the bowl of a stand mixer.
Whatever your favorite kitchen tool is, use that and puree those sweet potatoes until smooth.
Are sweet potato rolls gluten free?
Unfortunately these sweet potato rolls are not gluten free. This recipe still uses flour which contains gluten. If you substitute the all purpose flour for a gluten free flour, then these would be gluten free.
Are sweet potato rolls healthy?
They are like regular rolls with a little extra sweet potato. So while they don't really taste like sweet potato, they do have extra nutrients from the puree that you add to the recipe.
Can you use pumpkin puree to make sweet potato rolls?
Yes, but I would probably call them pumpkin rolls then.
If you don't have any sweet potato puree, pumpkin can be substituted to make these rolls. It will have a slightly different flavor, but will cook the same way.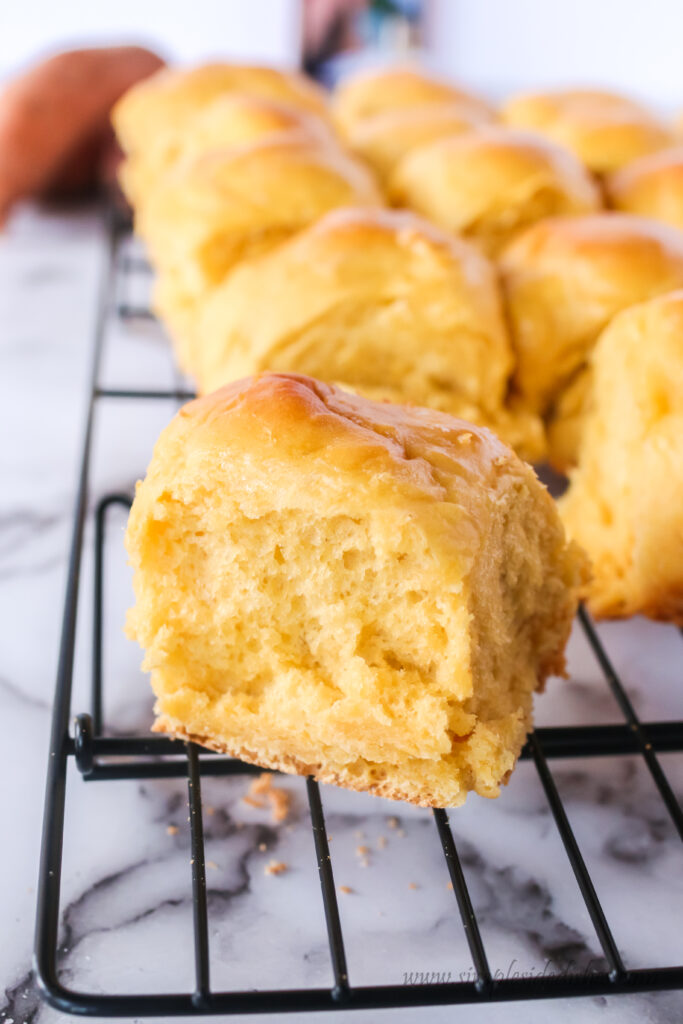 More Easy Bread Recipes You'll Love…
These sweet potato rolls don't taste like a vegetable, but they do taste like delicious sweeter rolls that are perfect for any occasion and a perfect way to use leftovers in a fun way.
Yield: 20 Rolls
Sweet Potato Rolls
You will love this beautiful, delicious and soft sweet potato rolls recipe. These rolls are perfectly delicious with any meal you are making.
Total Time
2 hours
22 minutes
Ingredients
Instructions
Dissolve yeast, warm milk, and 1 Tablespoon sugar in a mixing bowl. Cover with a dish towel and let stand 5 minutes.
Add 3 Tablespoons of sugar, sweet potato puree, butter, salt, and slightly beaten eggs. Stir to mix well.
Stir in 3 cups of flour (1/2 cup at a time).
Once the 3 cups have been mixed in, mix in remaining 1/2 cup a little at a time until dough no longer sticks to bowl. (You may not use all the flour and that is OK).
Shape dough into a ball and place in an oiled bowl.
Turn dough to coat the surface. Cover with saran wrap, and let raise about 1 hour or longer until double in a warm draft free spot.
Punch down, and allow dough to rest for 2 minutes.
Divide dough into 16 to 20 balls, and place in a 9x13 inch pan.
Cover with saran wrap again, and allow to rise until doubled.
Bake at 350*F for 15 to 20 minutes until tops are golden (cooking time depends on oven).
When removed from oven, take a cold stick of butter, remove the wrapper from the top and spread butter onto tops of warmed rolls.
Serve warm.
Notes
Canned yams worked great for the sweet potato puree or you can use leftover sweet potato casserole!