This Braided Bread takes only 1 hour from start to finish and has 6 ingredients. Anyone can make this recipe – beginner or expert!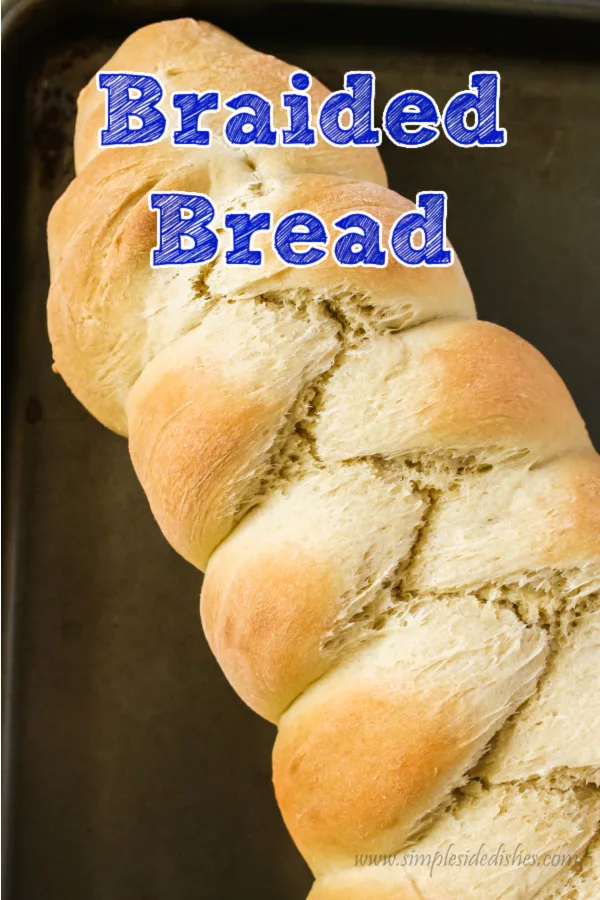 You know how much I love bread. I am a big fan of it on the dinner table whether it is homemade focaccia or a sweet bread recipe.
Sometimes I want fancy bread on the table for dinner, but I didn't plan 4-8 hours to get it there in time.
That is where this recipe comes in. You need 5 minutes to proof the yeast, 5 more minutes to knead the dough, a few minutes to roll and braid, then only 20 minutes to rise!
With a 20 minute cook time, that means this comes from nothing to ready to eat in just about an hour! That is a perfect bread recipe in my book.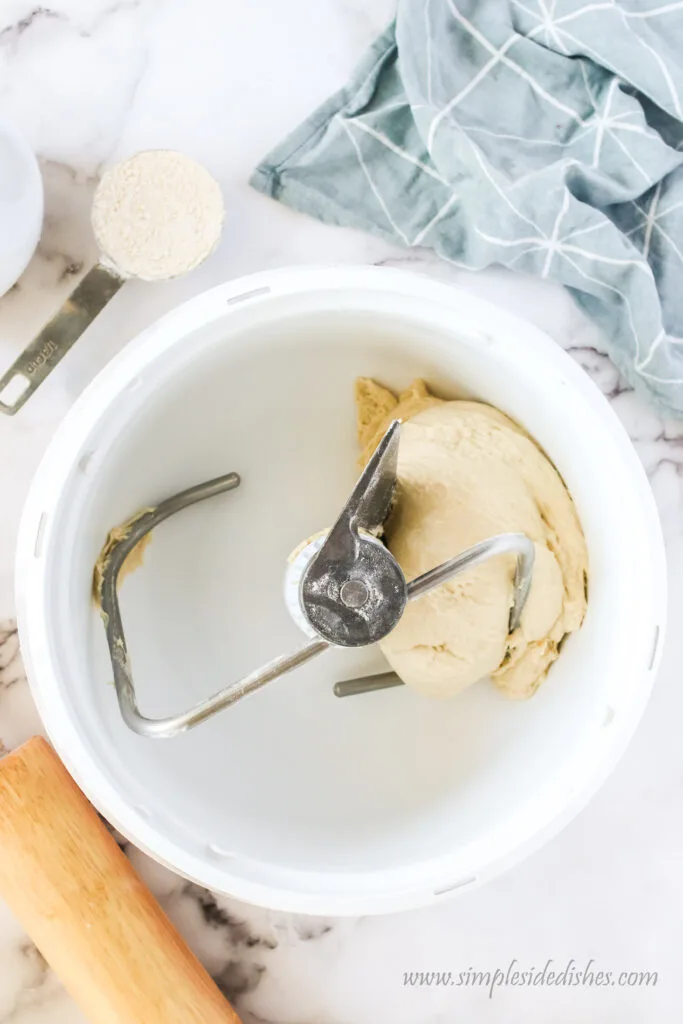 What is braided bread?
It is regular bread that you have turned into a braided loaf before rising.
It's great for people who are uncomfortable shaping bread into a loaf by itself but are confident in their rolling out logs of dough skills.
It looks great, tastes great, and even better, this braided bread recipe has a short rise time and always looks great on the table.
What ingredients are in braided bread?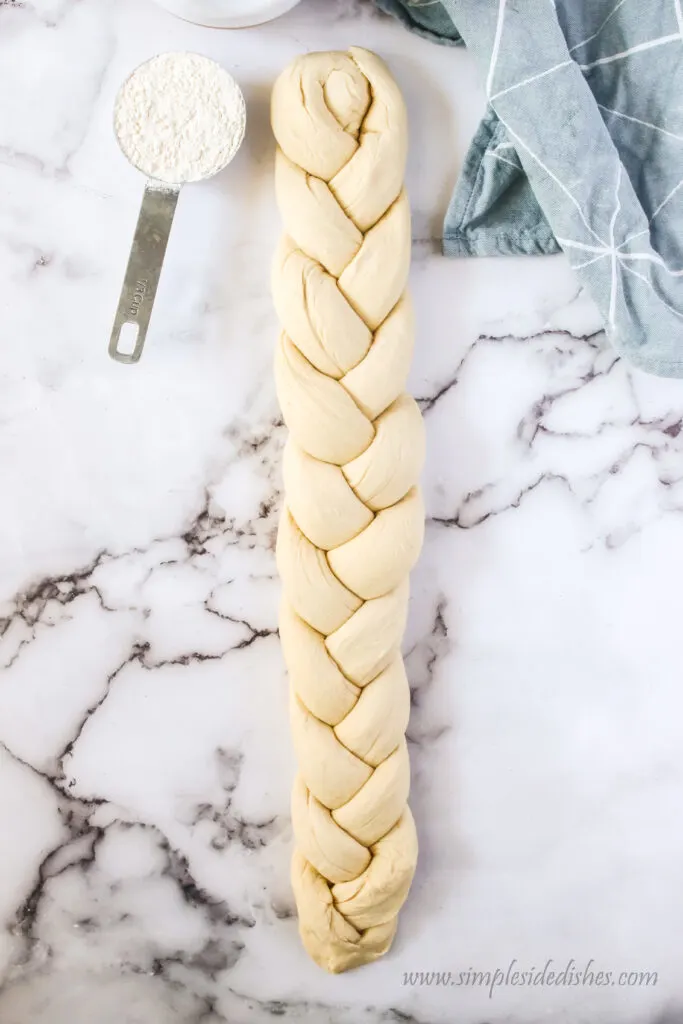 How to make braided bread:
Mix sugar, water, and yeast and let it proof in your stand mixer.
Slowly add bread ingredients to the yeast mixture and knead dough.
Divide into 3 equal pieces of dough rolled into long sticks.
Braid the dough.
Transfer to a sheet pan laying diagonally, then cover dough and let it rise at room temperature.
Bake until golden brown and serve!
Pro Tip: I usually cover my bread dough with a clean kitchen towel. But you can use plastic wrap.
For especially sticky dough, sprinkle the top with flour or spray it with non-stick spray before covering.
How to braid bread:
Bread braiding is exactly like braiding hair. You just need to make sure the dough is secure before you start.
Divide dough into 3 sections of dough that you have rolled into long logs.
Press the top of the strips of dough together.
Take the outside piece (start on whatever side is most comfortable) and lay it over the middle strand of dough. This gives you a cross at the top and a new middle piece.
Take the outside piece on the other side and lay it over the new middle piece of dough. Now you have a second cross and a new middle section.
Repeat. Continue taking the outside piece of dough and laying it across the middle. Each section of dough will have a turn in all 3 places of the braid as you go down.
Secure the ends by pressing them together like at the start.
Fold the ends under to keep it secure and beautiful while the dough rises on the cookie sheet.
Pro Tip: Be sure to work with your bread on a well oiled or floured surface, whichever you prefer to work with. I have been known to lay parchment paper down before flouring or oiling so there is easy clean up after shaping the dough.
If you prefer using flour, be sure not to add too many cups of flour or the dough and the bread will end up tough.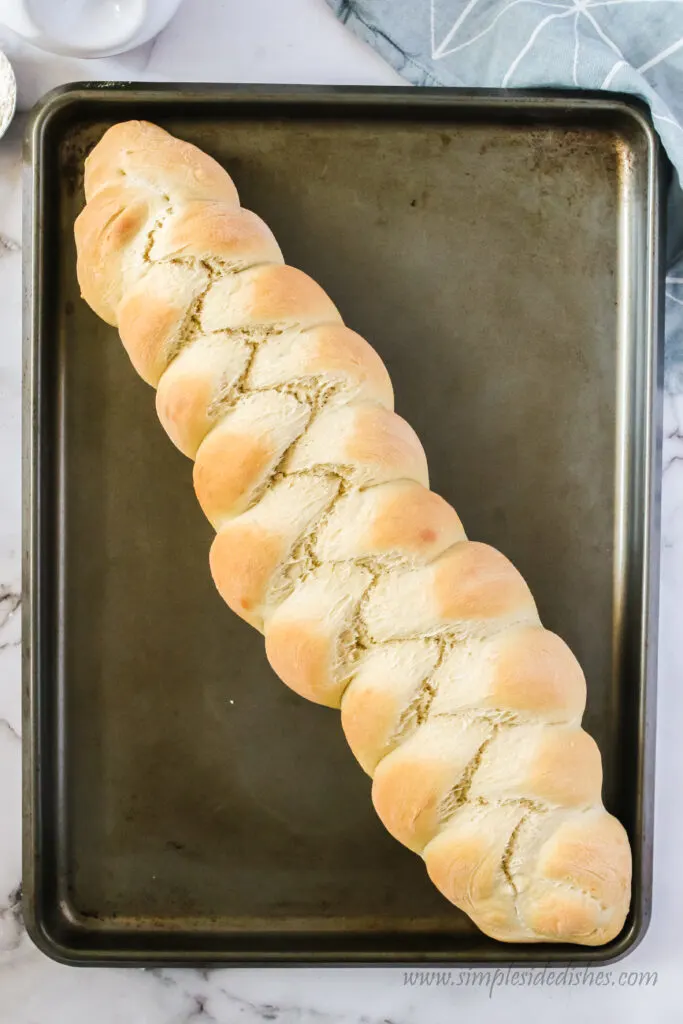 What is the difference between instant dry yeast and active dry yeast?
Different homemade bread recipes will call for different kinds of yeast. But what exactly is the difference?
Instant yeast can be mixed into the dry ingredients first while active dry yeast must be hydrated in warm water before adding other ingredients.
Active dry yeast also needs more added to work the same as instant in the same recipes.
In this braided bread recipe you will see that I proof the yeast first. I do this every time I make bread no matter what kind of yeast I use to make sure it is active and fresh.
If it doesn't proof, I can start over at the beginning with fresh yeast and still have my bread turn out great.
Pro Tip: The most important thing when making yeast bread is to make sure you are using fresh yeast. No matter what kind it is, if it isn't fresh, your bread will fail.
When to serve braided bread: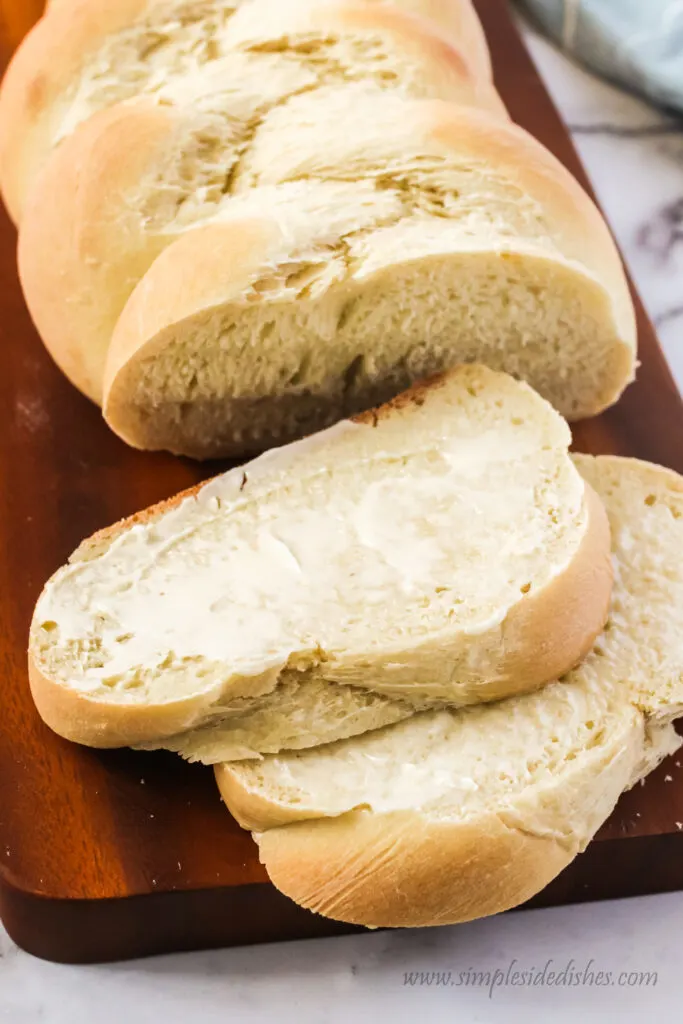 What to do with leftover braided bread:
Leftover bread doesn't happen very often at my house, but here are some of our favorite uses for it:
This easy braided bread recipe is perfect for special occasions and simple enough to use for a weeknight dinner!
Yield: 10 Servings
Braided Bread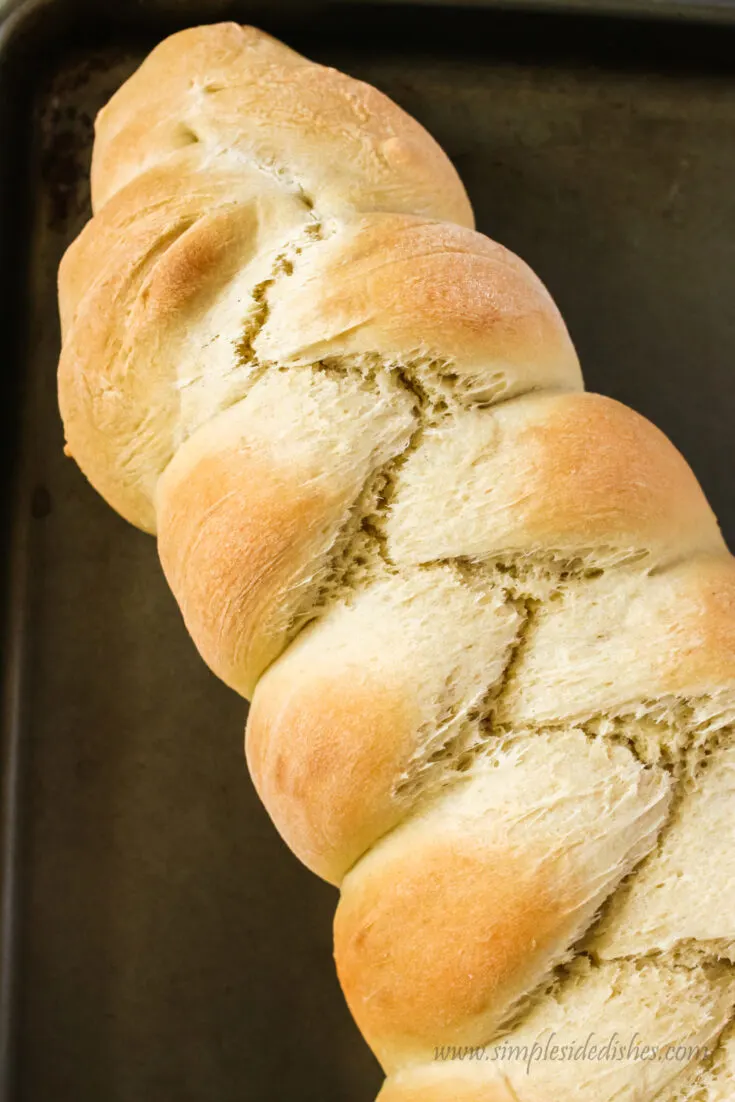 This Braided Bread takes only 1 hour from start to finish and has 6 ingredients. Anyone can make this recipe - beginner or expert!
Ingredients
Instructions
Prepare a cookie sheet with parchment paper, non-stick foil or a baking mat.
In a stand mixer add yeast, water and sugar. Mix.
Cover with a dish towel and let stand for 5 minutes.
After yeast proofs, add salt and oil. Mix well.
Add bread flour 1 cup at a time, mixing between additions. If dough is still sticking to bread add up to 1/2 cup extra(a little at a time).
Once all flour is added, continue to knead dough for an additional 5 minutes.
Place dough on a lightly floured work surface and divide dough into 3 equal portions.
Roll each section into a long stick - about 2 feet long.
Lay each long strip next to each other and gently press the tops together.
Braid bread and when you get to the end, press ends together.
Gently fold the ends under the bread and place on a cookie sheet diagonal.
Cover and let rest for 20 minutes.
Preheat oven to 375*F
Bake for 20-25 minutes until the top is golden brown.
Nutrition Information:
Yield:
10
Serving Size:
1
Amount Per Serving:
Calories:

111
Total Fat:

3g
Saturated Fat:

0g
Trans Fat:

0g
Unsaturated Fat:

3g
Cholesterol:

0mg
Sodium:

214mg
Carbohydrates:

18g
Fiber:

1g
Sugar:

3g
Protein:

3g