Cooking asparagus on the grill is a great way to get a delicious and healthy simple side dish on the table in just 15 minutes.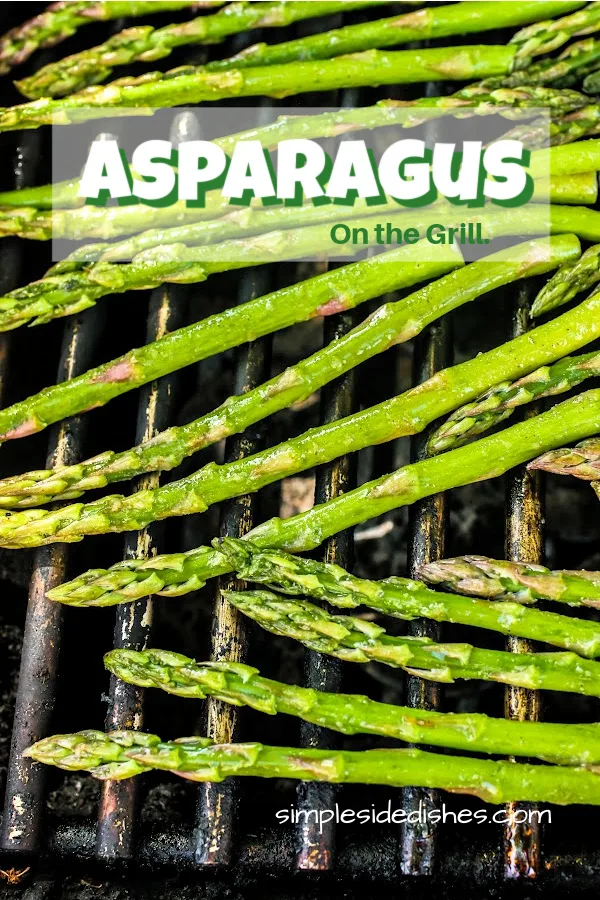 Asparagus on the grill is one of my favorite vegetables to serve when it is grilling season. I love it so much that sometimes I serve it as a main dish.
In the warmer months anything that comes off the grill counts as a meal. So if it's made up of all grilled simple side dishes, no one complains.
This asparagus on the grill is an easy side dish that goes great with anything. It has great char marks, a beautiful bright green color, and even with simple seasonings, it has a delicious blend of flavors.
And whether you serve it with grilled meat or something else, this is a great dish for anytime you need a large plate of grilled veggies on the table.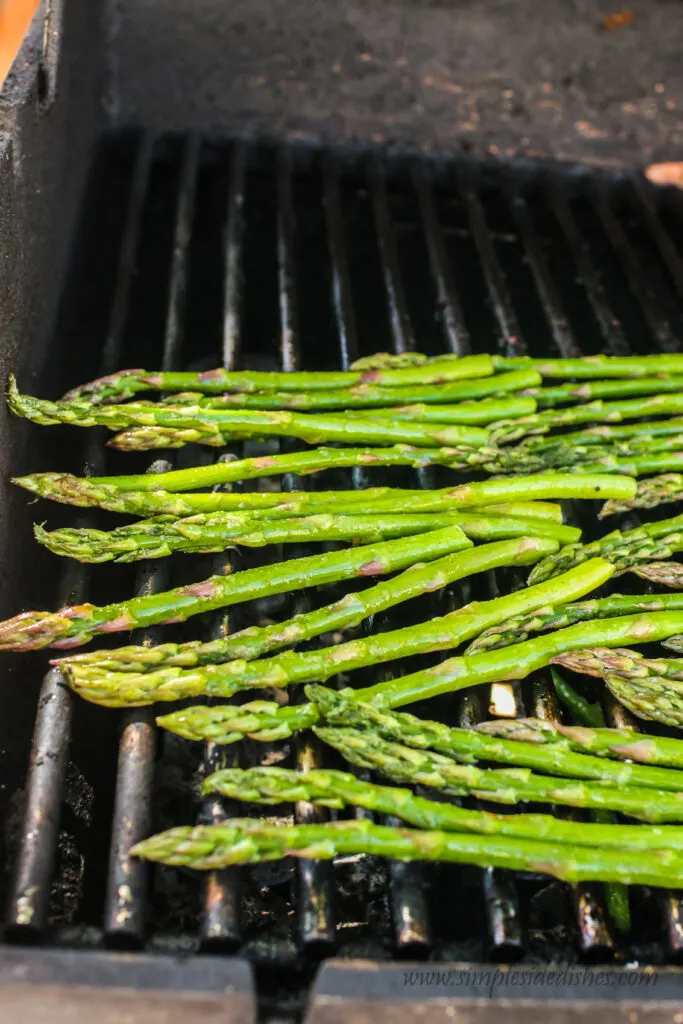 What ingredients are in grilled asparagus?
Asparagus: you want crisp, fresh asparagus that can snap, not rubbery ones that have been kept out of water
Olive Oil: This helps the seasonings stick to the asparagus; you can use pure or extra-virgin olive oil
Garlic Powder: this adds a nice garlic touch to every bite
Salt: kosher salt will add more pockets of flavor while traditional table salt will blend into every bite
Black Pepper: adds spice and helps your body absorb all the nutrients in the asparagus
Shredded Parmesan Cheese: this cheese has such a sharp bite that a little goes a long way to adding flavor
Pro Tip: If you need to buy your asparagus spears a couple days before cooking, wrap the ends in a damp paper towel to keep them crisp.
Also if you have room, store them upright instead of laying down; that helps the stalks absorb the liquid better.
How to grill asparagus:
Wash, dry, and trim the woody ends of the asparagus.
Mix asparagus and seasonings together.
Place asparagus on a hot grill and cook each side until tender.
Top with parmesan cheese and serve!
Pro Tip: Always trim the ends of asparagus before cooking. The bottom end doesn't have much flavor and even on thin asparagus they will be fibrous and woody.
How long to grill asparagus:
When you cook asparagus on the grill, the important thing is to keep it crisp but still have it cooked and not raw.
The best way to do this is to rotate it every 3-4 minutes over medium-high heat. That gives you great color, and then you can watch to get it at the perfect doneness for you.
Pro Tip: Place the asparagus on the grill and when you flip it the first time, flip it exactly over to the opposite side.
That way if after one turn it is done you still have 2 sides with grill marks. If it needs more, you can work on the other 2 sides and still have a well balanced asparagus spear.
What kind of foil should I use on a grill?
You want to use non-stick foil. While you can spray regular aluminum foil, I have found nonstick to be so much easier to work with.
When I make asparagus on the grill, I do not use foil, but if you prefer it, nonstick is the only kind to use.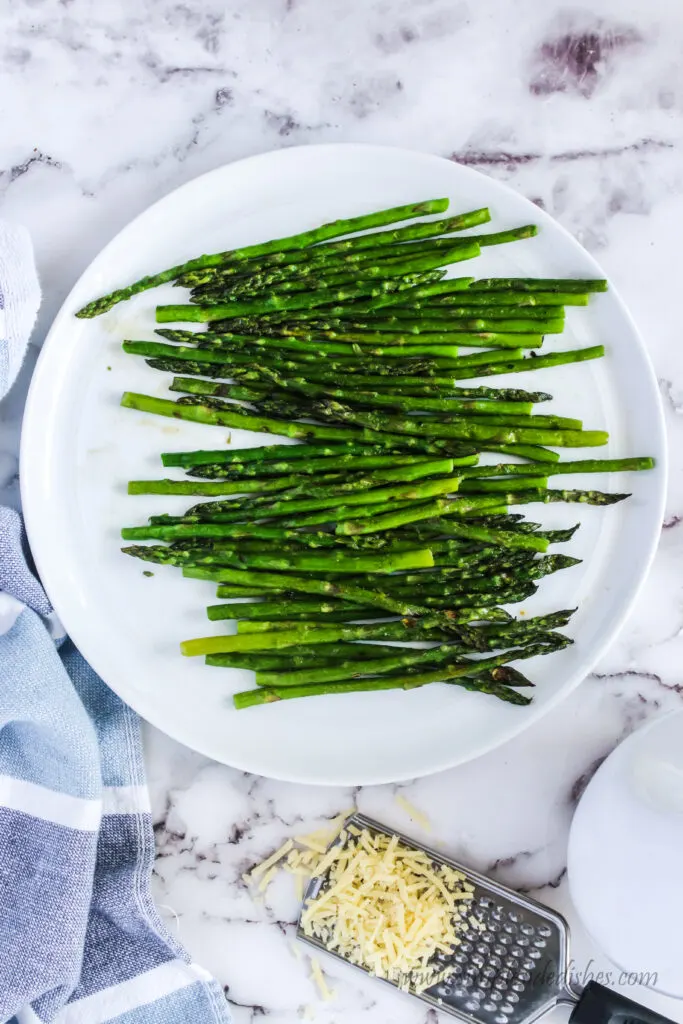 Does the thickness of the stalks matter when cooking asparagus on the grill?
Not really. The most important thing is that you are using fresh asparagus spears which can be hard if it isn't asparagus season.
Whether they are thicker spears or thinner spears does not make as big of a difference.
Thick asparagus stalks come from plants that have been growing more seasons. Thin stalks come from plants that are in the early seasons of growing.
Both are great choices as long as you cook them within one or two days of purchasing them. Great, tender asparagus on the grill happens when the spears haven't dried out in your fridge.
That's why it's a good idea to wrap your ends to keep the spears as hydrated as possible before cooking.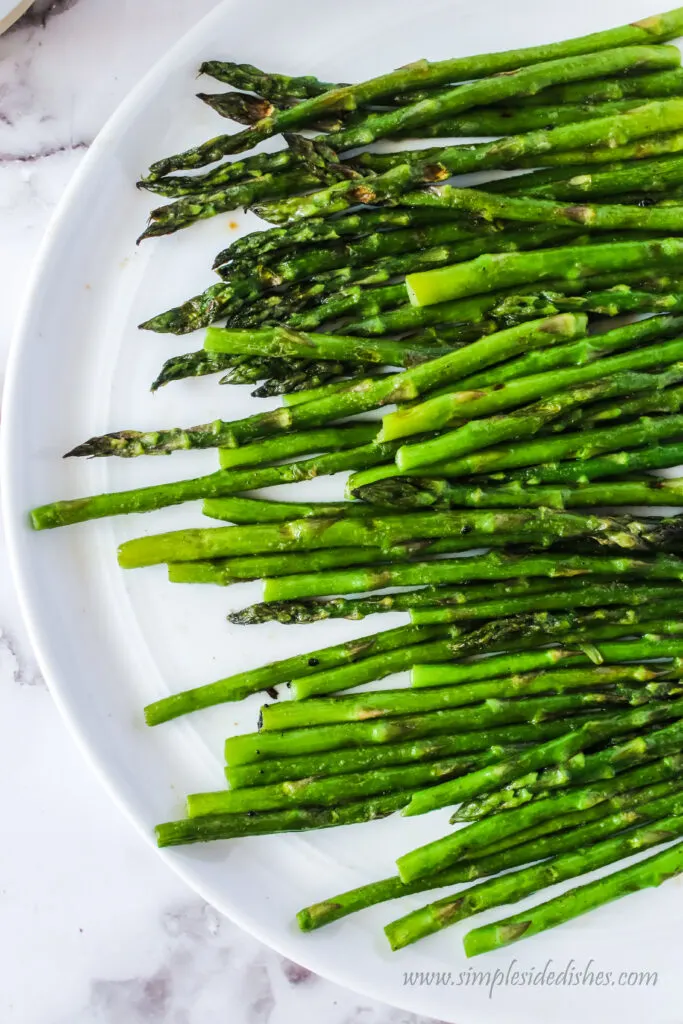 Can you grill frozen asparagus?
Yes! Follow this asparagus on the grill recipe exactly as you would for fresh spears except you probably don't need to trim the ends since that has been done for you already.
The texture of the finished vegetable will be a little different, but unless your guests are asparagus experts, they won't recognize you served them frozen vegetables.
This is a great option for when asparagus is not in season.
Can you grill asparagus in foil?
Yes! There are all sorts of ways to cook it. But if you make grilled asparagus in foil packs, it will not have grill marks on the asparagus.
Instead it will act like steamed asparagus and give you a texture of steamed spears even though you've cooked them on the grill.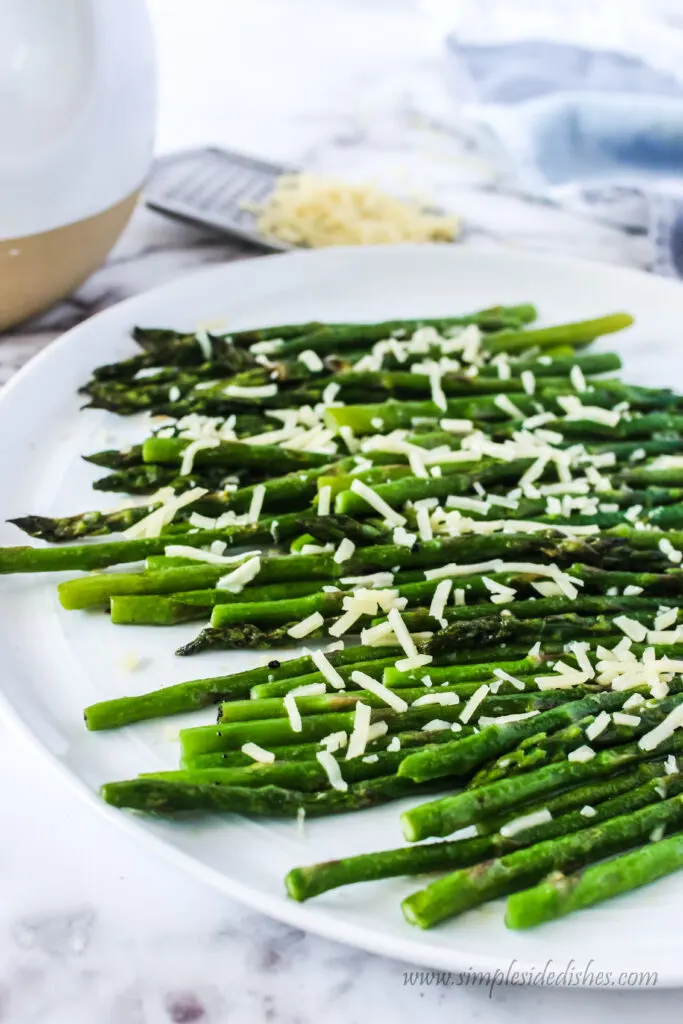 Is grilled asparagus good for you?
Yes! Asparagus on the grill is a great way to eat this vegetable. It is full of fiber and nutrients including that great antioxidant vitamin c.
When you cook it on the grill you cook with simple seasoning to really highlight the vegetable and not drown it in other ingredients.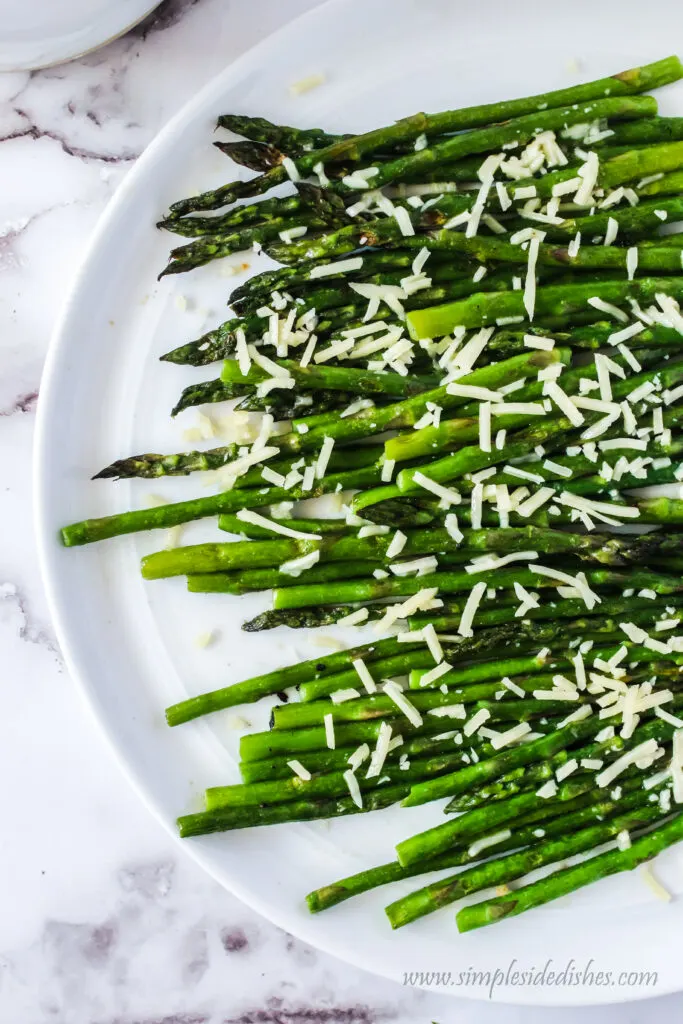 Can canned asparagus be grilled?
Yes! Canned asparagus is already cooked, so grilling it is just to give it some nice grill marks before serving it.
Also depending on how it was canned, you may not need to toss it in oil and spices. Check your jar to see what ingredients it has been soaking in before following this asparagus on the grill recipe.
Asparagus on the grill is the easiest way to get a great side dish with a very short cook time.
Yield: 6 Servings
Grilled Asparagus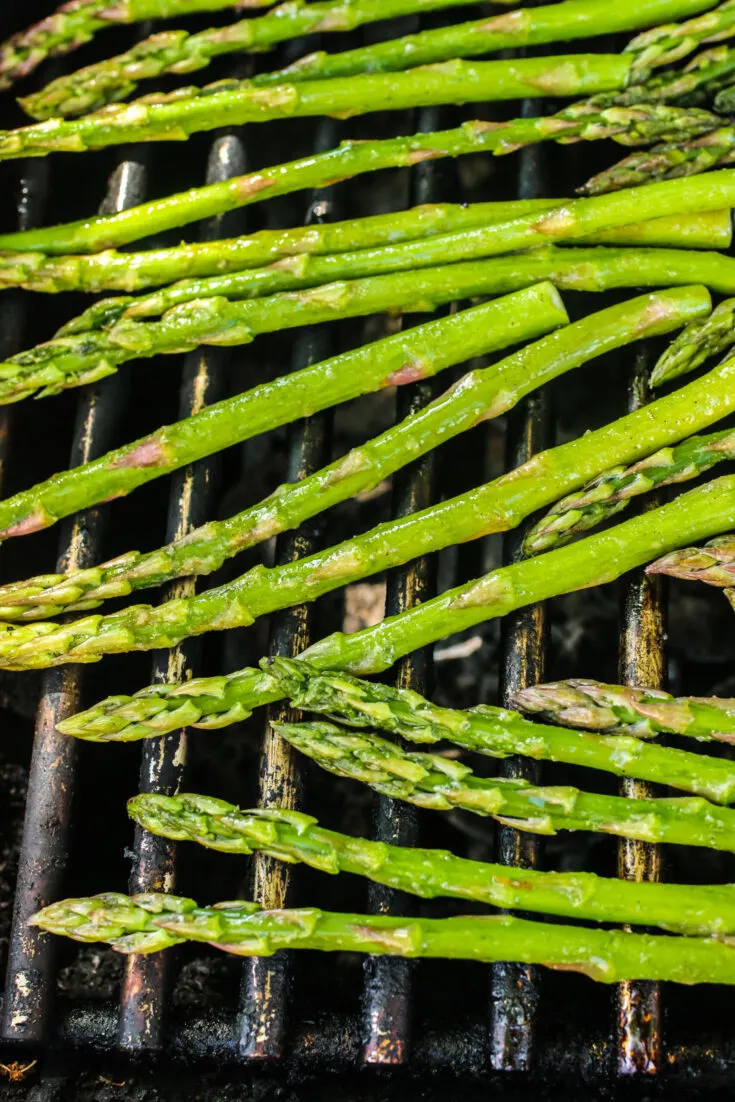 Cooking asparagus on the grill is a great way to get a delicious and healthy simple side dish on the table in just 15 minutes.
Ingredients
Instructions
Wash and dry asparagus.
Holding the end of each asparagus, snap off the bottom 1 inch of asparagus which is the hard woody ends. Discard ends.
Place asparagus in a bowl.
Add olive oil, garlic powder, salt and pepper. Mix well.
Grill for 3-4 minutes per side, until desired tenderness is reached.
Top with parmesan cheese before serving.