This basil bread is easy, delicious, and the perfect bread to make when you have a fresh supply of basil from the garden.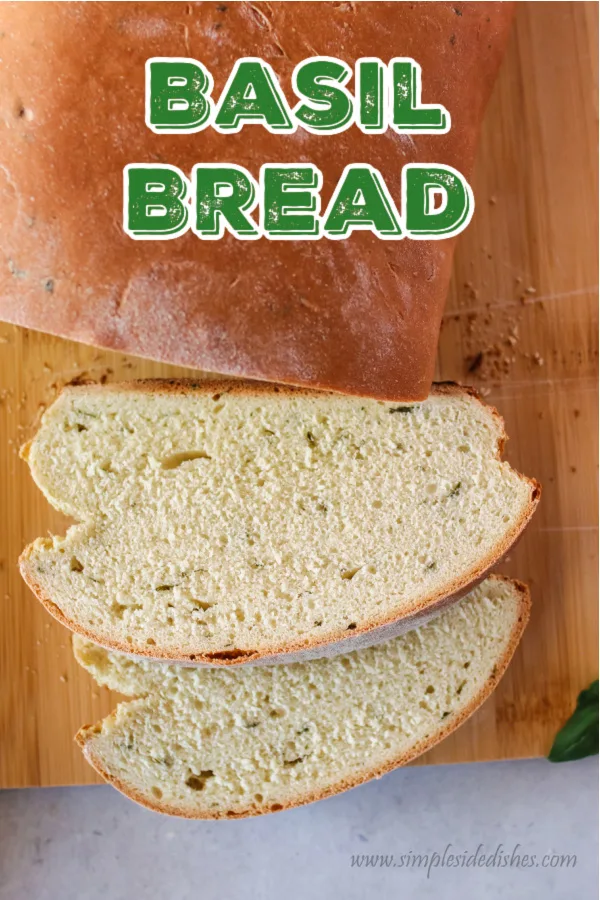 You know I love bread recipes. I also love using fresh herbs. But fresh herbs can be so expensive to buy at the store or the farmer's market.
That's probably why more and more people have started gardening.
Have you joined the growing gardening trend? Even if all you have are pots, you can grow amazing herbs to use in your kitchen.
That means even when your grocery store is out of fresh basil, you can still have the delicious taste of fresh herbs because you grew them yourself like a boss.
I am proud when I grow anything because I'm not good at growing many things. There are so many times things get eaten by bugs or die from not watering or watering too much.
But a basil plant on my patio is enough for me to keep alive and feel like a brilliant gardening magician. And then I can use it in recipes like this and feel like a domestic goddess.
This basil bread recipe combines delicious bread and fresh herbs into a perfectly delicious simple side dish or snack for any time of the day!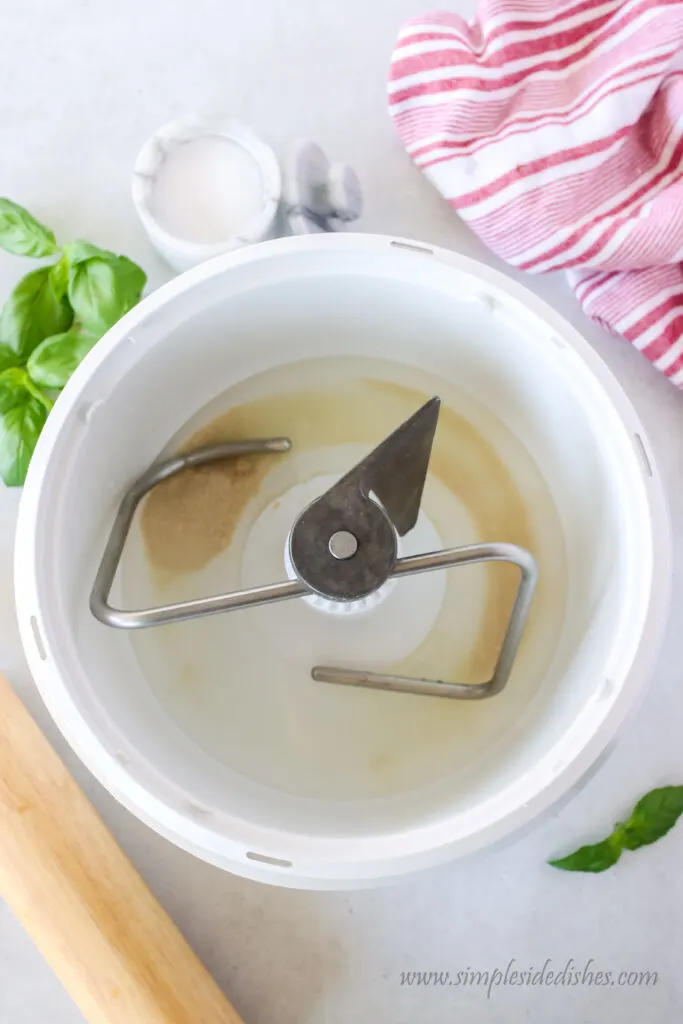 What ingredients are in basil bread?
Instant Dry Yeast: making a yeast bread means it will be fluffy faster than quick breads
Warm Water: this activates the yeast when we proof it
White Sugar: this feeds the yeast to help it grow
Salt: never skip the salt when making bread! You risk your bread rising and falling flat because nothing slowed the yeast from growing
Fresh Basil: the star of this bread, so be sure to use fresh for the most flavor punch
Vegetable Oil: bread needs oil to make a soft dough and to keep it hydrated
Bread Flour: this has more proteins in it which helps the bread have great shape on the inside and outside and less holes in the middle of the loaf
Pro Tip: One of the easiest ways to measure your basil is to stuff the basil leaves into the measuring cup before chopping them up to use in the dough. You can use a knife, or I like to use my kitchen shears to cut them all straight into the bowl.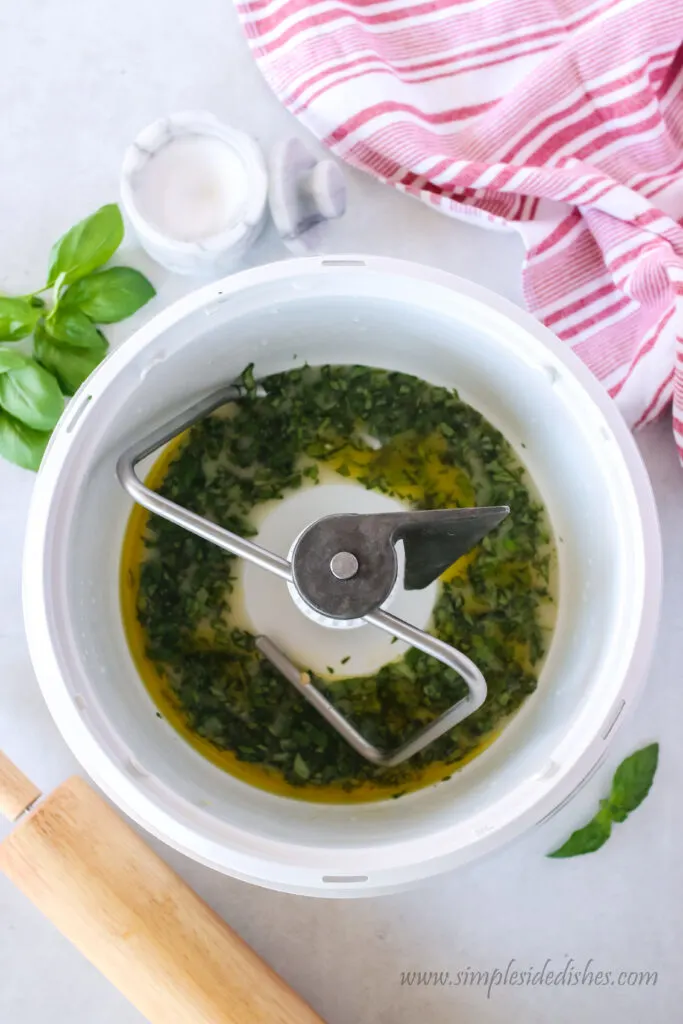 How to make basil bread:
Proof the yeast in the large bowl of your stand mixer, and line a tray with parchment paper.
Mix-in all other ingredients with yeast mixture, then knead dough for 5 minutes.
Roll out dough into a rectangle on a floured work surface, then roll up like a cinnamon roll.
Transfer bread dough to the prepared baking sheet, cover, and let the dough rise.
Bake, then cover with foil and bake again.
Remove, cool on a wire rack, slice, and enjoy!
Recipe Note: Bread with basil will smell amazing as you are making it. But sometimes people complain that the flavor of the basil does not stay there after it has cooked. the best way to get consistent flavor is to cut your basil into very tiny pieces. Really mince it.
That way the oils and flavor in the leaf can spread to every part of the dough and stay there after it has cooked.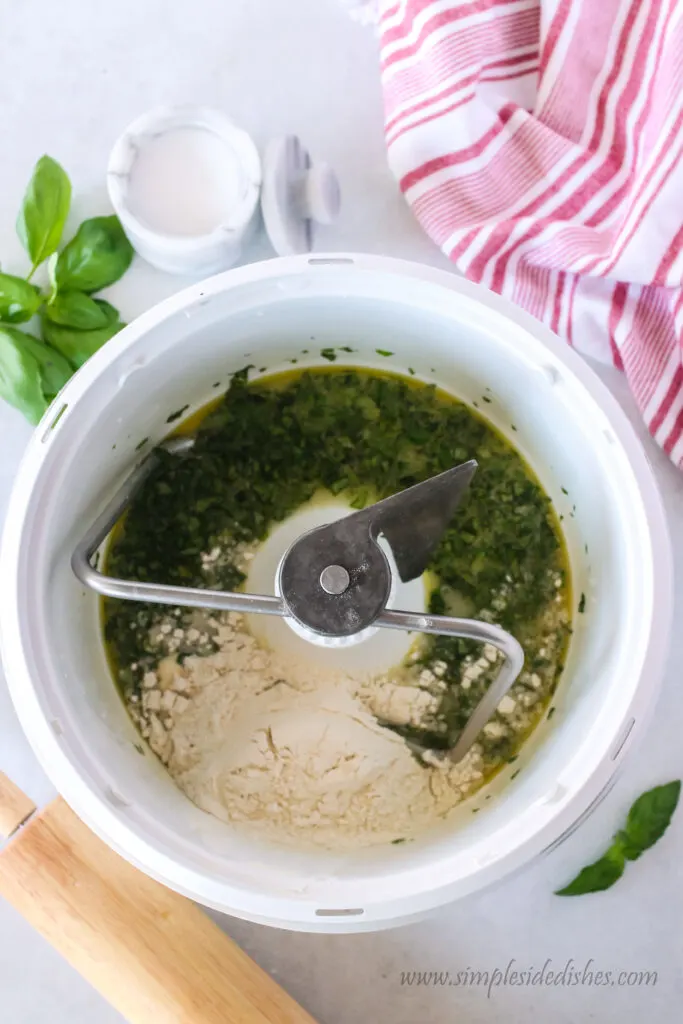 How many grams is one cup of flour?
If you have never used a food scale to measure your flour, you might laugh at this question. I always thought kitchen scales were for extreme dieters.
But then I started using it to make bread. And it is so easy! You get a perfect amount of flour in your dough without scooping or worrying if you leveled it right.
If you prefer using a kitchen scale for your flour, here is your easy tip. The common white flour (all purpose and bread) have the same weight, so 1 cup flour is 120 grams.
For this recipe, we use 3 ½ cups of flour, so you would need 420 grams of flour.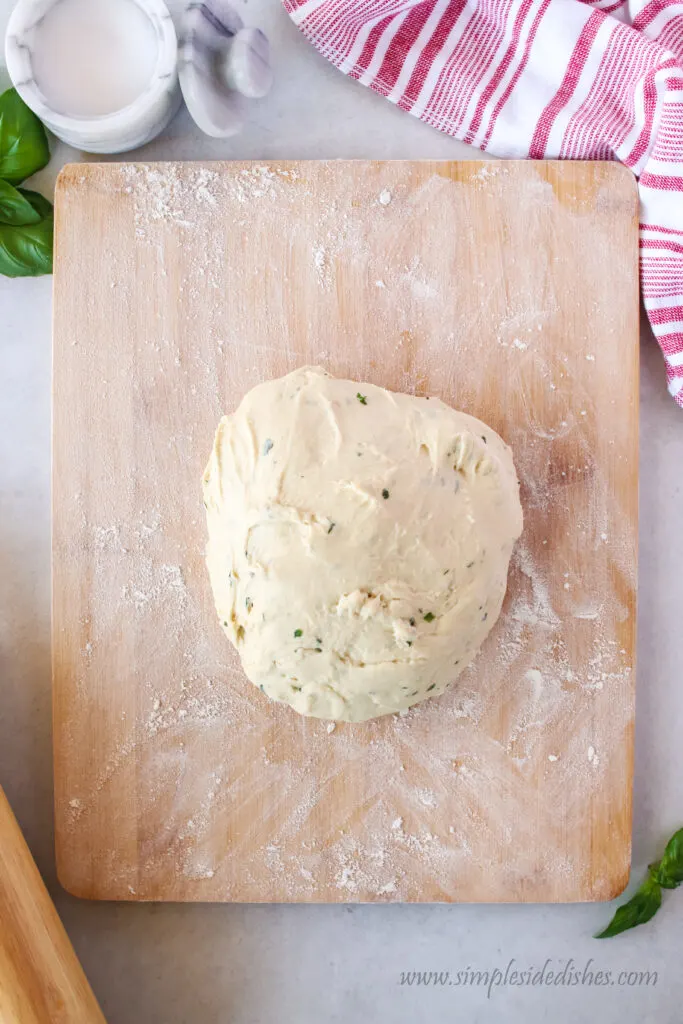 Can you make basil bread ahead of time?
Bread always tastes best when consumed within 24 hours after making it.
However, you can freeze basil bread. Once it has cooked and cooled, let it come to room temperature, wrap in plastic, then place in a freezer safe bag.
When you are ready to serve it, let it come to room temperature overnight, slice, and serve. Or reheat in the oven for 5 minutes to heat it through and make it feel fresh again before slicing.
How to store basil bread:
Keep it covered at room temperature the same way you would store bread in your area.
Can dogs eat basil bread?
Yes! Basil is actually good for dogs in small amounts because of the nutrients in it, and this simple bread has nothing in it that will hurt your dog.
Basil has antioxidants, and vitamins that help with digestion, help to calm anxiety, and detox the body for both humans and dogs!
Is basil bread healthy?
Yes! Basil has so many great nutrients and is considered a superfood. Anything you can add large amounts of basil to is something I consider healthy.
Keep in mind how bread fits into your healthy eating plans. Some people do better with less bread, others enjoy bread as a staple in their diet.
What do you serve with basil bread?
Pasta: marinara, alfredo, and pesto are all perfect with this bread. Don't forget the mozzarella cheese on top to make it oozy and delicious
Soup: a small bowl of soup to dip in makes a great addition to this dish
Salad: a green salad or caprese salads go well with the basil in the bread
Sandwich: make your own tomato basil bread sandwich
Dip: I love a big bowl of olive oil with sea salt and garlic powder to dip fresh pieces into. It's the perfect snack!
Plain: eat it plain or toasted with some parmesan cheese on top. So tasty!
This basil bread is great for a weeknight meal, afternoon snack, or an easy loaf to give to a friend; however you make it, be sure to make more than you think you need because it will disappear fast!
Yield: 10 Servings
Basil Bread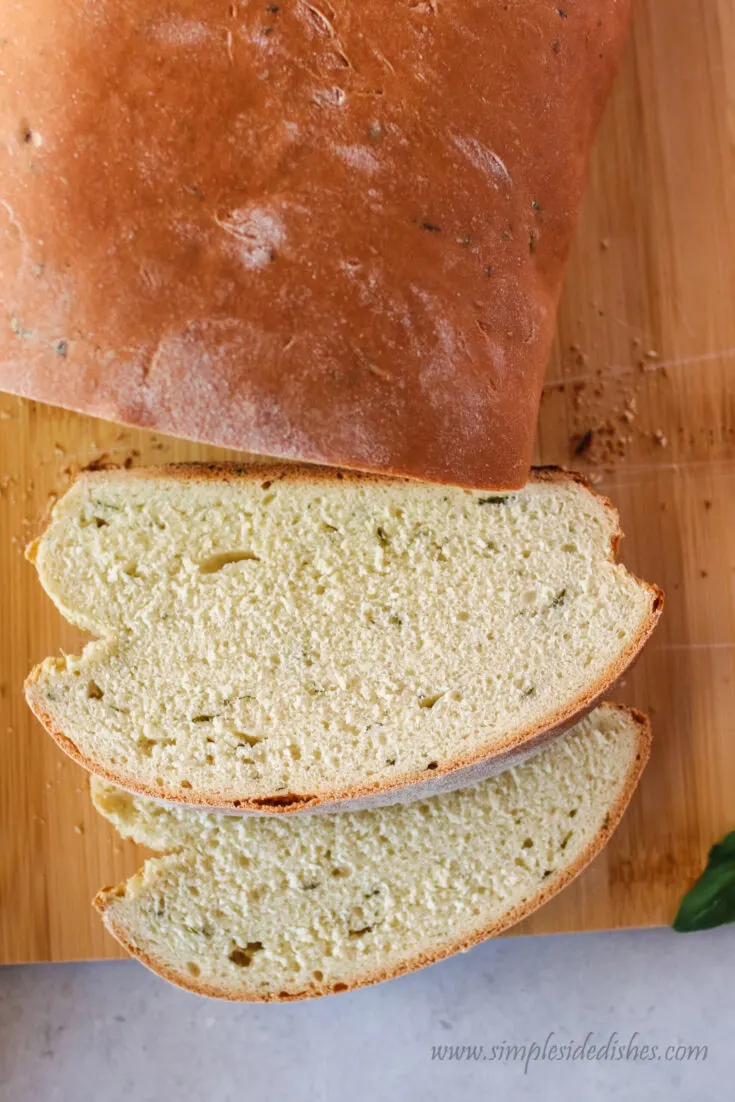 This basil bread is easy, delicious, and the perfect bread to make when you have a fresh supply of basil from the garden.
Instructions
Preheat oven to 375*F
In a stand mixer add yeast, water and sugar. Mix.
Cover with a dish towel and let stand for 5 minutes. Yeast should poof.
Prepare a cookie sheet by lining it with parchment paper, silicone liner or non-stick foil.
After yeast proofs, add salt, basil and oil. Mix well.
Add bread flour 1 cup at a time, mixing between additions.
Once all flour is added, continue to knead dough for an additional 5 minutes. If dough is still sticking to sides of bowl, add an additional 1/2 cup a little at a time.
Place dough on a lightly* floured work surface
Roll out dough to a rectangle that is about 1 ½ inches thick.
Roll up dough like a cinnamon roll and place on prepared cookie sheet.
Cover and let rise for 20 minutes.
Bake for 30 minutes, then cover with foil.
Bake for another 10 minutes.
Remove from the oven, let cool, slice and enjoy.
Nutrition Information:
Yield:
10
Serving Size:
1
Amount Per Serving:
Calories:

210
Total Fat:

4g
Saturated Fat:

0g
Trans Fat:

0g
Unsaturated Fat:

3g
Cholesterol:

0mg
Sodium:

214mg
Carbohydrates:

38g
Fiber:

1g
Sugar:

3g
Protein:

6g