You will love these homemade garlic bread knots; full of delicious, buttery garlic flavor, and you can go from nothing to ready to eat in just one hour!
Anytime I want really great, homemade bread, the first thing I ask myself is do I have all day to make that happen?
Because a lot of homemade breads take all day.
But sometimes it's last minute and I don't have much time before dinner starts, and I need a great homemade bread side.
These garlic bread knots are perfect for when you need a fast, easy side of buttery garlic herb knots.
It is a delicious recipe loaded with great flavor inside and out and they turn out looking so perfect even if you aren't a professional baker.
If you need easy garlic knots, this recipe will give you great fresh garlic taste every time.
What ingredients are in garlic bread knots?
Instant Dry Yeast: if your yeast isn't active, your bread will not grow so be sure to use fresh yeast
Warm Water: this helps to activate the yeast
White Sugar: this feeds the yeast to start it growing
Salt: after the yeast is activated, this slows down the process so the yeast doesn't expand too fast and fall before you can cook it
Dried Basil: dried herbs blend into bread dough to give the entire bread knot flavor
Dried Oregano: again, make sure it is dried so it doesn't change how sticky the dough should be
Garlic Powder: this gives a great garlic taste inside and out
Onion Powder: garlic and onion are one of the great herb pairings, and if you want a great garlic flavor, adding onion will improve that flavor
Parmesan Cheese: adding fresh shredded cheese gives a great sharp flavor to the bread dough
Vegetable Oil: in bread, oil keeps the dough soft and easy to use, the raw dough is not so sticky
Bread Flour: this has more protein in it than all purpose flour which will give a better texture anytime you are making bread
Melted Butter: this brushes over the top of the cooked knots to give a great butter flavor and shine to each knot
Garlic Salt: mixed with butter it makes garlic butter which adds a perfect finishing garlic flavor to these knots
Pro Tip: I prefer using dried herbs in this recipe so I can control the amount of moisture in my dough. Fresh herbs are delicious but they can turn the soft dough into a sticky dough, and you need more to give the same amount of flavor.
But if you really love fresh minced garlic, you can add some to the melted butter topping in addition to the garlic salt to give a delicious garlic butter taste to your garlic rolls.
How to make garlic bread knots:
Proof the yeast.
Mix in seasonings.
Add flour and knead the dough.
Tie dough pieces into knots.
Place shaped knots on a baking sheet or pan and let the dough rise.
Bake until golden brown on top and bottom.
Combine mixture of butter and garlic salt and brush tops of knots with garlic butter.
Let sit then enjoy!
How to tie garlic bread knots:
Start with a floured work surface so your dough doesn't stick.
Take a golf ball sized piece of dough.
Roll it out into a long rope like a snake until it is 1 inch wider than the palm of your hand.
Loop one end over the other and pull like the first part of tying your shoe.
Then do that again so you have 2 knots in the snake dough.
Tuck the ends underneath.
Set the bread knot rolls on a tray to rise with the ends on the bottom.
Can you freeze garlic bread knots?
Yes! Once they have cooled, put them in a freezer safe container and store them for up to 3 months.
When you are ready to eat, let them come to room temperature overnight on the counter. Then warm them in an oven or toaster oven until heated through and brush with melted garlic butter.
Can you make garlic bread knots in advance?
These tasted best when eaten the same day they are baked. But you can make the dough ahead of time and keep them already tied in the fridge or freezer until you are ready to make them.
Just let them come to room temperature and leave them in a warm place to rise until doubled before putting them in the oven. It will take longer than 20 minutes if you are pulling them straight out of the freezer.
It could take up to 8 hours or let it rise overnight before cooking.
Pro Tip: An easy way to leave them in a warm spot to rise is to turn on your oven light. The light will create a warm oven and it will remind you that there is dough in the oven so you don't accidentally turn it on.
How long do garlic bread knots last?
These can last in an airtight container for 3 days. But they are usually gone before then.
How to store garlic bread knots:
Store in an airtight container at room temperature or in the freezer. Refrigerating dries out bread faster, so either plan to eat it fresh of freeze for longer shelf life.
Are garlic bread knots bad for you?
Garlic has a lot of nutrients and antioxidants which is really great for you.
While whole grain bread is healthier for you than white flour bread, as long as you have a good portion control, these bread knot rolls have a place in a healthy lifestyle.
Served with a large bowl of marinara sauce these even give you a serving of vegetables which is always a good thing.
What can you serve with garlic bread knots?
Dipping Sauce: a small bowl of pizza sauce is a perfect addition to these buttery garlic knots
Pizza: this is a great recipe for pizza night
Pasta: pasta dishes and garlic bread are the perfect pair
Soup: I love garlic bread dipped in soups on a cold day; it makes the dish heartier
Steak: this makes a great dinner roll for main courses that use garlic
Chicken: rotisserie, drumsticks, baked, or grilled, this is a perfect side for a chicken main course
Can dogs eat garlic bread knots?
No! Garlic is very poisonous to dogs so be sure to keep the knots and even the dough away from your pet to keep them safe.
These garlic bread knots are a big hit at pizza night, and they also make a perfect side to any main dish that needs a big batch of delicious garlic knots on the table.
Yield: 24 garlic bread knots
Homemade Garlic Bread Knots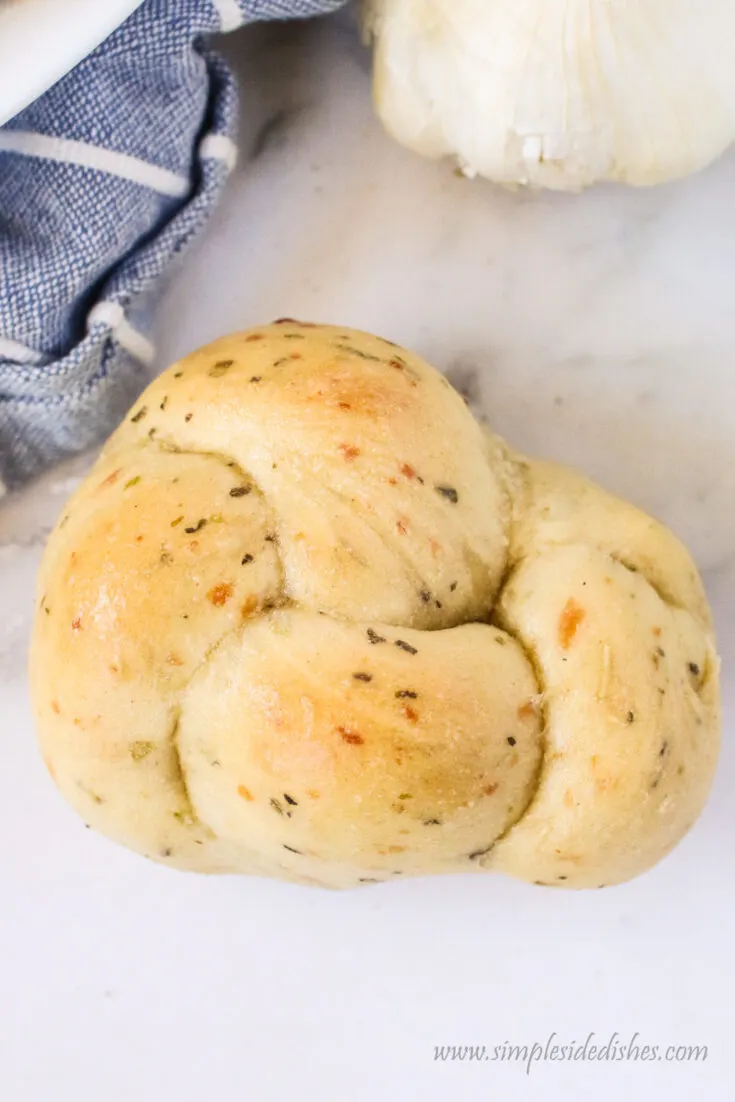 You will love these homemade garlic bread knots; full of delicious, buttery garlic flavor, and you can go from nothing to ready to eat in just one hour!
Instructions
In a stand mixer add yeast, water and sugar. Mix.
Cover with a dish towel and let stand for 5 minutes.
After yeast proofs, add salt, basil, oregano, garlic powder, onion powder, parmesan cheese and oil. Mix well.
Add bread flour 1 cup at a time, mixing between additions.
Once all flour is added, continue to knead dough for an additional 5 minutes.
Preheat oven to 375*F
Place dough on a *lightly* floured work surface
Take a piece of dough that is about the size of a golf ball.
Roll the dough out like a snack until it's an inch wider than your hand.
Gently double knot the dough - knot it like your shoelaces, then knot it again. Tuck and secure edges behind knots.
Place on a cookie sheet lined with parchment paper, foil or nonstick foil. Keep in mind these will double or possibly triple in size.
Cover and let rise for 20 minutes.
Bake for 12 -15 minutes or until bottoms are golden and tops have a hint of gold.
While rolls are baking, in a small bowl combine melted butter and garlic salt.
Once rolls come out of the oven, brush with butter salt mixture. Let rest for 5 minutes before devouring!

Nutrition Information:
Yield:
24
Serving Size:
1
Amount Per Serving:
Calories:

110
Total Fat:

4g
Saturated Fat:

2g
Trans Fat:

0g
Unsaturated Fat:

2g
Cholesterol:

6mg
Sodium:

140mg
Carbohydrates:

16g
Fiber:

1g
Sugar:

1g
Protein:

3g