You will love this biscuit bread recipe; it has perfect flaky biscuit layers without the normal mess of cutting biscuit shapes on a floured surface.
Of all my new recipes, this is one of my favorites. You know I love bread. And I really love easy bread.
Easy bread with delicious buttery flavor is so simple when you make homemade biscuits.
But if buttermilk biscuits weren't simple enough, this easy biscuit bread recipe makes it even easier.
And there's enough hands off cooking time that you can make an entree, run an errand, or just sit and have some quiet time to yourself while it is making magic in your oven.
What is biscuit bread?
Biscuit bread is the best thing ever invented. It's biscuits without kneading, cutting, shaping, or covering your work surface in a flour mess.
Basically it's everything you love in an american biscuit but with a shorter prep time and faster clean up.
Take this biscuit recipe, cook it in a bread pan or a hot skillet, and get a perfect flaky biscuit texture in the shape of a loaf of bread.
Note: This does not make European biscuit style bread. Where I live we would call that a cookie.
Instead this is a type of bread found all across the southern United States with delicious flaky layers and perfect buttery flavor.
What ingredients are in biscuit bread?
All Purpose Flour: a staple for all baking recipes
Baking Powder: this makes the bread biscuit rise so it's fluffy
White Sugar: a touch of sweetness balances flavors
Salt: this brings out the flavor of the butter and helps the biscuit not rise too fast
Frozen Butter: it is so much easier to grate frozen; cold butter warms up too quickly
Buttermilk: this adds more flavor to the biscuits and helps them rise more because the acid in buttermilk will react with the baking powder giving you perfectly fluffy biscuits
Pro Tip: Always keep a stick of butter in the freezer so you don't have to plan ahead when making this recipe!
The frozen butter makes a difference in getting that perfectly flaky biscuit texture in every part of this recipe for biscuit bread.
What supplies do you need to make biscuit bread?
Large Bowl: this is to mix the dough together
Wooden Spoon or Wide Spatula: this is less messy than using your hands
Grater: use the thick side to get nice thick grated butter pieces
Bread Pan: or if you're feeling like skillet biscuit bread instead, use at least an 8-inch cast iron skillet
Oven: you can't make biscuit bread in oven without one!
How to make biscuit bread:
Combine flour with the other dry ingredients.
Grate frozen butter into flour mixture and stir well.
Add buttermilk and mix by hand.
Pour into your lined bread loaf pan and bake.
Serve!
Pro Tip: If you're feeling like you want an extra layer of flavor, try coating your lined loaf pan with bacon fat or melted butter. It is another nonstick layer but it will give the outer edges of the biscuit bread flavor that will cook into it in the oven.
Are biscuits bread?
Yes! Biscuits are a kind of quick bread. That means it grows without yeast.
Instead of yeast, quick breads use a leavening agent like baking powder to create a chemical reaction that makes the dough rise.
Can you make biscuits with bread flour?
Yes. You can make biscuits with any kind of flour. But you will get different results.
Bread flour has a higher protein content than all purpose flour.
When you are making bread, that higher protein is important because the proteins react with the water to become the gluten building blocks to give the bread structure as the yeast grows.
In biscuits, you don't have long rise times to let the gluten and flour grow with the yeast. So using flours with a high protein content can make a heavier biscuit that doesn't rise as light.
That is why I recommend using all purpose flour when making your biscuit bread.
Can you make biscuits with self rising flour?
Yes you can. But self rising flour already has baking powder and salt in it.
If you use self-rising flour, be sure to adjust the recipe. Do not add any baking powder, and reduce the salt to ¼ teaspoon.
You can even make biscuit bread with whole wheat flour, but again it will change the texture of the final biscuit.
How do you store biscuit bread?
You can store it at room temperature in an airtight container to eat the next day. Or you can store it wrapped twice in the freezer to use within a month.
For best results I recommend warming up your bread and covering with your favorite jam or a dollop of butter and honey to make it feel as fresh as it was the first day.
What do you serve with biscuit bread?
Sausage Gravy: biscuits and gravy are a classic combination (try this sausage gravy recipe)
Spreads: pure butter, honey, jam, jelly, fruit butter, nut butters, vegan butter, whatever your favorites are
Soup/Stew/Chili: try this quick 30 minute chicken noodle soup or any of your favorite soups
Meat: chicken, ribs, steak, barbecued anything
Veggie Kabobs: skewer your favorites and serve them with a side of biscuit bread
Biscuit bread is an easy recipe you will come to again and again; with simple ingredients, easy clean up, and great flavors, it's the perfect delicious bread for any meal.
Yield: 8 Servings
Biscuit Bread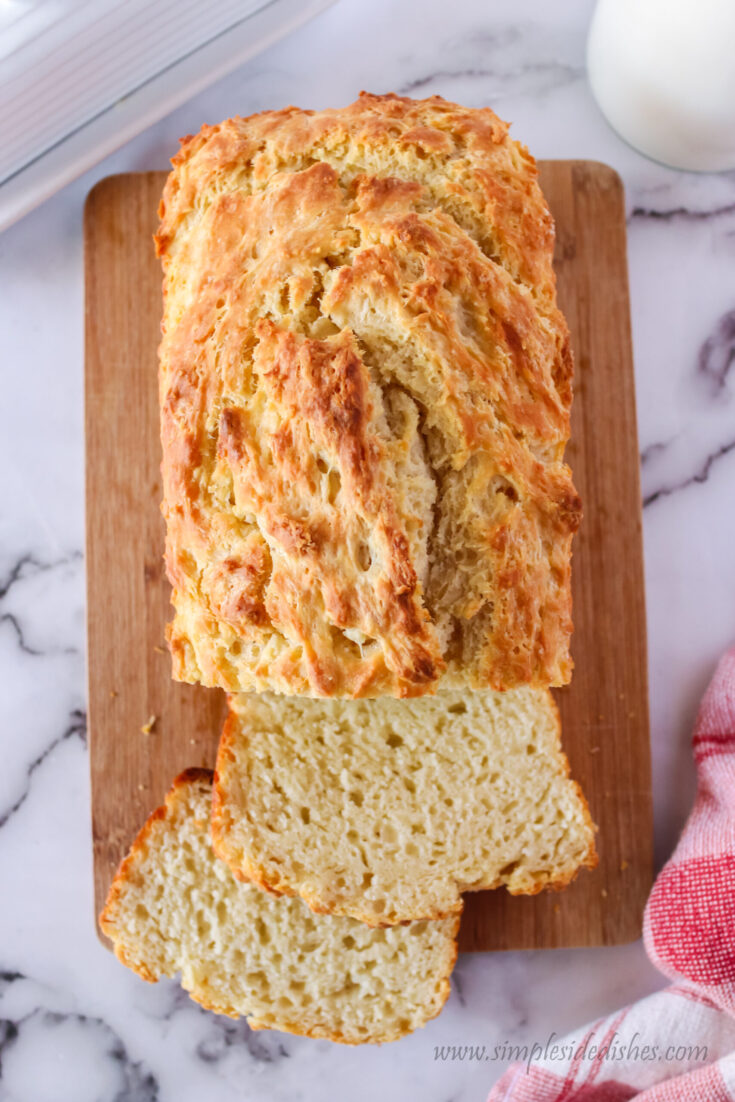 You will love this biscuit bread recipe; it has perfect flaky biscuit layers without the normal mess of cutting biscuit shapes on a floured surface.
Total Time
1 hour
35 minutes
Ingredients
Instructions
Preheat oven to 375*F
Line a bread pan with parchment paper or nonstick foil, set aside.
In a large bowl combine flour, baking powder, sugar and salt. Mix well.
Using a cheese grater, grate frozen butter stick into flour mixture. Stir well.
Add buttermilk to the flour mixture and gently mix by hand.
Once all of the dough is moist, but not over mixed, pour bread mixture into the prepared pan.
Bake for 55 minutes or until a toothpick inserted into bread comes out clean.
If at 50 minutes, the bread is looking dark on top, cover with a piece of foil for the remaining 5 minutes of baking.

Nutrition Information:
Yield:
8
Serving Size:
1
Amount Per Serving:
Calories:

275
Total Fat:

12g
Saturated Fat:

8g
Trans Fat:

0g
Unsaturated Fat:

4g
Cholesterol:

33mg
Sodium:

702mg
Carbohydrates:

35g
Fiber:

1g
Sugar:

5g
Protein:

6g