You will love this cinnamon swirl bread recipe; it is an easy recipe for fun holiday mornings and a great recipe to make everyday snacks a little bit sweeter.
Today's homemade bread recipe is brought to you from my love for butter and cinnamon sugar. Are there any 2 better ingredients?
Probably, but not today. Today I needed a perfect cinnamon-sugar mixture in what I was baking.
So of course we made cinnamon rolls! However cinnamon rolls aren't great as leftovers for several days. So I thought why not take my recipe and use it in a different shape.
I took the roll of dough and instead of cutting into rolls, I cut it to fit into a 5-inch loaf pan.
And now I have cinnamon roll bread, and it might just be better than regular rolls. Maybe.
The first time you make this swirl cinnamon bread recipe you will be surprise how simple it is to get delicious bakery style bread in your own kitchen.
What ingredients are in cinnamon swirl bread?
Whole Milk: the extra fat in the milk will make your bread softer, more like a cinnamon roll
Vegetable Oil: this helps make the bread soft and easier to handle when its raw dough
White Sugar: this feeds the yeast inside the dough and mixes with cinnamon to make cinnamon sugar swirls inside the bread
Active Dry Yeast: this fantastic modern invention lets you make light airy bread without preparing a yeast starter days in advance
All-purpose Flour: if you use bread dough you will get a heavier, chewier bread. All purpose is the way to go for this recipe
Baking Powder: this increases the amount the dough rises which will give you a super light bread
Baking Soda: another leavening agent that adds just a magic touch that isn't there when I leave it out, trust me even though it's small it has power with the final result
Salt: you can't skip the salt in bread recipes because salt helps the dough not rise too fast and fall flat
Melted Butter: this layers the cinnamon sugar around the dough to create those delicious layers of swirl
Ground Cinnamon: there is no substitute here. The perfect cinnamon mixture can only be made with ground cinnamon
Pro Tip: if you love a deeper, molasses flavor, swap the sugar out for brown sugar in the cinnamon sugar mixture. Brown sugar is just white sugar mixed with molasses, so it will add a deeper flavor to the recipe.
How to make cinnamon swirl bread:
Simmer milk, oil, and sugar.
Remove from burner and let cool to warm (30-60 minutes).
Sprinkle yeast on top and let sit for 1 minute.
Slowly add 4 cups of flour 1 cup at a time, mixing dough until combined by hand in a large bowl or in a stand mixer with a dough hook attachment.
Cover with a clean kitchen towel or plastic wrap sprayed with nonstick spray and let dough rise in a warm place for an hour.
Add remaining dry ingredients and mix until well combined.
Generously butter baking pans.
Roll out dough, half at a time, on a lightly floured surface until it is 1/4 inch thick and you have a rectangle 10 inches by 30 inches.
Pour melted butter over dough and spread everywhere, then sprinkle with 1/2 cup sugar and cinnamon.
Roll bread dough gently and tightly then pinch seams together.
Cut dough to just fit in bread pan and place dough in pan.
Cover and let rest at room temperature.
Bake in oven until top of the loaf is golden and hollow sounding, then cool in pan 5 minutes before removing.
Pro Tip: The secret to good yeast bread recipes is very sticky dough. Don't worry if it is really sticky.
How to eat cinnamon swirl bread:
Eat it hot out of the oven with a little bit of butter.
It makes amazing french toast. Try this cinnamon swirl french toast.
Toast and sprinkle with syrup and cinnamon sugar for easy almost french toast.
Sprinkle with powdered sugar and your favorite fruit or jam.
Cut bread into strips and dip into your favorite syrup, spread, or a cinnamon honey butter mixture creamed together.
Is cinnamon swirl bread healthy?
Cinnamon swirl bread is not the healthiest recipe I have on my blog, but it is a family favorite because of how tasty it is. With self control, it definitely has a place in a balanced healthy diet.
What do you eat with cinnamon swirl bread?
Breakfast: berries, yogurt, juice, bacon, sausage, whatever your favorites are
Brunch: this makes a great side to savory brunch items like quiche, strata, or frittata
After school snack: sprinkle with powdered sugar it can be eaten on the go or easy at home. Cut it into strips for a fun dip!
Dessert: ice cream, fruit compote, cream cheese glaze,
How to roll a cinnamon swirl bread:
The best way to roll cinnamon swirl bread is to start at the wide end of the rectangle farthest away from you and roll the dough toward you in a tight log.
That helps keep it tighter than starting close and rolling it away because you can see how much pressure you are putting on all the dough at the same time and keep it even as you roll.
Roll keeping it as tight as possible until it has rolled all the way up.
What causes cinnamon swirl bread to separate while baking?
There are a few things that can cause the separation in your cinnamon roll bread recipe.
One is the butter mixture. But I refuse to give that up. Butter adds great flavors and gives you the same flavor as cinnamon rolls.
Just be sure to sprinkle extra cinnamon to help soak up some of the extra butter.
Rolling the dough too loose or too tight can also add gaps to your bread. You want to roll it just right so the roll is smooth and can leave a fingerprint when you touch it.
Your bread can also separate if you cut into it before it has cooled completely. You need the read to finish setting before cutting into it and releasing more moisture.
What is cinnamon swirl bread used for?
You can use it to make french toast, baked french toast casserole, sweet bread pudding, anything you want a sweet bread.
My kids have been known to make peanut butter sandwiches with it. And I have even made a honey cream cheese dessert grilled cheese with it.
Really, you can use it for anything you want!
More Bread Side Dishes You'll Love…
This homemade cinnamon swirl bread is easy, delicious, and with a little bit of time and patience will give you a perfect side for any time of day.
Yield: 16 Servings
Cinnamon Swirl Bread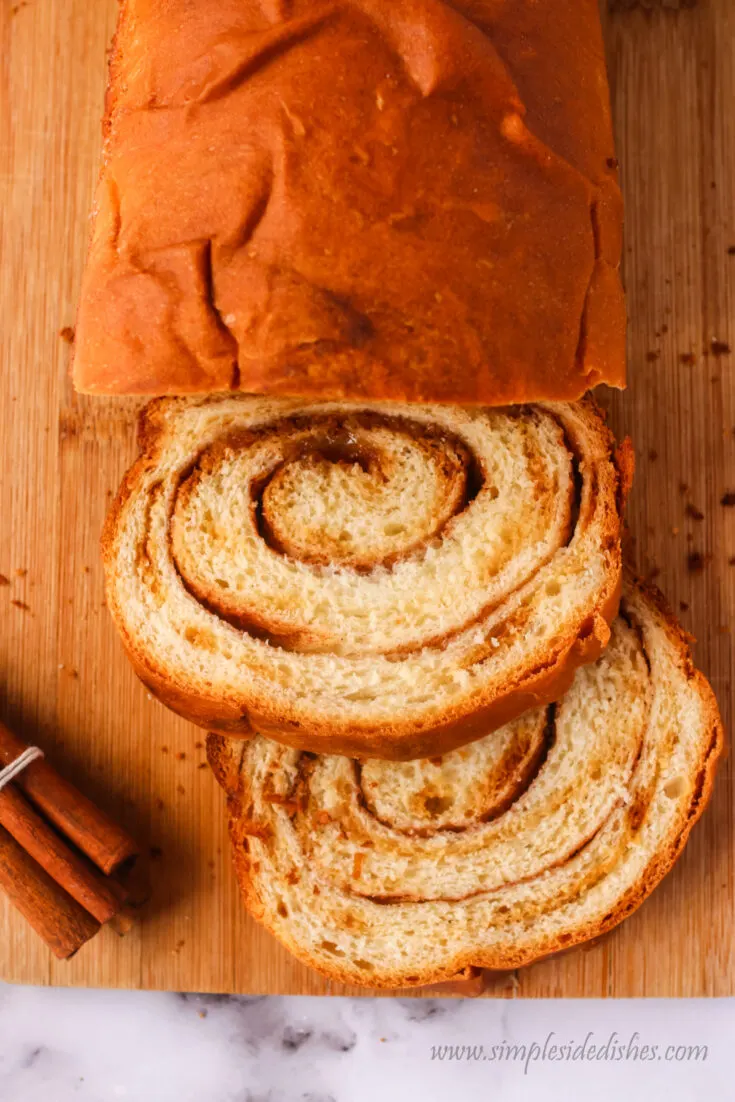 You will love this cinnamon swirl bread recipe; it is an easy recipe for fun holiday mornings and a great recipe to make everyday snacks a little bit sweeter.
Total Time
3 hours
20 minutes
Instructions
Heat milk in the microwave for 2 minutes.
In a mixing bowl add milk, vegetable oil, and 1/2 cup white sugar. Mix well.
Add yeast and allow to sit for 1 minute, do not stir.
Slowly add 4 cups of the flour, 1 cup at a time, mixing after each addition.
Spritz the top of dough with cooking spray.
Cover mixer bowl with saran wrap and let sit for 1 hour.
After 1 hour of rise time, add the baking powder, baking soda, salt and remaining 1 cup of flour. Mix well.
Prepare 3 bread pans if doing only bread (you can do half bread and half cinnamon rolls if you wish). To prepare bread pans, spray the pans with cooking spray.
Roll the dough out to 1/2 inch thick into a rectangle.
Melt 1/2 cup butter and pour over the dough. Spread out all over dough leaving 1/4 inch around edges.
In a small bowl combine 1 cup sugar and 3 Tablespoons cinnamon.
Sprinkle cinnamon mixture over buttered dough.
Starting with the wide edge, roll dough up cinnamon roll style.
Using a sharp knife, cut the dough into thirds, just long enough to fit into bread pans.
Place cinnamon swirl bread into prepared pan.
Cover bread pans with a dish towel and let rise for 30 minutes.
Preheat oven to 350*F
Bake 45 - 50 minutes or until golden and hollow sounding when you thump on top of bread.
Let bread cool 5 minutes in pan before you remove from pans and rest on cooling racks.
Nutrition Information:
Yield:
16
Serving Size:
1
Amount Per Serving:
Calories:

287
Total Fat:

22g
Saturated Fat:

10g
Trans Fat:

1g
Unsaturated Fat:

11g
Cholesterol:

41mg
Sodium:

160mg
Carbohydrates:

22g
Fiber:

1g
Sugar:

14g
Protein:

2g