Strawberry Pretzel Salad is cool, creamy, and looks beautiful without a lot of effort. It is the perfect side (or dessert!) to make everyone happy.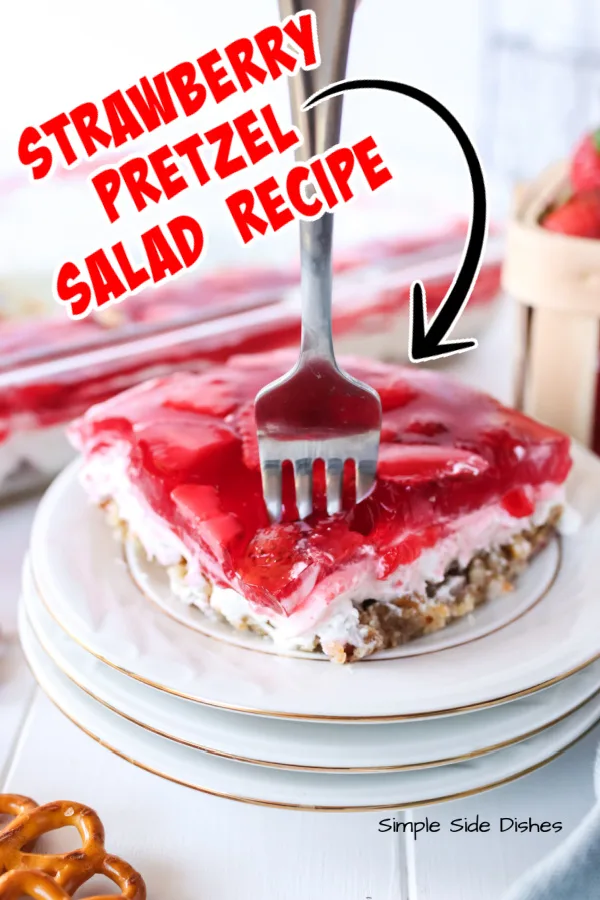 One of my favorite side dishes to take to a barbecue, potluck, family gathering or holiday like Thanksgiving, is this Strawberry Jello Pretzel Salad. It is the perfect make-ahead side dish that everyone loves.
Even though we serve it as a side dish, many of our friends claim it's their favorite dessert!
If you've got picky eaters in your family, join the club! My kids are seriously picky. But not when it comes to this old fashioned strawberry pretzel salad. They gobble this up as quickly as they can.
The real question is, do you serve it as a side dish, or an easy dessert? In our house, it's a side dish, but it's a pretty thin line as it tastes like the perfect dessert!
Why is Strawberry Pretzel Salad called "salad"?
Today we think of salads as leafy greens loaded with vegetables. So why would a salty-sweet pretzel crusted dish filled with creamy no-bake cheesecake and layered with sweet strawberry jello be called a salad?
The mini version: People used to put salad ingredients (tomatoes, cabbage, onion) inside jello molds and serve it over a large lettuce leaf. So any jello with food in it was called a salad.
The history version: Centuries ago gelatin was only served in wealthy homes. It is time consuming to make gelatin from scratch, so only places with a lot of kitchen help could make gelatin foods.
This made it a fancy item. When Jell-O started selling instant flavored gelatin in the late 1800s, common households everywhere could have the same fancy dish.
And everything went in it, including traditional salad ingredients! It was only in the 1970s/80s when Jell-O moved from savory uses to mostly snacks and desserts.
However, we still call these layered gelatin desserts a salad, and renaming a 100 year old dish is not something I want to do!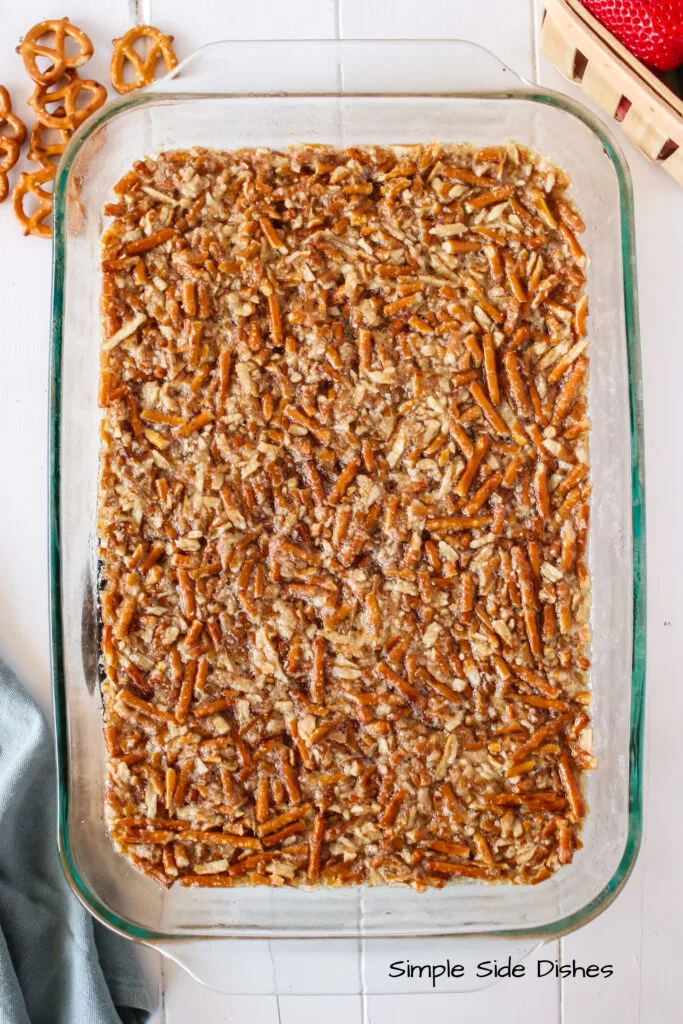 What ingredients are in Strawberry Pretzel Salad?
Pretzels: broken and crushed pretzels make the perfect crust.
White Sugar: sugar sweetens the pretzel crust and the cream cheese filling.
Butter: mixes with the sugar to make a candied crust.
Cream Cheese: an easy way to add cream, flavor, and texture. Make sure it's at room temperature.
Vanilla: the best ingredient for dessert magic.
Cool Whip: simple, pre-made whipped cream lets this dish come together quickly.
Packaged Strawberry Gelatin: flavored jello adds extra flavor and creates a shiny top.
Boiling Water: the perfect way to activate gelatin.
Frozen Sliced Strawberries: an easy way to use real strawberries and cool down the jello layer faster. You can also use fresh fruit.
Pro Tip: Don't use a blender to pulverize your pretzels. We recommend placing the hard pretzels in a ziploc bag, sealing it and beating the pretzels with a potato masher or rolling pin.
How to make Strawberry Pretzel Salad:
Make the pretzel crust.
Blend the filling ingredients with an electric mixer and layer the cream cheese mixture over the salty pretzel crust.
Mix the strawberry jello layer, let it cool, & pou an even layer over the filling.
Chill with plastic wrap coving it and serve!
Pro Tip: Use a lightly greased baking dish for the best results.
Can you make Strawberry Pretzel Salad the night before?
Yes! I often make it the night before, which lets it set completely before serving. It is one less dish I have to make the day I'm ready to serve it and fewer dishes to wash the day of the event too!
Can you freeze Strawberry Pretzel Salad?
While it can be frozen, this salad does not thaw well. Jello becomes a mess once it has been set, frozen, and thawed again. We do not recommend freezing it.
Some people say they use the freezer to speed up cooling the crust and the jello layer. We have found if you follow the recipe as written, the freezer doesn't shorten the time you need to make it very much.
The frozen strawberries will chill your Jello quick enough that you won't need that freezer time!
Can I use fresh strawberries in pretzel salad?
Yes you can definitely make this strawberry jello mixture with fresh strawberries! It's a classic recipe that's also pretty forgiving when it comes to fresh or frozen berries.
If you use fresh berries, be sure to increase the amount of prep time so you can wash, top, and slice the berries. You will also need extra time to cool the Jello layer before adding the strawberries and then adding it onto the cream layer.
How long does Strawberry Pretzel Salad last?
As this recipe uses real strawberries and cream, we recommend eating it within a few days. Store any leftovers in an airtight container in the fridge. We have eaten leftovers 3 days after we've made it, but the texture will start to change if left longer than that.
How to crush pretzels for Strawberry Pretzel Salad?
You could give a toddler a bag of pretzels and let them smash it, but there are a few other options that are faster, less messy, and still give you the perfect pretzel pieces–not powder.
A chef knife: put the pretzels on a cutting board, and chop pieces. Be careful to keep fingers out of the way!
A blender: put whole pretzels in the blender and pulse in short bursts. Be careful not to make powder!
A food processor: put pretzels into a food processor and pulse. Use short bursts to not make powder.
A rolling pin: place pretzels in a food safe bag on top of a safe surface, and pound the pretzels with a rolling pin.
Your fingers: if you have time (or helpers!) and like extra big pieces, snap pretzels between your fingers
Pro Tip! If you have pretzel eaters, save the crumbs and pieces at the bottom of the pretzel bag to use for this crust later. Be sure to save pretzel pieces and not just salt!
How to create perfect lines between layers?
Strawberry Pretzel Dessert is tasty even if the layers get a little mixed, however sometimes you just want crisp, pretty layers. And it doesn't take that much work.
The secret is: don't leave holes! It sounds simple (and it is) but it's worth checking each layer to make sure there are no pockets where one layer can sink into another.
Give the buttery pretzel crust an extra press, make sure the creamy filling touches the edges of the pan, and do not pour the hot strawberry mixture on top of cool cream. Your layers will be perfect every time.
How to get pieces out of the casserole dish?
Once your Strawberry Pretzel Salad recipe is set with perfect layers, there is nothing more satisfying than serving perfect pieces. The key to perfect pieces is to use the proper tool.
Do not use a spoon or a knife to lift out beautiful pieces. They will lift out tasty pieces, but not pretty ones.
Once you cut the pieces in the dish, use a flat spatula to lift each piece out.
If you slide the flat spatula along the edge of the casserole dish, you will be able to get under the crust and pull out the first piece perfectly which makes every other slice easier to lift out.
More Strawberry Dessert Recipes You'll Love…
Whether you serve this Strawberry Pretzel Salad as a side, a snack, or a delicious dessert, be sure to help yourself to seconds. After all, it is a salad!
Yield: 15 Servings
Strawberry Pretzel Salad Recipe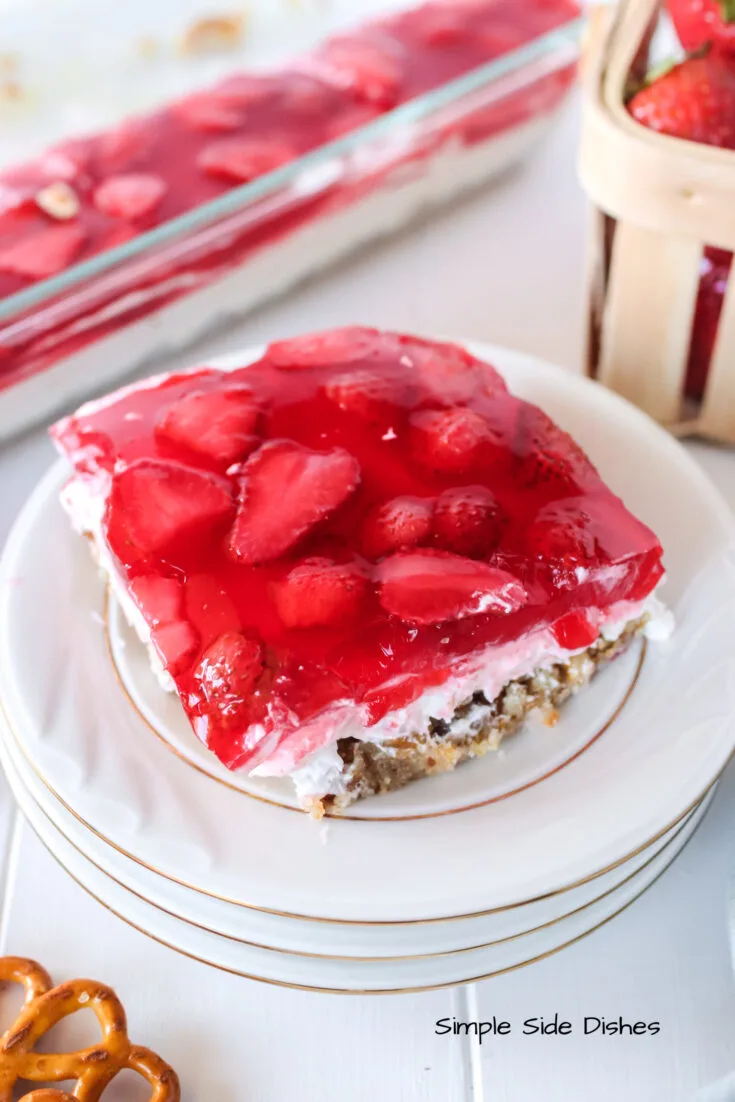 Strawberry Pretzel Salad Recipe is cool, creamy, and looks beautiful without a lot of effort. It is the perfect side (or dessert!) to make everyone happy.
Instructions
Preheat oven to 350*F.
In a bowl combine pretzels, ¼ cup white sugar and butter. Mix well.
Spread on the bottom of a 9x13 casserole dish and press down to create a tight crust.
Bake for 10 minutes then remove from the oven and cool completely.
Once the crust is cooled, make cream cheese layer.
In a bowl blend 1 cup sugar, cream cheese, and vanilla together.
FOLD in the cool whip.
GENTLY spread this mixture over cooled crust. I've found it easiest to place globs all over then gently spread them together.
Make sure that white filling touches all sides of the pan. This will prevent jello mixture from sliding UNDER the cream cheese layer and making the crust soggy.
Chill while you make the top layer.
In a medium bowl, stir together jello and boiling water. Mix well until jello is fully dissolved.
Add strawberries and mix until strawberries are thawed. Mixture should begin to thicken as the frozen berries will quickly bring the temperature down.
When mixture is egg white consistency (thick, but soupy - about 10 minutes or less) pour over the cream cheese layer.
Chill for 1 hour or longer, until the jello is set.
Nutrition Information:
Yield:
15
Serving Size:
1
Amount Per Serving:
Calories:

181
Total Fat:

10g
Saturated Fat:

6g
Trans Fat:

0g
Unsaturated Fat:

3g
Cholesterol:

26mg
Sodium:

155mg
Carbohydrates:

23g
Fiber:

0g
Sugar:

18g
Protein:

1g