This roasted butternut squash salad is full of fresh ingredients, is simple to make, and has the most delicious flavors and bright colors.
Sometimes you need a hearty salad. Did I just say that? Yes I did.
Because this is a green salad that I really need sometimes. This one isn't just hearty; it's full of colors, flavors, nutrients, and the most delicious textures.
And whether I'm making it as lunch for myself or to serve at a fancy holiday feast as the star salad, this one hits the spot.
It has all the best salad opposites: sweet and savory, crunchy and soft, basic and acidic, hot and cold. Really, roasted squash salad is one of my favorite ways to use winter squash.
Yes, I like winter squash plain roasted, but there is something so refreshing about perfectly cooked squash, caramelized on each bite, mixed with fresh greens and this tasty homemade dressing.
It's a salad that will make even the most resistant salad eaters want to eat some.
What goes in Roasted Butternut Squash Salad?
Butternut Squash: this winter squash is easy to use and easy to roast
Olive Oil: this adds great flavor and coats veggies perfectly; it's also the perfect base for salad dressings!
Brown Sugar: a perfect way to add a touch of sweetness to the squash
Cinnamon: my favorite spice for winter squash
Salt: this makes everything else taste better
Arugula: a slightly peppery lettuce taste mixes perfectly with the other flavors
Craisins: craisins are the perfect way to get that cranberry flavor year round
Red Onion: this onion gives all salads a great flavor and crunch. Do NOT use white onion!
Pecans: the sweetest nut you can use
Real Maple Syrup: make sure it's real and not imitation or flavored, real will give the dressing a special maple zing
Dijon Mustard: this mixes with the sweetness of the syrup to make the perfect dressing
Lemon Juice: this acid in the dressing will brighten the entire salad
Pepper: just a pinch will add enough flavor to the entire dressing
How to make Roasted Butternut Squash Salad:
Shake dressing ingredients together.
Mix squash and seasonings.
Bake squash covered then uncovered until tender.
Layer salad ingredients in a bowl.
Serve with dressing.
How to peel and chop butternut squash:
The best part of this roasted butternut squash salad is the butternut squash. And even though you can buy pre-cut butternut squash, buying whole squash and chopping it yourself saves you money!
But if you've never peeled and seeded one before, it can be confusing where to start.
Some people use a vegetable peeler on the squash skin. This will work if you have a really strong, heavy duty peeler. Mine are not that good.
For my method, you will need a really good sharp knife. Do not use a dull one. Do not use a tiny one.
Use a good knife. Then follow this order:
Cut off the bottom and top stem and end pieces.
Cut the squash in half between the ends you cut.
Turn the 2 pieces on their ends so the squash stands up by itself and use the knife to trim off the skin.
Cut the squash pieces in half vertically.
Scoop out the seeds.
Lay the pieces flat on your cutting board and cut into one inch strips vertically, then cubes horizontally.
You will go slow the first time, but this is really the fastest and simplest way to get peeled, seeded, butternut squash cubes for roasting.
Pro Tip: If you buy a whole butternut squash, peel and chop it the night before you make this dish. Peeling and chopping the night before saves time the day of!
Can I caramelize squash the night before for a salad?
Yes! This is a great way to save time the day you are ready to eat the roasted butternut squash salad. If you're eating the salad cold, just throw the roasted cubes cold on top.
If you're eating the salad warm, give the roasted squash a quick saute on the stove for a few minutes to heat through and crisp up.
Can I use fresh cranberries in Roasted Butternut Squash Salad?
Yes! When they are in season (or if you have frozen ones) you can use them in this recipe.
Just add fresh or frozen cranberries to the squash once you uncover it to finish cooking with the squash.
What goes with Roasted Butternut Squash Salad?
My kids think that rolls go perfectly with any salad, and it's hard to argue their logic. Soup, salad, and bread is a classic anyone can enjoy.
But if you're looking for more ideas, this side is perfect to serve with simple chicken or fish dishes. It's also great to serve as a feast salad like at Thanksgiving or Christmas.
Is Roasted Butternut Squash Salad a winter salad?
Sure! Since butternut squash is a winter squash and is usually in season in the winter, this would make a great winter salad.
But I like to eat it anytime I can, because it's delicious and one of my favorites!
Should Roasted Butternut Squash Salad be served warm or cold?
This is up to you! I especially love the taste of a salad that has cool greens and dressing over a warm roasted squash. But other people prefer a cold butternut squash salad, and this is delicious both ways!
How long does Roasted Butternut Squash Salad last?
Any green salad with dressing mixed in is best eaten the same day it is made. They do not save well.
If you want to save this, we recommend not putting the dressing on the whole salad. This will let you eat it over 2 or 3 days. Add dressing to individual servings before eating.
If you want to eat this salad all week long, keep all the ingredients separate and just assemble individual servings as you are ready to eat them. That will keep each ingredient fresh as long as possible.
You will love this roasted butternut squash salad any way you make it: hot or cold, main course or tasty side, fresh or as leftovers. The flavors are bright and perfect for any time of year!
Yield: 3 Servings
Roasted Butternut Squash Salad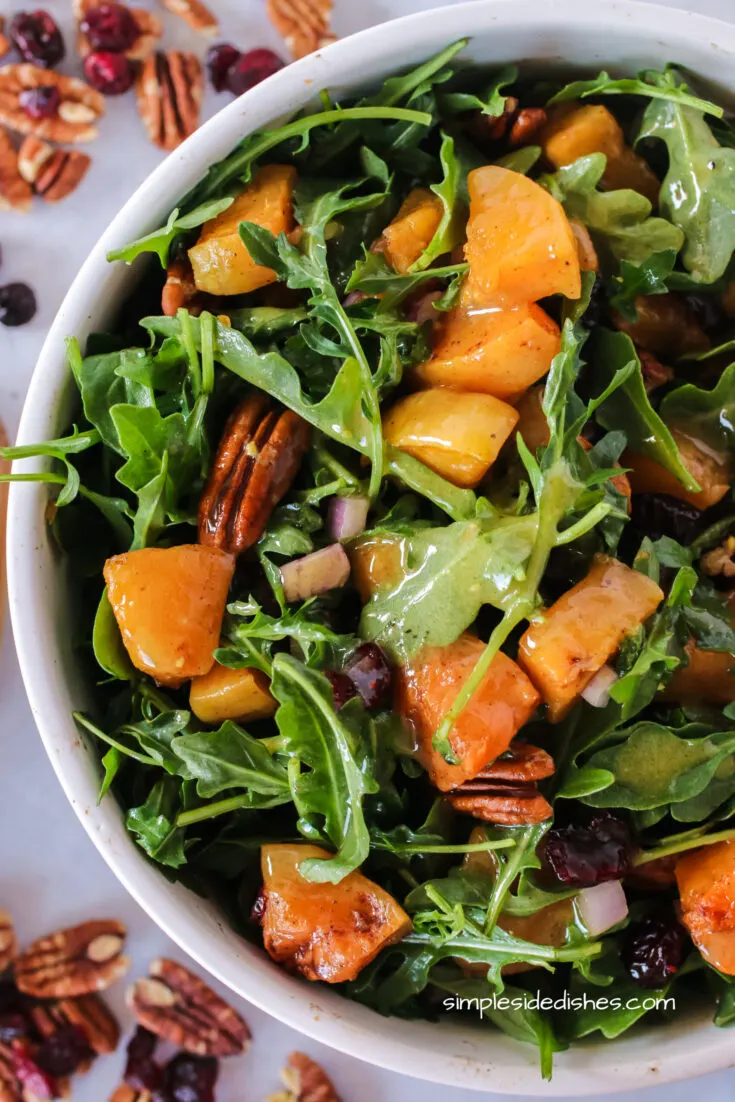 This roasted butternut squash salad is full of fresh ingredients, is simple to make, and has the most delicious flavors and bright colors.
Total Time
1 hour
10 minutes
Instructions
Preheat oven to 400*F
Peel, seed and cut squash into 1 inch cubes and place on a lined cookie sheet.
Drizzle squash with 2 Tablespoons olive oil. Toss gently to coat all squash.
Cover squash on pan with foil and bake for 20 minutes.
Remove squash from oven, remove foil and bake for an additional 15 minutes.
While squash is cooking, make the salad dressing.
In a jar combine 2 Tablespoon olive oil, maple syrup, Dijon mustard, lemon juice, salt and pepper.
Place lid on jar and shake well.
Set dressing aside until ready to use.
Place lettuce, craisins, red onion and pecans in a serving bowl.
Add warm or cold squash and toss gently.
Pour desired amount of dressing on salad and serve.
Nutrition Information:
Yield:
3
Serving Size:
1
Amount Per Serving:
Calories:

456
Total Fat:

31g
Saturated Fat:

4g
Trans Fat:

0g
Unsaturated Fat:

26g
Cholesterol:

0mg
Sodium:

837mg
Carbohydrates:

48g
Fiber:

7g
Sugar:

34g
Protein:

4g